3d origami kiwi bird.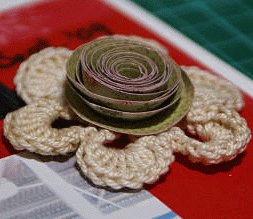 Paper Flowers
Heya!

I was searching the internet for a good 3d origami kiwi and I found yours and absolutely loved it. This link led me to your side. But I cant seem to find it.

I want to make a kiwi for my boyfriend for Christmas since he absolutely adores kiwis (bird and fruit :3).

Can you maybe tell me where I can find instructions on how to make one?

I would be really thankful!


****************************
Hi
Thank you for thinking of my site when searching for a pattern to make an origami kiwi bird or fruit. I am so sorry, I have not studied origami very much. I have other items of a 3-d nature on my site, some of which I added in pictures above, but I have not ever made a 3-d kiwi of any kind.
Perhaps you saw this origami project on another site? Sometimes sites have similar names but different endings on the URL.
You can check out my own brand of 3-d paper crafts by searching through the projects linked on this page:
http://www.papercraftcentral.com/3-d-papercraft.html
I hope you find something you like in time for Christmas!
Susan
www.papercraftcentral.com