50th Birthday Card
by Ronell
(Parow, South Africa)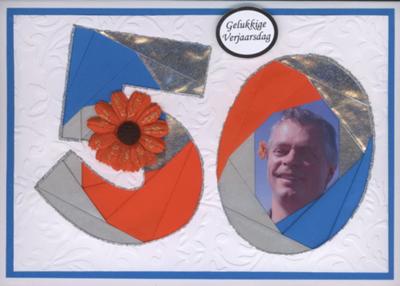 Iris Fold 50th Birthday Card
Here is another card I made with the iris folding technique. This one is made for a friend's son-in-law's birthday.

Ronell


************************
Hi Ronell
I do enjoy seeing your
iris fold cards
. Each one is truly unique and people who receive them must treasure them so much.
I like how you can turn any number into an iris fold feature. Just cut out the number itself and use it as a frame for your iris folding.
You can customise the card further by using your recipient's favourite colours, too.
Do you make these into
easel cards
sometimes? I can imagine one of your iris fold cards standing up proudly in a living room, because it can.
With this card, I think the flower speaks volumes! I can just see a flower behind the birthday boy's right ear in the photograph. Did he laugh when he saw it?
You can always make
paper flowers
to suit your cards as well.
Thank you again for sharing, Ronell.
Happy crafting.
Susan
PS: I edited your entry to add the second 50th birthday card you kindly sent, Ronell :) Thank you again!