Faux Suede Technique
The faux suede technique can add a lot to your handmade greeting cards. Find out how to make some here.
"Is that paper? It feels so soft and looks like material!
~Card Class Attendee"
---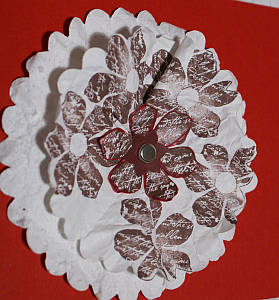 The faux suede technique can add texture and visual appeal to your handmade greeting cards or scrapbook pages. You can make some from ordinary cardstock, your paper crimping tool and your bare hands.
If you have used this method before, I hope you will show me your papercraft project. Scroll down the page to add your picture and tell me something about it!
Here's what to do:
First punch a shape out of cardstock and run it through the paper crimper quite a few times. I ran mine through at least 8 - 12 times. Be sure to run the paper through in different directions. Your aim is to break down the fibers in the paper so that it is easy to split into layers

Now crumple the cardstock between your palms, rolling it and softening it even further

Next, spread out your crumpled cardstock and then carefully prise apart the edges of the softened paper. Work carefully so you do not tear the delicate layers, and you should be able to completely separate the cardstock into two layers. If you cannot yet do this, work the paper a bit more between your palms or put it through the crimper a few more times. Keep going until you can delicately separate the paper into two layers

Now you have two layers of paper, one with the finished cardstock surface and one with a softly textured finish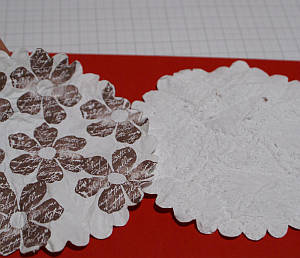 There are many ways you can use your new embellishments. You can stamp on the cardstock before you run it through the crimper, or heat emboss it or distress ink it. I think it adds to the interest of the embellishment to have other colours peeking out from underneath. I also layer the split papers to add even more dimension and texture to my work especially when building a handmade paper flower.
Use the faux suede technique to add softness and extra cuddliness to your baby lambs, chicks and monkey shapes, to clothing and hats and shoes to dress your paper dolls, and to landscapes of soft grass or trees.
I hope you are inspired to use this method in even more creative ways and that you will share them with me when you do!
Do You Have A Favourite Handmade Card to Share?
Do you make greeting cards? Please do share it with me.
---
Return from Faux Suede Technique to Card Making | Return to PaperCraftCentral Home Page