Glue Gun
A hot glue gun is a wonderful craft supply item for fixing heavier objects such as boxes, wood, chipboard and other beyond-the-page projects together.

"Truth is the glue that holds government together.
Gerald R Ford "
---
It works well on paper flowers and other bulkier embellishments, too. The adhesion is strong, quick drying and effective.

There are glue guns with high heat glue sticks and warm heat glue sticks. There's a significant temperature difference between the two settings. Some tools offer only one setting while others offer both warm and hot temperature settings. I would always choose a warm heat setting when working with children for safety reasons (any hot glue can burn the skin deeply).
You will need to work quickly with higher heat glues as they also set quicker.
This type of papercraft adhesive tends to 'string' like mozzarella cheese as it cools so quickly. Try snagging the glue on your project cleanly instead of lifting it away suddenly without a 'stop'. Otherwise the results can be a little clumsy or clunky looking. Practice will make you better at this!
As the adhesive sets in a thicker layer, I don't use this tool for thin, flimsy materials such as vellum or tissue.
I have seen someone slightly modify their glue gun with an ordinary biro or pen-shaped tip to allow a thinner stream of adhesive to be extruded. This seems to give you better control over where the adhesive can be placed and is therefore more suitable when gluing delicate projects. (I also hope someone markets this little modifier one day soon!)
Safety Tips
As with all heating appliances, make sure to read the instructions and warnings before using it. That said, I keep a piece of foil or scrap paper under my appliance as the hot adhesive tends to drip when the tool is at rest as I don't want to wind up with hard, firmly set beads on my craft table, floor or furniture.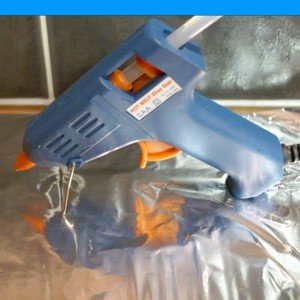 You would be wise to have a bowl of ice water nearby in case you do get any glue on your skin. Plunge your affected skin in the cold water immediately to minimise the possible burn.
Some people use gloves while adhering with this tool, but do make sure they are not made of a material that could melt such as rubber or plastic as the hot adhesive will go right through them and you will have melted glove on your hands as well as the hot adhesive!
Here's what to do:
Get your project ready to be adhered


Have some spare glue sticks on hand in case you need them to finish your project. Larger projects will naturally require more adhesive


Find a nice, flat, stable surface near your workspace and lay some foil or scrap paper down before setting your glue gun on it (use the little wire stand that's provided near the nozzle to stand the tool up and keep the tip from contacting the foil and sticking to it)


Insert a glue stick in the hole at the back of the gun according to the instructions that came with the tool. Be sure to seat it all the way down in the head of the gun


Plug the appliance in and allow it to heat for 6 - 8 minutes

As it heats, the first stick may melt and fill up the gun's reservoir. You may need to add another stick in order to prime it properly before you use it

If the tool has a trigger it will automatically advance your stick as you squeeze it. Test if a high enough heat has been reached by squeezing the trigger a little to see if any glue comes out of the nozzle. If it does, you can apply the adhesive. If your tool does not have a trigger, simply press the stick in with your thumb as you apply your glue to your project


Once you have adhered two surfaces, hold them in place for about ten seconds. The adhesive sets and cools quickly, in about a minute.
Are you having trouble with stringy glue being hard to detach when it comes out of your glue gun? Another reader asked about this! There is a solution!
Things to try:
Stick large beads and shells to a picture frame

Stick some large fabric flowers to a straw hat

Stick the flaps of a handmade box together

Make handmade Christmas decorations such as a wreath and adhere little pine cones or other decorations to it, or quickly make such things as paper chains with it

Use it to mount your folded paper butterflies to a project

Adhere embellishments to card tins or other off the page projects

How about you? Tell us how you have used these tools on your projects!
Do you have some suggestions for how you would like to see this site grow?
Do you have some ideas about ways PaperCraftCentral could grow and be more useful for you?

Would you like to see a Stampin' Up! papercrafting technique, product or tool that I haven't featured yet?

Help me build this site by submitting your ideas.
What Other Visitors Have Said
Click below to see contributions from other visitors to this page...

Substitutes Not rated yet
Are there any substitutes for these? ** Thanks for your question but I am not sure what you want to know. What do you want to substitute? …
---
Return from Glue Gun to Scrapbooking and Papercraft Adhesives | Return to PaperCraftCentral Home Page