Thanksgiving Cards for Susan
by Vidhi
(Faridabad,Haryana,India)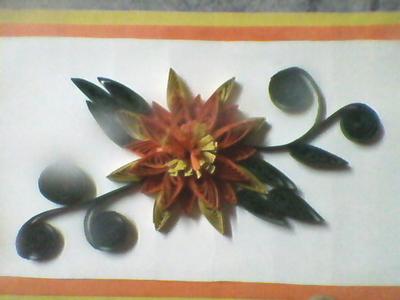 Thanksgiving card from India
Actually I am very happy to see that you replied me.

About one and a half years ago when I was pursuing a B.Ed. there was a card making competition on the festival "Dewali". At that moment I had no idea what to make, and what should be the design I did not know. Then I looked for help on the Internet and I found ideas about it. Now I know how to make paper quilled cards.

It is good to make these card because there is no need to color the card. It all depends on your creative mind how to do it in an attractive manner.

Here are a few more of my quilled cards for you.

Vidhi


*************************
Hello again Vidhi
Thank you for posting some more of your lovely quilled cards here. I am glad to see them and to know you actually taught yourself how to make them with the help of some Internet ideas. That is how I got started with quilling too!
You are so right, the quilling papers themselves provide all the colour you need for your handmade greeting cards. You can make quite beautiful cards with subtle or bright shades. And it is not too hard to learn how to do it.
Thank you again for showing us more of your lovely work.
Happy crafting!
Susan
PS:
You may enjoy the following projects as well: