Women's Day Special
by Vidhi
(Faridabad, Haryana, India)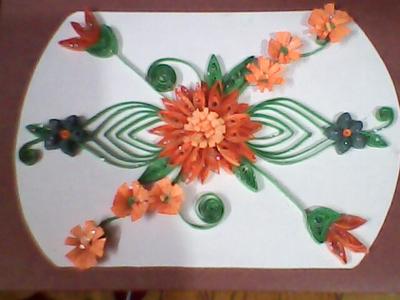 Hello Mam ,

I am sending card second time and I hope you like them but I think my camera was not so good so my pictures of cards are not so clear but I have tried my best. I really want to know about these cards. How are they, good or not good? Please tell me mam. I really want a response about these cards.
I hope you'll like them.
I really enjoyed making these cards.

Vidhi


**********************
Hello Vidhi
Thank you for sending me pictures of more of your lovely cards. I love the designs you make. More importantly, you tell me you are enjoying making these cards. That is very good! It is not good to have a hobby that you do not enjoy.
These pictures are clearer than the first set of photos you sent to me. I think perhaps if you try to avoid having shadows in the pictures you will like them better. Try leaning back a little or photographing your cards when they are standing up or leaning on something.
Another thing I do is to set my camera on something solid to be sure I do not get a blurry photo from camera shake.
Thank you again fro sending in examples of your beautiful quilling.
Happy crafting and happy Woman's Day
Susan
PS:
Here are more techniques to try sometime: