Hi


February 2015 Paper Twists
Happy New Year and a big welcome to all new subscribers to Paper Twists, the occasional newsletter from PaperCraftCentral.com
As I type, I am excitedly waiting for a big new box of goodies to arrive from Stampin' Up! It is on its way, and I want to play! There's a new Occasions catalogue out in Australia and I noticed a few new trends in papercrafting inside it, so I ordered some of my new found favourites.
As I see it, the new trends this year so far are bows and handmade boxes for gift givers, new Project Life elements for scrapbookers, an eclectic mix of images for stampers, and new banners and seasonal wreathes for home décor makers. Stampin' Up! has also made it easier for those of us who want to make a stack of simpler cards, fast, by putting out some gorgeous kits to help us do just that.
Of course, the new on trend products don't just stay in strict categories. There's a cute tiny bow punch available now that is perfect for card makers or small gifts or even scrapbook pages. I love to mix up the elements in my craft room to make them work for all kinds of projects. (Yes, I did order that new little bow punch. It is so darn cute!)
My frugal crafter's tip for this edition of Paper Twists is about how to create new looks without breaking your bank balance. I love to look at new spins in paper crafting, but sometimes it is just too expensive to buy all the items needed for a particular project. Instead, I try to make my existing stash items create the new looks.
For example, I saw a cute CAS (Clean and Simple) card on page 33 of the January edition of Australian Simply Cards magazine. I had none of the supplies that clever crafter had used, and the friend I had in mind to make a card for likes different colours than those shown in the magazine. So I CASEd (Copied and Shared) the idea and hunted through my stash to find punches and stamps and designer series paper I knew would work for her. The card in the magazine had a punched shape on the front that served as a little nest for a handmade flower. I found my own flower punch and stamp set and created this card, using that idea: (If you cannot see the images because you are receiving this in text format, just go to https://cardmakingsaga.blogspot.com.au/2015/02/cas-birthday.html)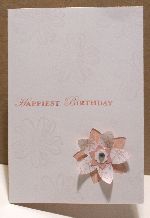 Here's how the completed envelope and inside of the card looked: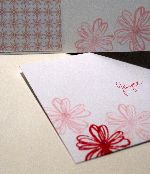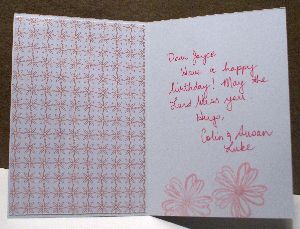 My total outlay for this project was NIL as I 'found' everything I needed! I was happy with the result and think my friend will like her card, which is the whole point of cardmaking really, isn't it? To spread the joy.

Now, I was wondering if you had tried any new challenges lately? There are so many nice challenge blogs and forums available to us these days. One I found recently that suits my style of scrapping and crafting is called White With One. Every month there is a challenge to make a layout using white and one other colour nominated by the blog owner. There are some nice prizes on offer there too. I entered the January challenge using white and a colour called Placid Blue. The blog owner allows contestants to use what they already have without expecting people to go out and buy all kinds of things in that particular colour. A woman after my own heart!
I just chose Stampin' Up!'s (retired) Baja Breeze instead of Placid Blue and made a layout following their sketch. I had a great time playing with my reinkers with this one. See if you can find my entry and I hope you will consider entering a challenge there too. (Hint: My layout has a boat in it).
To finish, let's talk about a technique you may not have tried lately. Remember the Peeling Paint technique? If not, it is a fun way to make backgrounds and I happen to have a tutorial about how to do that on PaperCraftCentral.com. My dare to you for this month is to play with that technique and post a picture of your lovely project on the Peeling Paint page. You will probably have the magic ingredient you need for this in your bathroom! (Go to https://www.papercraftcentral.com/peeling-paint.html to see the tutorial).
Till next time, happy crafting.
Susan www.papercraftcentral.com
PS: PaperCraftCentral.com has a brand new Google Plus (G+) page if you would like to follow it at https://plus.google.com/104006407942682758579/+Papercraftcentraldotcom/posts