Blog Candy
When Lisa of Easy Party Ideas and Games asked what the meaning of Blog Candy was, I decided to find a good web page about it and let her know where that page was. It's right here!

"Anyone who uses the phrase
'easy as taking candy from a baby'
has never tried taking candy from a baby."
                             ~Unknown Author

So, What is Blog Candy?
My original plan to find a website with a good definition was doomed to failure. Imagine my surprise when I couldn't find a web page about it! Not even one! So I wrote a definition myself instead.
I know plenty of people who are new to the papercraft world have wondered what this tasty sounding item is, so thank you for your question, Lisa.
Here's the definition, a la PaperCraftCentral Susan:
When people who have papercraft blogs want to hold a competition and/or give away prizes, they may offer a reward for the best competitor. The prize can be something like a chocolate bar, of course, (who could resist chocolate? And the connection to the term we are discussing is pretty obvious when the prize is chocolate!) but more often than not the prizes are paper craft goodies instead.
Sometimes people offer rewards for certain behaviours, such as asking for comments or referrals.
So if you participate in a competition to, say, design a card around a certain theme, and you win, you may be offered
some stamped images
some designer paper
some paper flowers
embellishments 
a papercraft tool of some sort
a stamp set
inks
markers
bling
a free pattern/design/class

any combination of the above

as a prize.
Sounds like a sweet thing to me! We papercrafters know that none of us can ever have enough yummy choices in our stashes so such treats are hard to resist.
---
The Rules
Of course, just like there being no official definition, there are no official rules about blog give-aways. The person offering the prize(s) chooses the winner and what that prize will be along with the stipulations for how it is won.
Sometimes you will know what the prize is going to be from the start and at other times the person offering the prize will keep what it is a secret until the winner is announced.
I hope this has helped you understand what this treat is all about. It may even encourage you to offer some prizes and competitions of your own! It sure makes the paper crafting world a fun place to be in.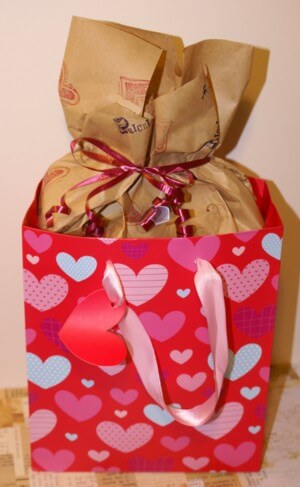 Could there be blog candy inside this bag I wonder?
---
Return from Blog Candy to Ask Susan | Return to PaperCraft Central Home Page
---