Card Ideas

Written and Created by PaperCraftCentral Susan

Are you looking for new card ideas? On this page I will add all the recent card projects I have developed for my regular classes being held each month.
Many of the cards featured on this page are made by people who attended my classes, using kits and instructions I provided for them.

If you would like a free card kit, just order from me any of the current supplies being used in the projects and let me know you would like to have one.

Project Ideas, March 2020
Timeless Tulips Stamp Set and Coordinating Punch

Easter is not far away! We made Easter cards with the Timeless Tulips stamp set and coordinating punch at card class today.We also stamped images from the Nature's Beauty stamp set and some of the sentiments were from Itty Bitty Greetings. The main Happy Easter sentiment was from a retired stamp set.

The cardstock has been folded into a 'Z' fold so there were three panels to display for our finished cards.
The designer series paper used was Mosaic Mood Specialty Designer Series Paper and the sentiment box was cut out with a stitched rectangle die.
The bunny tail was made with small pinches of cotton ball!
I added stamped, punched tulip shapes to the bg tulips on the front of the card here.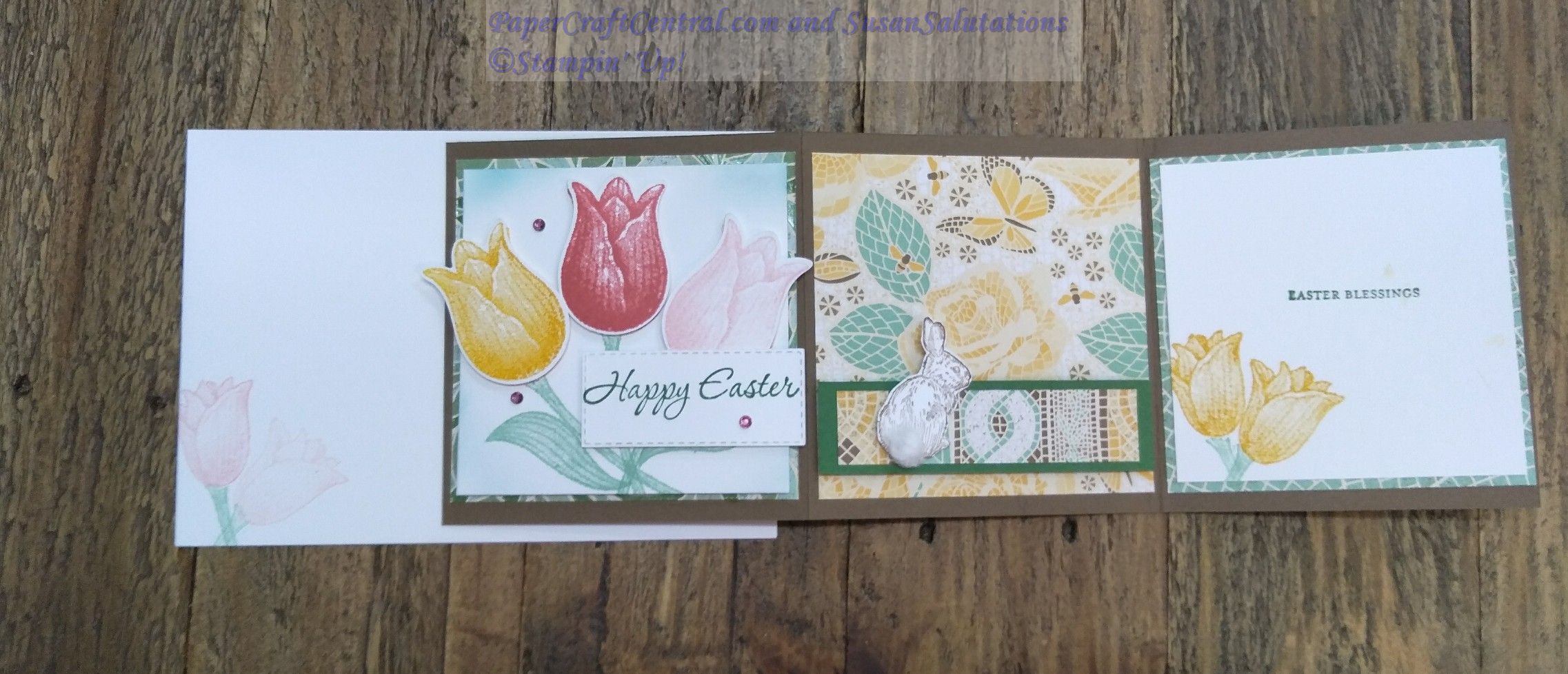 Punch Art Bunny Card
These card ideas are oldies but a goodies. Use your punches to make this cute bunny disappearing down his rabbit hole!
I have instructions for how to make a punch art bunny face on another page.

You make this bunny with circle and oval punches. Use your largest circle punch for the rabbit hole. Use a nesting circle punch for the bunny body. I sponged Soft Suede ink on the edges of his body that I cut from Crumb Cake cardstock.
Then use nesting oval punches to make the feet. Cut your largest oval from Crumb Cake and sponge Soft Suede ink around the edges, then cut the bunny foot pads from Blushing Bride ink to sponge around the edges, glue the two ovals together leaving room for bunny toes, and make marks with the Blushing Bride Stampin' Write marker to make those toes. Adhere the body and feet together as shown, then add a fluffy bunny tail with cotton wool. I glued the tail on with Tombow Multipurpose liquid glue.

To make the hole even more three dimensional, punch a circle form the dsp and adhere the navy circle on the card base itself, then use Stampin' Dimensionals to pop up the dsp. Adhere your punch art bunny to the dsp so there is a little gap between the bunny and his rabbit hole.
We also drew his little toes in with a Blushing Bride Stampin' Write marker instead of using tiny punched shapes. His tail is made of a slightly bigger puff of cotton wool!
You could use this punch art bunny to decorate Easter baskets or gifts too.

The Gang's All Meer
The Gang's All Meer is s stamp set you can earn by placing a qualifying order during Sale-A-Bration (it has to be in by March 31st and before stocks run out). I loved these little guys so much I decided to make an order just so I could get them!
In the first card, I built a scene first, then stamped my gang on top. To make it a silhouette, I coloured the figures all in with a Basic Black Stampin' Write! Marker.

The chameleon was placed behind the cactus using the masking technique.
Then I could not resist showing off the gang's cute little faces and attitudes.
This is a simple to make card. I used Stampin' Blends to colour them in. I loved that I could shade their pelts darker and their tummies lighter that way.
I backed the coloured image with some beautiful Lily Impressions designer series paper. The paper is another Sale-A-Bration reward for a qualifying order before March 31st, or while stocks last.I embossed the dsp with the Basket Weave Dynamic Textures Impressions Embossing Folder.

The ribbon is the cute whisper White Polka Dot Tulle ribbon.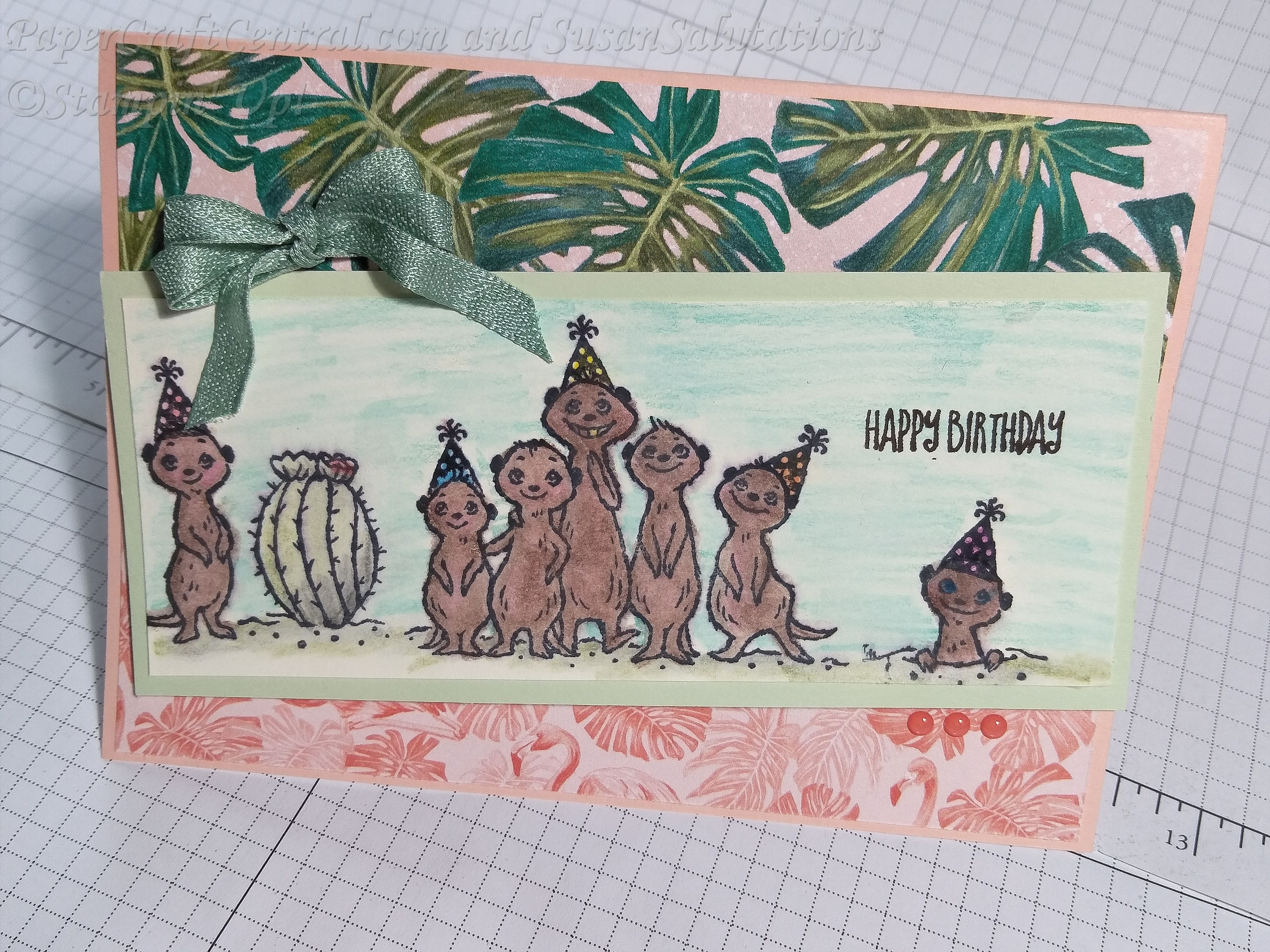 I decided to make a real gang for this card and used all the images of Meerkats in the stamp set.  This time I used Stampin' Write@ markers to colour the little guys and their cactus. And I backed the image with pieces of Tropical Oasis designer series paper. The Mint Macaron ribbon just set it off nicely for me.
Meerkats deserve double bows, don't you think?
Dressed to Impress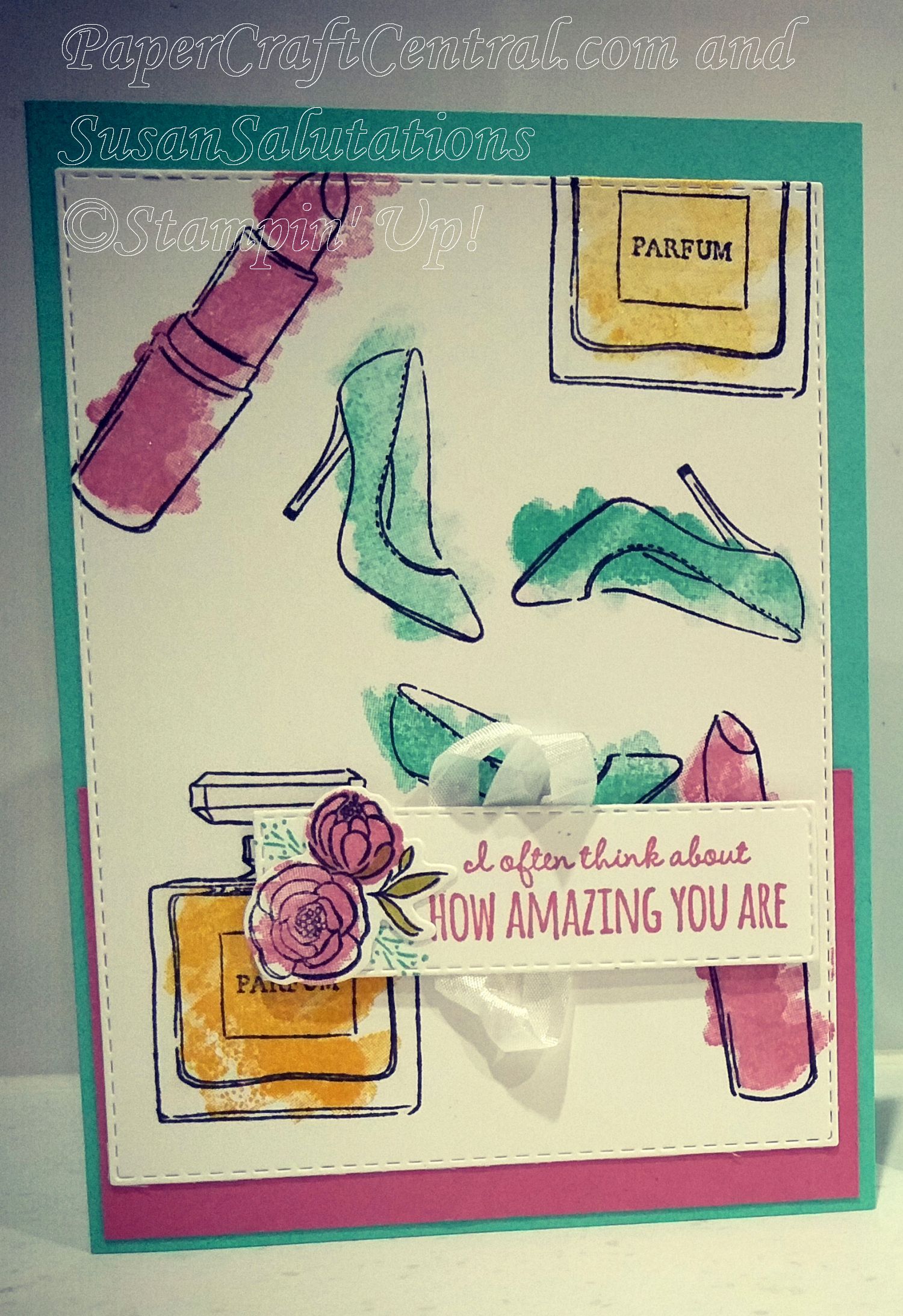 This card was so easy to make with the Dressed to Impress stamp set and coordinating All Dressed Up dies. I also used the Rectangular Stitched dies on this card.
The images are coloured with ink using the fill-in stamps from the set. Talk about quick!
I thought it was a fun card

These cards all came together quickly too. The Best Dressed 6" x 6" paper stack has such beautiful flowers on it!
Here I used vellum on the first card, sticking it down onto the card with glue dots hidden behind the sentiment element.
I used a circle punch to punch out part of a circle form the front of the second card and stamped my greeting on a Whisper White piece which I glued to the card front, right where the circle punch out was. Adding Stampin' Dimensionals to the dsp made the circle element pop.
The third card has been embellished with a Stitched Rectangle shape that I corner cut to make the ends look like a banner.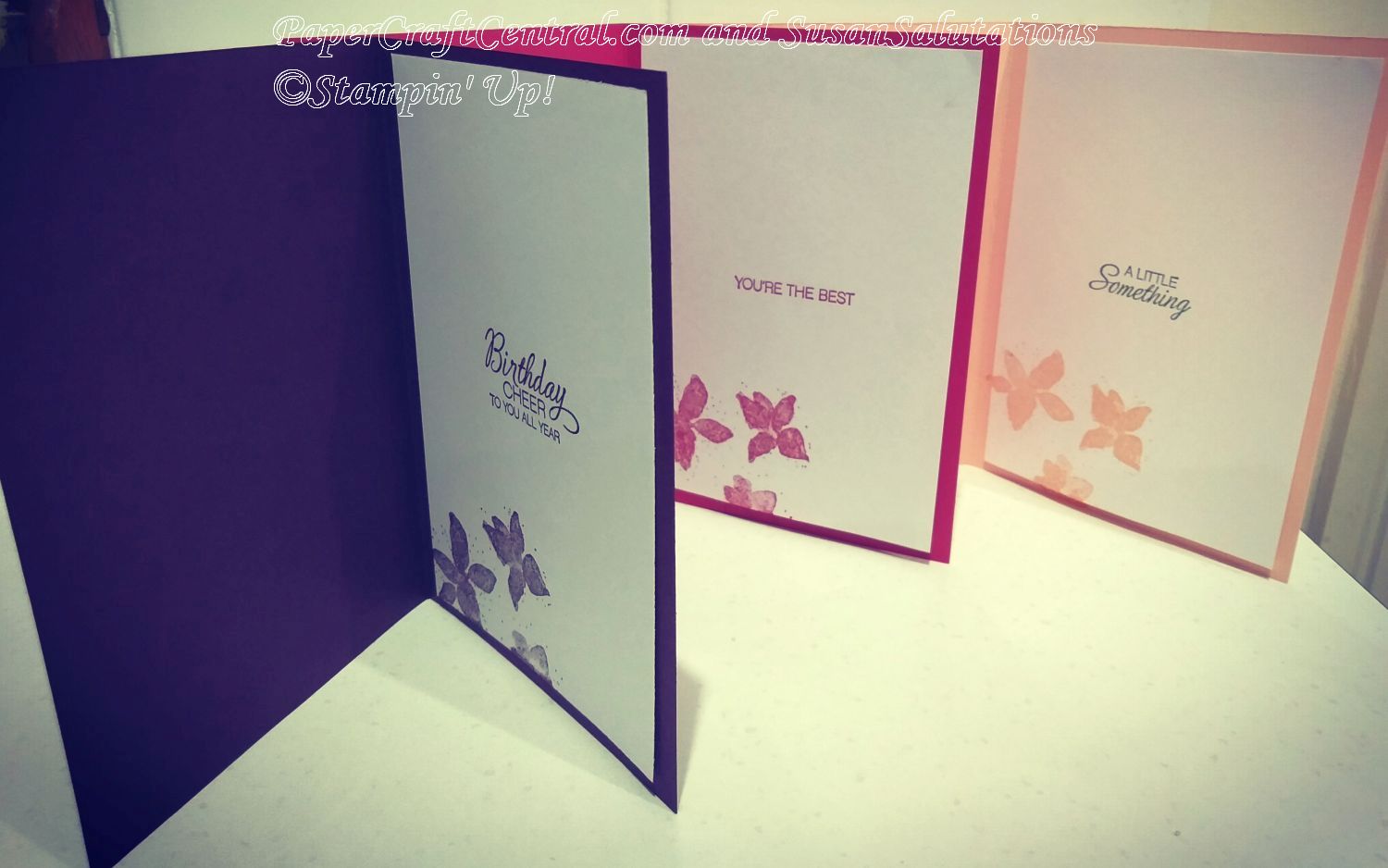 The insides of the Best Dressed cards needed to be finished too so this is how I did that for them.
Tropical Oasis Suite Bundle
I love this suite of goodies. I have played with it a bit lately. I made a simple card for a class using the stamps and designer series paper. All you need is a 2" circle punch to make a place for your sentiment in the dsp. I doubled up on the Braided Burlap Trim to make a thicker row of trim to embellish the card.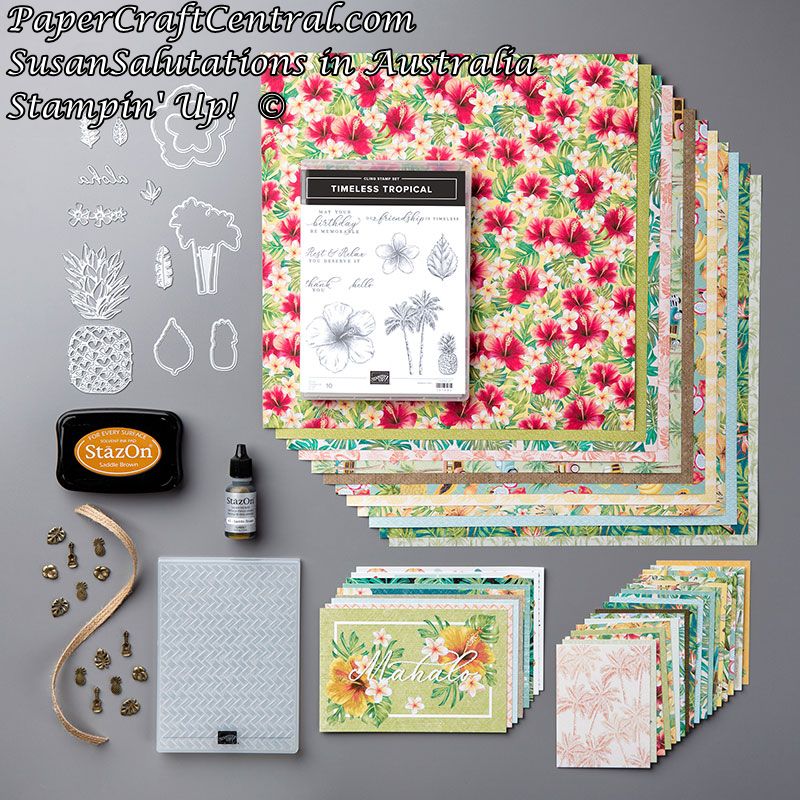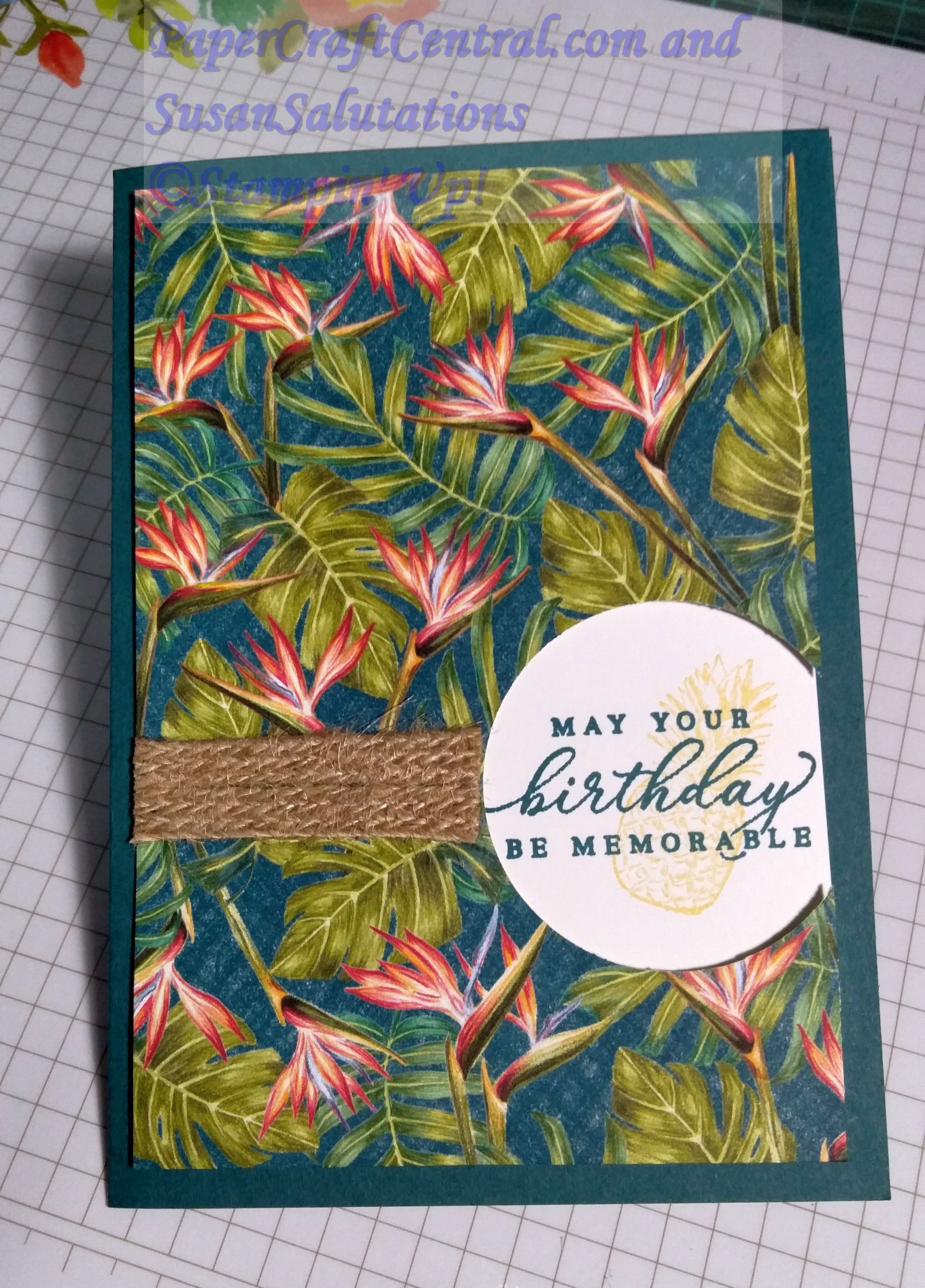 Then I started playing with the designer series paper again with the encouragement of my upline, and made an 8" square sampler. I framed it with a wide margin.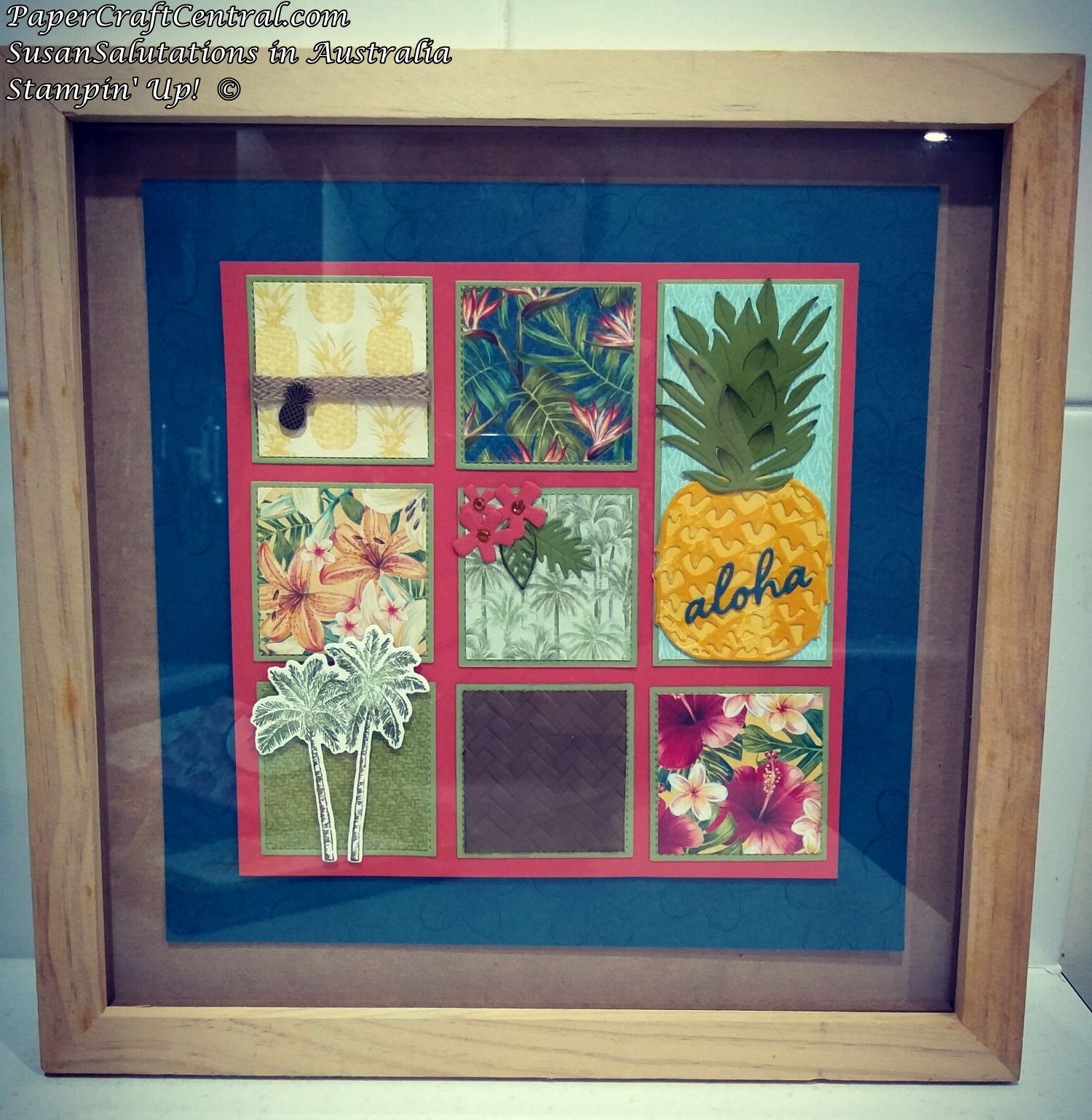 I love how it turned out! I need to find a good place on a wall in my house for it, but wouldn't it also make a good gift?

Scroll down to see another card made with the Tropical Oasis suite.
Project Ideas, February 2020
Valentine's Day Card Ideas
The suite I found most wonderful for Valentine's Day cards and projects was the From My Heart Suite Bundle. Here are a couple of idea for you to use for card sketch ideas or to CASE:

Here is the inside of the card shown above: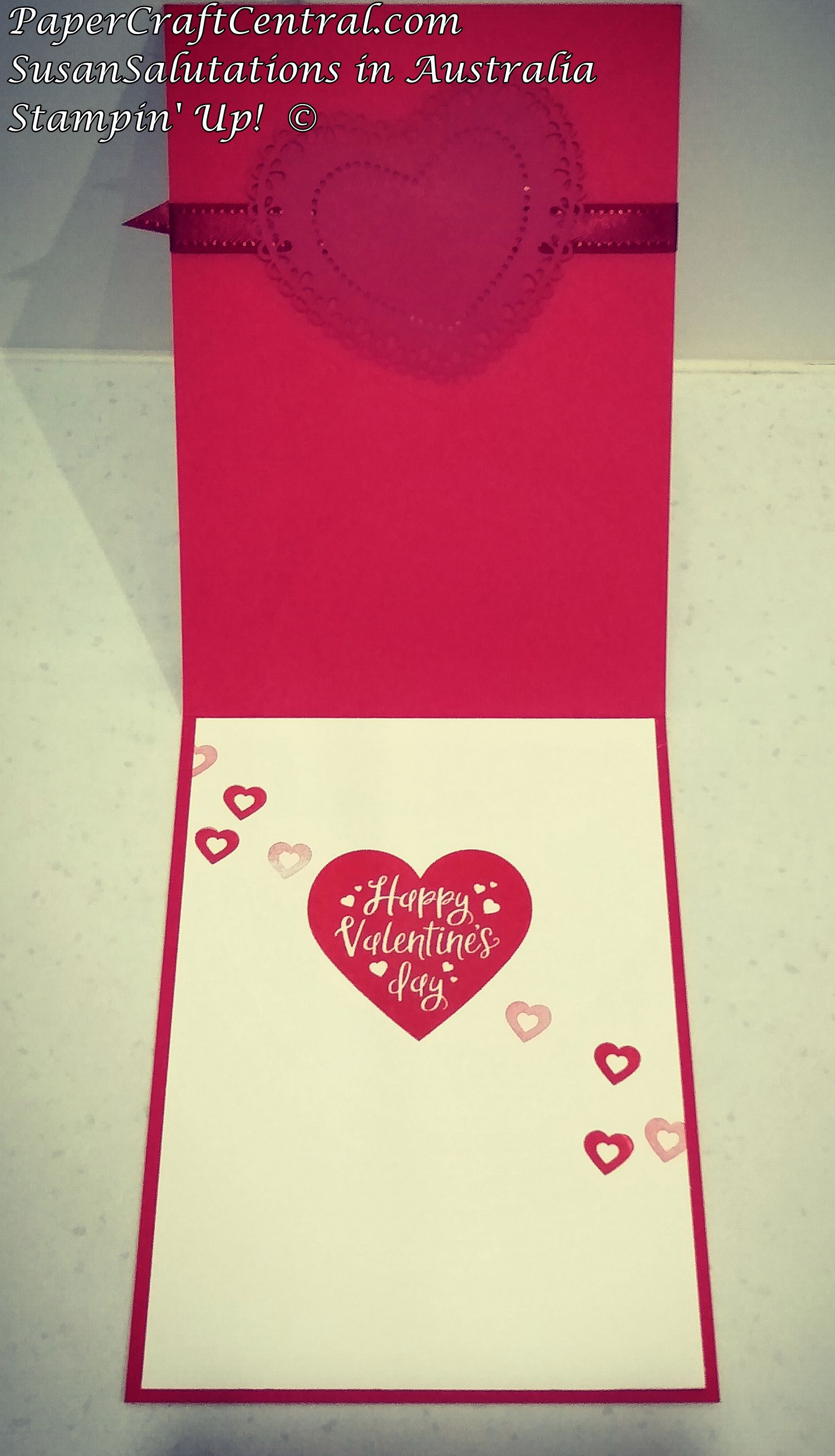 Here's another card layout where I used the 2" circle punch on the front, then added the cut out piece to the inside of the card: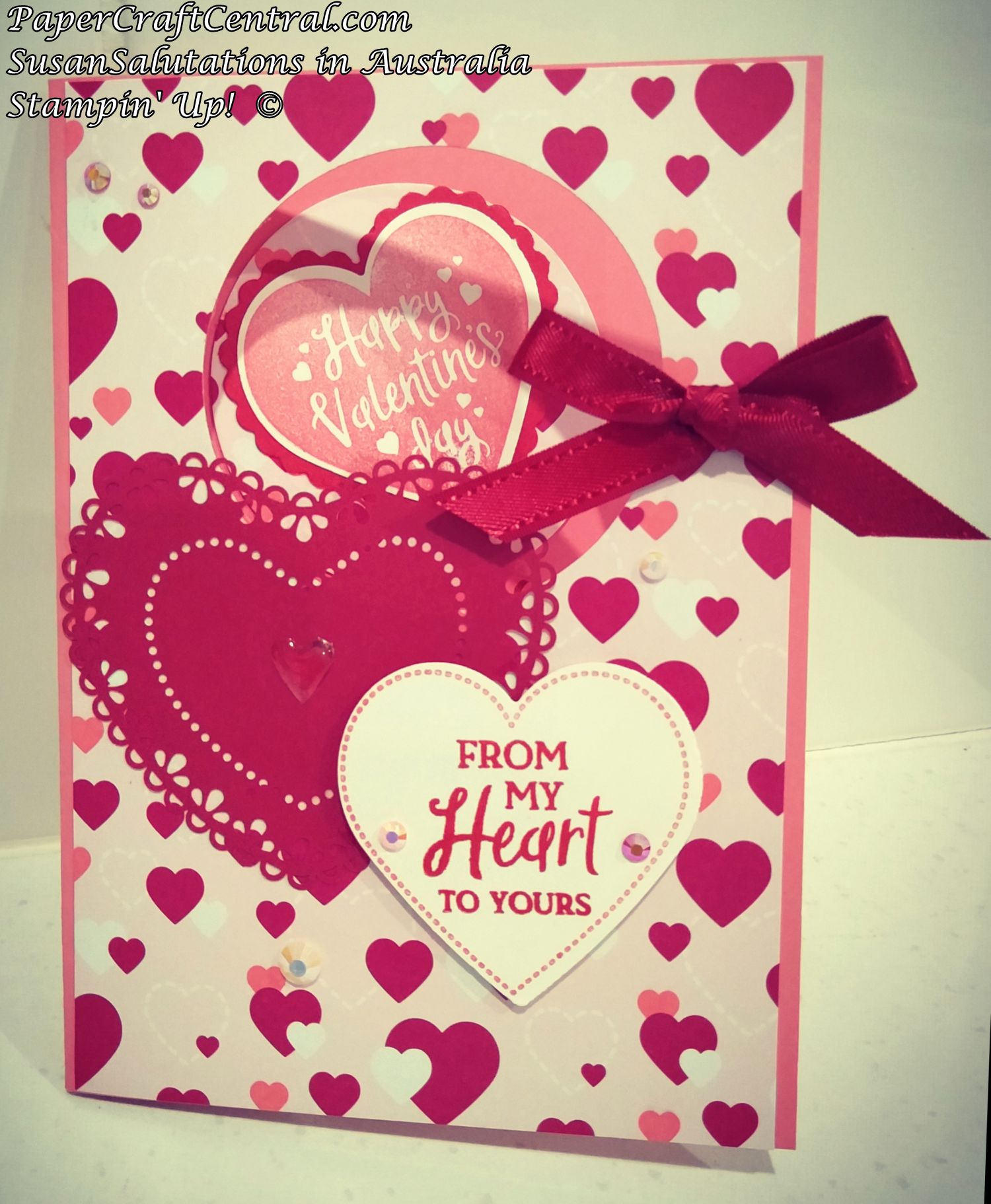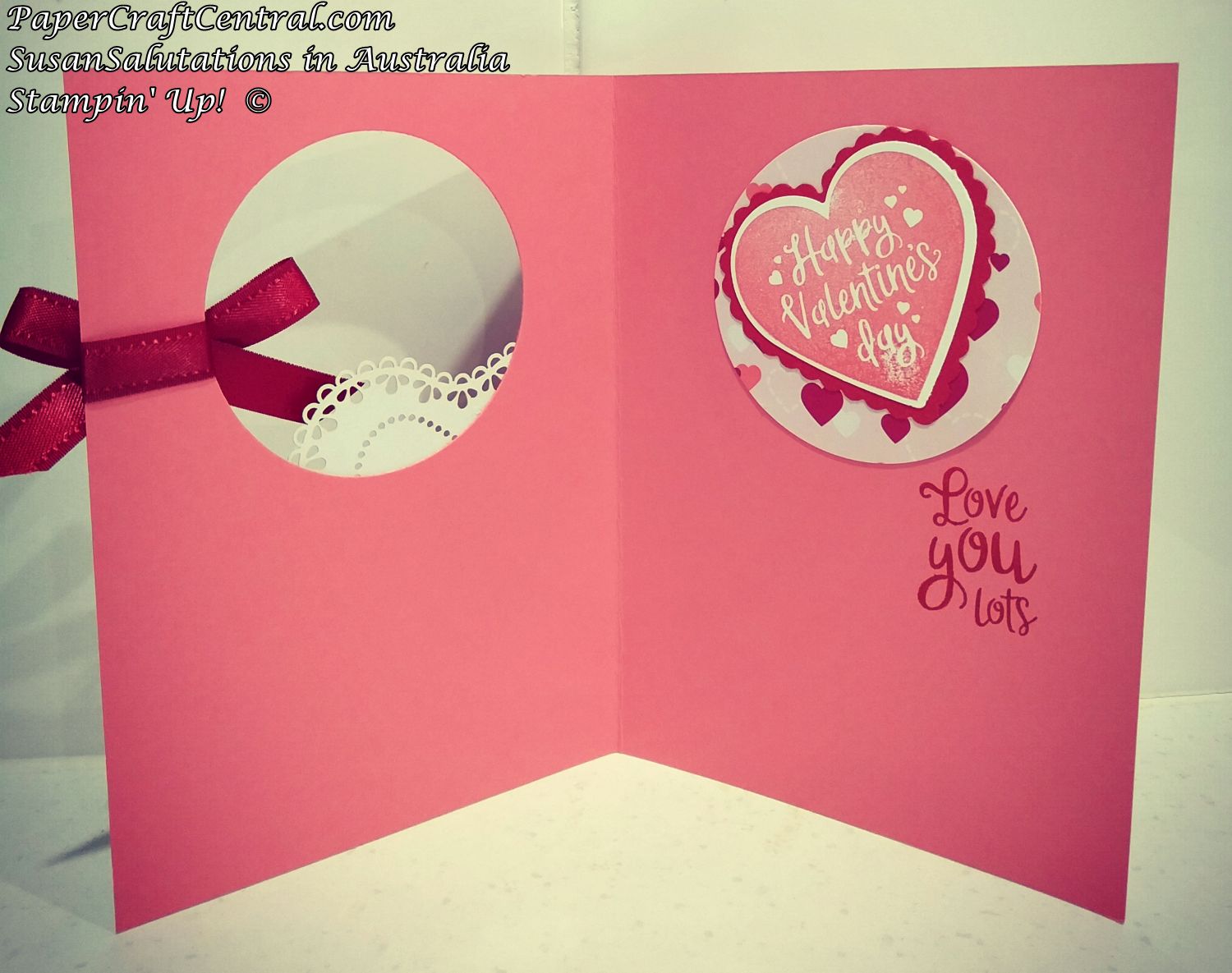 A Scrapbook Layout Idea using the From My Heart Suite Bundle
I know this isn't a card, but I scrapped this month and really wanted to show you the result! I have to mask the pictures, I'm sorry, but I think you can still tell how this layout would look with a photo of your own in the centre.
I loved that I had die cut hearts, bling, stamps ribbon and designer series paper I could use to enhance my layout, all from the From My Heart Suite bundle.
It's not just for Valentine's Day!
PS: I did use a sketch idea I found from the Scrapbooking Global Facebook group to inspire my page.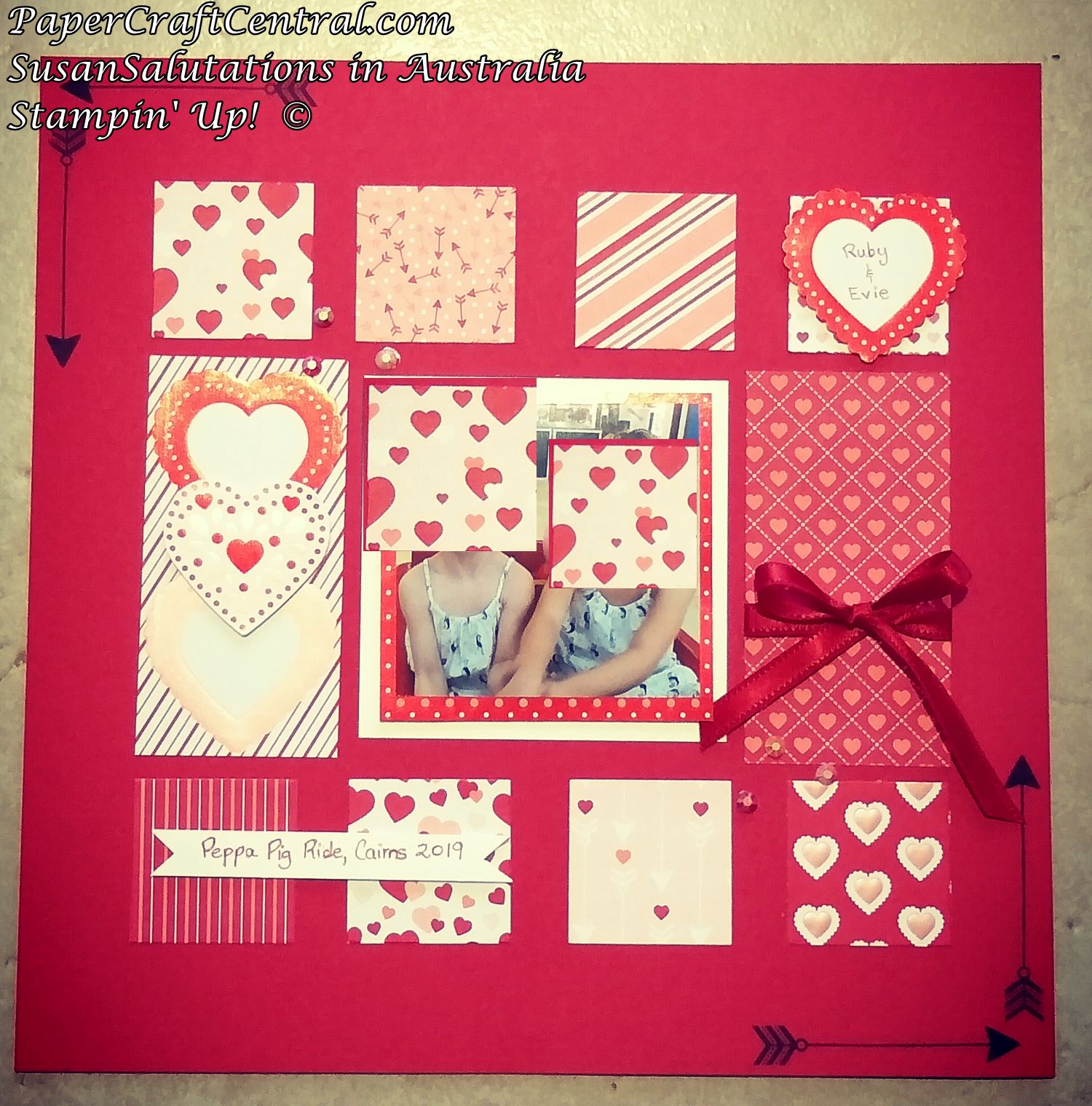 Peaceful Poppies in February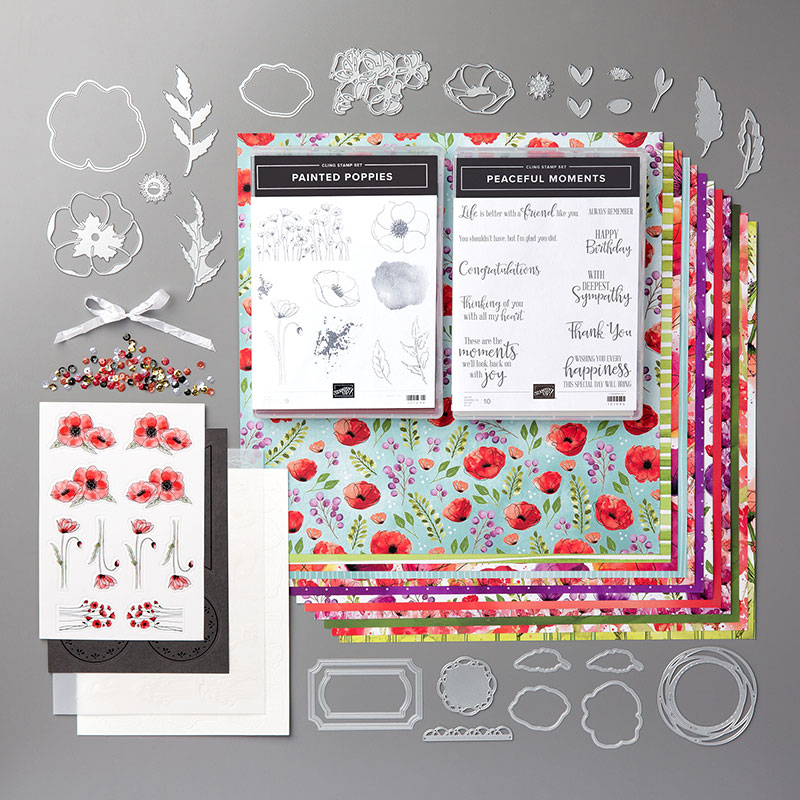 The Peaceful Poppies Bundle is featured in the following projects as card ideas for February. I love that you get stamps and die cuts in the bundle to help you create such beautiful flowers!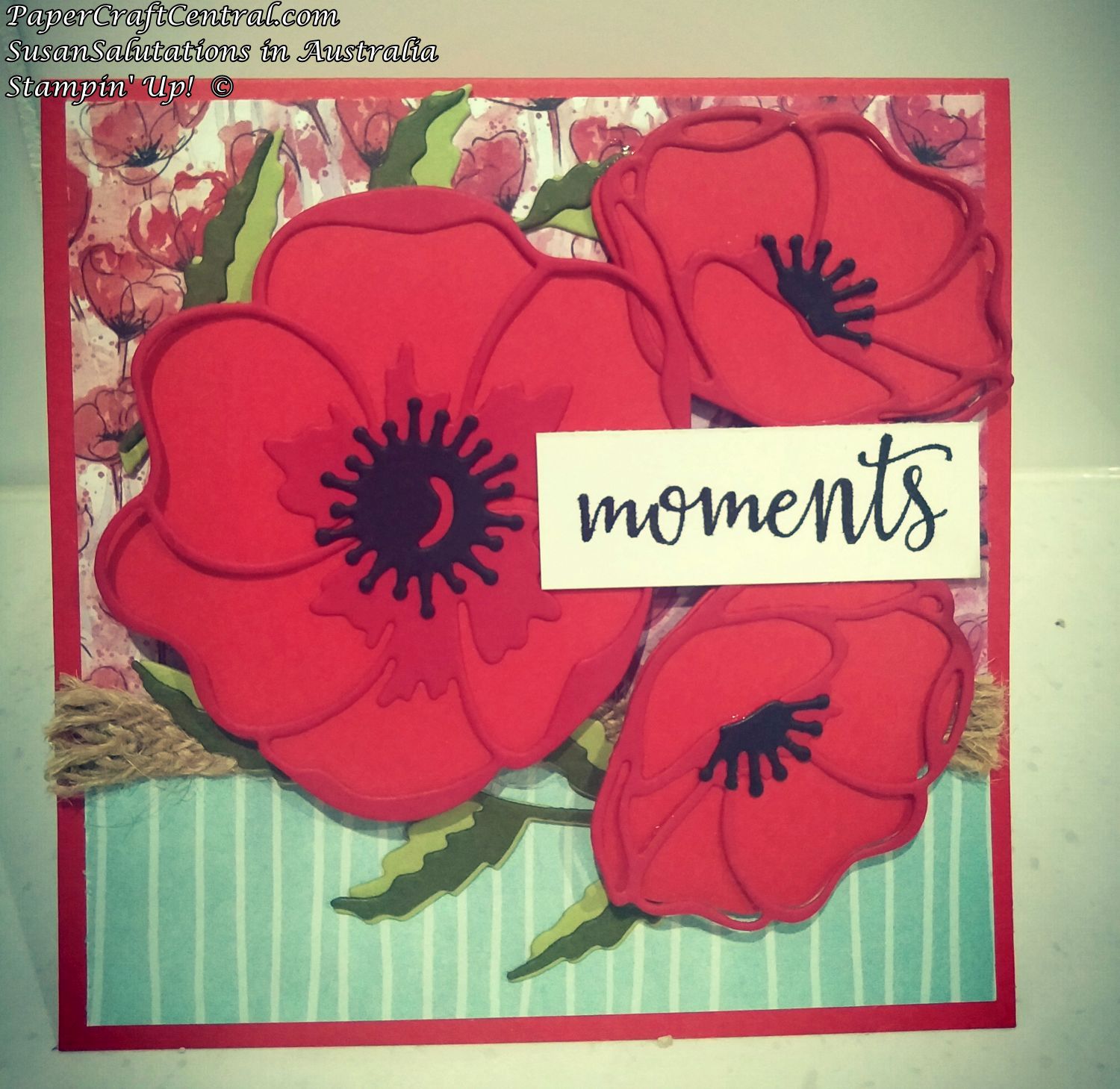 You even get die cuts in the kit, ready to be added to your project like I did here. I thought the little poppy flower finished off the inside of my card nicely.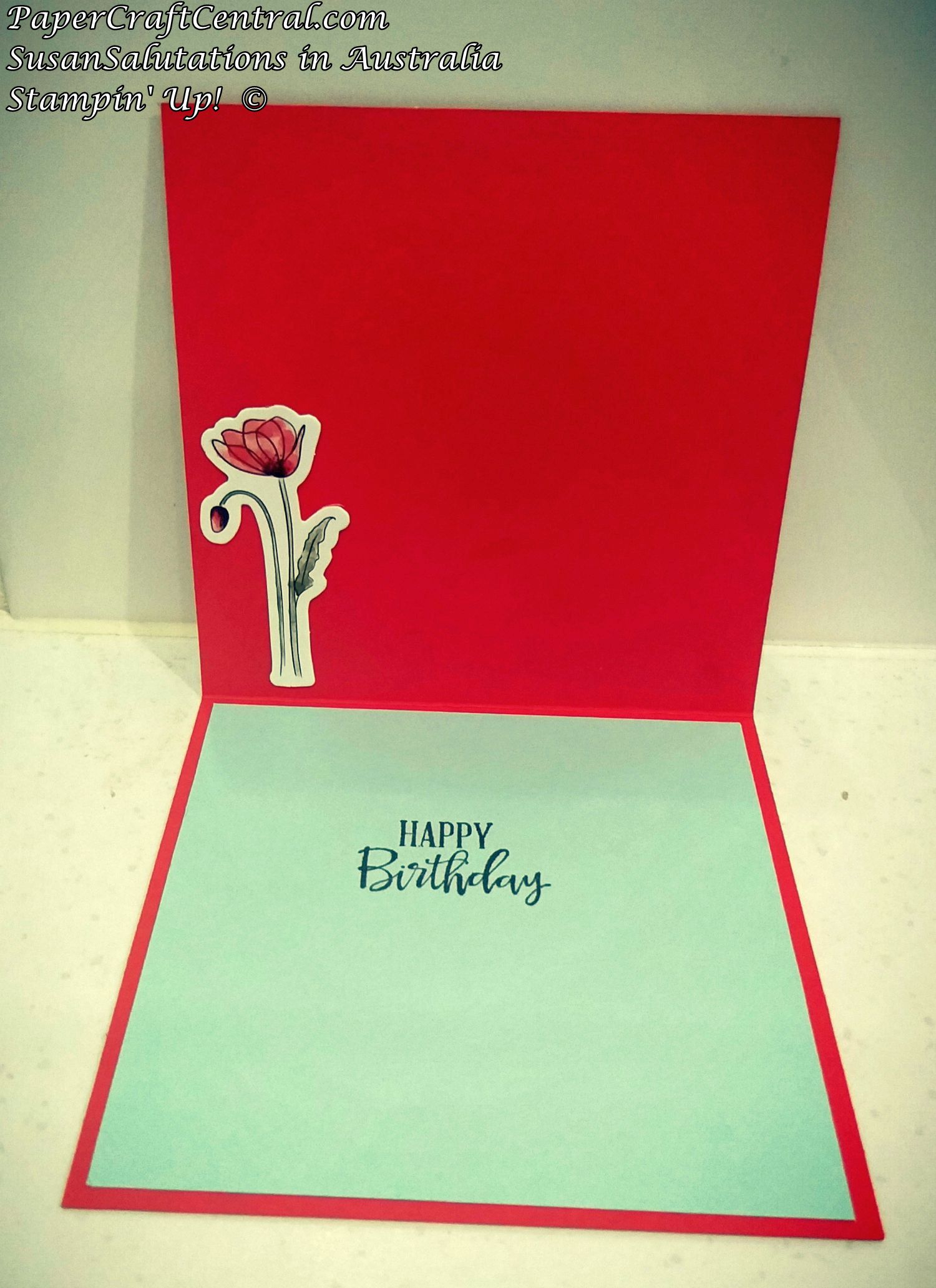 Dutch Fold or Barn Door Card Ideas
For card ideas that are a little different, you can make this Dutch Fold card. All I did was start with a normal sized card base, then I cut off 5cm from the bottom of the front, and I made a wrap around piece for the bottom so it could be scored and folded to meet in the middle.
These became my little 'barn doors' and I added some designer series paper to both sides of the doors as I thought it looked so pretty.

Add some ore designer series paper and a piece of Whisper White cardstock to complete the inside of your card.

Project Ideas, January 2020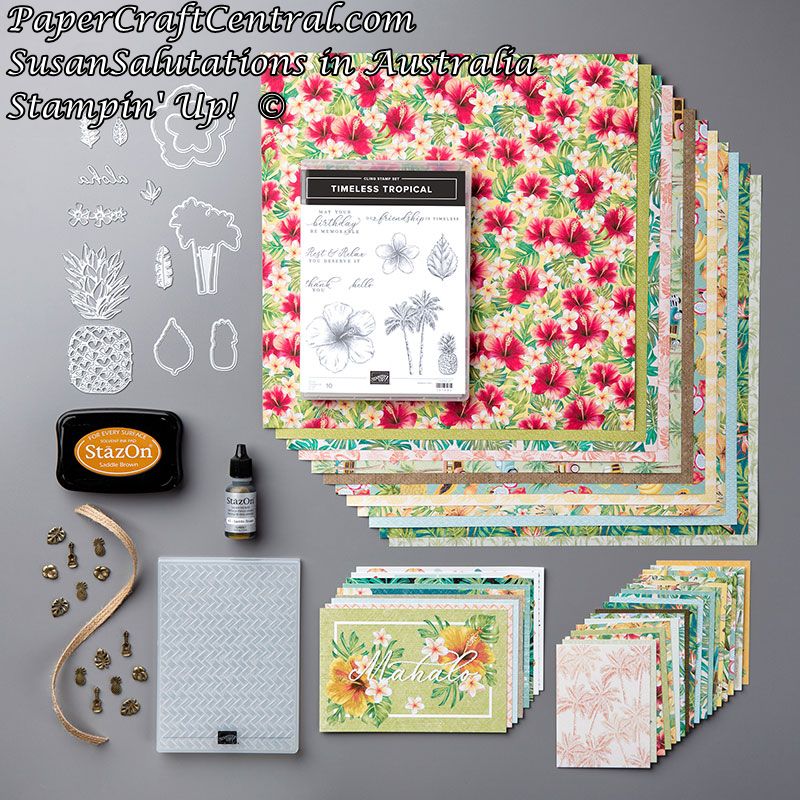 Some new product is always inspiring, isn't it? Read all about Sale-A-Bration and you may want to earn some of the products I am showing you for free from January 3rd to March 31st 2020! Many items I am showcasing come from the new January - June 2020 Mini Catalogue which is a gorgeous catalogue...

In the case of the Tropical Oasis Suite of products, they definitely gave me some good card ideas. I decided to make a special birthday card with some of the Memories and More pack of cards. I made it an accordion fold-out card with a window cut in the back of one section so I could show off both sides of the cards.
Here's how it turned out: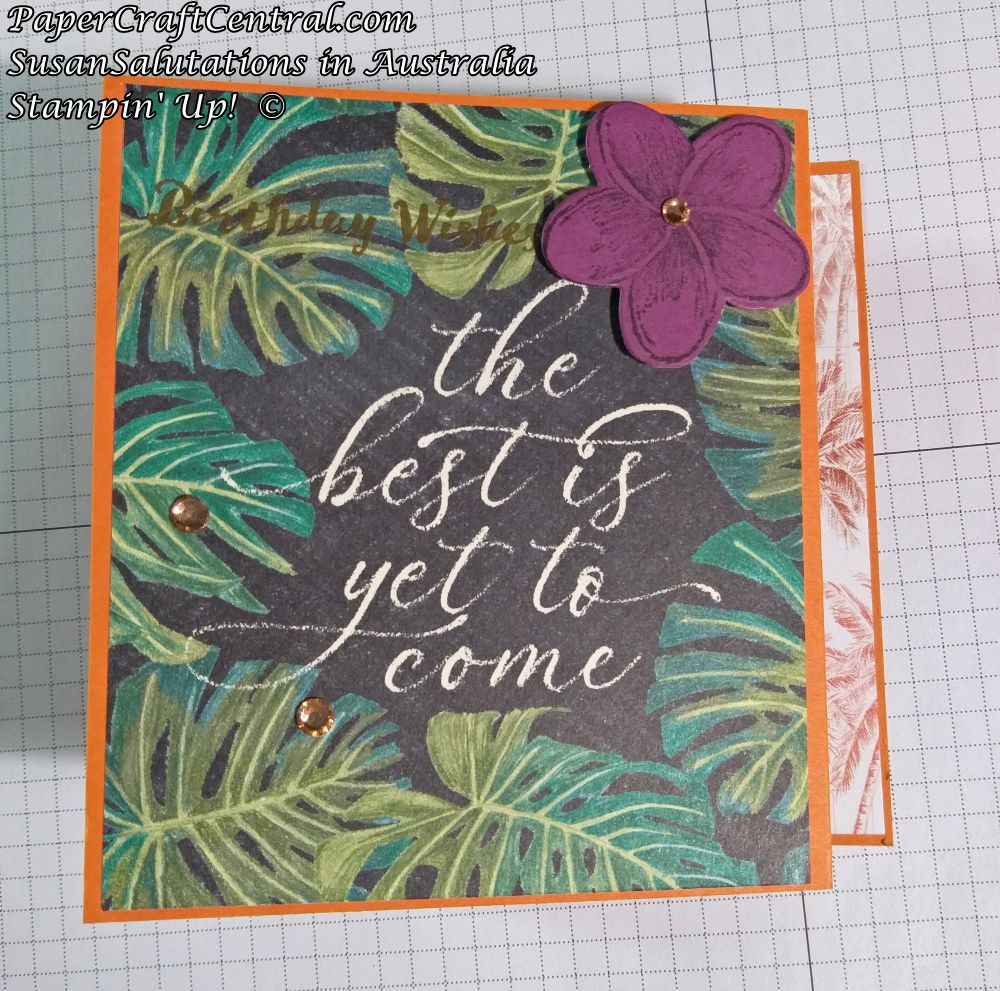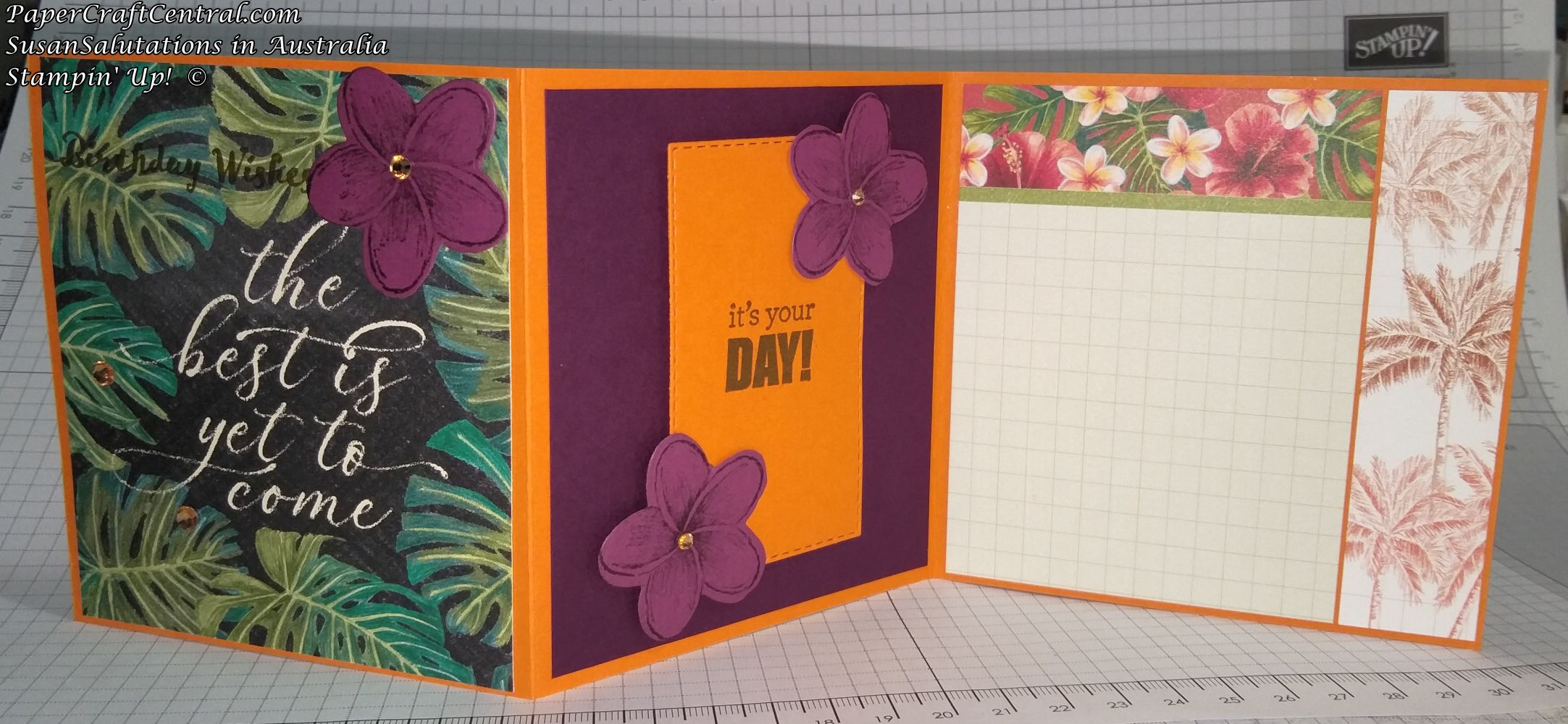 Another beautiful stamp set I have been playing with is the Forever Blossoms one. I just love the beauty of the flowers in this stamp set.

I didn't even use the dies this time! Next time!
The next stamp set I love is the Little Ladybug one. You can earn this set for free during Sale-A-Bration, while stocks last!

I just love these images and had to make a special card for a little 8yo lady in hospital who needed cheering up.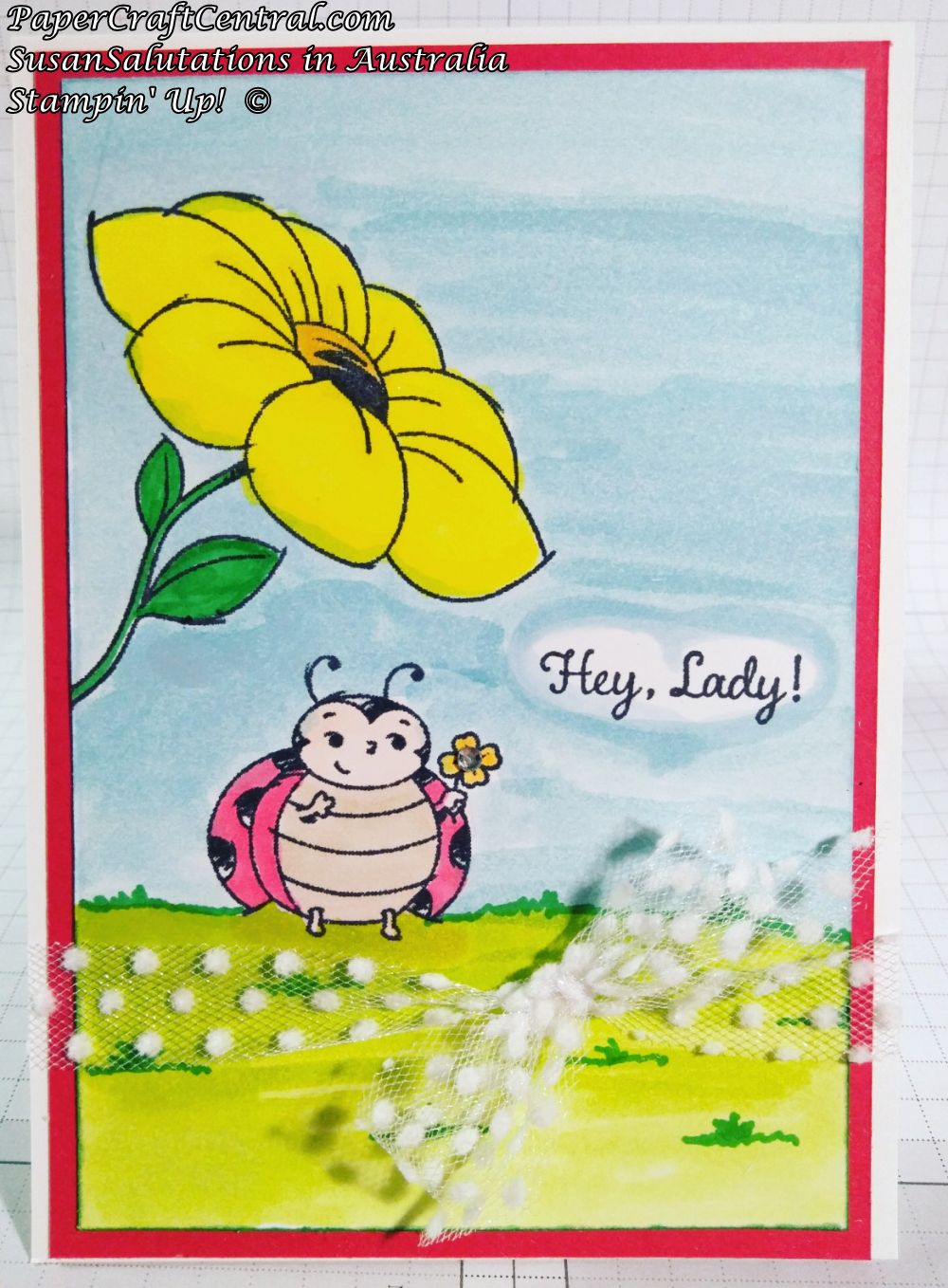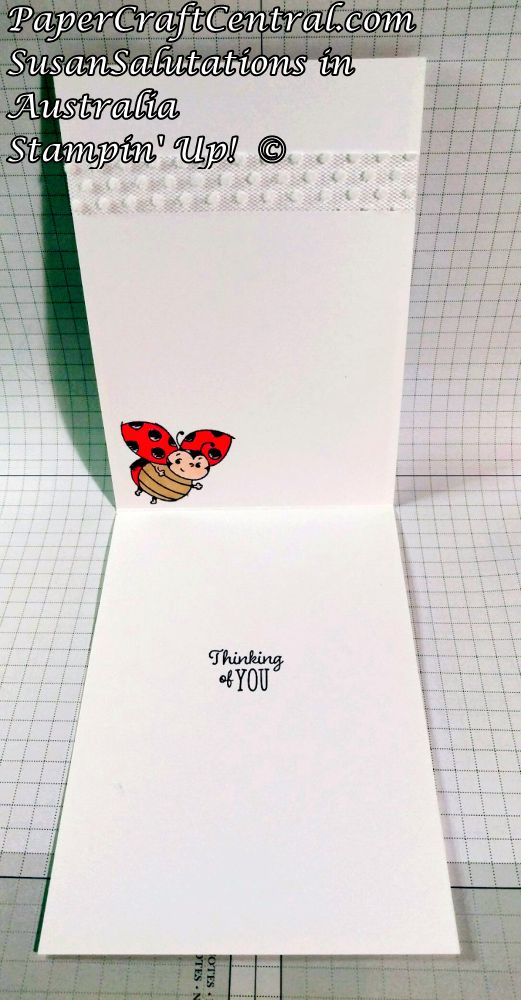 Project Ideas in December 2019
Enjoy the January projects and I hope you are inspired by them to create some of your own! Remember, you can earn or purchase these products during Sale-A-Bration only, so do check out how.

This month, our class made Christmas decorations. As they are not strictly cards, I have included pictures of them on the Christmas Star page.
In the meantime, here are some lovely cards I made from kits provided by the lovely Patricia Atherton in her Christmas class. Patricia is one of my talented downlines, a valued member of the Craft Sisters.
Patricia held a Stamp-A-Stack event where we each made three cards of the five designs she developed.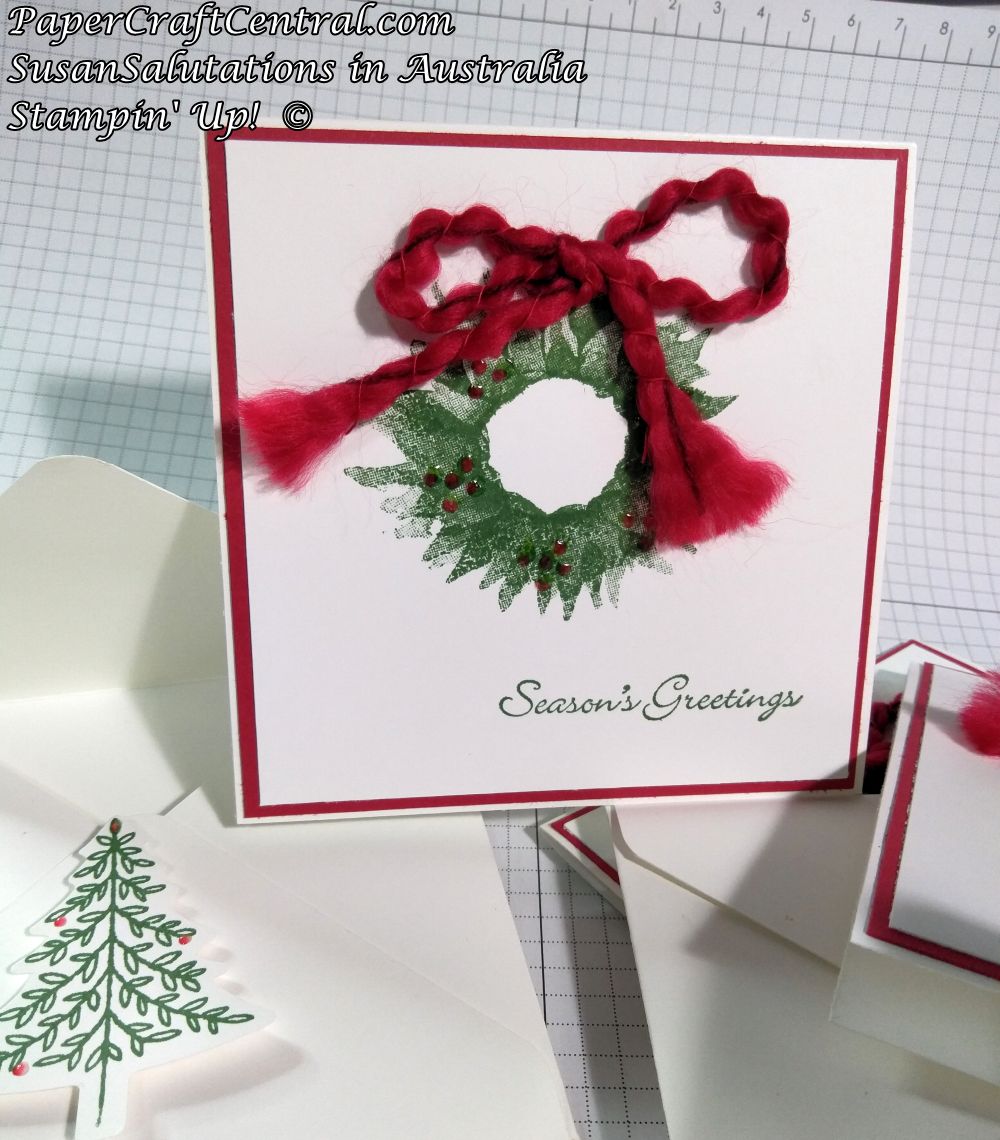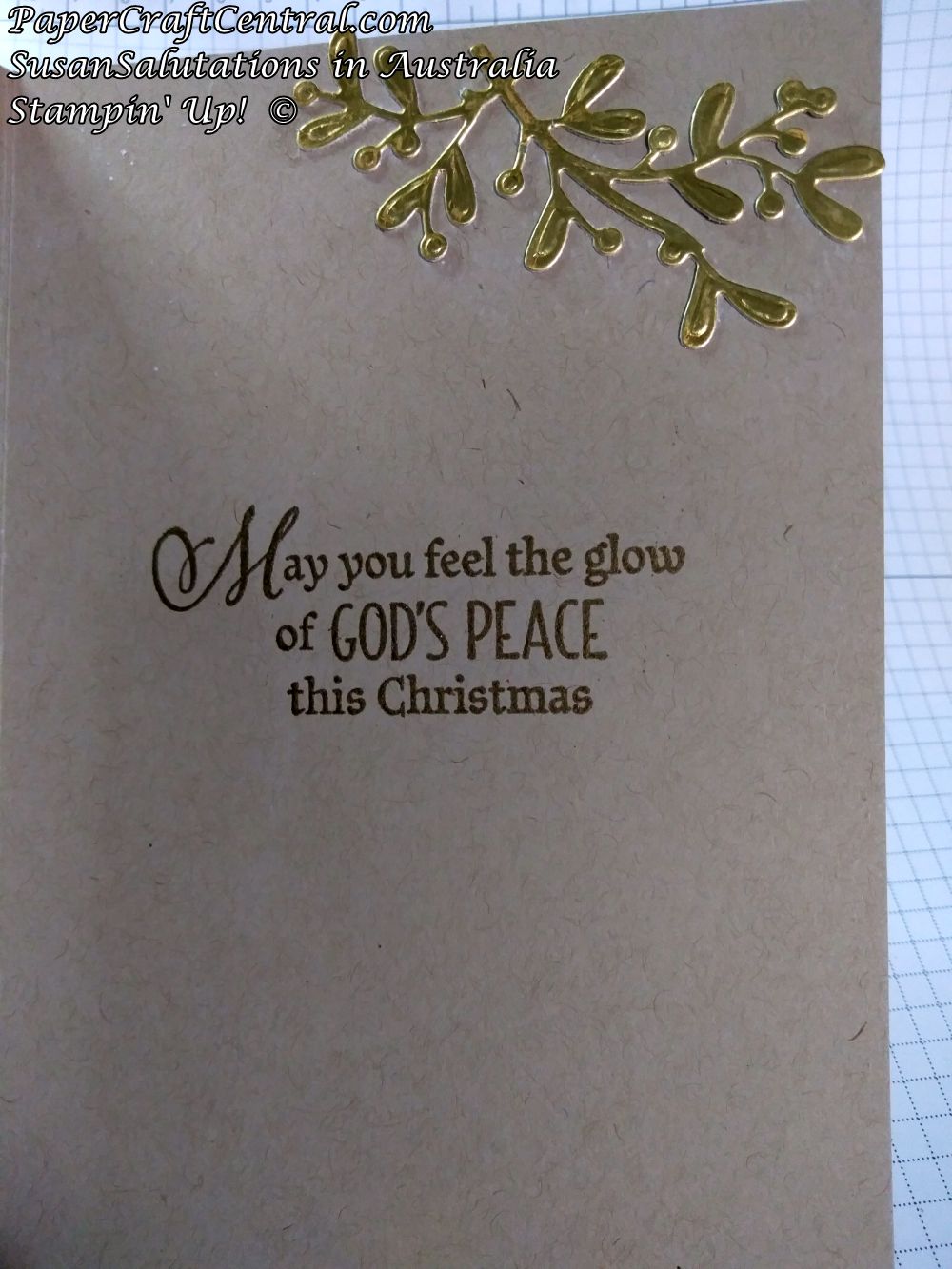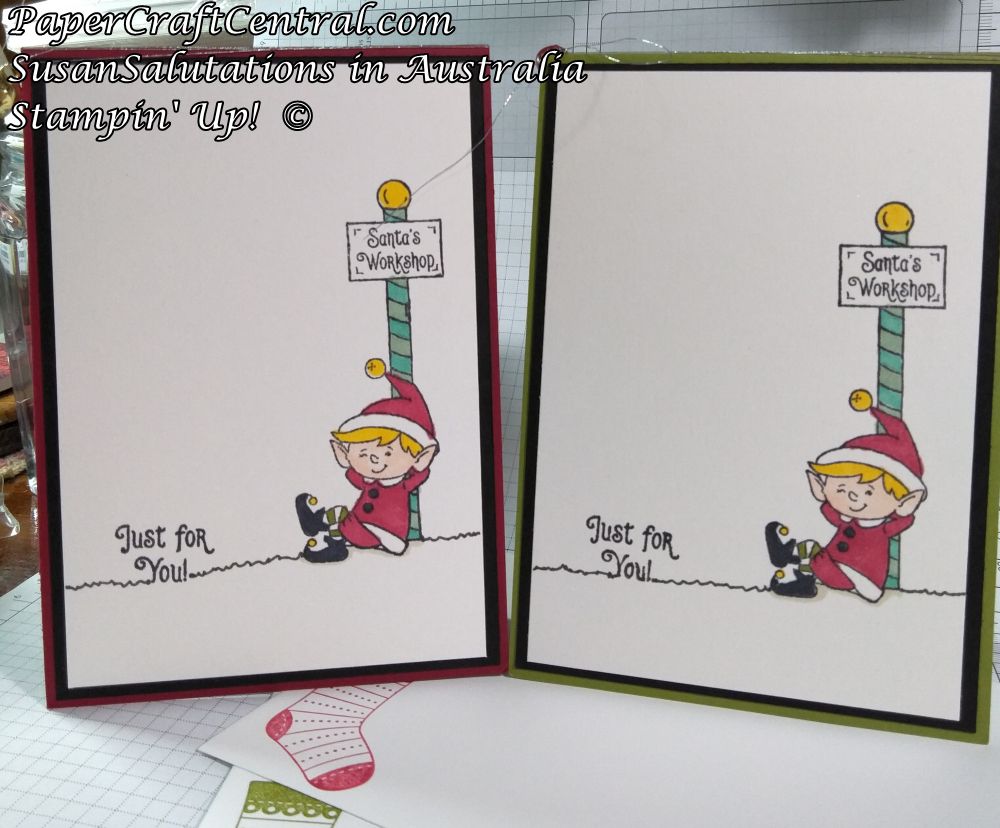 Card and Project Ideas November 2019
This month we had card ideas to try out with the Christmas Time is Here Suite (item no 153947) and also the Woven Heirlooms Suite (152184). we made great use of the Feels Like Frost specialty designer series paper (150444) as well!
I had great fun developing card ideas for class members to choose from, or they had the option of creating their own designed card using the materials I provided in the class.
Here is what I designed for the Christmas Time is Here suite of products: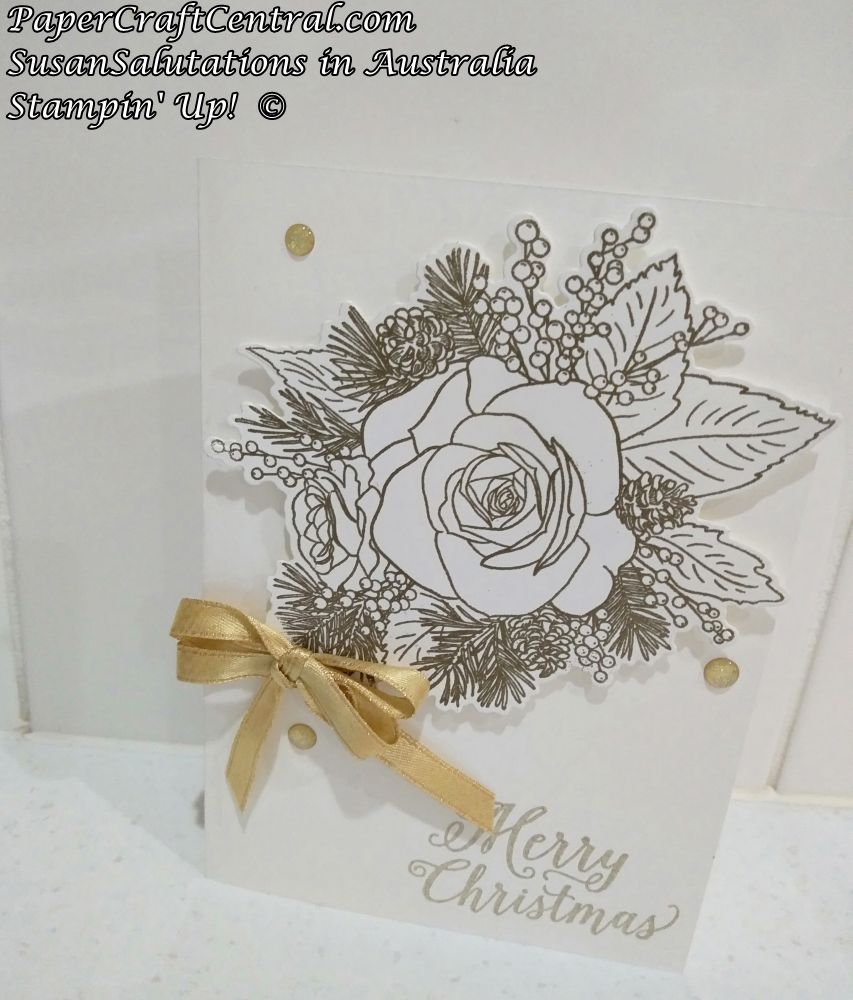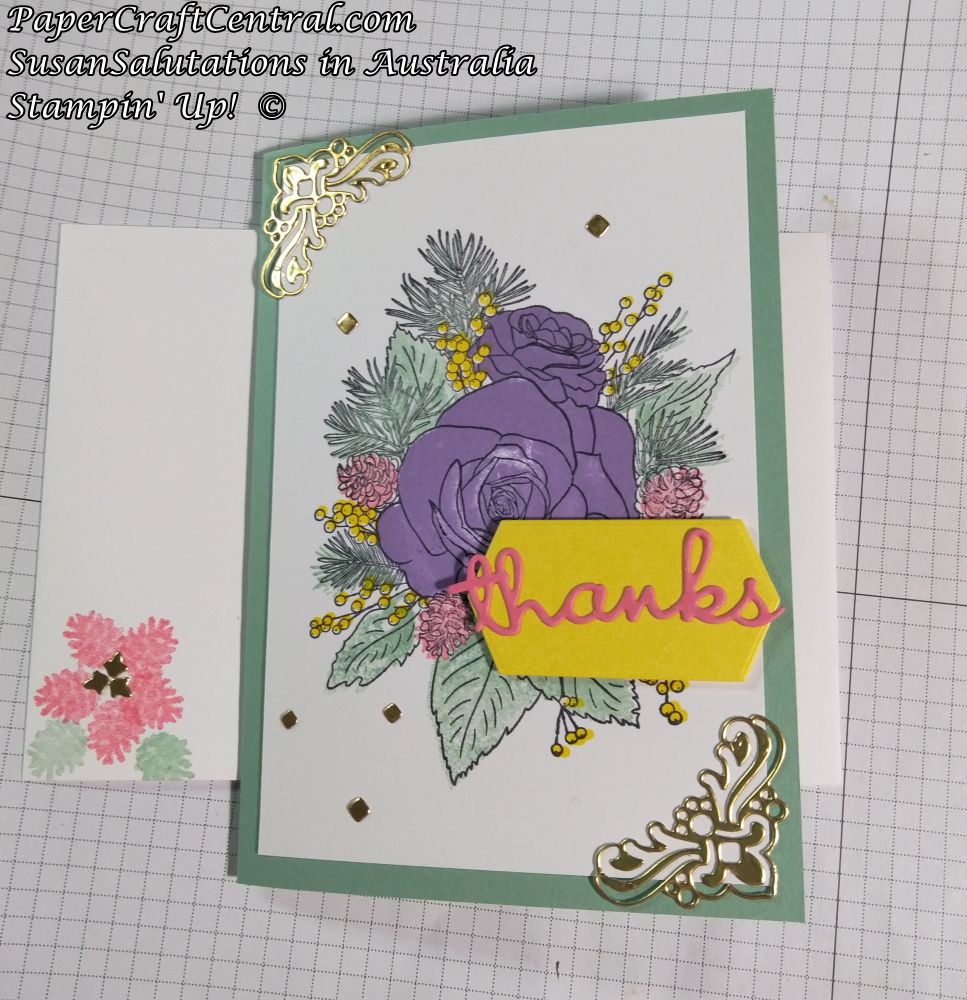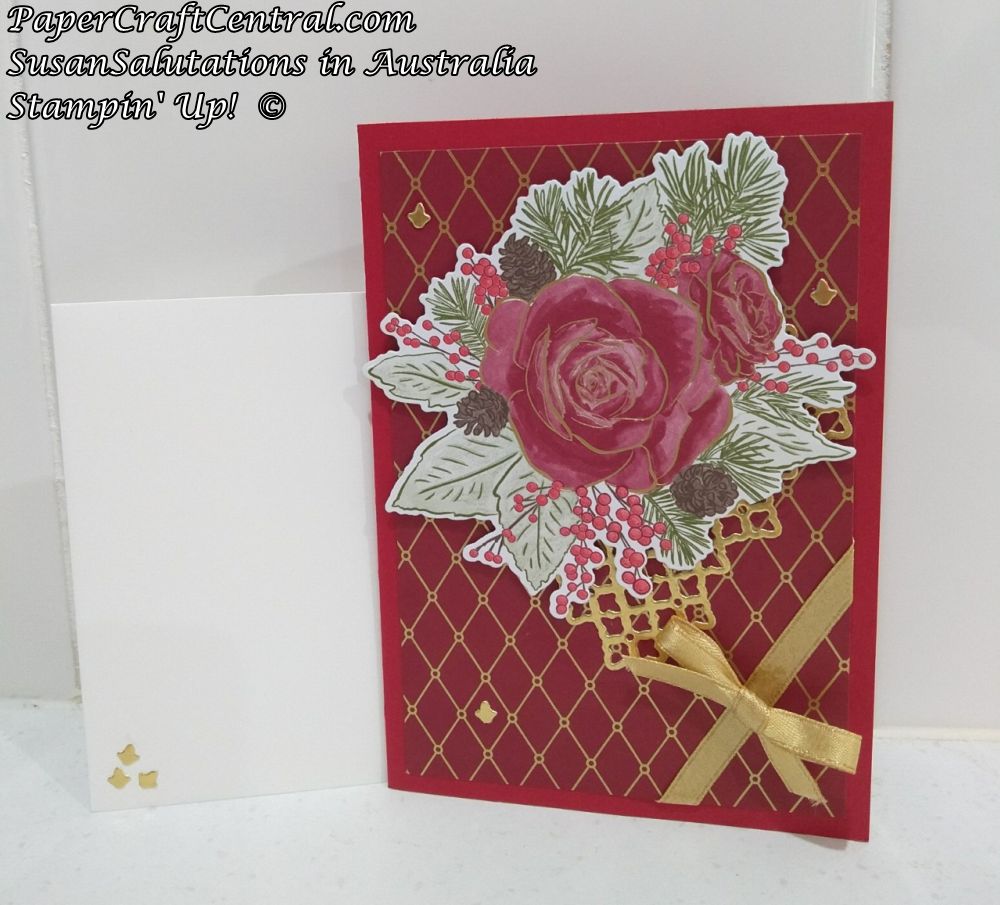 Each person chose a design then made it their own by placing ribbon or embellishments differently, or by choosing different colours to stamp with.
Then we made a variety of cards with the dsp from Fells Like frost because the images in that pack of papers are astounding! They are so different to one another and we used the colours of cardstock that went with those pretty photograph like designs.
Here are some of the cards we made: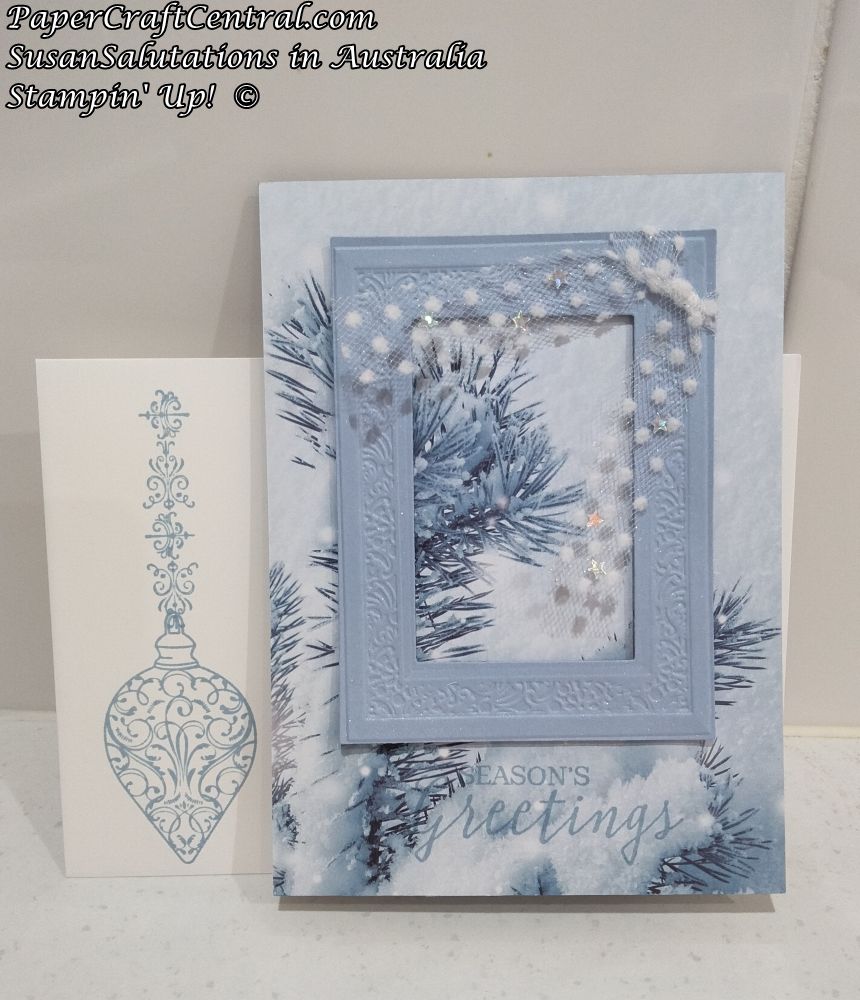 Card and Project Ideas October 2019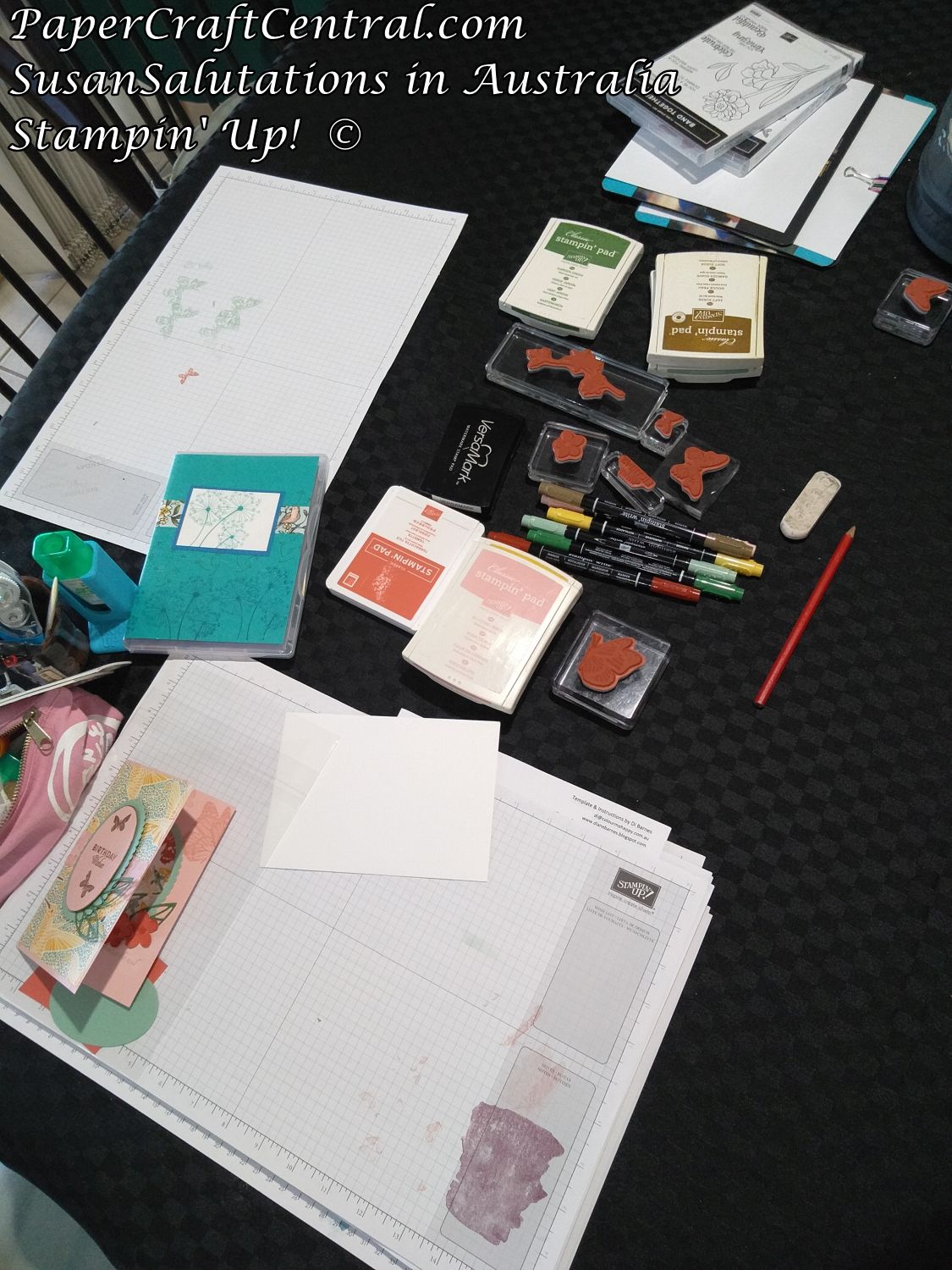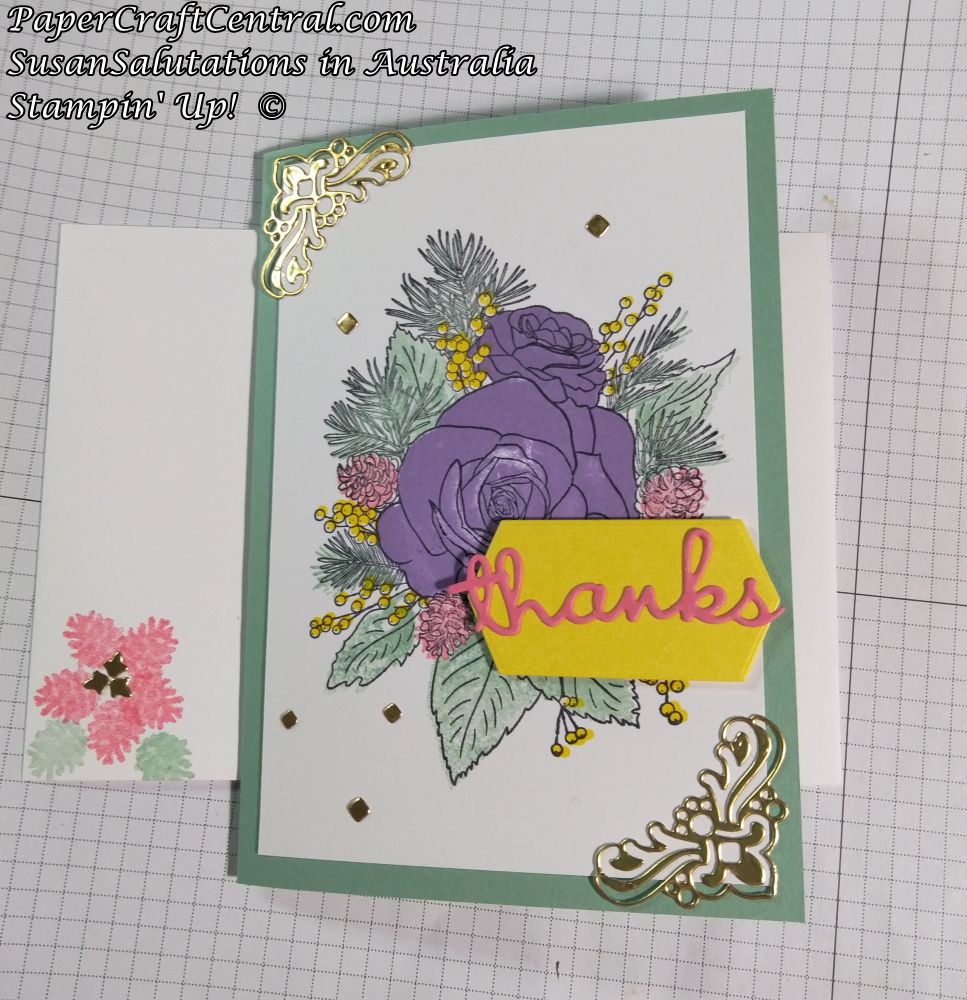 Card Ideas with Embossed Tissue

It was World Cardmaking Day on Saturday October 5th so we celebrated on both the Friday and Saturday classes I held this week. I decided it was high time we tried a technique so set everyone up with two card bases each and a box of tissues. Lol! Yes, tissues! We used tissues (Kleenex?) in our card making technique.
Card ideas flowed as we made our backgrounds out of tissues, a spray bottle of water and embossing folders. You need to layer your tissues up, three at a time doubled in half. We used a craft mat to lay the tissues down then sprayed them thoroughly with water. You need to turn them several times and keep spraying till the tissues have absorbed water but you can still pick them up.
Next you place the wet tissue in your embossing folder with only the base plate and rubber embossing plate. Roll and squish your tissue through the folder. Mop up your Big Shot with an old towel.
Carefully remove the tissue from the embossing folder and lay it out to dry.
If you are impatient like we were, bake your embossed tissue in a warm oven for about 10 minutes at 100C/200F making sure they do not toast and turn brown and crispy. You just want to dry the water out of them. They will buckle and curl a bit, but once you remove them from the oven they can be glued to cardstock with liquid glue. Use a bit more glue than normal though.
Then you just decorate your cards as desired. We stamped with the Love What You Do stamp set and embossed with a variety of Embossing Folders - Country Floral , Corrugated, Tin Tile, Tufted, Scripty and Stylish Scroll, but use what you have. We also chose a number of different coloured cardstock and enhanced the flowers with blends and fussy cutting at times: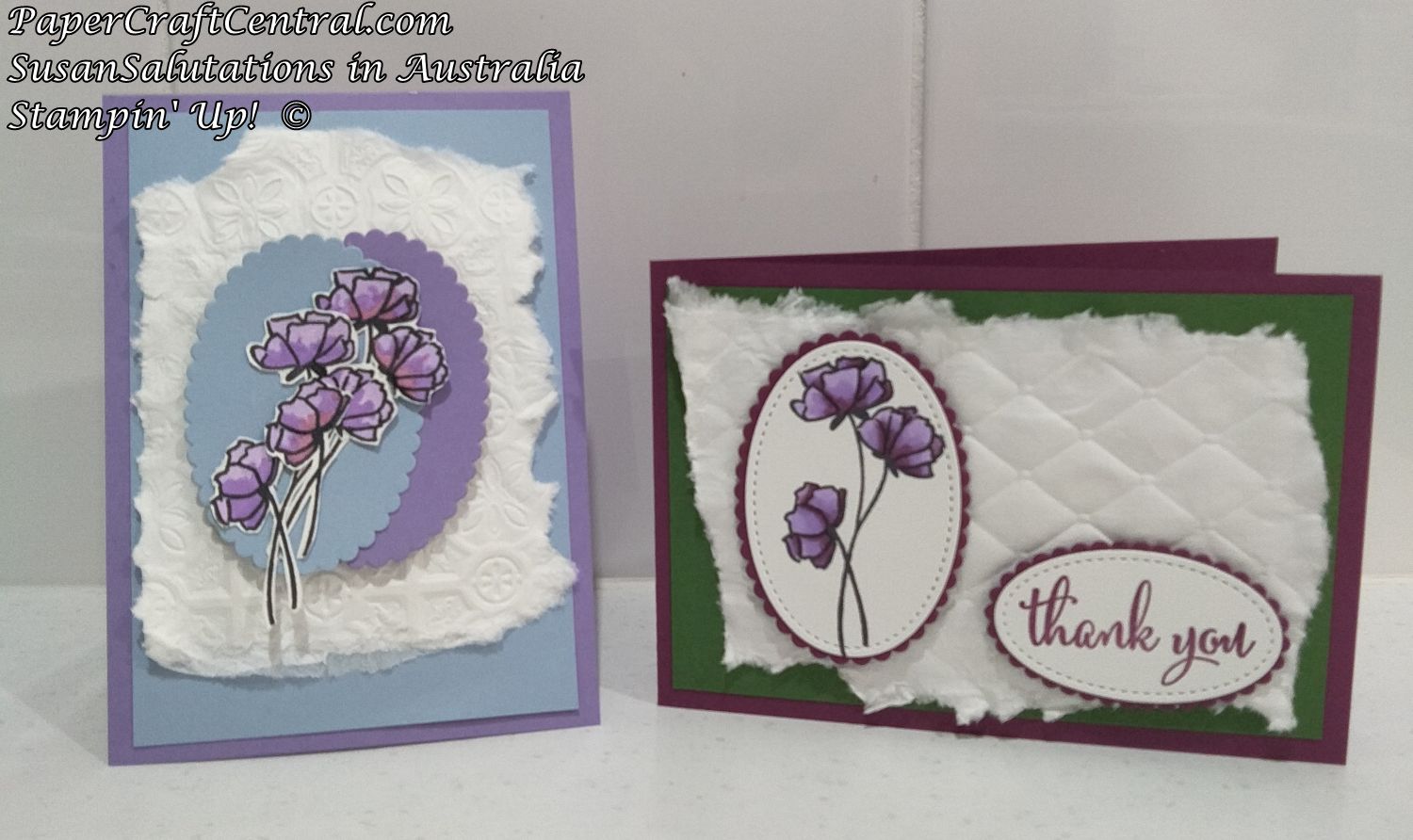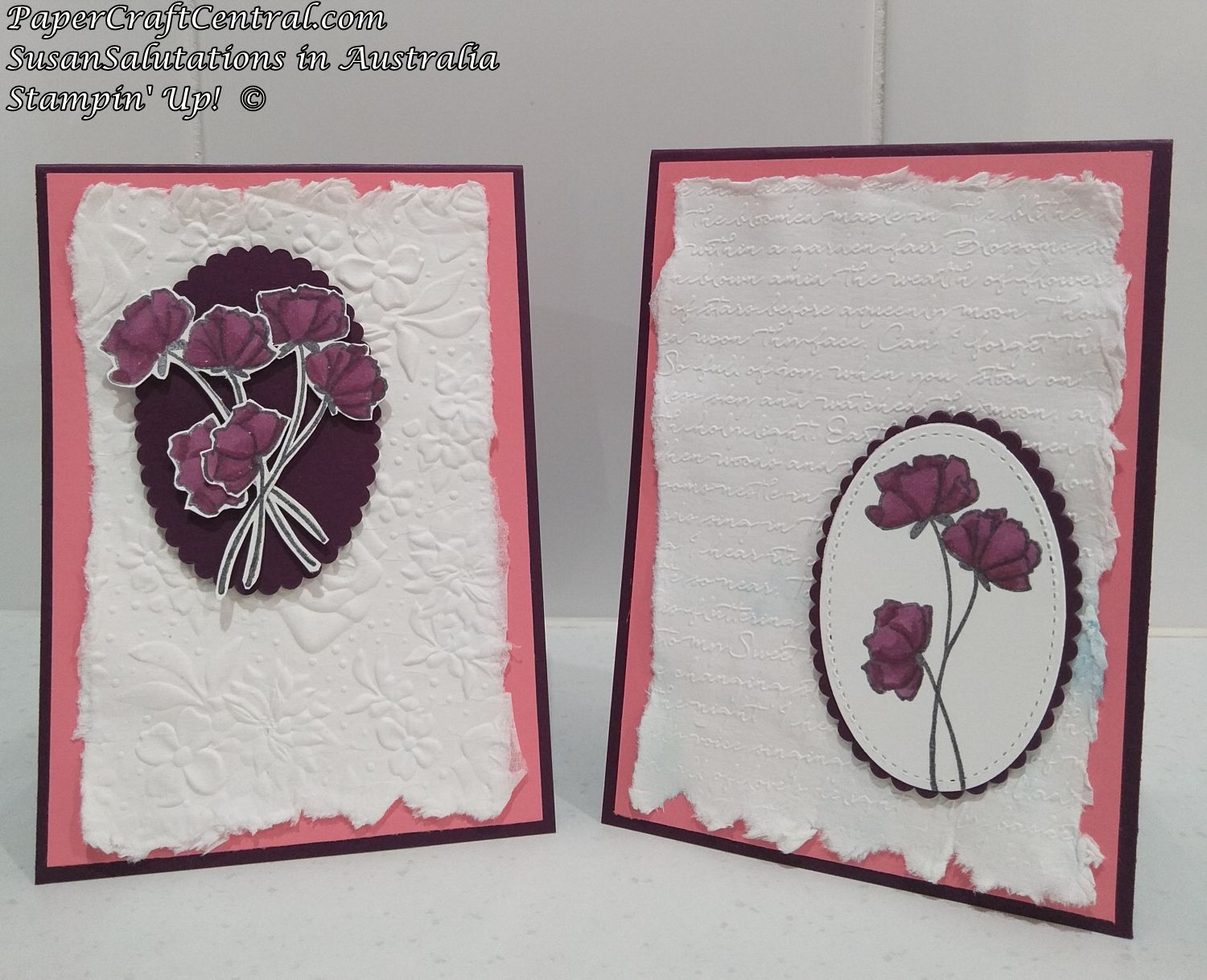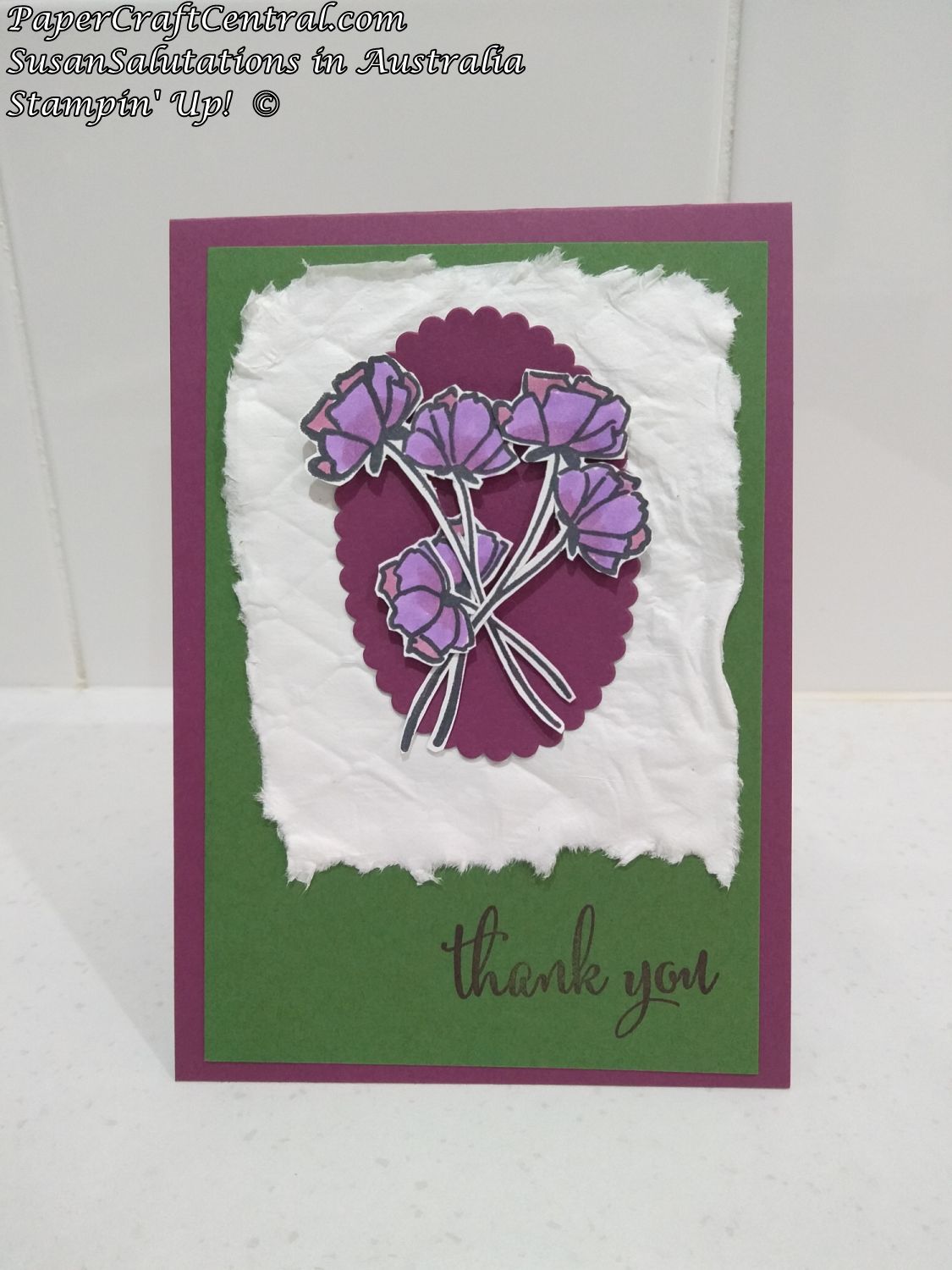 You can also play with some other ways to enhance your embossed tissue. On the card idea on the left, I carefully patted ink onto the flowers and leaves with sponge daubers.
The middle card has been sprayed with shimmer paint and alcohol mix.
The last card has been carefully rubbed with metallic gold ink.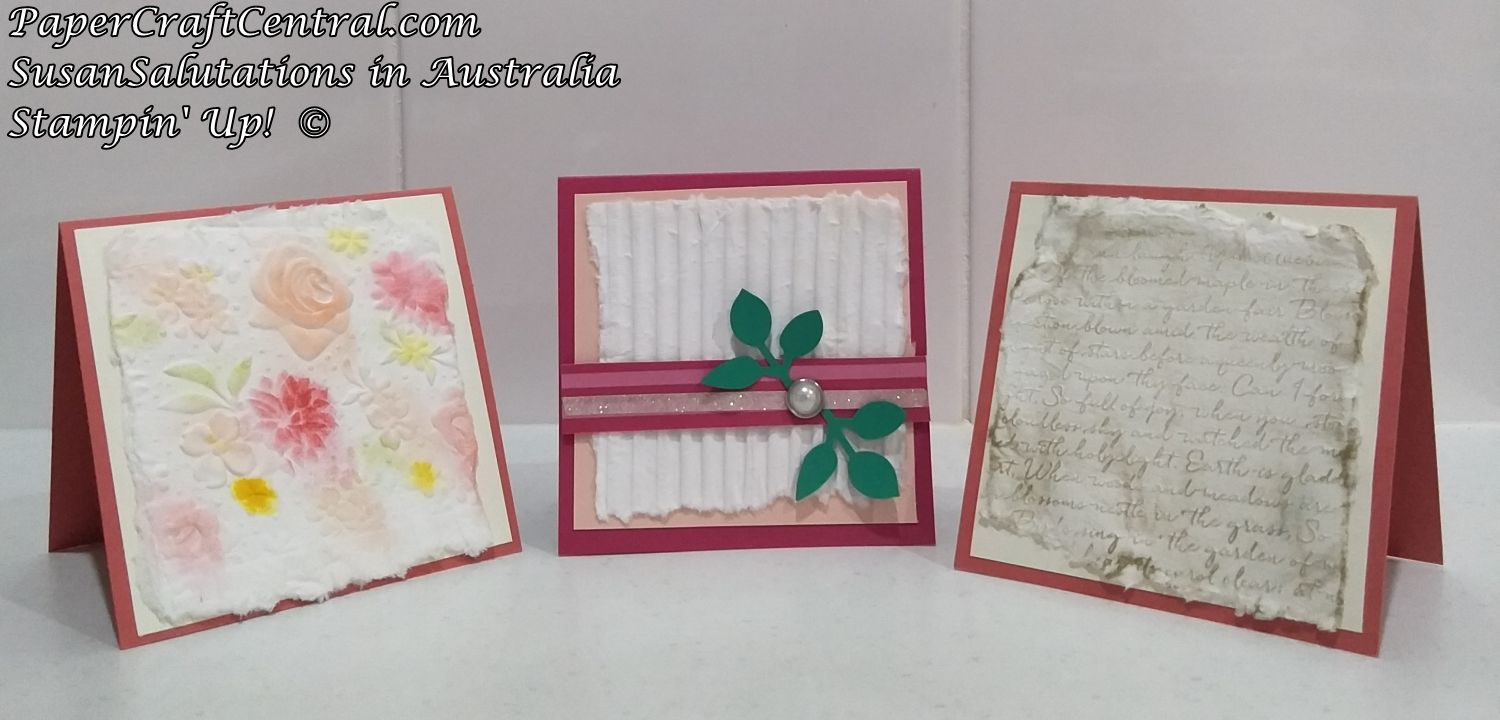 It was fun to play and experiment on World Cardmaking Day 2019 with this embossed tissue technique.
#WCMDwithSU2019

Card Ideas with the Shadow Box Technique
We had inspiration for more Card Ideas when we made shadow box cards. We followed the directions and measurements from Di Barnes. And we exercised the Butterfly Wishes stamp set with the Mosaic Mood designer series paper as a decorative element and colour inspiration.
The scenes inside the shadow boxes came out so pretty!
And each of us got more card ideas as we went along. One crafter even cut an oval o the inside cover of her card.
And one clever crafter added a strip of soft, tissue embossed paper to the edge of her shadow box! I thought the card ideas would never stop coming!
Card and Project Ideas September 2019

In September our card ideas turned to Dino Days and a stair step card base. The Dino Days Suite form Stampin' Up! is really cute. If you don't believe me, I dare you to play with these images and see if you think so too after you have made a couple of cards ‍
I had thought these made adorable children's cards but it turns out plenty of adults like dinosaurs too. And these can be made in pinks, blues, greens, yellows - a heap of colours coordinate with the designer series paper pack.
Here are a couple of dinosaur stair step cards I made myself: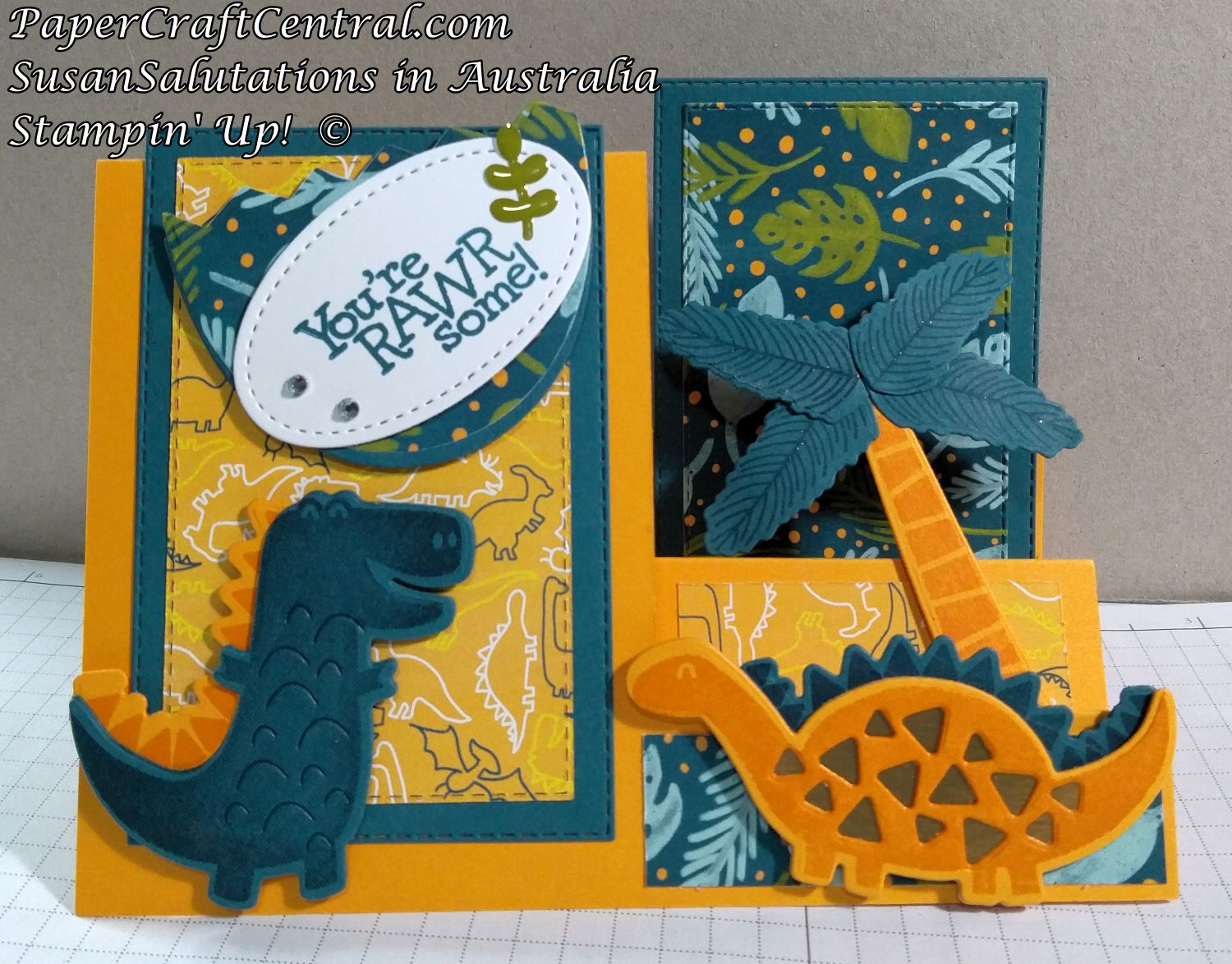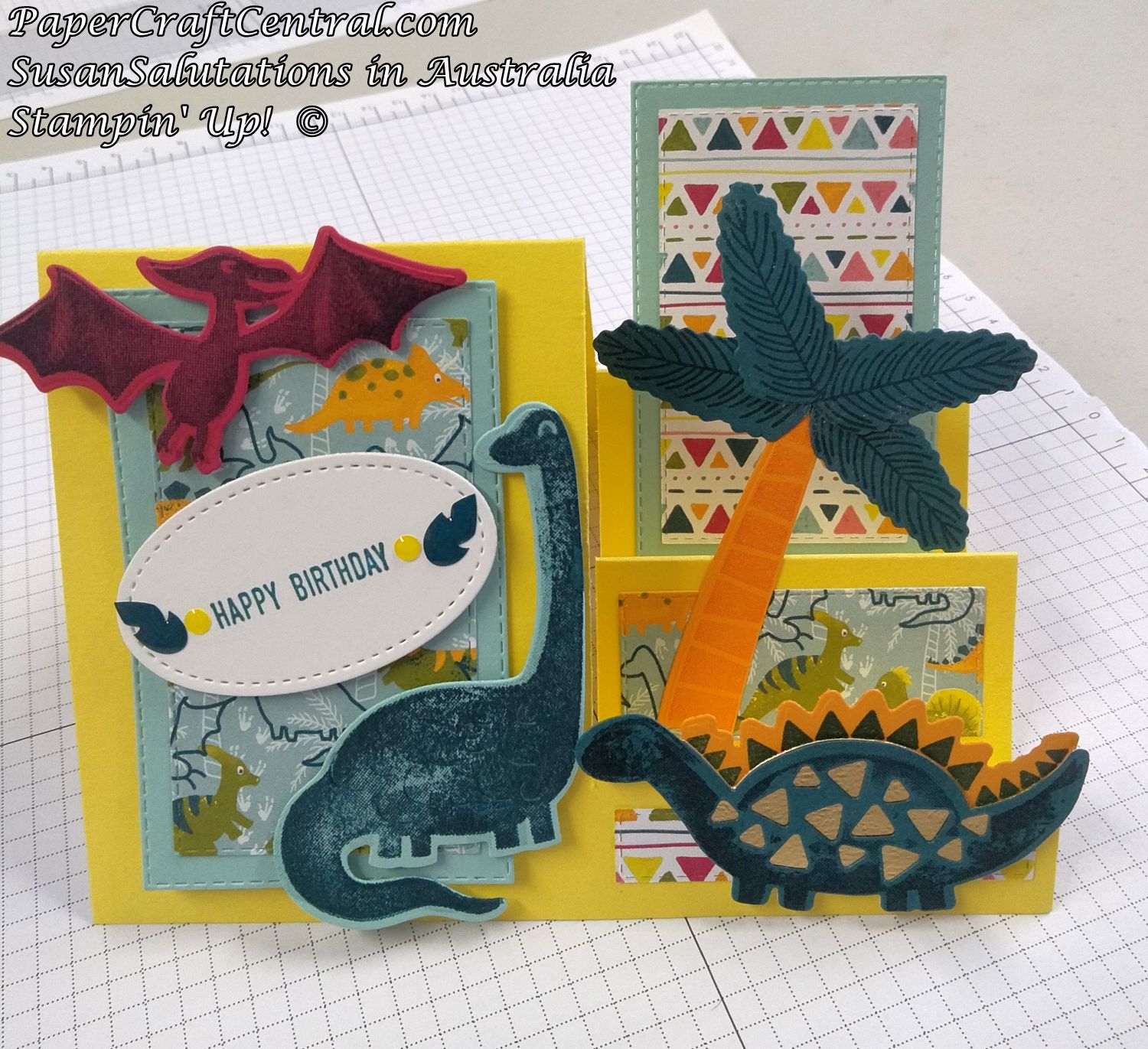 For the last card in Pineapple Punch, I used a sentiment from the Teeny Tiny Wishes stamp set.
If you would like to have free detailed instructions and kits for making the cards shown above, just purchase the Dino Days bundle (item number 151139) from me. Contact me to confirm your address details and I will get your instructions and kits in the mail to you but only while these stamps are current.
The next cards we made were a totally different style. These required some brushing of colour onto the heat embossed images with makeup brushes! I got some inexpensive ones from eBay and some of the class attendees bought theirs from KMart. I believe Daiso also sells them.
We made our cards with the Floral Essence and Love What You Do stamp sets, Versamark ink and three ink colours, Blueberry Bushel, Melon Mambo and Call Me Clover.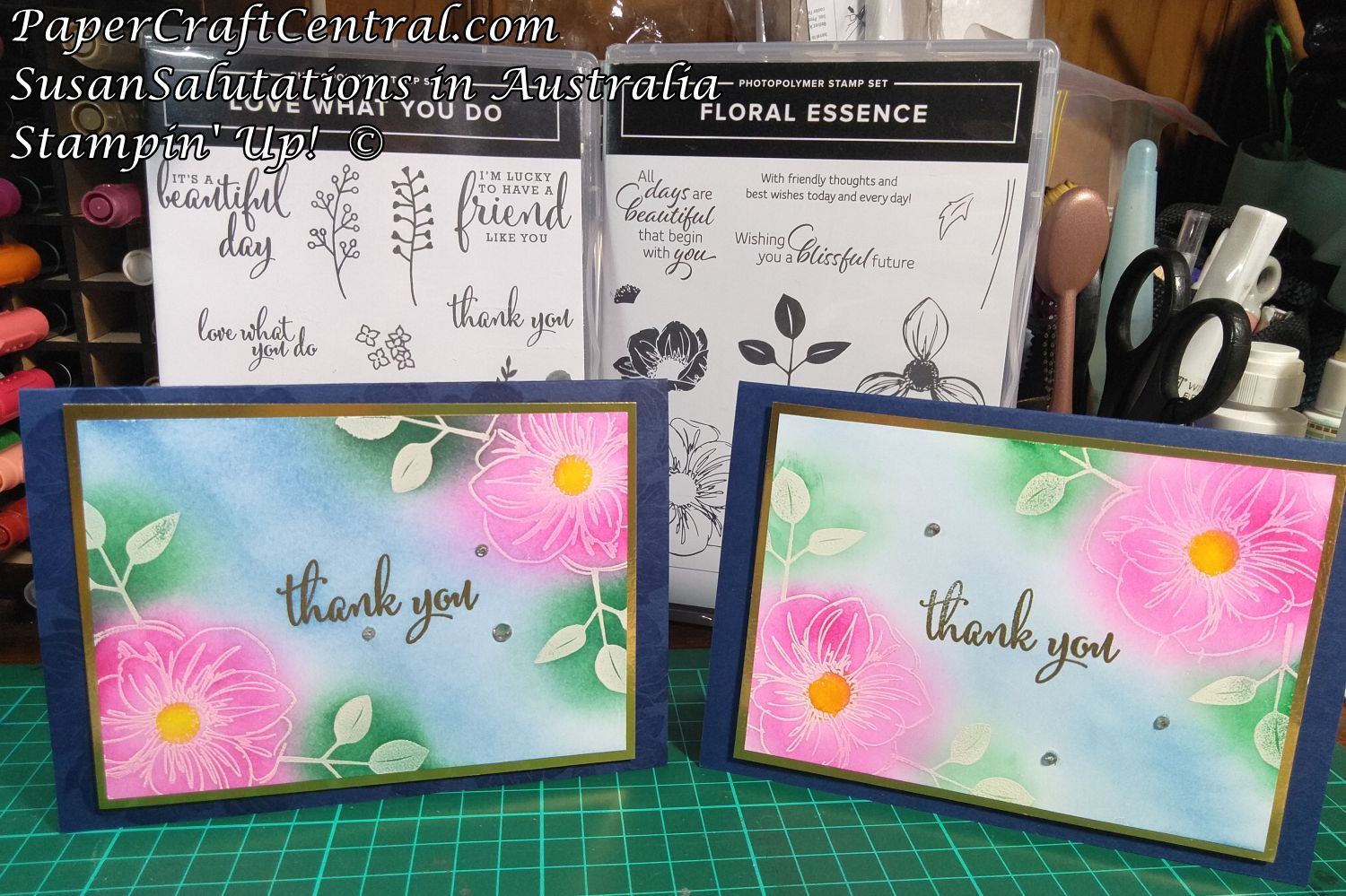 Again,if you would like some free card ideas instructions and a kit for this card, order the Floral Essence and Love What You Do stamp sets from me, contact me to confirm your address, and I will send them to you. I can do that only while these stamp sets are current though.
Card and Project Ideas in August 2019
Our August class was so much fun! We played with the Sailing Home Bundle and created a couple of lovely cards.
The first card was created for pretty new stampers.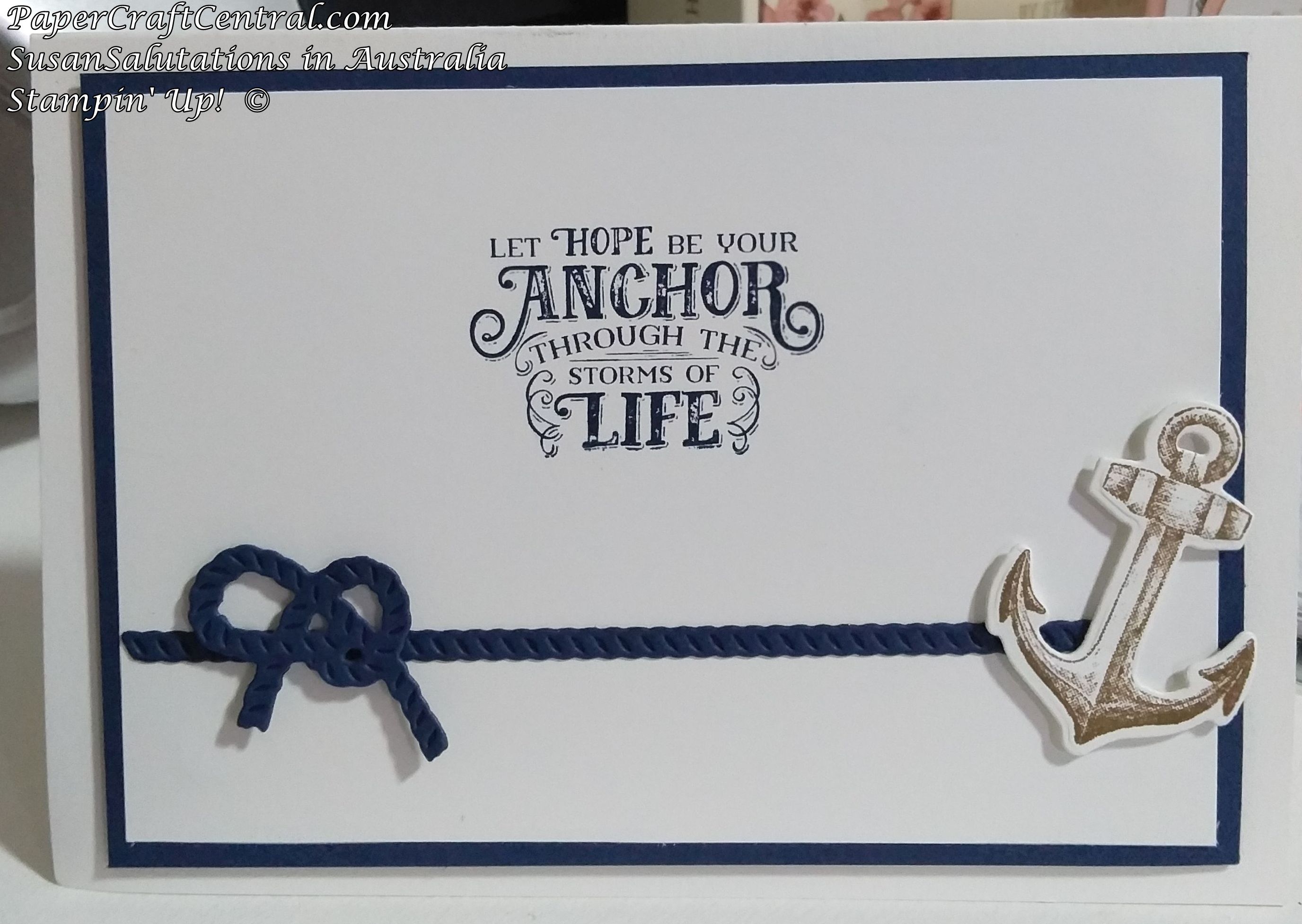 All you need to make this lovely clean and simple (CAS) card is the Sailing Home bundle, some cardstock, ink and a Big Shot machine.
This first card was made possible because of the inspiration of Kate Morgan.

For the next card, we used the tearing, sponging and masking techniques, and an embossing folder. We used one of the Sailing Home trinkets to make this card really pop! This card is for the casual or avid crafter.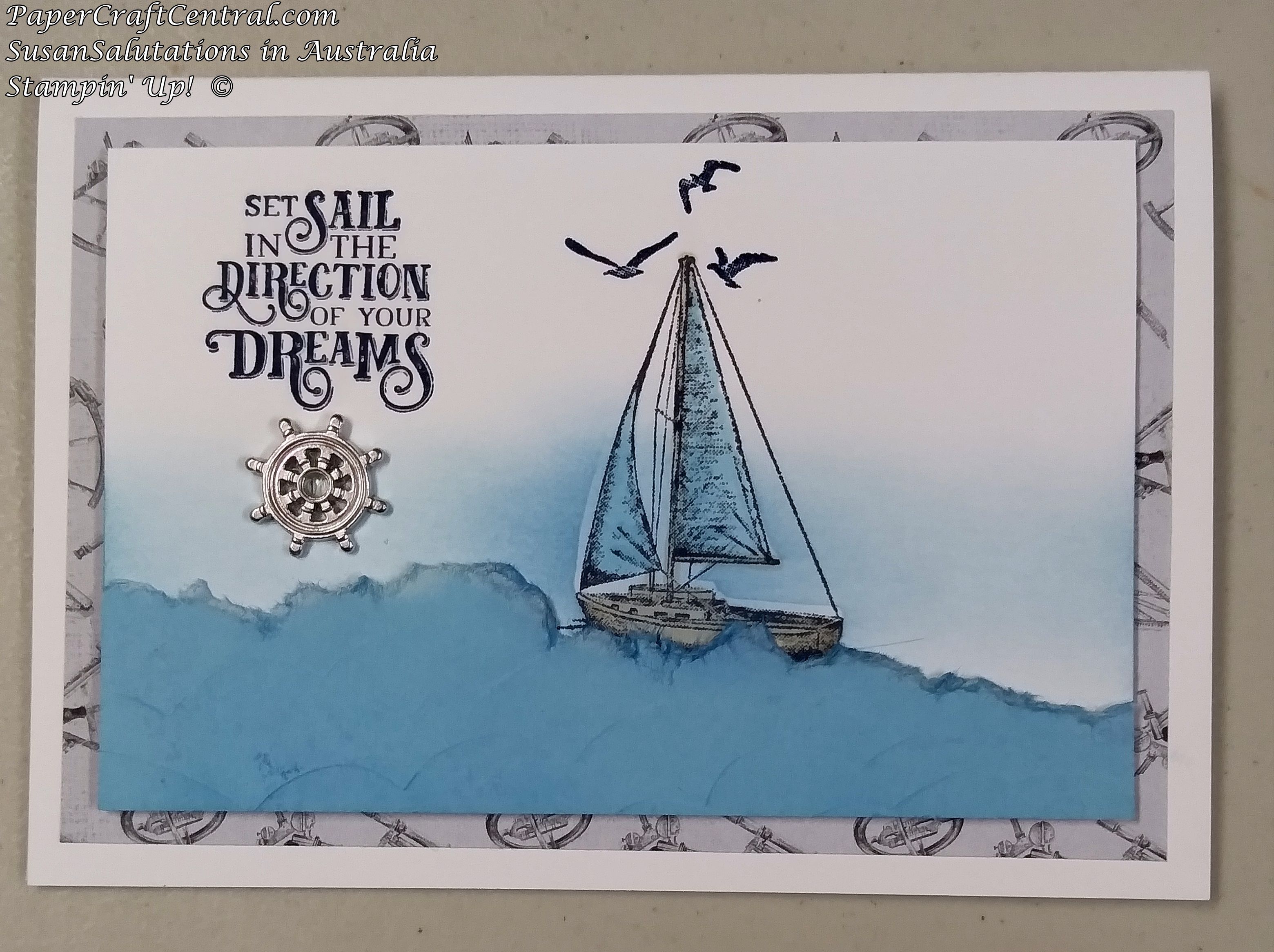 Huge thanks to Patti McDermott for inspiring this card.
How to get a free card kit for the card shown above:
If you would like to have free detailed instructions and kits for making the cards shown above, just purchase the Sailing Home bundle from me. Contact me to confirm your address details and I will get your instructions and kits in the mail to you but only while these stamps are current.
Origami Paper Frame Project
We decided to switch it up in August after playing with the first two card ideas. We made some pretty paper frames using the Silhouette Scenes bundle.
We folded our frames with the designer series paper then decorated them with stamped images and die cuts. I think the stamps and dies really enhanced our photos!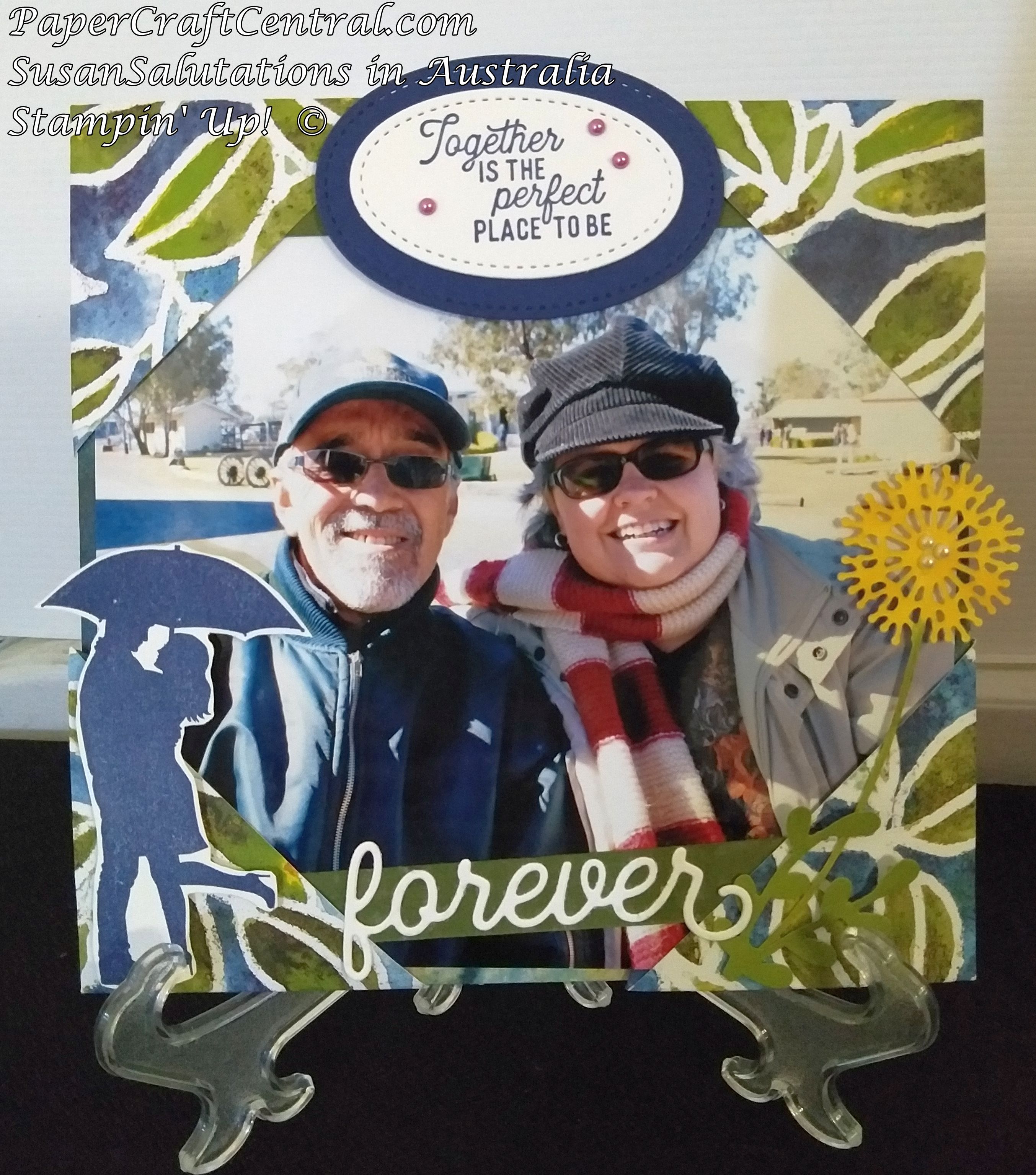 We had a great time with this project. There were a lot of laughs and giggles, especially when my hubby decided to come say hello to the class.
Here he is with my friend and class attendee, Shirley!
You can easily find out how to make this frame by watching the following step-by-step video:
You can see how it would be possible to use ANY designer series paper and decorations to make the frame.
No kit is necessary!
But the Silhouette Scenes Bundle makes it easy to obtain beautiful results....

Card Ideas in July 2019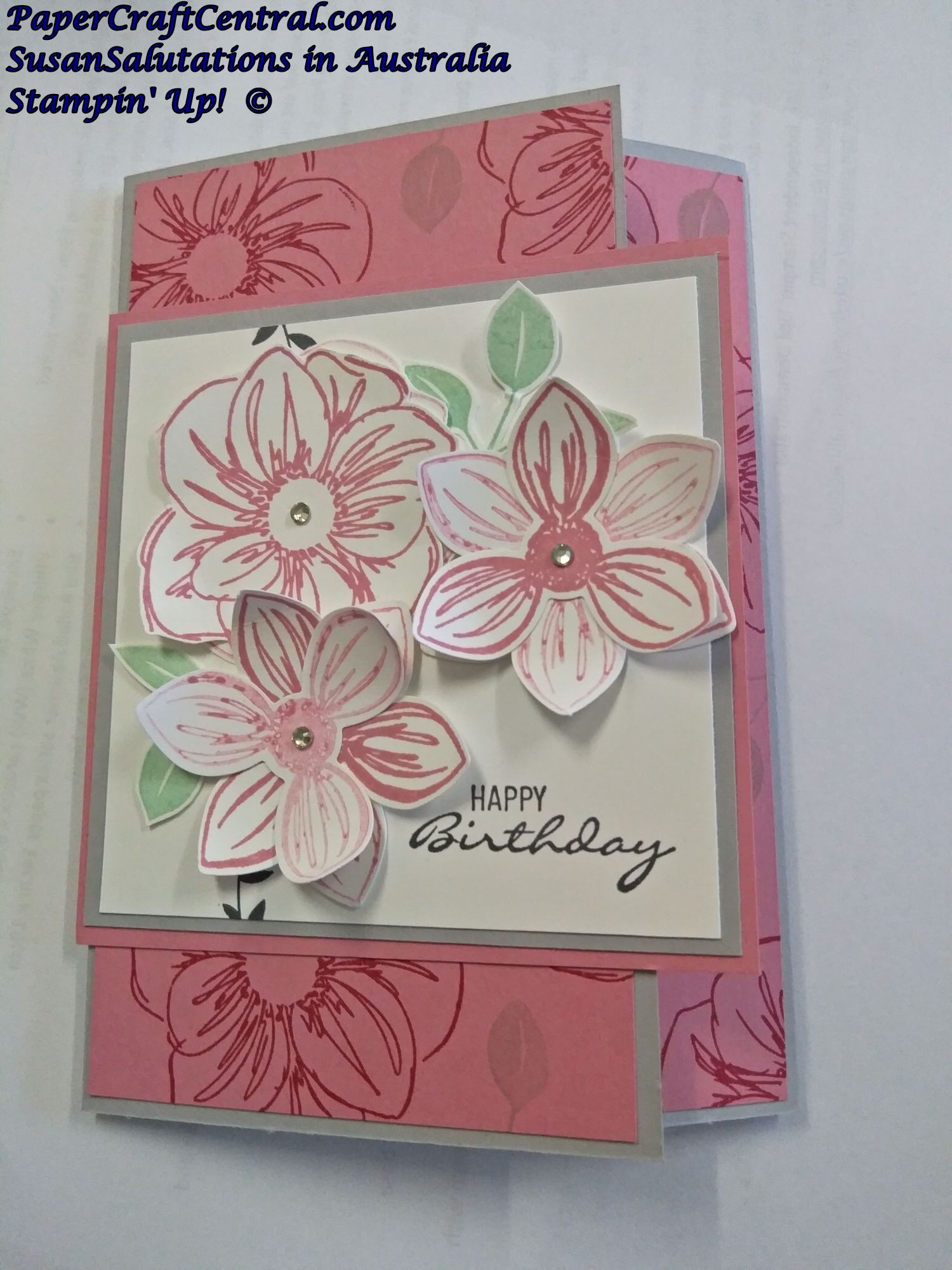 Floral Essence Card Ideas

One of the first cards I designed in the new Stampin' Up! year was the Floral Essence card pictured above. It's an off-centre gate fold card.
Inside it can look like this: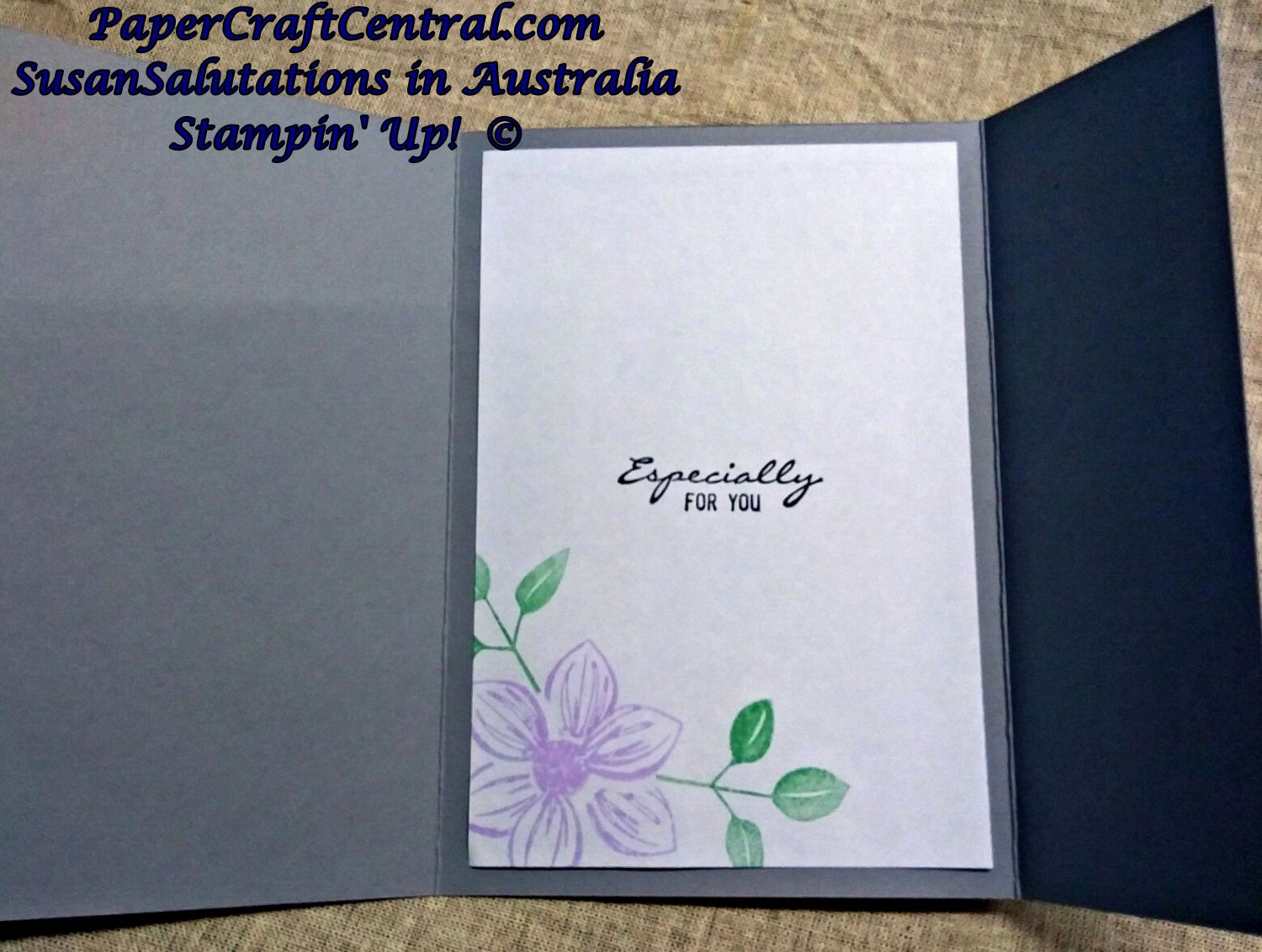 We did not have the Leaf Punch (item 144667) at the time so we fussy cut the few leaves on the card, or just stamped them straight onto the cardstock.
How to get a free card kit for the card shown above:

If you like this card and would enjoy having a kit to make it, purchase the Floral Essence bundle (item number 151055) from me at my SusanSalutations online store and contact me to request your kit.
I'll check your order and send you a kit to help you get started making projects with your new stamp set and punch but only while these supplies  are current.
Here's another way you could make a card with this bundle, created in class by Shirley Tait: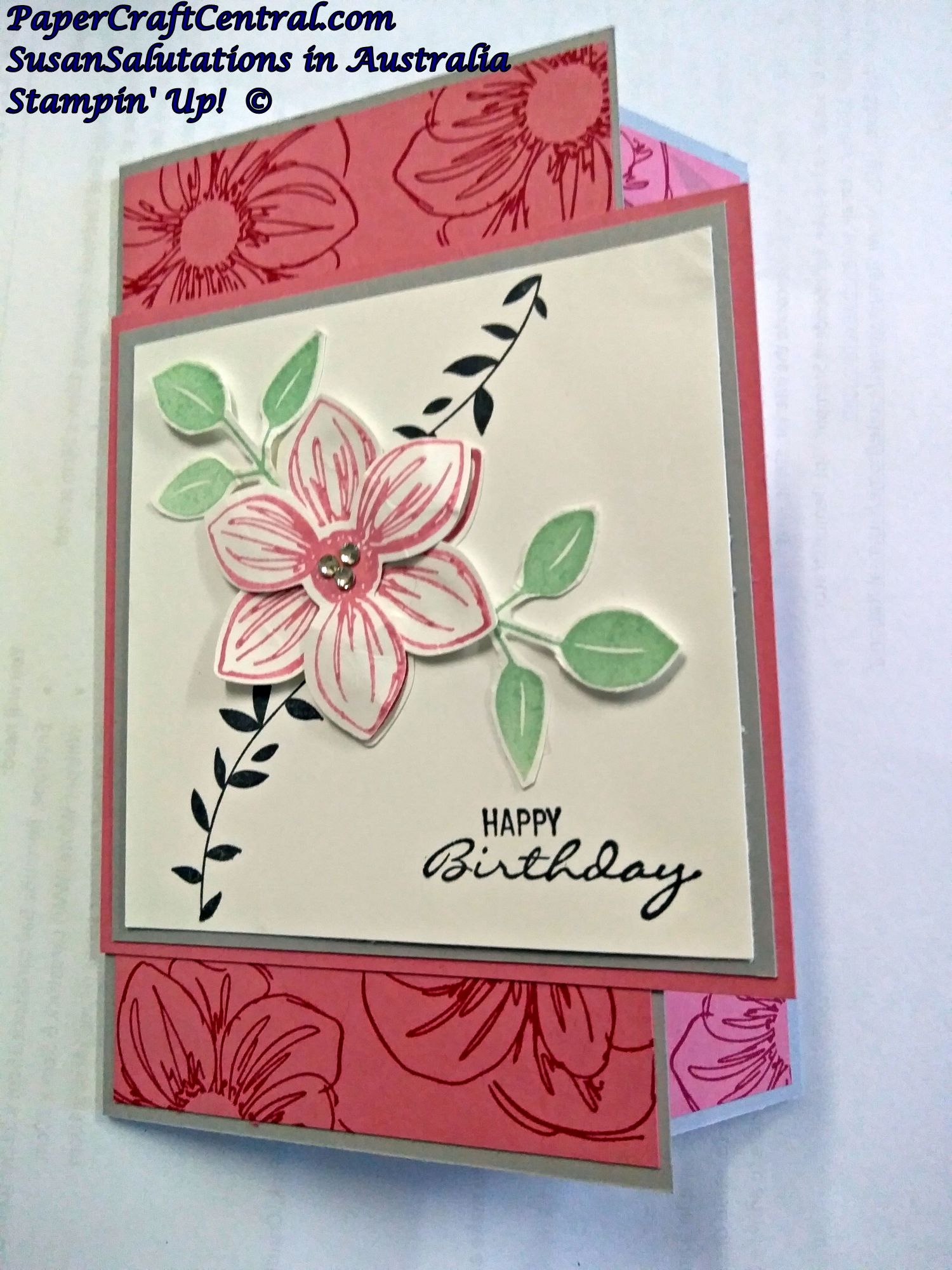 #Makersgonnamake!
Good Morning Magnolia Card Ideas
This lovely stamp set really caught my eye, especially after I saw a card created by Eva Doblias. I tweaked her card idea a little, especially with the colours I used, and created this card:
Aren't the flowers and leaves gorgeous?
I also made use of an embossing folder that is now retired on this card, but I think the Magnolia Embossing Folder (item no 149579) would look nice in the background there too. 
Here's how the inside of the card could look, and the envelope as well:
Decorating the inside of your card and adding an image to the envelope as well really makes your card ideas stand out.
I think Shelli Gardner's (co-founder and Board Member of Stampin' Up!) philosophy of never sending a naked envelope out into the world has stuck with me! Lol!
How to get a free card kit for the card shown above:
If you like this card and would enjoy having a kit to make it, purchase the Good Morning Magnolia bundle (item number 151087) from me at my SusanSalutations online store and contact me to request your kit.
I'll check your order and send you a kit to help you get started making projects with your new stamp set and memory dies but only while these supplies are current.
Remember to add in the Magnolia Embossing Folder (item no 149579) to your order and I will send you two of this kit.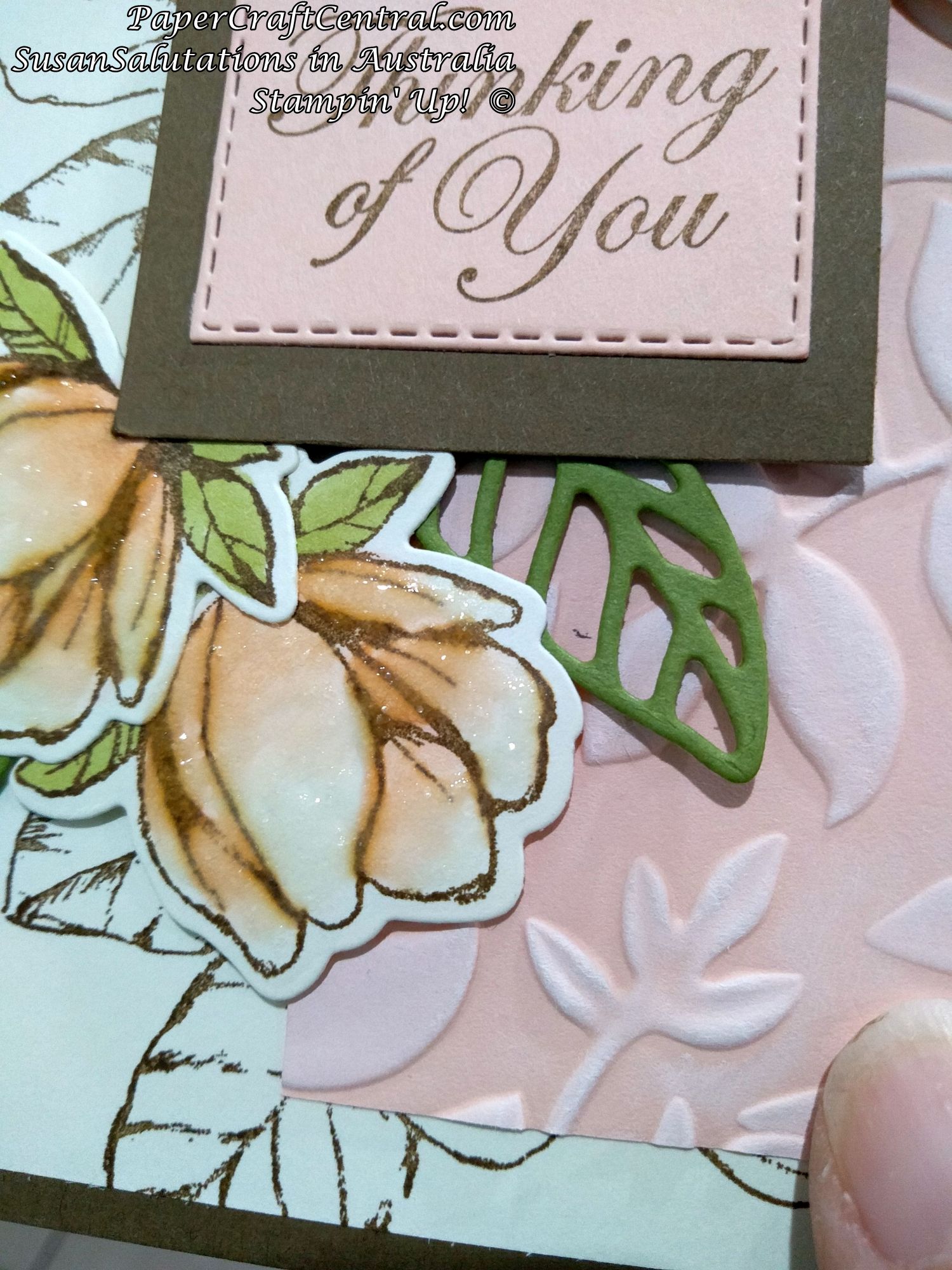 If you would like to keep up to date with new specials and updates, the Stampin' Up! News page will help you out. 
---
---