Card Sketches
Using card sketches is a great way to get your mojo up and running again if yours has gone missing lately. I find that after making loads of Christmas cards, it is sometimes hard to think of making a different type of card using not-so-Christmassy (read non-traditional) colours. This year was no exception. I needed inspiration to make six birthday cards for some friends this month. So I made a sketch!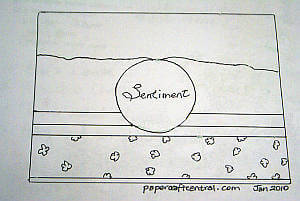 Now having a sketch is one thing, but how about inspiring yourself with colour? For this month, I challenged myself to use colours I don't normally use for birthday cards. With that idea in mind, I consulted my sketch, then my colour wheel, then bravely winged it and decided to use some Stampin' Up! More Mustard ink to brayer onto the top of my card to correspond with the wavy line.
Next I selected some papers from the Stampin' Up! Patterns Pack II Designer Series Paper. I made a grey paper ribbon and a yellow one and adhered them down in a similar place to the sketch lines. I added some faux stitching in Bravo Burgundy along the brayered edge. (You don't have to slavishly follow a card sketch. It's there to inspire, not to imprison your mojo!)
Now it was time to choose an image to carry my sentiment and add some interest. I picked out an intricate circle stamp and stamped three of them in More Mustard, Bravo Burgundy and Not Quite Navy. I stamped the sentiment in Not Quite Navy or Bravo Burgundy to make a contrast with the inner circle colour.
NOTE: If you would like to purchase any of the supplies I used here, you can search for current ones in the Australian Stampin' Up! catalogues featured in the right hand column of this page.
Now it's Your Turn to Create with Card Sketches!
If you feel inspired to make a greeting using any of my suggestions, I sure would love to see it. 
Please do take a photo and add your card here, or show me a sketch of your own and a card you have made from it. You will need to take a single photo of both your card and your sketch to upload it here as there is a facility for uploading only one photo (or I guess you alternatively could add two separate comments and two images - lol!):
Do You Have A Favourite Handmade Card to Share?
Do you make greeting cards? Please do share it with me.
---
Return from Card Sketches to Card Making | Return to PaperCraftCentral Home Page

---