Flat Paper Trimmer Cut
by Virginia
(Walstonburg NC, USA)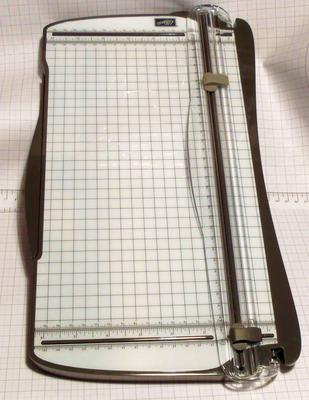 Stampin' Up! paper trimmer
I found this site on a Google search because I have a question that has bothered me awhile. It's about the edges of cardstock after I make a cut with my Fiskars paper trimmer. The edges are not fuzzy, as seems to be a common problem. Rather the cut edge seems a bit sharp; when I turn over the cardstock, the cut edge is not exactly flat ... it is very slightly raised. I hope I have made this description clear and you can give me some advice on getting a clean, flat cut. Thank you very much.



******************************
Hello Virginia
Thank you for stopping by PaperCraftCentral.com to ask your question.
Paper trimmers are sometimes hard to use, it seems. I had a Fiskars trimmer once and decided to switch to a Stampin' Up! one, but all trimmers still have problems at times, either due to the way they are being operated, or to some other mechanical fault like a dull blade or a warped blade arm. First check that the blade is still sharp and the blade arm is not warped. If all is good there, try this next step.
One thing that does seem to happen with most trimmers is that you get the very effect you have described. This can be because we apply pressure as we cut, and the weight of the pressure and the blade itself bear down on the cardstock together, causing it to curl under slightly. The design of a trimmer will usually make this happen if much pressure at all is used when cutting. If you have not already tried this, see if allowing the blade to glide through the cardstock without any unnecessary pressure will help you get a better result.
The only other suggestion I have is to switch tools again. Try using a guillotine cutter. The blades are much heavier but they cut on an edge rather than in a groove, so the paper tends to come out flatter when cut. You need to be sure the blade is sharp on a guillotine and it is best to buy one with a safety guard so no one gets chopped fingers or arms. The blade is sometimes left in the upright position at my house and it can cut/scratch arms. Don't ask me how I know 🤔.
I hope one of these ideas will help you with getting the result you want. Come back and tell me how you do.
Susan
www.papercratcentral.com
You might also like: