Friendship Scrapbook
Written and Created by PaperCraftCentral Susan

Friendship Scrapbooks are a great way to send some memorable pictures and quotes to someone who needs some encouragement, or just because you feel like telling that person how special they are, or in my case, to farewell an online friend whose husband was going to move them overseas.
"Yesterday brought the beginning,
tomorrow brings the end,
and somewhere in the middle we became the best of friends".
~Author Unknown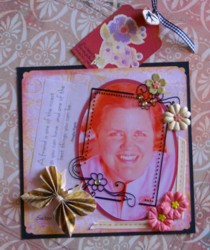 ---
How my Friendship Scrapbook Page came about

Several of us crafty friends decided to band together to make a special book for her, with each of us completing one 6" x 6" page, for her to take away with her and remind her of us.
Apart from the fixed size for the pages, the only guidelines for this project were that we had to do the following:
Put a picture of yourself on your own page

Add a friendship quote or poem somehow

I decided to add to my page by making a scrapbook tag to hide behind my layout. It had my contact details on it and a personal note to encourage my friend that her Internet buddies are only a click away, no matter where she and her husband will be living.
To make this page:
First I cut out my photo with an oval shape and then cut out a slightly bigger oval from coordinating cardstock, and mounted the photo onto it

Then I made the background piece out of patterned paper, inking or sponging the edges in brown, yellow and pink

Next I shaped the edges of the patterned paper with a punch and mounted the ovaled picture to the right

I placed the vellum friendship quote on the left and layered the clear frame over the picture and the quote

Using the crop-a-dile I punched holes where I wanted to place the flowers and butterfly

I ran some ribbon through a Xyron machine and attached it to the lower right

I placed split pin brads through the flowers and added them to the layout, then pushed a split pin heart brad through the butterfly's ribbon and attached that

I added some little crystal gems to the flowers on the clear frame
Do You Have Scrapbook Page to Share?
Please do share your scrapbook layouts and projects below.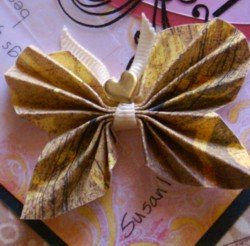 ---
Friendship Scrapbooking

---