Glue Problem

(Mrs Susan Walsh)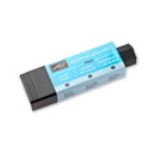 Anywhere Glue Stick
I'm am new to making cards but I am having a problem.When I stick paper onto card ie say the card measures 5x7, and I'm going to stick paper, say an inch all round smaller onto the card. I'm using a good quality glue, not too much, but when it dries the card is distorted. Can you help, please? Thank you.


*****************************
Hello Susan. Nice name, by the way :)
The problem you are having must be with the glue. Glue is a liquid, and liquids warp papers. The drier the glue, the less warping you will get. That's why I like using Stampin' Up!'s Anywhere Glue Stick. Not only is it a relatively dry glue, it is a rectangular shape so you can get right into your corners with it.
I also use Snail Adhesive for small pieces of paper, and make sure I press the two pieces of paper together well on a flat surface with a
bone folder
or my finger.
Sometimes glue is needed for heavier projects. I never add glue to the entire back of something unless it is fairly small. I usually put a thin bead around the perimeter of what I am gluing, so less of the surface gets wet.
The other thing you could try of course is the good old put-your-drying-project-under-a-heavy-book trick. Let your project dry for a day under a heavy book and it should turn out much flatter :)
There's more information about
adhesives
here on papercraftcentral.com, and that might also help.
If you would like to purchase any of the adhesives from Stampin' Up! AND you live in Australia, you can do so at my Stampin' Up! website. Click on
'shop now'
just above my picture.
If you do not live in Australia, there might be a Stampin' Up! demonstrator in your country, so do see if there is one nearby with the
country locator
(found at the right at the top of the page. Click on Australia to see if your country is listed in the drop down menu and go from there).
Let me know how you go!
Happy crafting
Susan