Hello and Thanks!
by Michelle
(Melbourne)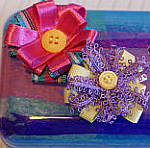 An altered art Ferrero Roche chocolate box
Hello Susan,

I wanted to say "hi" and well done with the website! Lots of information here and I've added you to my RSS feeds to keep track of what you are up to.

I'm trying to do a similar thing with my website (www.mixedmediaart.net) and I'm also in Australia (Melbourne). Would like to chat and see if we can help each other out.

*smiles*
Michelle


************************
Hi Michelle
How nice to 'meet' you and what a nice site you are developing :) Thank you for your kind words about PaperCraftCentral. I am all for helping each other out and thought I would give you something that has been of help to me. I built this site through
SBI
and have been very happy with their help and support.
I thought I would also give you something you you might enjoy. It is something that helped me a lot. It's a
Free Netwriting Masters Course
All the very best and please do feel free to add some of your mixed media work to PaperCraftCentral. I would especially like to see some of your work in the Altered Art section.
Till next time
Happy Paper Crafting!
Susan
PS:
You may also enjoy the following pages: