How to Make Flower Stems
by Billie Lever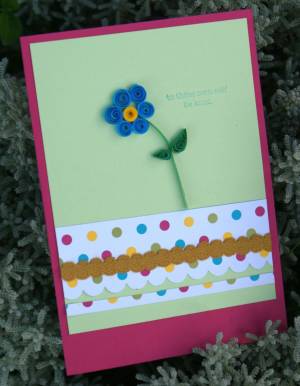 Quilled flower
Hello Susan,

I am hunting for a pattern to make a stem of either paper or ribbon bluebells, it needs to be fairly easy as I need to make about 30 little 3 flower sprays by the beginning of March, I hope you can help me.

Thank you very much

Billie Lever


******************
Hi Billie
There are lots of ways to make stems. I have personally used twisted paper, wire covered with ribbon, and wire covered with florist's tape. All of them yield nice results.
To make a twisted paper stem, cut a thin length of cardstock and spiral it around a cylindrical shape like a pencil, then remove it from the pencil and twists the paper till you are happy with the length and thickness of the stem. Then glue the stem in the position you want it to be on your page or card or coat it in glue and allow to dry on waxed paper.
To make a thin wire and ribbon stem, cut the wire to the length you want then apply some double sided tape to it by winding it around the wire. Remove the backing for the tape and then take a length of ribbon. Start at the top of the stem and twist the ribbon down the wire in a spiral fashion.
To make a wire stem with florist's tape, start with your wire length (maybe double the length of wire up to make a thicker stem) and then apply the florist's tape to the top of the stem, winding it down in a spiral fashion over the rest of the stem. Twist the tape at the end of the stem to break it and form a stop to the tape, which means it will not unravel.
All of these methods are quick and easy to use.
Of course, you can also punch cardstock stems out with something like the bird punch from Stampin' Up! or use a
Big Shot die
like Sweet Stems to make some from cardstock, thin cardboard, chipboard or felt.
Oh I just thought of another way - you can use a quilled stem if you want your bluebells to sit on a card or scrapbook page. Using quilling paper, just lay down a tiny, thin bead of glue on your card where you want the stem to be. Carefully place a piece of paper on its edge along the glue bead, as shown in the picture. You can add your own leaves with quilling too, as shown. just change the shape to look more like long thin bluebell leaves.
Do any of these ideas help?
Susan