Layered circuit project...how to seal it...too thick for laminating
by Mary
(Indiana)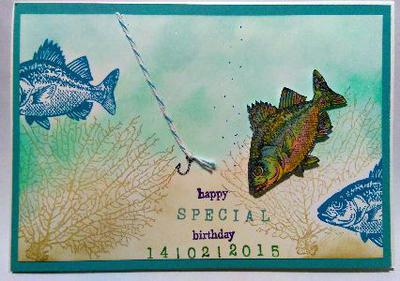 The coloured fish has Crystak Effects on him.
I made homecoming decorations for our football players with my circuit. There are two to three layers in some places. I used glue sticks to put together but I want to seal it so nothing falls off...laminating doesn't work because of the layers...do you have a suggestion?? Thank you in advance for helping me💜


**************************
Hi Mary
Thanks for your question. I would have loved to see a picture of what you are doing, but think I can make some suggestions anyway.
I hate to tell you, but glue sticks aren't very strong. They will not hold anything thicker than ordinary printing paper together for long. You might like to use a stronger glue to adhere layers together next time, such as a liquid glue like Tombow Multi.
The good news is, you can add a stronger adhesive to your items to seal and strengthen them and they will probably be fine!
When I have small cut out items that are layered such as numbers or letters or an image that I am featuring on a card, I generally add a glossy layer of Crystal Effects to them. I let them dry thoroughly, usually overnight, before touching them after applying the Crystal Effects, so I don't accidentally wind up with perfectly preserved fingerprints on them. Lol! The finished item will not be water proof but should be pretty hard and smooth and glossy, like the fish I used on my first sample above.
When I have large areas to adhere together and seal, I use Mod Podge to seal items onto the surface, such as on a canvas (see my example above. The dragonfly and flowers etc have all been adhered to the canvas with Mod Podge, then painted over with Mod Podge). You can use a foam brush to add the Mod Podge to flattish areas, and you can use other paint brushes to add Mod Podge to things like silk flowers or other 3-d items. Whenever you use Mod Podge, always be sure to allow each layer to dry completely before adding another layer. Adding layers helps to stiffen and strengthen the item. It is not water-proof so bear that in mind. The finished item will be glossy or matte, depending on the type of Mod Podge you choose. Also, the item might have a slight tacky feel even when it is totally dry.
Another idea is to cut yet another layer out of cereal box card or even thicker cardstock and add that layer to the back of you project to stiffen it before you seal it.
When you add Crystal Effects or Mod Podge, be sure to coat the sides of your project too. This will really seal the layers together.
I hope these ideas help. Do let me know what you try and how it turns out for you.
I have written more information on site about adhesives in general and
Mod Podge and Crystal Effects
in particular for you.
Let me know if you have more questions!
Susan