Origami Chopstick Holder
by Todd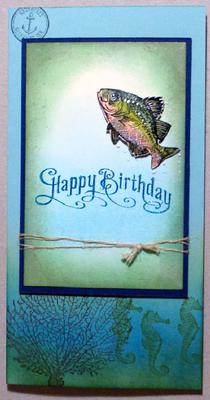 By the Tide stamp set used here
I enjoy your website and would love to know how I could find the diagram for the origami Goldfish Chopstick Holder.

Thank you.

Todd



********************
Hi Todd.
I am sorry but I have no such project on this site. I believe you are after a site that ends in 'net', not 'com' like my site does.
I make fish and sea type CARDS though. I decided to add a few of my ocean cards for you to see anyway. This is much more in my line of crafting (get it? My line. My fishing line. I crack me up!)
Most of the cards have
heat embossing
on them. I like to emboss my main image then pop it up to make it look a little more three dimensional.
The water pouch is a plastic bag with a small squirt of hair gel inside. I added glitter too. Spread it out inside the bag then seal the bag really well. Then I taped it to the back of the card window and covered that with more designer series paper inside. It looks nice with a contrasting border on the outside of the card window, don't you think?
You know what I was thinking? A
brayered landscape
would also have looked great behind that water window. It would also look good as an
easel card
.
I might have to break out some craft goodies later on today now. Lol!
Good luck finding the pattern you are after, Todd. Sorry I don't have much origami at all on my site. Yet.
Susan