Paper Ball
Written and Created by PaperCraftCentral Susan

Maria from Pakistan asked me how to make a paper ball without using glue.
"They give you a round bat
and they throw you a round ball
and they tell you to hit it square."
Willie Stargell
---
The first thing I thought of were those little origami balls we used to make in high school. I remember the boys even filled them with water to make balloons for throwing at surprised people.
There are surely ways a paper crafter will use these as paper ornaments instead, which I am sure you mean to do, Maria They are certainly prettier made from designer series paper rather than school note paper!
How to Make a Paper Ball with No Adhesive

Now I am not an origami expert, but I do know how to make these little gems. Actually, the folds used in this project start out just like the ones used in making paper roses up to step three. Then it gets a little different, but not wildly so. I'll show you how.
You Will Need:
A square of paper. You can use plain paper but patterned paper makes a prettier ornament. Make sure you keep the patterned side facing outwards (away from you) as you fold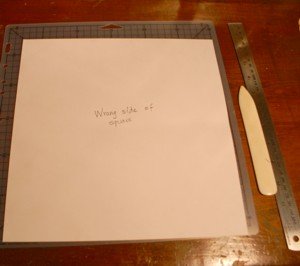 A ruler


A bone folder will help make the folds nice and crisp

Here's What to Do: Measure your paper and cut it to be a perfect square. I chose a patterned piece of scrapbook paper or designer series paper. Use the bone folder to crease all your folds from here on in

Fold your paper in half and then fold it in half the other way so you wind up with a folded square 1/4 the size of the original paper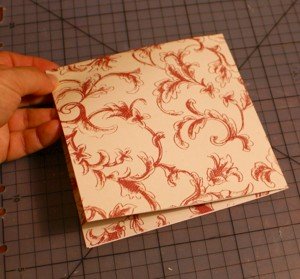 Open the paper out to a half sheet. Lift the top layer of paper and fold it to make a triangular shape

Turn the paper over and do the same to the other side. You will have something that looks like this: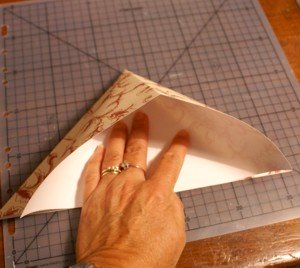 Now fold the loose ends up to a point at the top. allowing them to meet in a sharp point. (For paper roses, you do a shallower fold). It will now look like this: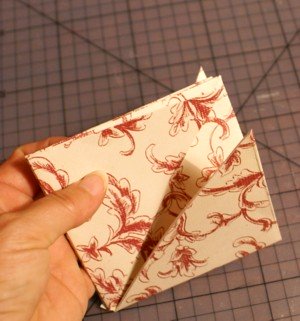 Turn your paper over and make the same triangle folds on the other side.

Now fold two sides in so the points meet in the middle like this:
Turn the ornament over and repeat that last fold so the two sides meet as points in the middle

Now you will

make a base for your ornament.



One end of the ball will have tips you can fold while the other will not.

Fold the top left tip down so it can slide into the triangular pocket just under it.

Do the same for the right tip, then flip the paper over and repeat this step on the other side.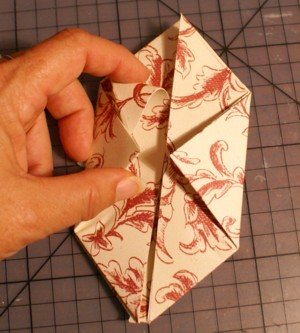 Pick up your paper ball and blow gently into the end my bone folder is pointing to inflate it.
There you have it! A paper ball made with no adhesives at all!
I hope this is what you were looking for, Maria. I'm working on your other questions too Thanks for asking!
Do come back and show me your own ornaments when they are done.
Do You Have A 3-d PaperCraft Project To Share?
Do you make 3-d PaperCraft items? I'd love to see your work. Please do share below.
---
---