Paper flowers.
by Nancye Evans
(Junee. N.S.W. Australia.)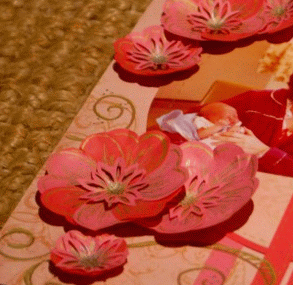 Paper roses - made from cardstock
Dear Susan,
I have been searching the net for an answer to my query, and I have found you - will you help me.
I want to start making some flowers with punches, but am not sure what grammage of paper to use, should it be 60 or 80 and where would I find this paper, double sided if possible.
Thanking you in anticipation.
Nan Evans


*****************************
Dear Nan
I'm glad you found me and asked me that question :) You have also reminded me I need to edit and upload a number of new paper flower pictures so I must do that soon.
Paper punches can be used with a range of papers. I suggest you experiment with the papers you are drawn to and see if your punches will cut through the paper in a way that pleases you. Just cut one layer of paper at a time, though. Paper punches are usually built to handle only one layer of paper at a time or they may chew the paper or get jammed.
The weight of the paper used depends on the effect you want to achieve. Thicker and heavier papers make more substantial flowers and the paper cannot be as easily shaped. Thinner papers make more delicate flowers and can be layered and shaped more easily.
Humidity also affects paper so if the weather is humid, your flowers may not be as crisp as they would be in drier weather.
When I make
paper flowers
I usually use Stampin' Up! cardstock which I know is 216 g/m² in weight. This cardstock is dyed all the way through and has no white core. I like that I can buy it in smooth or textured finishes and have a choice of 50 coordinated colours.
I can also use rubber stamps to make designs on the cardstock and can sponge it with inks, make it shimmery with shimmer paints, dry or heat emboss it, separate the layers out to make faux suede etc. Cardstock takes a range of techniques quite well.
Sometimes I use designer series paper for my paper flowers which has patterns on both sides. Designer series paper is scrapbook paper that can be used in albums as backgrounds, embellishments and borders, but it can also be punched and shaped.
You can buy cardstock and scrapbook papers in craft shops. However, I do sell Stampin' Up! cardstock and designer series paper to people in Australia and can have an order delivered to you in NSW if you would like that. You can check out the papers available in the catalogues. They can be downloaded and viewed here:
http://www.stampinup.net/esuite/home/susansalutations/catalogs
Scroll towards the back of the catalogue to browse through all the available cardstock and designer series papers.
I hope this helped you with your question and would love to see pictures of the flowers you make.