Paper Rosebuds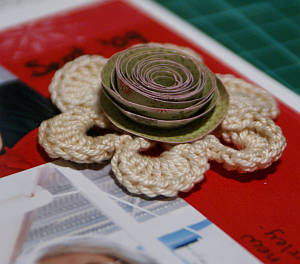 Example of Susan's Spiral Rose
I would like to know how to make parchment paper rosebuds. (by using strips of paper and rolling them up) How to make different sizes,and where online I can purchase all the supplies to make them. Thanks


*****************************
I believe you could be asking about how to make spiral roses? I added a picture of one of mine to your question so you could see if that is what you wanted. You can make these flowers out of any cardstock, designer paper or vellum, or any type of paper that will roll up. All you need is a pair of scissors, perhaps a wooden skewer to roll your paper on, and some strong glue like
Crystal Effects
from Stampin' Up!
I would start with a 4" x 4" square of paper and draw a spiral on the back of it. Cut across the end of your spiral and continue cutting around the spiral, all the way to the middle of the flower.
Now take a wooden skewer or a
quilling tool
or something round-ish (even a match stick would work) and start rolling your spiral onto the stick. Wrap it tightly and keep going until you reach the middle piece. Use that final piece as a base to glue your spiralled paper onto.
You can alter the size of your flowers by altering the size of the paper square you start with. For bigger flowers, use a 5" x 5" paper square. For smaller flowers, use a 3" x 3" square, and so on.
Remember that the width of your spiral will determine how high your paper rose turns out to be, so cut a skinnier spiral for flatter roses.
Another way to make a spiral rose is to use a circle or scalloped circle punch. Cut around the circle with your scissors to make a spiral, and then roll and glue as before.
I trust this answers your question. Thanks for asking.
Susan
PS:
You may also like to know how to make
folded paper roses
. All supplies for
making paper flowers
can be obtained from Stampin' Up!