Sunflower
by Anja
(Germany)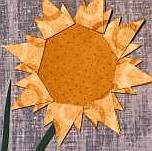 A paper sunflower
Hello! I am looking for a sunflower or something nice with an ecological touch. Not too difficult would be perfect. I want to use it as a give-away...
Yours sincerely,
Anja


******************************
Hi Anja
Thank you so much for your question. I have been working on perfecting a paper sunflower to show you and I hope to have it on the site for you soon. It is based on a tea bag fold idea and I will show you how to make it into a 3-d flower too.
I hope you will like it.
Another idea would be to make a
flower-pot card
. I have put those instructions on the site for you.
Susan
PS:
In the meantime, you may enjoy learning how to make other kinds of paper flowers such as these:
Join in and write your own page! It's easy to do. How? Simply click here to return to Ask Susan!.