What type of adhesive to use?
by Samantha Roberts
(United Kingdom)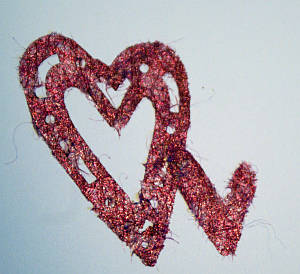 Xyron adhered delicate paper hearts
I recently bought some snowflakes from a shop and are made out of paper and I just don't know how to stick them on to my cards.

I have tried using PVA glue and the snowflakes cave in and shrivel up.

I have tried using a glue stick but then that stick to everything

They are too small for me to use double sided sticky tape

I just don't know what to do. They are beautiful things and I don't know what else to use

Samantha


******************************
Hi Samantha
It can be so frustrating when we have a picture of what we want in mind but can't quite get it to work. I'm glad you wrote to me about this problem. I imagine a lot of readers are making their holiday cards right now and there could be a few people having similar problems.
It sounds as though your snowflakes are rather delicate? I was wondering if you have tried using a
Xyron sticker machine
to apply your adhesive? You can buy a small version of a Xyron machine at a craft or stationery store. They are inexpensive and easy to use.
You just feed the delicate items you want to adhere through the machine, rub the clear cover thoroughly with the back of your fingernail or a
paper flower tool
, then lift the clear cover off.
Your snowflakes will now be sitting on the Xyron backing paper and have a layer of adhesive on their backs. You just peel them up and place them where you want them.
I'm about to make a page about this under the
Adhesives
section of PaperCraftCentral if you would like to see some pictures of how my experiment with sending some punched hearts from thin, lacy paper
through my Xyron
went. I think it turned out well :)
I hope this helps. Let me know how you go? And if anyone else reading this has some other ways of handling delicate items and adhering them to their cards/scrapbook pages, please do let us know.
Here's to Paper Crafting (Gotta love it even when it's a challenge! Lol!)
Susan
https://www.papercraftcentral.com