Hi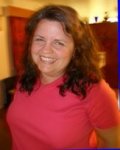 January 2010
Issue 006
Paper Twists... Exclusively For You!
Happy New Year and welcome to PaperCraftCentral's latest issue of Paper Twists!
Here's what you will find in this issue:
A Card Gift Box idea

Some Card Ideas

A Product Review

A Money Saving Tip - Rejuvenating your Rubber Stamps
And last but certainly not least:

the 2010 PaperCraftCentral Creative Challenge!

May I extend a special welcome to you if you are a new subscriber to Paper Twists? I trust you will find a new idea or two in this issue.
Have you been having a good time paper crafting throughout December? Our house has returned to normal again since the change in the seasons. It is much warmer in Australia these days, and wetter too with the summer rains starting to send flooding into some of our lands while other dry areas are experiencing scorching heat. Stay safe, dry and cool, all you southern hemisphere people! And stay warm and cozy, all northern hemisphere readers. Yes, they have shown us the huge snowfalls on the news here.
Now let's get to the first new projects for 2010.
A Card Gift Box idea
Do you have an old shoebox? You're in business for this card gift box idea!
The New Year is a great time to get organised for all those special days ahead in 2010 - birthdays, anniversaries, weddings that may be coming up, babies due to be born. Now that Christmas is over, why not start making cards in advance of all your special occasions?
First, cover your shoe box in cardstock and/or designer paper and decorate it to suit your taste or needs. Next, make some dividers with tabs up so you can label them with the months of the year. Draw lines on the front of your dividers and enter the dates of the month where there are special occasions happening, and enter the details of that occasion on the divider too. (eg: Say you have a friend named Lisa whose birthday is January 20th. On the January divider, write 20th - Lisa's birthday).
Once you have completed all of your dividers, you are set to make the cards you need and store them behind the relevant monthly divider. Include an envelope with the address of your recipient on it and decorate the envelope to match your card. I even put stamps on the envelope if I know I will need to mail my card.
Keep some spare cards in the box as well for those unexpected events that always crop up.
To get you started on those cards, here is a card sketch idea for you. Cut some designer paper to fit on your card blank. Add a ribbon to the long side of this and adhere it to the back of your designer paper. Now attach the ribbon and paper to your card blank. Stamp an image on a smaller rectangluar piece of cardstock. Add this image to your card, positioning it over part of the ribbon. Add another embellishment to the top of the image overlapping both your rectangular image and the ribbon.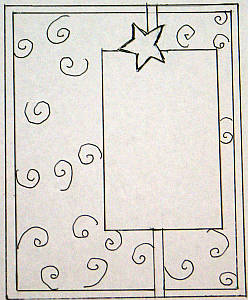 PRODUCT REVIEW
One of the products I have tested since I last wrote to you is Stampin' Up!'s 1/2" circle punch (on page 152 of this year's Australian Ideas Book and Catalogue). It is able to punch out circles that are just the right size for all sorts of card and scrapbooking embellishments. Make a row of them to add an interesting border to a page. Add a paper circle to a ribbon flower, topped with a button. Use the punch to cut out certain sections of a stamped image, like the centre of a flower, to pop them up and add dimension. Take a 'bite' out of a sleeve of paper with half your punch to form a tab area. The uses for my little punch are endless! I've reached for it again and again since buying one.
MONEY SAVING TIP
Did you know that your rubber stamps can dry out? One of the best ways to dry out stamps is to use something with alcohol in it, such as some brands of baby wipes. I've seen lots of people use baby wipes to clean their stamps, so it is important to spread the word! It is important to condition stamps by cleaning them with a special stamp cleaner like Stampin' Mist as it contains a rubber conditioner that is just right for your stamps. I always clean my stamps before the ink dries on them.
But what about the rubber that has already dried out? There is hope! You may be able to recondition your dried out rubber stamps using glycerin soap. Just rub the stamp over carefully with the soap and you may find even old, dried ink may come off. The rubber will be more supple and conditioned too.
PaperCraftCentral's 2010 Creative Challenge
Has your mojo gone on holiday? Do you need some inspiration? Starting on January 17th, you can find it at PaperCraftCentral all during 2010! Every week I will post a new challenge for you to try. Read all about it! And do join in? I love to see your work. Really and truly I do!
And that's it for this issue of Paper Twists. If you enjoyed it, please feel free to pass on a copy to your friends or to encourage them to subscribe. The more the merrier!
I'd love to hear any feedback you have for me about what you would like to see in future issues. Do contact me.
Look forward to more specials and surprises in future issues of Paper Twists!
Happy Paper Crafting!
Susan
PaperCraftCentral.com
P.S. For those of you who frequently write and ask about how I built PaperCraftCentral.com, why not check out the company I created PaperCraftCentral with? All you need is a passion and the desire to create a web business and you can see your dreams come true.
Here are some new projects that have been posted on PaperCraftCentral.com since the last issue of :
New project ideas already at PaperCraftCentral.com under "Card Making":
Making wedding cards

How to make gift card wallets for other occasions than Father's Day
New information under "Paper Craft Tools":
How to use a Xyron machine
New 3-d projects:
New Adhesive Information:
What adhesive do I use for snowflake embellishments?
And more!
If you have received this issue of Paper Twists as a thoughtful forward from a friend, why not subscribe and have access to exclusive information and project ideas from PaperCraftCentral.com?