Hi


May 2021 Paper Twists
The New Annual Catalogue is Here!
2020SusanSalutationsShop It's so exciting when a new Annual Stampin' Up! catalogue comes out!
I've already sent out paper copies to my current existing customers (those who have ordered $50 or more from me in the past 6 - 12 months). If you would like to have your own paper copy, you can do one of five things:
1. Place a $50+ order with me at SusanSalutations (Australian residents only)and I will mail one to you for free
2. Place a $50+ order and come by my house to pick one up
3. Order one of your own at SusanSalutations for $AUD7.00
4. Attend five classes with me to earn a new catalogue for free
5. Download the new catalogue PDF for free at my SusanSalutations Store online
Tips and Techniques for Colouring Ribbons and Cords
Sometimes we forget how versatile plain white ribbon and cord can be. Did you know you can colour them to suit your project with inks and markers or just about any kind?

You can read more about colouring ribbons and cord at https://www.papercraftcentral.com/color-ribbons.html I hope you try at least one of the techniques mentioned out!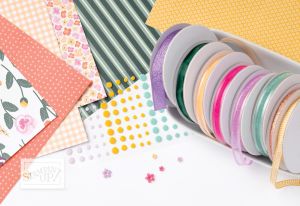 Make Yourself a Reminder
It's fun to use your craft supplies for personal reasons. I needed a reminder that I should eat mindfully, and I found a suggestion for a list of ideas to go through to make sure any urge to eat is because I am hungry!

I took my new Hydrangea Haven stamp set and quickly cut out an oval shape on some Basic White cardstock. I layered this on top of a piece of Balmy Blue cardstock, but did not stick it down.

Then I stamped pretty Gorgeous Grape and Mint Macaron flowers and leaves on both layers but I left the centre of the Balmy Blue oval unstamped.

I traced the oval shape onto my Balmy Blue cardstock to fit behind the Basic White cardstock.

I sponged some Purple Posy ink onto the edges of the Basic White with a Stampin' Blending tool. I sponged some Balmy Blue ink around the oval shape.

Then I took a Night of Navy Stampin' Write! marker and carefully wrote my reminder list on the Balmy Blue penciled in oval. I added a little glitter to the bottom of the oval shape with some Tear & Tape.

I erased my pencil marks then popped up the Basic White cardstock with Stampin' Dimensionals to adhere it to my Balmy Blue cardstock.

I added a couple of magnets to the back with my Stampin' Seal and put the whole thing on my refrigerator door, right next to the handle!

Talk about a healthy eating tool, courtesy of our stampin' supplies!
Have you used your stampin' supplies to make reminders or to help yourself in everyday life?

I've also made bookmarks, scripture memory cards, and decorated notebooks, wrapping paper, gift tags and table decorations to name a few.
Other News
Do you remember what it is like to move? I remember very well because I am in the midst of doing just that!

My craft room has been packed up and I will be moving to a new house by the end of this month. So now I am crafting supply-less! I don't know how to be craft supply-less.

So if you have any questions or topics about stamping and paper crafting and would like to talk to me about them, please do contact me. I will have time to write to you about the ideas I may have or may be able to help you find the answer.

I hope you enjoyed the May issue of Paper Twists and do get some time to browse through the new Ideas Book and Catalogue that's just come out.

Have a great Stampin' time till we are in touch again!

Susan

Susan Hurley-Luke of SusanSalutations and PaperCraftCentral.com
Newsletter Links:

Just click on the page links, or copy and paste links into your web browser if the link is not live when you receive it.

How to Copy and Paste:

Highlight the link by running your cursor over the link while holding your left mouse button down, then right click on it.

Select 'copy' and go to a web page. Left click in the address bar and paste the link in it, then hit Enter. The newsletter should then load for you.