Color Ribbons
Did you know you can color ribbons to match your project?
"Come and curl some ribbon"
Maid of Honor

Stampin' Up! has some great tips to change ribbon colours. At one of Stampin' Up's amazing Conventions held in Australia they revealed the secret. (Incidentally, I felt very blessed to be able to attend that Convention for all the fun and the chance to try out new products, and of course for the friendship and the tips we all exchanged. If you ever get a chance to attend a Stampin' Up! event, I highly recommend it).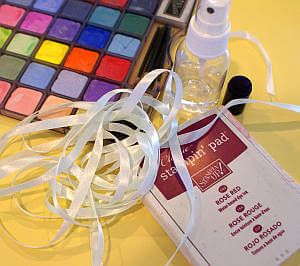 ---
How to Color Ribbons

If you choose to use the Stampin' Pastels, simply spritz down your ribbon with water to dampen it first.
Hint: I keep water in a small bottle with a spray cap just for such purposes. It's amazing how useful a bottle of water with a fine spray nozzle can be in papercrafting!
Then use a sponge dauber to apply some chalk to your ribbon. Load up the sponge dauber with some chalk and start lightly sponging your length of trimming. Keep sponging until you get the depth of colour that you want. You can let the wet chalk and ribbon dry (or carefully dry it with a heat gun to speed things up. Be careful not to scorch the ribbon though as it will begin to warp and curl if it gets too much heat) then go back and deepen the colour further if you like. Allow to dry again before using your freshly coloured ribbon on your project.
Another way to try colouring ribbon is to press the ribbon itself onto an inkpad and carefully pull it through under your finger, then let it dry. Try to keep the pressure on your ribbon even so the colour is laid down evenly unless you want a variation in the tone.
You could also try lightening or achieving a stained effect by spraying some of the ink you put on the ribbon with your water spritzer.
Try using several colours of ink on the one ribbon for another effect. You can make it variegated that way. Try spraying watered down ink onto it, or sponge with different hues of ink.

Another variation is to colour the edging of the white ribbon with your Stampin' Write markers to get a two-toned effect. Make sure you let the colour dry well before you put the ribbon on your card or you will run the risk of inking your card where you didn't want some ink to be.
Now you know how to color ribbons! Enjoy getting inky. Remember you can always get ink off your fingers with shampoo afterward!
If you have customised your own ribbon and used it to make a scrapbook page or a card or any other paper craft project, I would love to see it.
Do You Have A Favourite Handmade Card to Share?
Do you make greeting cards? Please do share it with me.
---
Return from Color Ribbons to Card Making | Return to PaperCraftCentral Home Page

---