Altered Art
Written and Created by PaperCraftCentral Susan

What is altered art? This type of crafting may mean different things to different crafters. For me, it is all about finding an object that interests me such as a box or a tin or an ordinary notepad, and changing it artistically to make a pleasing (to me) and original work of art.
Recycling found objects and making them works of art is another way to try this technique and it appeals to many.
My own projects often wind up having a 3-d element or two to them. I like to find many items that can be used to create a collage effect. Scroll down for more ideas.
What is Altered Art then?
"It's Art without rules...."
I went through a stage of altering matchboxes, for example.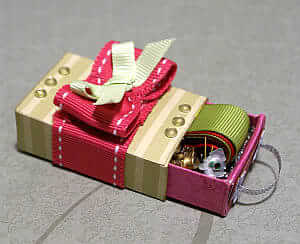 ---
Why Create Altered Art?
Once you get the idea of looking at things to see if they can be changed (in appearance or use), it almost becomes a way of life.It's a very green way to live, in that you are recycling objects that may have wound up in landfill. It;s a creative way of crafting, in that you are re-purposing objects in your environment in an imaginative and decorative way.
It's also a lot of fun.

If you already make pieces like this and understand why it can become so addictive, please share some of your work with me. Scroll down to find a place to share.
How to Get Started
Often, people start by changing the look of a book, a box, a notepad or journal. You can start smaller. One of the first things I ever altered was a set of metal brads.
These brads were plain brown and white before I added rub-ons and stamped bits and rhinestones.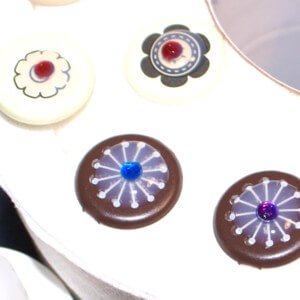 Another alterable surface is a scrapbook album cover. Here I decorated the cover of a circle journal using metal brads, letter stickers, a paper flower, a metal clip, ribbon and paper. I then doodled words around the main elements with a black fine-tipped felt pen.
You may also think of altering such things as:
Old or scratched CDs/DVDs
Picture frames, old window frames (maybe to make them into newly decorated picture frames?)
Photos themselves. Use manual techniques or digital ones
Old post cards or greeting cards
Buckets and tins and flower pots
Mirrors
Shoes, purses, clothing. Alter them with beads, shells or fabric paint perhaps
Old Crockery and cutlery. Broken crockery makes wonderful mosaics and old cutlery can make a mobile when you bend it into the desired shape with pliers

Tissue boxes
Birdhouses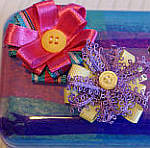 It's a list that only ends when your own imagination runs out.
Craft stored usually stock many raw objects made from unfinished wood, chipboard and paper. Second hand shops are also a source of delight when you are looking for objects to recycle and re-use. You can even decorate plain cardboard craft containers to make them more special. Change the look of everyday and familiar objects such as tissue boxes, folders, clothing, etc.
Why not plan a trip to your local craft shop or second hand store to see if an unfinished piece is calling out for you to recreate it with some altered art techniques?
You Are Invited to Show Off Your Work
If you have some of your own work that you would like to share, please do tell us about it. It's fun to see other people's work and it gives all of us new ideas.
Have A Favourite Altered Art Piece?
Do you have a piece of altered art you have created? I'd love to see it.
What Other Visitors Have Said
Click below to see contributions from other visitors to this page...

Another altered match box.

---
---