Decorating Tin Cans

Written and Created by PaperCraftCentral Susan

Decorating tin cans can be a great way to recycle and create some special altered art at the same time.
"When life gives you scraps,
make something with them!"
~Unknown
Decorating tin cans can be such fun. For example, have you ever wondered what to do with your empty Pringles (potato chip) cans? They seem too good to throw away, do they not? They have nice solid sides and a top that seals. If you need a container to hold small items or give away as a gift, Pringles cans can be just the thing.
Plus it gives you can excuse to buy some, just in case Pringles are your favourite snack food!

---

Instructions for Decorating Tin Cans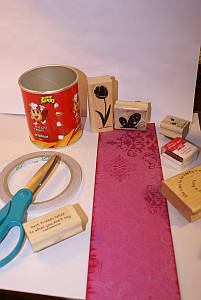 First, buy a tin can of Pringles or similar.
Next, have a nice snack time and eat or store your potato chips or other food safely.
Then wipe the tin out with a clean, damp rag a few times so that no salt or oil remains on it or on your fingers. Allow it to dry thoroughly. 
Now you are ready to begin the fun papercraft part..
There's a way to share your own decorated containers at the bottom of this page. Scroll down to see!
Now, gather your supplies.
You will need:
Here is How I Made My Decorated Tin Can:


Cut cardstock or designer series paper to fit the sides of the tin. You want it to be as wide as the body of the tin and able to overlap on the edges when you wrap it around.
Decorate your cardstock as desired before you adhere it to the body of the can. Here I used some Stampin' Up! flower stamps and then I stamped a few more on different coloured cardstock, cut them out and adhered them over the original stamps to make a 3d effect.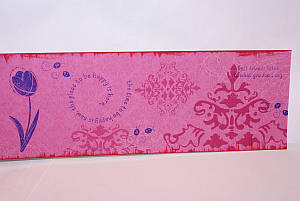 Place double sided tape on the wrong sides of both ends of your cardstock. Adhere one end of the cardstock to the can, then smooth the rest over the can, overlapping the other end of the cardstock.

Adhere this overlapped end down as well.
Note: If your cardstock is a bit stiff, curl it with the edge of your bone folder before wrapping it around the can.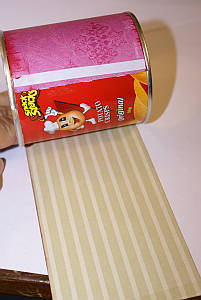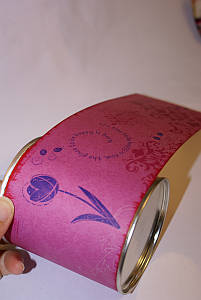 Apply your lace, ribbon or sequins as desired, making sure this embellishment does not interfere with closing the lid of the tin. I used a Xyron machine to add some ribbon to the join of the label but you could use Stampin Up! Adhesive Sheets as well.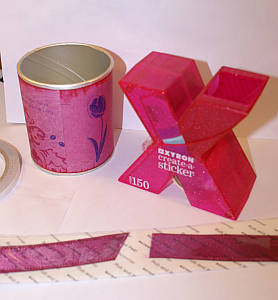 You have now completed decorating the body of your can. Next turn your attention to the lid.
As the lid is plastic, it is easy to cut through it with a paper punch and is no match for the Crop-a-dile.
Here's what I did:
I cut a circle of cardstock to fit the top of the lid
I decorated the lid by punching holes through the centre and inserting a silk flower or two with a decorated brad to hold it there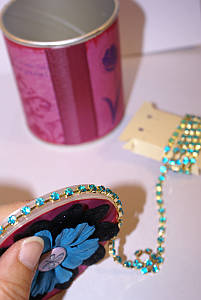 I applied a row of gems to the edge of the lid with Tear and Tape. This left some stickiness between the gems so I applied glitter powder to the remaining sticky bits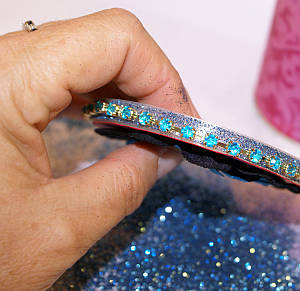 I turned the lid over and added a scallop punched circle of cardstock over the split pins of the brad, and wrote a message to the recipient of my gift so they would always remember I gave it to them and appreciated them enough to spend time making a unique gift for them.

I started decorating tins when I took part in a scrapbooking swap where we exchanged them. I filled the can up with all manner of scrapbooking goodness. It was a fun swap!
Now you can look at your pantry and even your laundry or wardrobe anew to see if there are any containers that could be repurposed and gifted in this way. I have decorated other things than tin cans, such as sturdy or plastic chocolate boxes, strong boxes that hold dry goods, pretty packaging that comes with jewelry or clothing. These days it pays to repurpose and recycle, so why not do that in a creative way and have fun at the same time?

Have you been a decorating tin cans too? I would love to see it. You can add it by typing in the spaces below:
Do You Have A 3-d PaperCraft Project To Share?
Do you make 3-d PaperCraft items? I'd love to see your work. Please do share below.
What Other Visitors Have Said
Click below to see contributions from other visitors to this page...

You may also enjoy the following PaperCraftCentral project ideas:
---
---