Christian Gift Ideas
Written and Created by PaperCraftCentral Susan

Are you searching for Christian gift ideas you can make from paper?
"A way to be inspired by gratitude"
~Susan
---
.
---
Here are Christian Gift Ideas for you to Try:

Scripture Card Box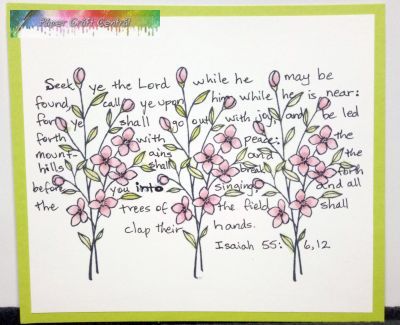 One thing I like to do is to use my rubber or photopolymer stamps to make images that enhance Scripture.
In the case of the card above, I stamped three flower and leaf images from the Touches of Texture stamp set (now retired but check out what is current at my SusanSalutations Store!) onto a piece of Basic White card stock. Then I coloured them with Stampin' Write markers and a water painter, and finally I added shine to the flowers with some fine-tipped glue pen.
Here's a close up of the flowers with their shiny finish: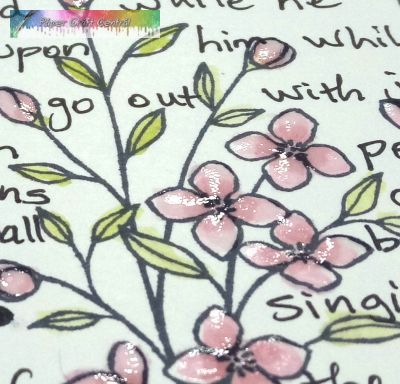 Once the images were done, I wrote in my scripture in between the images with a black Stamp 'n Write! marker.
Then I made it into a Christian gift idea.
I mounted the stamped image with scripture on some Lemon Lime Twist card stock (retired, but choose Granny Apple Green or Parakeet Party instead)  and inserted it into a Full Wide Stamp Cas (retired), as shown in the first picture on this page.
The case is used to hold little scripture cards for memorising. I print out verses I want to memorise on Basic White card stock, then decorate them with stamps and/or designer series paper, and mount them onto coloured card stock.
I make each scripture card the same size so they will fit together well in a sort of file arrangement.
I add in some blank Basic White cards so the person can write their favourite verses on them.
Here is the open scripture card box: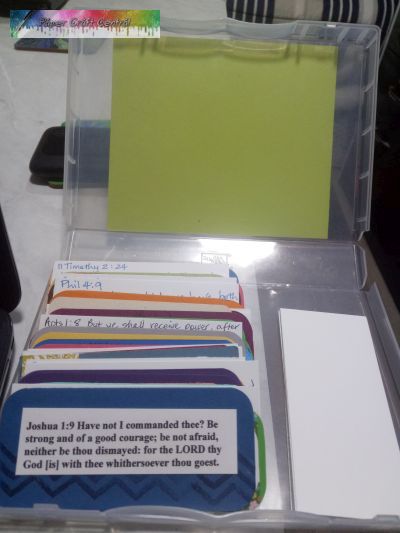 Now your friend will have a box to store her scripture memory cards in, and can go to them each day to review them and think about her favourite scripture verses.
What a blessing!
Which leads me to the next Christian gift idea:
Blessing Box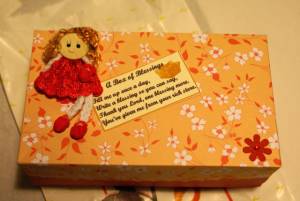 .
I have a lovely friend who blessed me one week by making this beautiful little box for me. I was so touched!
It was an empty box when I received it and I still felt so special to receive it! When you read the little saying on top of the box, you can tell why:
A Box of Blessings

Fill me up once a day
Write a blessing so you can say
Thank you, Lord, one blessing more
You've given me from your rich store
My task is to inspire myself to live so that I am being thankful for the many blessings that come my way each and every day.
Now I have my cute little box, every day I am to write down a blessing I have received on a piece of paper, and pop that in my box.
I already have two blessings stored there, my friend will be glad to know, and one of them says I am grateful to have friends just like her!
I felt so special when I received my gift! Thank you, Rebeca, for thinking of me :)
There is a lot of evidence to show that by living with a grateful heart, people do become much more content and joyful in their lives. It is an expectation of the Lord that we are thankful to Him every day.
1 Thessalonians 5:18 In every thing give thanks: for this is the will of God in Christ Jesus concerning you. (KJV Bible)
If you have not yet tried it, why not count your own blessings?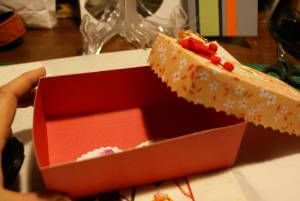 You can make your own Blessing Box for yourself or for a special friend or even for a group of friends. Rebeca shared lunch with three of us and she had made three little boxes to bring along and give to each of us at that lunch. See how thoughtful she is?
Just make a basic lidded box out of cardstock and designer scrapbook paper, and decorate it the way you want. You could find a box that is already made and just cover it to suit your recipient, or you could make your own box right from the beginning, perhaps like this gift box.
Don't forget to put a copy of the saying on top of your creation so your friend (and you) will be reminded to write down and place a blessing there each day.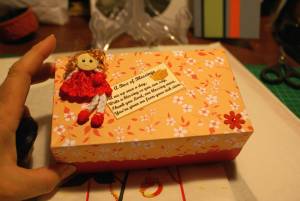 Another idea would be to fill the box with some little cards showing your favourite gratitude verses. Then your friend could pull out a verse a day and be encouraged.
More Ideas:
You might also like to consider these ideas when making gifts for your friends. Make a collection of special cards to fill a decorated box, or make a seasonal wreath for their home:
Do You have a Paper Christian Gift Idea to Share?

If you have made something special out of card stock to encourage your Christian friends, please do tell me about it here.
Thank you for sharing!

Do You Have A Favourite Handmade Card to Share?
Do you make greeting cards? Please do share it with me.
---
---