Scrapbook Paper
Written and Created by PaperCraftCentral Susan

Scrapbook paper is beautiful stuff for papercrafters. It is also called designer series paper (dp for short) and Specialty paper sometimes. I just find it so versatile and fun to use, in card making, 3-d projects and in scrap booking.


What is Scrapbook Paper?


A definition of it is that it is patterned paper that is often a bit thinner in weight than cardstock is. It can have patterns or designs printed on just one side, but often it comes with a coordinating or contrasting pattern printed on the alternate side. People cut it up and use both sides that way for projects that do not require a full page of scrapbook paper.

Specialty paper is paper that has something, well, special done to it. It can have embossed or metallic, foiled designs printed onto it, for example. This type is usually more expensive to buy than plainer papers are and can be a heavier weight too.

It can be made with different materials, such as vellum, linen, or die cut paper.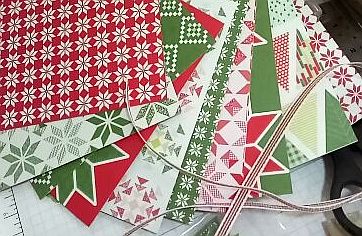 What Size Does It Come In?


It can come in several different sizes, but the most popular seems to be 12" x 12" (30cm x 30cm) especially for scrapbookers. This is because many scrapbooks are made of 12" x 12" pages. A single piece of scrapbook paper can therefore cover the whole page, if desired.

Another popular size, especially for cardmakers, is the 6" x 6" (15cm x 15cm) size. This size is easier to cut down to cover an entire card front and still leave you some scraps for use on other cards or as contrast pieces on the same card. It is great for maker larger, square cards.

Stampin' Up! sells designer series paper in packs or stacks, in both 12" x 12" and 6" x 6" sizes, to cater for both scrapbookers and cardmakers. The larger packs and stacks come in quantities of 12 to 40 - 48 pages, whicle the smaller sized stacks come in the 40 - 48 page sizes. There is usually quite a variety of designs in each pack, unless you deliberately buy a stack of one colour or colour family.

Craft stores often sell individual sheets of dp.

What is Scrapbook Paper used for?

Scrapbooks


It can be used to embellish scrapbook pages, by becoming an entire background pattern for you to place photos and embellishments on.
It can become a mat for a photo or sentiment box, showing just a bit of the edges around the main focal piece.

It can be used to make borders for scrapbook pages.

You can layer it in different shapes, offset shapes, or place in between other embellishments like ribbon.

You can make it form pockets or slide ins to hold photos or messages or memorabilia.

You can use other mediums like paint to add a wash over the top to better suit your project. Or paint over the entire surface and continue to layer other pieces on top, and maybe give them texture with embossing paste, masks or thick paint.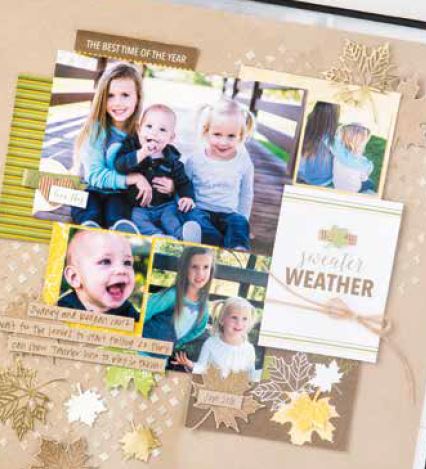 Patterned paper can also be cut into pocket sized shapes if you are a Project Life or Memories and More scrapbooker. One 12" x 12" page can  make lots of pocket sized cards!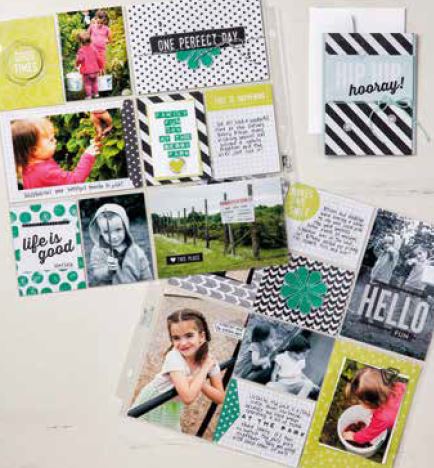 Handmade Greeting Cards


I like to use patterned paper on cards as layers. They look lovely on their own, the top or bottom third cut and one piece turned over to show the alternate design.

You can stamp on it too! That's called the Direct To Paper technique. And you can heat emboss on it.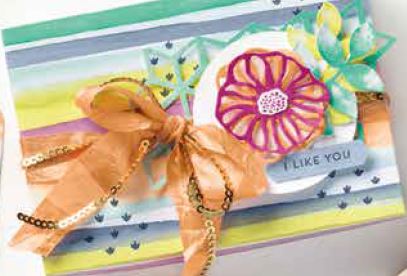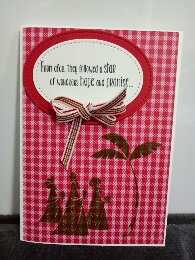 You can run pieces of designer series paper through the Big Shot to make textured pieces, or die cuts to use on their own, or cover chipboard shapes.

One layer of dp really looks good on a card front, especially if you add ribbon or images and a sentiment element, such as in the cards I showed for the Direct to Paper technique. Here's another example:
You can add it to the inside of cards and layer a plain piece over the top so you form a border for your card inners. That looks fancy.

I have lined envelopes with it too, or made entire envelopes out of it. That just enriches the presentation of your card so much.
3-d Paper Papercraft

Designer series paper can be used to decorate all manner of 3-d papercraft projects. Think of the sides and lids of boxes as if they were small cards. Layer and decorate with the dp as you would on a card.
Or make a paper bag out of it to hold special gifts and messages, such as this Christmas bag made with specialty dp due to its gold foil stripes.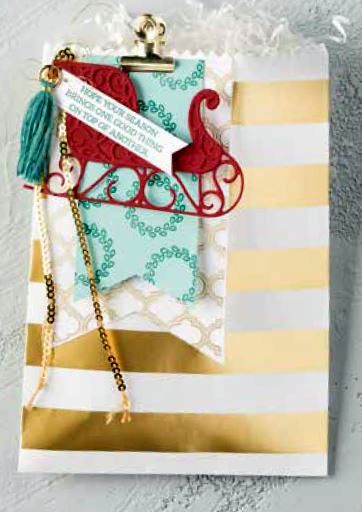 Use it to cover notebooks, chipboard boxes, containers, on th einside of clear plastic containers, around pictures, letters for home decor, and so many other 3-d projects.
Scrapbook Paper is Versatile!


From all this you can see just how versatile and fun scrapbook paper can be. I would say it is an essential element to include in the majority of papercraft projects I make.

If you have more questions about dp, please do contact me for more information.

You may also like these projects:



*Please note: Many of the images on this page were taken from the 2017 - 2018 Ideas Book and Catalogue form Stampin' Up!

---
Scapbooking | PaperCraftCentral home page | Scrapbooking Tips | Card Stock Types
---