Recyclable Products
Written and Created by PaperCraftCentral Susan

Did you know you can make handmade cards with recyclable products?
"Your descendants will gather your fruits"
~Virgil

In these days of economic uncertainty, spending money on craft supplies can sometimes seem like a bit of a luxury.
If you are like me, it doesn't matter if I have money to spend on craft items or not, the urge to make something out of paper is still there. Upcycling reusable materials into attractive craft items can satisfy the urge to create.
So why not look around at ordinary things that might otherwise be discarded and see if they could be used in your handmade crafting? Get some creative ideas by looking at things from a different point of view.
Another advantage is that upcycled materials can be used in many  craft projects for kids. Let them have fun and create with clean, reusable materials. Recyclable products can be a lifesaver with kids crafting sessions.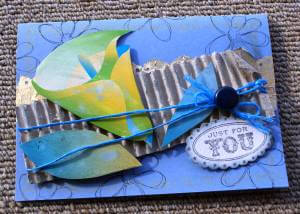 ---
Have You Made Cards with Recyclable Products  Before?
NOTE: If you have re-used items in your own crafting, I would love to see how you have done so. There's a place at the bottom of this page that will allow you to make your own page on PaperCraftCentral about your green project. I'd love to see some of your work!
How I got started upcycling:
I took part in a swap at RubberStampChat where the challenge was to make a card from materials originally used for something else (often referred to as using 'found' items).
That sounded like too much fun to miss out on!
So I signed up to make a card and swap one with another forum member.
And here is the card I made, from blue twine, the corrugated inside of a cardboard box, the cutout flower and leaf from a tissue box, an old button and some stamping, punching, inking, distressing and doodling: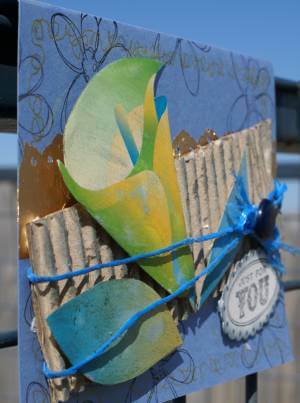 I liked making this first card so was inspired to make a card for a friend to help her celebrate her favourite dog's 14th birthday out of recyclable products.
I cut out this cute Labrador from a tag on a pet item I purchased and used it on my card front, along with some punched shapes, handwritten sentiments and doodling: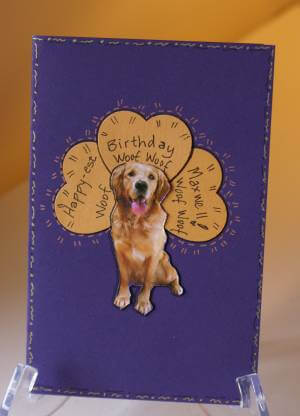 Marti, a papercraftcentral.com contributor, has shown us another idea by using recyclable products such as an old box of cards she had to make something new and fresh.
She used a die cutting system to take what she wanted from an old card to make a new one, and you can see it complete on one of her PaperCraftCentral pages.
Would you like some ideas for what recyclable products can be used in paper crafting? I thought you might!
Here's an incomplete list of materials you could possibly recycle into a handmade greeting card or scrapbook layout that I have either used myself or gleaned the idea from other crafters:
Clothing tags - use them as embellishments on cards and journaling spots on scrapbook layouts
Use the corrugated and/or coloured sleeves on a cup of takeaway coffee to punch out shapes
broken jewelry - charms can be used to enhance closures, bindings, and you can use chains to string lines on your projects
washers - make good 'buttons' and can be painted, sprayed, heat embossed or inked. Give them a light sand first

fish hooks - dull the ends and use them on fishing cards
Roof flashing can be put through your Big Shot machine to be cut and/or embossed
bottle tops - can be flattened and used like punched shapes or as little picture frames
jar and bottle labels (soak them off and dry them flat) are recyclable products that can be used as backgrounds, embellishments or punch art material and the jars themselves can be decorated as gifts

wire - bend it into flat spirals, use it as a sort of twine, attach elements to your project with it
mesh - use as a mask to apply ink with a sponge
lolly sticks make good flower stems or fences and can be painted, stained or embossed. Coffee stirrers can be used also
drink coasters - can be covered with decorative paper and made into small albums. Bind a few together to make a cute little scrapbookas they are about the same weight as chipboard

envelopes - use them in accordion envelope albums or to hold items on scrapbook pages (you can stamp on them or cover them with decorative paper etc)
gift wrap makes great backgrounds
commercial greeting cards - can be cut up and re-used on your own handmade greeting cards
sweet wrappers - may be just the right embellishment for a quirky card or page. You could make a candy bar card with wrappers too, so it would stay a permanent gift
the tabs from soft drink cans can be used like little buckles and threaded with ribbon
newspapers or brown paper can be cut up as background papers or punched into shapes to make paper flowers
magazines, junk mail and old telephone books can also be used to make paper flowers or embellish card, or to make paper beads
menus - are good memorabilia for scrapbook pages
travel brochures and maps are great recyclable products that will enhance your travel albums or bon voyage cards
cereal/cracker boxes - use them as light chipboard. Glue a few layers of punched shapes together and then ink, cover with designer series paper or paint  as though it was chipboard
cardboard boxes and the corrugated middle of thicker cardboard looks great when used as border add-ons, paper ribbons
scan the lace/text from your clothing or curtains to print off and use as your own unique paper
yarn/wool or kitchen twine/string and hanging loop ribbon from clothing can be used instead of store-bought ribbon
motifs cut from old clothing can be added to pages/cards
full page cardstock weight preprinted subscription pages are also good paper sources
small pieces of sea glass or shells can be glued to cards/page/3-d items
the shiny insides of potato chip bags (fold them inside ordinary paper before punching to give them enough body to be punched, or hand cut shapes from them)
pull the ends of an empty, thin spool of ribbon and use the insert to make a small wreathe decorated with punched/stamped images
calendars, post cards and catalogues can provide cute images for your papercraft projects
second hand book pages (including those written in foreign languages) look great as backgrounds and paper flowers
the lids on top of microwavable meals may be just right for a mat
silver tops from coffee tins can be put through Big Shot machines when the edges are trimmed down flat

old postage stamps make great embellishments for travel albums or vintage card. I even cut special Christmas stamps from cards I received for my December Daily album
beads can be strung and used on cards and pages or as centres of handmade flowers
old watch parts make interesting embellishments on robot cards and steam punk inspired layouts too
paper bags can be made into handmade albums
raffia and ribbon from presents is great on cards
use old buttons from worn out clothing instead of buying new ones for your papercrafting
Styrofoam can be cut out, painted, glittered
bubble wrap can be used as a stamp to ink up lovely backgrounds
feathers can be used to paint things or as pretty additions to flowers, cards etc
old lace looks lovely on vintage projects
hessian can make a great background for rustic pages and cards
material scraps can be used to cover notebooks
playing cards make great bases for evenly sized cards for your tag albums
safety pins can be added to projects as metal art work
comic strips can be adhered to pages and cards
disusued dress patterns can become recyclable products that can be punched into shapes and used for handmade paper flowers or glued to canvases as background texture and design. You can paint or ink wash over it too

old sheet music can be used as layers on cards and album pages
wallpaper offcuts can also be used as a layering material
handwritten letters or printed emails can add interest to projects
old photographs make interesting card embellishments

ticket stubs look good on cards and scrapbook layouts

show programs can be scrapbook embellishments too

tissue paper can be fashioned into flowers or mod podged to boxes and containers

typing paper can be used to make envelopes, wrap gifts (stamp on it first)

toys and toy packaging materials can add interest to projects especially layouts of children

some Christmas ornaments and hooks can be added to covers or bindings of albums or notebooks, decorate boxes etc

cupcake picks can be added to albums and cards

paper serviettes can be used like tissue paper in your projects. Try separating the layers and mod podging them to the covers of books or boxes
cheap leis from dollar stores - dismantle and use flowers separately
embroidery threads can be used instead of Baker's twine or other craft threads

the other side of card stock you have used but don't like (paper has two sides!)can be painted over, stamped on, covered with something else, used as a layer when building your own chipboard elements

old coins can embellish cards and scrapbook albums. Try finding a coin with the birth year of a baby on it for your baby cards and pages

use old make up to chalk or paint with and old nail polish to gloss images
tea bags/coffee filter paper can be used to punch shapes, or wet tea/coffee bags can provide stains to age paper

paper doileys are wonderful embellishments. Rescue them from gifts, food packaging items etc

cork can be cut into shapes to suit your projects
you can dry emboss egg carton material in your Big Shot (Amazing!!)

cupcake papers make lovely little flowers when flattened, spread out and embellished in the middle

Can you think of other recyclable products or ways to use them? If you have some ideas for rejuvenating older items, please do add them here and I will add them to our list.
Even better, if you have a handmade item you have made from recyclable products, please do show us and inspire us to re-use as much as we can.
Do You Have A Favourite Handmade Card to Share?
Do you make greeting cards? Please do share it with me.
If you liked this idea, you may like to try some punch art, or make your own wrapping paper out of recyclable products.

---
---