Chalk Pastels
Written and Created by PaperCraftCentral Susan

Using chalk pastels to colour a rubber stamped image is a lovely way to add subtle color and softness
"I wrote in chalk on a building This make me poignant"
~written on a college campus wall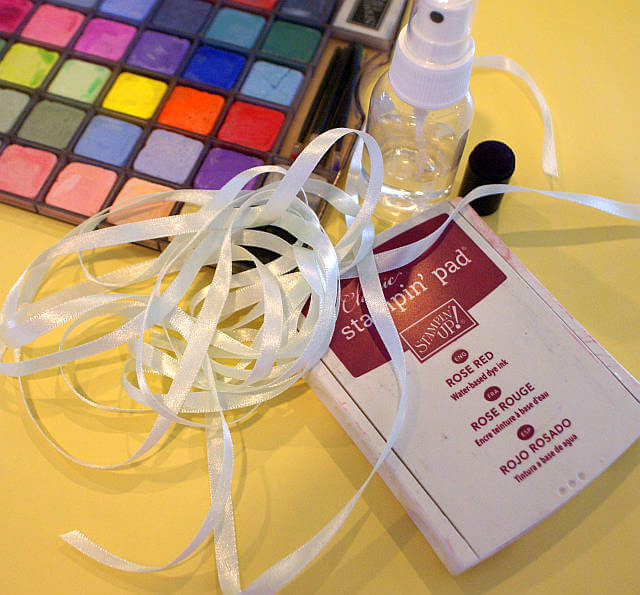 ---
How to Use Chalk Pastels: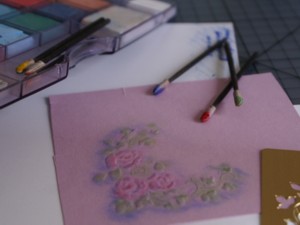 Whenever you want a soft, subtle effect, I think chalk pastels are one of the best ways to achieve that. I wanted to make a card for someone recovering from breast cancer and as you probably already know, Pink Ribbon Day is the signature day of the National Breast Cancer Foundation. That did it. I thought I would use soft pinks and a feminine image to say what I wanted to say.
First I stamped the woman's image with black permanent Stazon ink on a piece of Whisper White cardstock. Then I took my set of Stampin' Pastel chalks (sadly, no longer available but I am keeping mine forever) and a foam tipped applicator (they look almost exactly like an eyeshadow applicator) and carefully coloured the dress with soft strokes.
I thought about where the light would fall if it was hitting her back and concentrated more colour in the folds of the dress and in the shadows of the image. I changed colours to softly shade the skin peach and coloured the vase a darker shade of blue. You can see where I also picked out some flowers in yellow and shaded the leaves green.
Once the image was coloured, I mounted it on a piece of silver grey cardstock. I adhered some pale pink lace to the right side of the card blank then adhered the image over that. A flower with a brad and a stamped sentiment on Perfect Plum (retired) cardstock trimmed with deckle-edged scissors completed the card.
You can also use the chalks to add a flush of colour to stamped faces, soft colour to the inside of animal ears, on baby cards where you want a soft effect especially if you have a stamped baby image and want that rosiness in their skin, or try using chalks on any other images you fancy. Try it on darker cardstock like Basic Black for a smudged, chalkboard effect.
Chalked cards can evoke long term memories. I was once sent a gorgeous Christmas card of a Madonna and child that was beautifully enhanced with chalks (thanks again, Carla). Her beautiful work made me want to try out this medium as soon as I could.
More Tips
Get different effects with your pressed chalks by using different applicators and strokes:

Try using a cotton bud, a tissue for large areas, or even your fingers to add colour. See if a paintbrush allows you to pick up enough colour. Use a blending stump to pick up colour and move it about your image as you would with a pencil. I have even used make-up brushes to pick up colour and apply it.

Try different strokes to add patterns to your chalk medium results. Try cross-hatching, dotting colour onto areas, or moving your applicator in circles rather than smudging it evenly.
Try using a broader applicator on its side to lay down a wide line of colour.
Use a little water and a blender pen to add chalk pastels to a project. You won't have to seal your project as urgently if you use the chalks with water as the medium tends to set. You can also blend colours together this way.

Try layering different colours across each other onto your project. You can get new colours by layering. 

Spray your finished work with a sealant so it will not get accidentally wiped off your card.

If you liked this subtle technique, you may like to try Watercolouring, Dry embossing with chalks or Stampin with Bleach next.
---
---