Flower Pots for Houseplants, and a Card Idea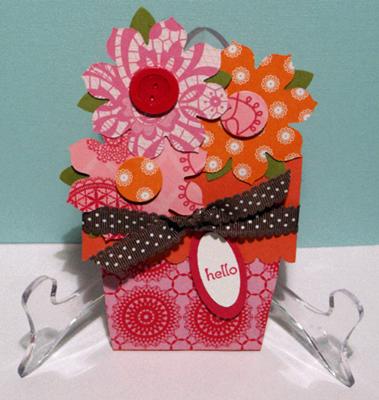 Here's a card flower pot that Susan made
I made a flower pot. if you have a large can cut the side and trim to a good size for a flower pot. Then just glue a strip a paper on the outsides and decorate it however you want and stab a hole in the bottom to let the water out then plant flowers in it.


***************************
Thanks for your cute idea. I'd love to see a picture of your decorated flower pot :) It must dress up a house plant wonderfully.
If you would like to try making a flowerpot card, I have been making some of those lately with my classes. I put some pictures of them up fro you to see. They are easy cards to make. All you do is fold a piece of cardstock in half, adhere the two sides together (leaving the top open) taperit to look like a flower pot, then decorate it.
Make a tag separately and stamp a sentiment on it. Leave room to add your own personal message. I added three little flowers to the note card as well as to the flower pot part itself. Slide the little card into the opening in the pot and there you have it - a Flower Pot card.
I like to make these for people staying in the hospital who cannot have real flowers.
It would also be lovely to make a little card like this to go along with your decorated real life flower pot as a very memorable gift for so many different occasions!
Susan
PS:
If you would like to make some paper flowers to embellish your projects, there are some instructions on these pages: