Fan Fold Flower
Written and Created by PaperCraftCentral Susan

Make a fan fold flower to adorn your next handmade greeting card or gift box.

"Flowers seem intended for the solace of ordinary humanity"
~John Ruskin

A fan fold flower is based on such a simple process. You cut a strip of designer paper and begin pleating it into an accordion fold, but wait. Perhaps I should start at the beginning.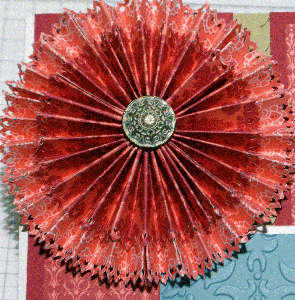 ---
---
Here are the papercraft tools and other items you will need: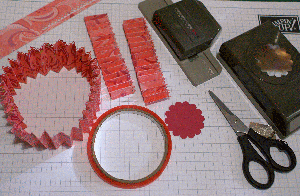 How to Make a Fan Fold Flower

Paper trimmer, scissors
Your choice of designer series paper and coordinating cardstock
Scallop circle punch
Decorative border punch
Large decorative brad or button
Simply Scored Board (or a ruler and your bone folder, or paper trimmer with scoring tool attached)

Here's what to do:
First, cut two 12"(20cm) x 2"(4cm) strips of designer series paper. Punch one edge of the strips with your decorative border punch.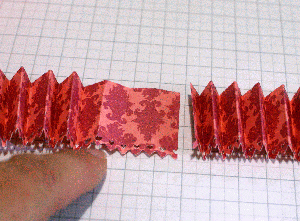 Next, join the other two ends together with strong double sided tape so they form a circle. I am about to do that in this photo: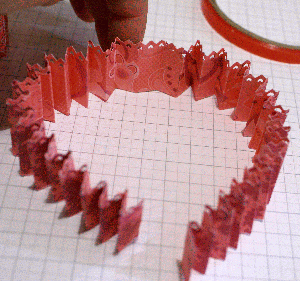 If you like, make a smaller pleated and accordioned strip to add to the centre of the bloom as a contrast or just to have a layered effect. Simply stack the smaller, completed, folded and scored circle on top of your original circle. The next step will ensure the two layers stay together.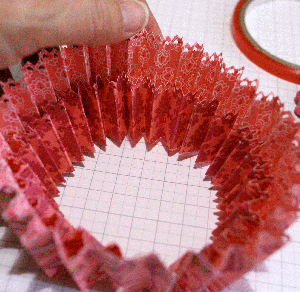 Now flatten the circles out and gather them in to form a tight, flat flower: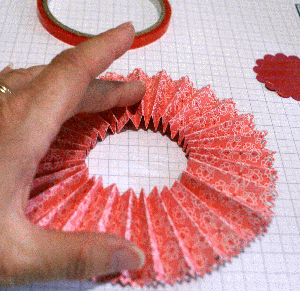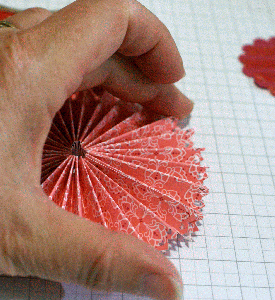 Your rosette might get away from you at this stage and spring out of your hands but you can always gather it back in again. We always have a few giggles in classes when people lose their rosettes!

Quickly adhere your prepared scallop circle to the back of your bloom and then turn it over to its right side.
Fill the centre or the rosette with Crystal Effects and add the straight shanks of your brad or button to the centre (you will need to have a thread through your button to anchor it in the Crystal Effects) then use a heavy object such as your border punch to weigh it down while the glue cures. Alternatively, use a Hot Glue Gun to do this part. If you add glue to a silicone mat and press the flower into the glue, the middle adheres almost immediately and stays flexible.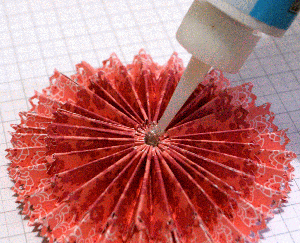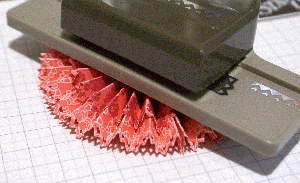 Now use your rosette to adorn a card or gift box.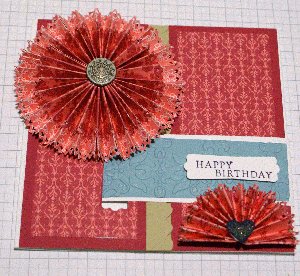 These flowers were made with shorter strips of designer series paper so they look more open and sit a bit flatter when completed.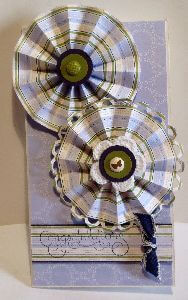 ---
Return from Fan Fold Flower to How to Make Paper Flowers | Return to PaperCraftCentral Home Page
---