Hi


November 2020 Paper Twists
24 Hour sale on 24th November and Bumper Christmas Edition!
Don't miss 10% off your order on Tuesday, 24th November for 24 hours only! There are some exclusions but most of the annual catalogue items are on SALE.
Please use Hostess Code UQ2N9Y3M when you order from me if you live in Australia.
It's a sale that is just in time for Christmas ordering. This way, your items are highly likely to be delivered in time for Christmas. With the mail the way it has been this year, it's good to have a little extra time for delivery.
You can see the exclusions to the list and other specials etc at Stampin' Up! News.
Now as this is the month before Christmas, I have some gifts for you! I want to give you some exclusive card ideas, tool tips and a technique.
First, an easy card layout idea inspired by Karen Titus, a Stampin' Up! Demonstrator in the USA.
Christmas Card Idea
Do you need to make a few last minute Christmas cards? Got some Designer Series Paper and some cardstock and a stamp set with a sentiment? How about circle punches or dies? That's all you need to create some striking cards quickly. I'm going to let you see a sneak peek of a new stamp set coming out soon too!

I used:

An ordinary card base 14.8cm x 10.6cm, scored in the middle. I chose Real Red. Then I cut a 2.5cm strip off the right side of the front. I cut the strip down to 7cm and scored it 1cm along one side.

I used Toile Christmas DSP and cut a piece at 7cm x 14cm. I added this to my card front.

I cut another piece of the DSP 2cm x 14xm and set it aside.

I folded the 7cm x 2.5cm strip and glued the 1cm part to my card base on the right side.

I flipped and glued my small strip of DSP over the Real Red strip and added a piece of 8cm x 14cm Whisper White to the inside of my card.

Next I took a piece of Real Red cardstock and cut a 7cm stitched circle shape from it. I cut a nested stitched circle the next size down from Whisper White and stamped a sentiment on it with Garden Green ink. I chose a sentiment from the soon-to-be released For Unto Us stamp set. Then I glued the circles together and added them to the 2.5cm strip so the sentiment showed on the outside of the card.

Now you are done, unless you want to add another circle of DSP to the inside of your circle and some DSP to the inside of your card, and add some bling of course!

Do contact me if you need to know more about these instructions. I hope you can work out what I did from the pictures below now you have the measurements: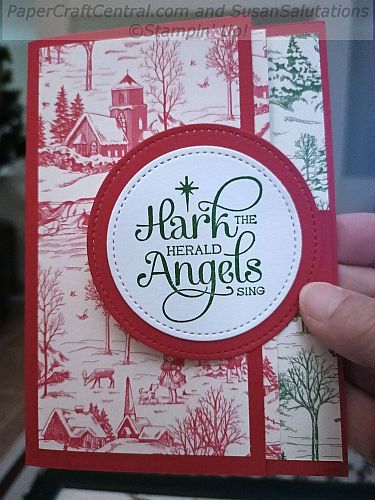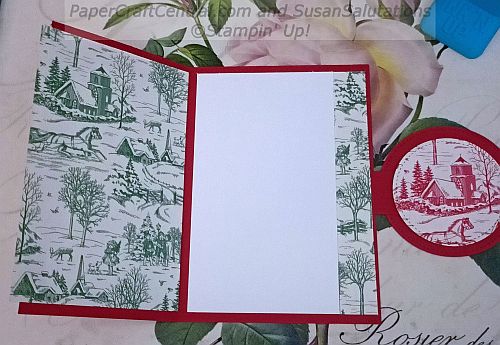 Once you make one of these, you an cut a stack of pieces and work on many cards in a sort of assembly line production. I made several in one evening using different types of DSP and cardstock, and sentiments too,
I hope you enjoy your card idea and it helps you meet your quota of Christmas cards, or helps you make a few cards for entirely different occasions!
Now for a couple more ideas you may not have tried:
Tool Tip
Use your Take Your Pick tool to push rhinestones and other adhesive-backed embellishments off their keeper sheet and place them on your project.
It makes the job so much easier than using scissor tips or your fingers.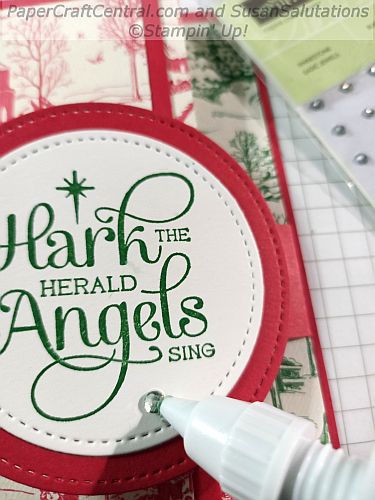 Ink Technique
Use your ink pads to create easy backgrounds. Use the whole ink pad to swipe across a piece of cardstock! Be sure to do this on scrap paper and not your best table.
Allow the ink to dry, then stamp or emboss over the top in your contrasting ink/embossing powder of choice.
I completed this card with some tree stamps from the Waterfront stamp set in various green inks, a sentiment form the Peace and Joy stamp set and some gold embossing powder, some rhinestones for the Christmas tree, and some Pretty Peacock/Old Olive reversible ribbon.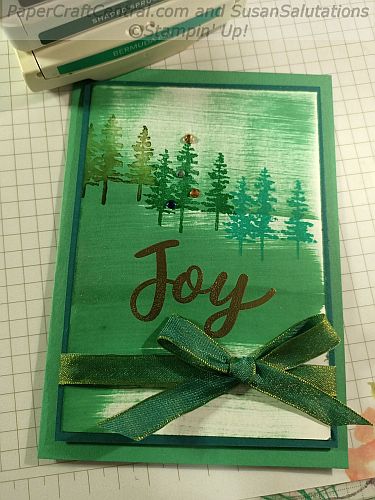 Cards For Troops and Other News
I have some good leads for making sure our donated cards are given to charities and are used to fund raise for said charities. I will have more news for you next time, but here is the latest so far.

Oh, and if you have been my customer in the past 12 months, I have already ordered new seasonal catalogues for you. They will be coming in December and will be live for ordering in January. Enjoy the new ideas in your catty! Let me know if you would like me to be your Stampin' Up! Demonstrator and would like a new seasonal catalogue.

If you haven't already, do remember to check out other Stampin' Up! News and this month's Card Ideas at PaperCraftCentral.

Enjoy your holiday preparations, wherever you are in the world. I hope you stay safe as we see out the last of 2020.

Take care and thank you for being a subscriber!

Susan

PaperCraftCentral Susan (Susan Hurley-Luke) also of SusanSalutations for Australian readers

Newsletter Links:

Just click on the page links, or copy and paste links into your web browser if the link is not live when you receive it.

How to Copy and Paste:

Highlight the link by running your cursor over the link while holding your left mouse button down, then right click on it.

Select 'copy' and go to a web page. Left click in the address bar and paste the link in it, then hit Enter. The newsletter should then load for you.