Stampin Up News

Written and Created by PaperCraftCentral Susan

Stampin Up News tells you about some new things that are happening in the Stampin Up world. I might talk about specials and things that will be to your advantage, or I  might talk about new products and how to use them. Or maybe there will be something else new that I just have to tell you!

Of course, if you want a monthly email telling you about the official Stampin' Up! specials coming up, do subscribe to my SusanSalutations mailing list, especially if you live in Australia.
Once you subscribe, I send you an email every month towards the beginning of the month and you will see all the company specials there.
Just so you know, I am an Independent Stampin' Up! Demonstrator in Australia. I am not an official representative of the company.
Also, the SusanSalutations email is totally different to my PaperCraftCentral mail out, Paper Twists. There are TWO emails you can sign up for, and I hope you do!

May Stampin' Up! News
May is a great month on the Stampin' Up! calendar. It's the month the Retirement Lists come out, for both the Occasions catalogue and the Annual Catalogue (both finish on June 3rd)

Some products just don't carry over into the new catalogues. This is to make room for NEW products and supplies, and for Stampin' Up! to take into account what is trending right now.
Since I went to the OnStage Live conference event in Auckland, New Zealand (I LOVED going to New Zealand for the first time!!) I do know what is coming in the new catalogue! I plan to share that with you.
But first, we need to make sure something you love isn't going to disappear forever. Check out the Last Chance Products list.

More Stampin Up News below:

Everything is Rosy Product Medley

In May, the Everything is Rosy Product Medley became orderable, just for the month of May or while stocks last!
Creativity comes easy when you've got amazing coordinating products.
I don't want to brag, but coordination is one of Stampin' Up!'s strong points. The Everything Is Rosy Product Medley is a perfect example. Products in this medley are exclusive to this medley and cannot be purchased anywhere else. You'll love the happy, rosy feeling you get as you create with these fun and flowery products. Available for a limted time. Get them while you can!

The Product Medley includes these exclusive products:

* Everything Is Rosy Photopolymer Stamp Set—18 stamps; suggested blocks: a, b, c
* Everything Is Rosy Dies—10 dies; largest die 2-7/8" x 1" (7.3 x 2.5 cm)
* 6" x 6" Designer Series Paper Stack—48 sheets; 8 each of 6 double-sided designs
* 6" x 6" rose gold foil paper—8 sheets
* Printed die cuts—2 sheets
* Rose gold die cuts—4 sheets; 2 each of 2 designs
* Rose gold adhesive backed mirror embellishments—60 embellishments; 1/4" (6.4 mm)
* Melon Mambo 1/4" (6.4 mm) Ruched Ribbon—10 yards (9.1 m)
* Night of Navy/Rose Gold 3/8" (1 cm) Metallic –Edge Ribbon—10 yards (9.1 m)
* Rose Gold Shimmer Paint—1/2 oz. (15 ml)
Check out some more pictures of this beautiful medley and order it on this page if you live in Australia.
More Stampin Up News below:

Hugs from Shelli Paper Pumpkin Kit Coming May 15th!


The creator of this kit, Shelli Gardner (pictured above), is one of the co-founders of Stampin' Up!
Need some explanation about  what this special offer (and Paper Pumpkin) is all about? Here you go:

Paper Pumpkin is a monthly papercrafting kit offered by Stampin' Up! that is currently only available in the United States and parts of Canada.
Because the Hugs from Shelli kit is so special, Stampin' Up! wanted to make sure everyone would get the chance to experience it.
To accomplish this in May they are offering the Shelli kit as an exclusive, limited release in all of our global (Europe, South Pacific, Japan and Quebec, Canada) markets starting 15 May.
The Shelli kit is the perfect product for all kinds of crafters, but Stampin' Up! fans will love it the most. The fact that it's Shelli's kit and is a limited-time, exclusive offering gives it a level of collectability Stampin' Up! collectors won't want to miss.
This is a rare and unique opportunity to experience Shelli's Paper Pumpkin kit.
Shelli collaborated with concept artists and designers to develop the kit, giving this kit a papercrafting experience inspired by Shelli herself.
The kit is available while supplies last; in other words, once they're gone, they're gone!
Mark your calendar now so you don' miss out on Hugs from Shelli! It's a gorgeous kit and you can make so many cards so quickly and easily with it, everyone should have one in their stash.


Storage by Stampin' Up! - Your Space, Your Way!



No matter how big or small your craft space is,Stampin' Up's modular storage solutions will allow you to organise and customise your workspace in a way that perfectly fits your specific needs.
This cute little stop-motion video created by Stampin' Up! shows you just some of the possibilities.
ALERT: The storage units were so popular last month, they have temporarily SOLD OUT! Stampin' Up! will get more for us all and they should be available again in JULY.
Storage by Stampin' Up! is designed to store and showcase your Stampin' Pads, Stampin' Ink Refills, Stampin' Blends, Stampin' Write Markers, Watercolor Pencils and other accessories.
Some of the benefits of this kind of storage are:
Keeps products organised, tidy, visible and trackable at all times.
Ensures that your Stampin' Pads, Stampin' Write Markers and Stampin' Blends are all stored horizontally, as recommended.
Designed to be stylish, durable, compact, stackable and modular.

Blends in naturally with most home decor with its white neutral colour.
Stacks vertically and can be arranged to fit practically any flat workspace.

Easily assembled and disassembled for rearrangement and/or cleaning.
The new Storage by Stampin' Up! will be available again from my SusanSalutations online store  in July 2019.


Gold Polka Dot Scrap Bin


The Gold Polka Dot Scrap Bin (item 145173) is still available from the Clearance Rack section of the SusanSalutations online store.
It is available at a discounted price of $8 AUD/$8 NZD.
This product will be available while supplies last only, so order yours before it's gone from the Clearance Rack.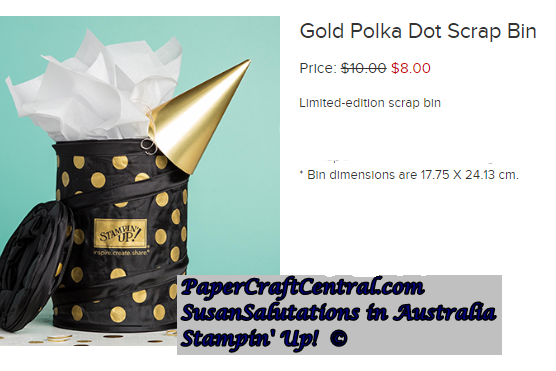 More Stampin Up News below:

Stamparatus Accessories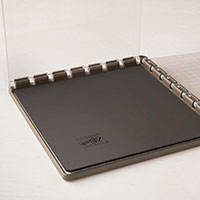 Do you have a Stamparatus yet? Well, there are some great accessories to consider buying to enhance your experience crafting with this marvelous tool.
Check out the lovely carry bag and accessories pack.
You can even buy the tools and bag together!

More Stampin Up News below:
Cling Mount Stamps are Here!
Another thing that happens this month is that Stampin' Up! is releasing cling stamps. There will no longer be wood mounted stamps available.
The cling mount stamps will still be made out of the red rubber we are used to seeing on the wood mount stamps, but they will have a new backing material that allows them to stick firmly to an acrylic stamp block.
I have a little video here that shows you how to use the cling mount stamps:

Now I will tell you a little about the Occasions Catalogue.
Yep. There's more Stampin Up News below:
Occasions Catalogue
There are some fantastic new products in the Occasions catalogue, but they will be disappearing in June. This catalogue will be current till 3rd June, when the new annual catalogue is released.Some prducts will carry over into the new annual catalogue, and you can find out which ones will be available by checking the Last Chance products list (see above).

If you are my Australian customer already, I sent you new Occasions and Sale-A-Bration catalogues. I hope you received them!
If you live in another country, it could be that Stampin' Up! is available to you there. Search for your country at the main Stampin' Up! page by looking at the top left hand corner drop down menu where the little flag is.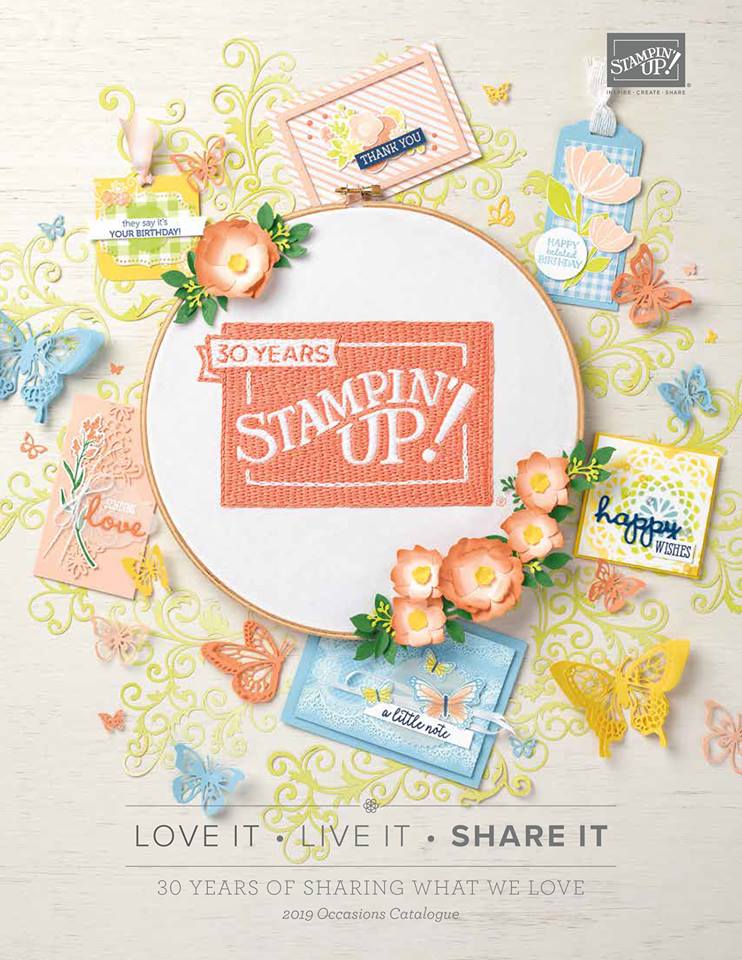 You can message me if you live in Australia and do not have a Stampin' Up! demonstrator already, and I will send you a new Occasions catalogue.
You can ask me about the current Stampin Up News too!

Meanwhile, here's a cute little video showing how you can use some of the new products to create some cards:

What's your favourite stamp set from this video? I just love that embroidered paper. It's called the Needlepoint Nook Suite and I have a video showing you that suite in more detail:

Isn't it amazing that someone actually embroidered all those motifs, and then they took photos to make the paper? It looks so real!

This week I used the stamp set (Needles and Thread) to make an ATC. I plan to make quite a few this year. Want to make some too?

The last Stampin Up News for May is below:
Join My Team!

There's a great deal available if you want to join my team!
Don't miss out if you have been thinking of joining Stampin' Up! You will be with me in my own team if you live in Australia!
I Skype with my remote team members, we attend OnStage Live events together, and I get together with my local team members in my own home to share our love of stamping and Stampin' Up!
I'd love to have a chance to stamp with you and share Stampin' Up! with you.



That's it for Stampin Up News in May So Far!

Check back here to this page for any more Stampin Up News. I never know when I will have more to share with you, and it could be before the end of May.

I will add to this page and the freshest information will always be at the top. The older news will just fall off the page as it becomes 'stale'.
Meanwhile, I hope you enjoyed the Stampin Up News for May!

Happy crafting!

PaperCraftCentral Susan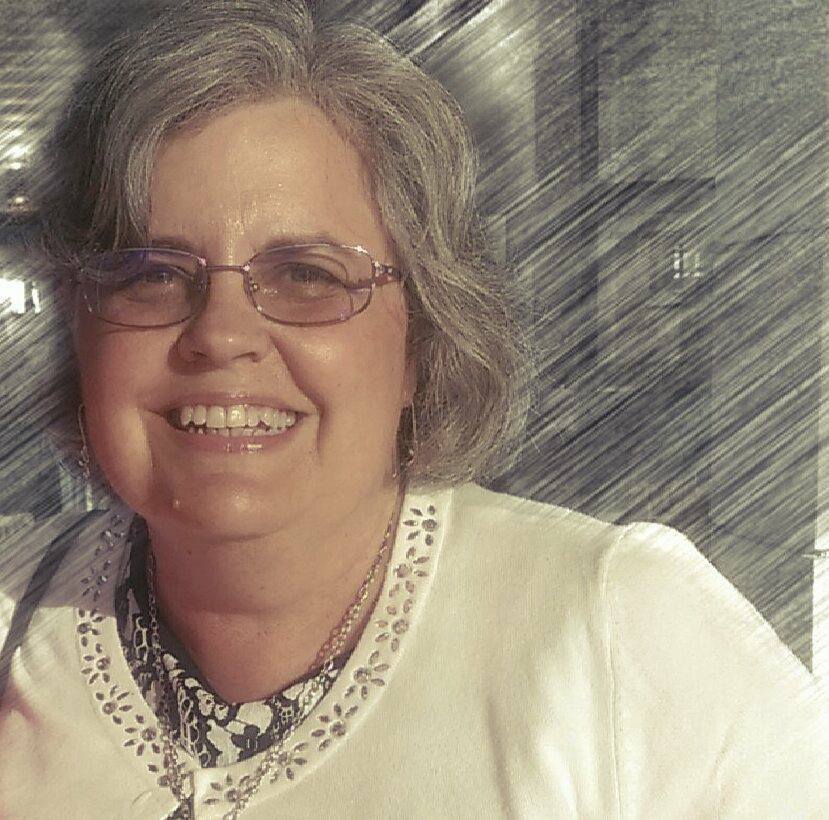 ---
---