Stampin Up News

Written and Created by PaperCraftCentral Susan

Stampin Up News tells you about some new things that are happening in the Stampin' Up world. I might talk about specials and things that will be to your advantage, or I  might talk about new products and how to use them. Or maybe there will be something else new that I just have to tell you!

Of course, if you want a monthly email telling you about the official Stampin' Up! specials coming up, do subscribe to my SusanSalutations mailing list,especially if you live in Australia. Just Contact Me to be added to the SusanSalutations (for Australian news about Stampin' Up!) mailing or the Paper Twists (for news about PaperCraftCentral, world wide!) mailing.

Once you subscribe, I send you an email every month towards the beginning of the month and you will see all the company specials there.
Just so you know, I am an Independent Stampin' Up! Demonstrator in Australia. I am not an official representative of the company but I am a member of the company and can sell their product to you if you live in Australia.
Also, the SusanSalutations email is totally different to my PaperCraftCentral mail out, Paper Twists. There are therefore TWO emails you can sign up for, and I hope you do!
Now let's get on to the latest Stampin Up News.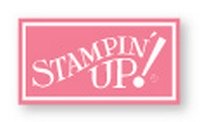 May Stampin' Up! News
New Catalogues Coming Soon!
In May, the good Stampin Up News is that as a Demonstrator, I can pre-order new annual catalogues for my customers. If I received an order form you anytime from June to May, I buy a new catalogue for you, have my name and details printed on it for your convenience, and ship it to you for free.
It costs me to send these special catalogues, but it is a little gift I give to my customers each year.
If you missed out this year, be sure to order from me from June 2020 to May 2021 and I will add you to my free catalogue list for next year.
In the meantime, come June 2nd, you can order a new catalogue with your order, or ask me for one. I am selling them for $5 each plus postage, or you can get one free from me if you place an order for more than $AUD50.
I can only send catalogues to people who live in Australia. If you live outside of Australia, search for a Demonstrator near you and see how you can receive a catalogue.
The Retirement List Is Here!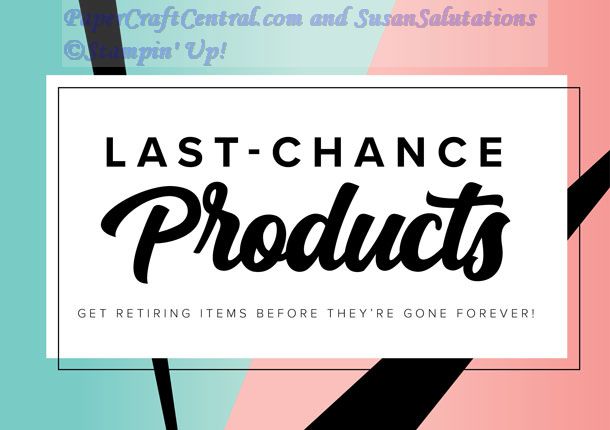 Good Stampin Up News!
The Retirement List is out! This means everything labeled 'Last Chance' will only be available till June 2nd 2020, or while stocks last.
Reinkers for the retiring In Colors tend to sell out fast, so do be sure to get some of those if you need them. Be sure to consider whether you need inks or cardstock in Blueberry Bushel, Pineapple Punch, Lovely Lipstick, Call Me Clover or Grapefruit Grove too. They sell out pretty fast!
Another hot item are the dies on the list. Some of them are bundled with other products so in some cases, the bundle is retiring but the dies and stamp sets will stay.
Also, the Stampin' Blends listed on the Last Chance list are not retiring unless they are in Blueberry Bushel, Pineapple Punch, Lovely Lipstick, Call Me Clover or Grapefruit Grove (the retiring In Colors). The single Blends are going to be bundled with their pair in future is all, so the packaging and order numbers are changing, but the Blends will still be in the new catalogue.
Contact Me if you have any questions or need help ordering.


The good Stampin Up News in May is partly about a new suite of products as well...


Ornate Garden Suite
The gorgeous Ornate Garden Suite is here! Ordering began on April 1st. Think about the incredible benefits of this vintage suite—the cheerful floral theme, plus the variety and scope of its beautiful, coordinated product offering.
There's a lovely little video created by Stampin' Up! to showcase this lovely suite of products for you. Remember, all items are available in my SusanSalutations online store.
It truly is something special, this suite. I have some pretty samples to show you also: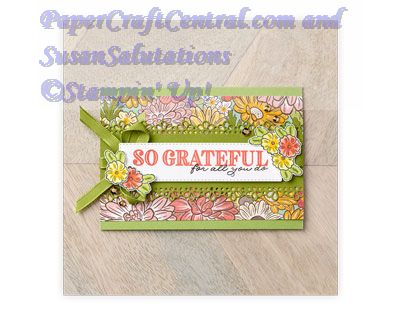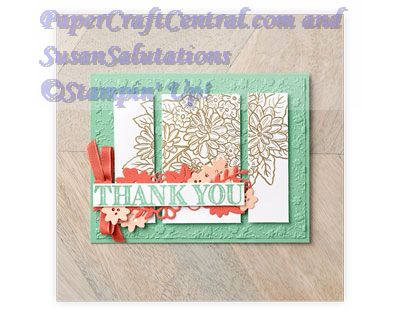 Isn't that good Stampin Up news for May?

The 2020 January to June Mini Catalogue is Still Here!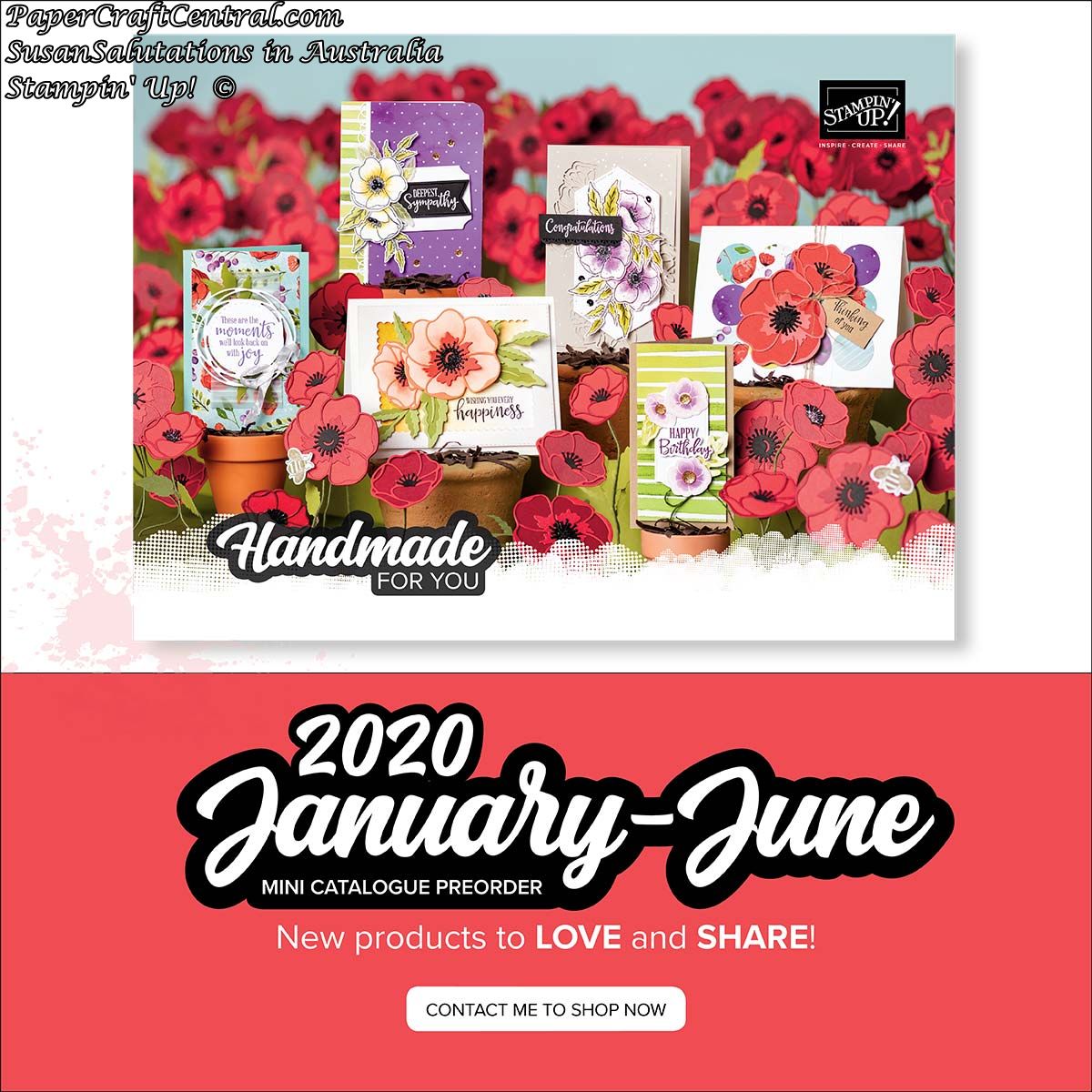 This beautiful catalogue is now LIVE! I love, love, love the products in this year's new catalogue.

Please Note: This year, there will be some products from the 2019 seasonal catalogue that will 'take a break' from being available, then re-appear in the second seasonal catalogue in 2020. I'll keep you posted about those items so you don't have to buy them at inflated prices on sales pages.
If you haven't got a copy and need a Stampin' Up! Demonstrator in Australia, contact me to ask for your FREE catalogue to be sent by me, directly to your door.
And if you haven't subscribed to Paper Twists yet, do so and you will get great Stampin Up news from me via email every month!
SHOP
Good Stampin Up News! The carry over list is now available! You can see what will stay available at this SusanSalutations page.

Remember you can browse the catalogue online and place an order from there, from anywhere in Australia and have your items delivered to your door.
I would love to be your Stampin' Up! Demonstrator if you are looking for one!
Clearance Rack
There are always great specials on the Clearance Rack. Do check it out. I spied dies, embossing folders, punches and embellishments for a start! Everything is well-discounted. You really can find a bargain there, every month it is available.
If you see something you want, I would order quickly as items can disappear from the Clearance Rack overnight!
NEWSFLASH!! The Clearance Rack has been updated this week!

HOST

Remember to order from SusanSalutations from anywhere in Australia or search for a Demonstrator near you if you do not live in Australia, to take advantage of these specials.
Magnolia Lane Paper Pack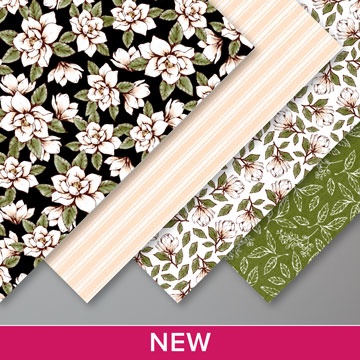 Magnolia Lane Designer Series Paper 20-Pack
The Magnolia Lane Designer Series Paper 20-pack features 10 sheets each of two lovely double-sided Magnolia Lane designs. This convenient 20-pack ensures you will have plenty of paper at an affordable price.
Product Details
Sales Period: 4 June 2019–2 June 2020
Magnolia Lane Designer Series Paper 20-Pack is Item: 152455

Dimensions: 12" x 12" (30.5 x 30.5 cm)

 Features and Benefits: Save money by getting more paper with multiple designs—all in one package.
The Magnolia Lane Designer Series Paper 20-Pack includes 10 sheets each of two, double-sided designs.
Magnolia flowers and soft stripes coordinate beautifully with the Magnolia Lane Suite.
Some images can be cut out using Magnolia Memory Dies (item 149578).
Acid free and lignin free.
$30.00 aud | $36.00 nzd
These sort of packs don't come along very often but what great Stampin Up News when they do!
Clearance Rack Items
There are many limited time offers of discounted items on the Clearance Rack . Look around and see if anything takes your fancy while you are there. I often find the discounted items jump into my cart. Lol! why pay full price if you don't have to?
Now that's good, frugal Stampin Up News.
Check out the embossing folders, dies and accessories on Clearance this month! There are even some punches available for a great price.
JOIN Stampin' Up!

ADVANTAGES TO JOINING STAMPIN' UP! NOW:

INSPIRE CREATIVITY
As a Stampin' Up! demonstrator you'll teach others how to be creative using high quality stamps, ink and paper, as well as embellishments, specialised tools, beautiful project kits and more. Stampin' Up! takes the guesswork out of coordination so you and your customers can have an amazing crafting experience, no matter your skill level.
BRING PEOPLE TOGETHER
Are you a party person? Part of the fun of being a Stampin' Up! demonstrator is bringing people together to share creative experiences, either in person or online. Your customers will be excited to pick up creative techniques and advice, share ideas and make new friends who love papercrafting as much as they do!
RUN YOUR OWN BUSINESS
GET SUPPORT
Stampin' Up! provides the support you need to run a successful home business. They send you a quarterly magazine and weekly emails filled with detailed project ideas, business advice, demonstrator spotlights, the latest Stampin' Up! news and more. They also offer regular promotions throughout the year, giving you an opportunity to contact your customers. And their fabulous, yearly OnStage event for demonstrators is icing on the cake! You'll enjoy classes, be first to see the latest catalogue, get training and information on new products and much more.
EARN CASH AND REWARDS
As a demonstrator, you'll earn 20–25% on every sale plus additional income based on sales volume. You can also earn team commissions as you recruit others to join your team. And for all you superstars who love to go above and beyond, you can earn an amazing incentive trip every year. Think Thailand, Alaska, Mediterranean cruises and more! Earning these trips takes hard work and determination, but demonstrators who put in the time and effort to earn these trips every year absolutely love them.
JOIN THE CRAFT SISTERS
My own personal team is called The Craft Sisters. If you become a member of my team, you will gain my personal support in building your business your way, or staying a hobby demonstrator if you just want to be a member and buy product for yourself at a discount. You'll have access to exclusive Facebook groups where you will see new product and projects developed by me and my team. You'll get to meet with me if you are close enough geographically, or I might even travel to you sometimes!  You;ll get to form friendships and attend Stampin' Up! and team events with people you know. That adds a whole tonne of fun to the day!
CREATE YOUR STARTER KIT
Can sharing creativity really be a job? Yes! And you can begin right away. Starter Kits are a great value at $169 AUD/$189 NZD for $235 AUD/$285 NZD worth of products, and Stampin' Up! throws in business supplies and free shipping as an added bonus. (You'll think your birthday came early when your Starter Kit arrives!) So don't wait.
Talk to me today, or go to SusanSalutations Join The Fun to get started today!
You'll even get Stampin Up News before I put it on this page by being able to access our Stampin Up Members website.
Start making your own Stampin Up News in January!
New Paper Trimmer And Replacement Blades Available Now!

Good Stampin Up News!
You can now order the new paper trimmer!

Papercrafting begins with a beautiful first cut, which means having the right tool for the job is kind of a big deal. Well, do we have the tool for you! Get your hands on the new Paper Trimmer, use it in your crafting and enjoy the features and benefits :
Paper Trimmer (item: 152392); $44.00 aud/$53.00 nzd
Paper Trimmer may be added to a Starter Kit.
Paper Trimmer replacement blades are now available! CUTTING BLADES MULTIPACK (item 152391); $21.00 aud/$25.25 nzd. Each Cutting Blades Multipack unit contains four blades.
I love that the new trimmer is finally here. I call that good Stampin Up News.
Die-cutting and Embossing Product Line Changes

Stampin' Up! News about dies and embossing folders is that they are in pursuit of a better overall die-cutting and embossing product line.
There are longer Big Shot machines on offer in the new annual catalogue!
There just might be a new die cutting and embossing system around the corner, so check back for updates!
Meanwhile, they are offering new dies and embossing folders in the 2019–2020 annual catalogue! The dies and folders are now manufactured differently; this means the way you use the new style of dies and folders will be a little different than how you used the old style.
They are now available to order.

Both the new-style and old-style dies and embossing folders can work with any die-cutting & embossing machine (in some cases, adaptations like shims may be required because the gap between rollers on machines may vary slightly between manufacturers; this is explained more below).
AND we are having a name change for some items. There are no longer  any framelits, edgelits etc. Everything that cuts by being put through a die cutting machine are simply called dies.
We have 3d Embossing folders and just plain embossing folders too. No more long, complicated names to remember.
Here are some of the changes you'll notice with our new-style dies and embossing folders:
Our new-style open dies (those that coordinate with stamps) use a high quality metal that's thinner than before but still as strong and durable.
The new-style dies have an added lip to the inside of the blades.
On old-style dies, when you place an open die (dies that coordinate with stamps) over a stamped image, a small border of cardstock is visible around the stamped image. With new-style dies, the die hugs the edge of the stamped image. Instead of aligning the die to the space around the stamped image, you will align it to the edges of the stamped image. When the image is cut, there will still be a cardstock border around the image.
You'll see improved adhesive that secures the dies to the insert sheet in the package so that it's not too sticky. It's easier to remove dies from the insert sheet, and the adhesive won't cling to the dies.
You'll see standardized size of the die inserts for easier storage based on our observation of how people store their dies. There are now only two insert sizes: 5" x 7" (12.7 x 17.8 cm), which coordinate in size with our stamp cases, and 6" x 6" (15.2 x 15.2 cm). The standard sizes will allow uniform storage in whatever system you use.
The envelopes that the dies come in are slightly larger.
With old-style Dynamic folders, we recommended you spritz cardstock before embossing to soften the fibers so you got a better impression. Now, that extra step will not be necessary because the new-style folders usually create a crisp impression without spritzing. The way the new folders are manufactured also gives us options for more detailed and intricate designs in the future.
3D folders are thinner than our old-style Dynamic folders. Because they are thinner, you will need to use a shim, depending on the die-cutting & embossing machine you use.
3D Embossing Folder Plate
Stampin' Up! has introduced a new 3D Embossing Folder Plate to work with the new-style 3D embossing folders (which are thinner than the old-style Dynamic folders).
It works really well! I love good Stampin Up news like this.

How to Use the New Plate
The new plate makes up the difference in measurement between our old-style Dynamic Folders and the new-style 3D Folders in 21 mm gap machines (similar to the machine Stampin' Up! used to offer).
The 3D Embossing Folder Plate replaces the Standard Cutting Pads in your 3D embossing folder sandwich for continued high-quality emboss results.
To create your emboss sandwich:
Use a die-cutting & embossing machine platform as a base; no matter which machine you're using, use the standard platform which comes with your machine.
Use the 3D Embossing Folder with your paper in the middle.
Then use the 3D Embossing Folder Plate on top.

Given the differences in machines and platforms, you may still have to add a shim to get your desired embossing results. (You can also spritz your paper before embossing to maximise your embossed impressions.)

Without the new 3D Embossing Folder Plate, you will need to use several shims with the Standard Cutting Pad in your 3D embossing folder sandwich, depending on the die-cutting & embossing machine you use. Most machines will need between three to five sheets of cardstock to shim. Please be careful in how you shim; start out with fewer sheets first, then add sheets to get your desired results.

(Please Note: Stampin' Up! will not be responsible to replace products broken due to using a sandwich which is too thick for a machine).
Here's more Stampin Up News:


Storage by Stampin' Up! - Your Space, Your Way!



No matter how big or small your craft space is,Stampin' Up's modular storage solutions will allow you to organise and customise your workspace in a way that perfectly fits your specific needs.
This cute little stop-motion video created by Stampin' Up! shows you just some of the possibilities.
ALERT: The storage units are available again!

Storage by Stampin' Up! is designed to store and showcase your Stampin' Pads, Stampin' Ink Refills, Stampin' Blends, Stampin' Write Markers, Watercolor Pencils and other accessories.
Some of the benefits of this kind of storage are:
Keeps products organised, tidy, visible and trackable at all times.
Ensures that your Stampin' Pads, Stampin' Write Markers and Stampin' Blends are all stored horizontally, as recommended.
Designed to be stylish, durable, compact, stackable and modular.

Blends in naturally with most home decor with its white neutral colour.
Stacks vertically and can be arranged to fit practically any flat workspace.

Easily assembled and disassembled for rearrangement and/or cleaning.
The new Storage by Stampin' Up! are available again from my SusanSalutations online store .

What great Stampin Up News!
More Stampin Up News below:

Stamparatus Accessories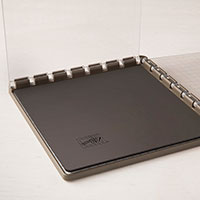 Do you have a Stamparatus yet? Well, there are some great accessories to consider buying to enhance your experience crafting with this marvelous tool.
Check out the lovely carry bag and accessories pack.
You can even buy the tools and bag together!



Even more Stampin Up News below:
Cling Mount Stamps


Stampin' Up! has released cling stamps. There will no longer be wood mounted stamps available but the photopolymer ones are still going to be offered as well.
The cling mount stamps will still be made out of the red rubber we are used to seeing on the wood mount stamps, but they will have a new backing material that allows them to stick firmly to an acrylic stamp block.
I have a little video here that shows you how to use the cling mount stamps:

You can message me if you live in Australia and do not have a Stampin' Up! demonstrator. I can show you how to browse the full online catalogue and how to get a paper copy of the annual catalogue.
That's it for Stampin Up News in May!

Check back here to this page for any more Stampin Up News. I never know when I will have more to share with you.

I will add to this page and the freshest information will always be at the top. The older news will just fall off the page as it becomes 'stale'.
Meanwhile, I hope you enjoyed the Stampin Up News for May!

Happy crafting!

PaperCraftCentral Susan

---
---