Stampin Up News

Written and Created by PaperCraftCentral Susan

Stampin Up News lets me have a chance to tell you about some new things that are happening in the Stampin' Up! world. I might talk about specials and things that will be to your advantage, or I might talk about new products and how to use them.
Or maybe there will be some other Stampin Up News that I just have to tell you!

Of course, if you want a monthly email telling you about the official Stampin 'Up! specials coming up, do subscribe to my SusanSalutations mailing list, especially if you live in Australia.
Just Contact Me to be added to the SusanSalutations (for Australian news about Stampin 'Up!) Mailing or the Paper Twists (for news about PaperCraftCentral, world wide!) Mailing.

Once you subscribe, I send you an email every month towards the beginning of the month and you will see all the company specials there.
Just so you know, I'm an Independent Stampin' Up! Demonstrator in Australia. I am not an official representative of the company but I am a member of the company and can sell their product to you if you live in Australia.
Also, the SusanSalutations email is totally different to my PaperCraftCentral mail out, Paper Twists . There are therefore TWO emails you can sign up for, and I hope you do!
Now let's get on to the latest Stampin Up News.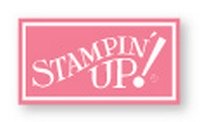 October Stampin Up News
NEWS FLASH!

It's always good Stampin Up news with Christmas just around the corner. This month many people craft for Hallowe'en as well. Check out the Hallowe'en themed products in your seasonal catalogue.

2021-22 Annual Catalogue!
Have you had a chance to browse through your beautiful annual catalogue yet? What is on your Wish List?? I have a lengthy one of those. Lol!
I hope you are enjoying your annual catalogue as much as I am enjoying mine. I love all the products and ideas in the 2021-22 catalogue.
They are always great value and it's good Stampin Up news to have an array of examples at your fingertips.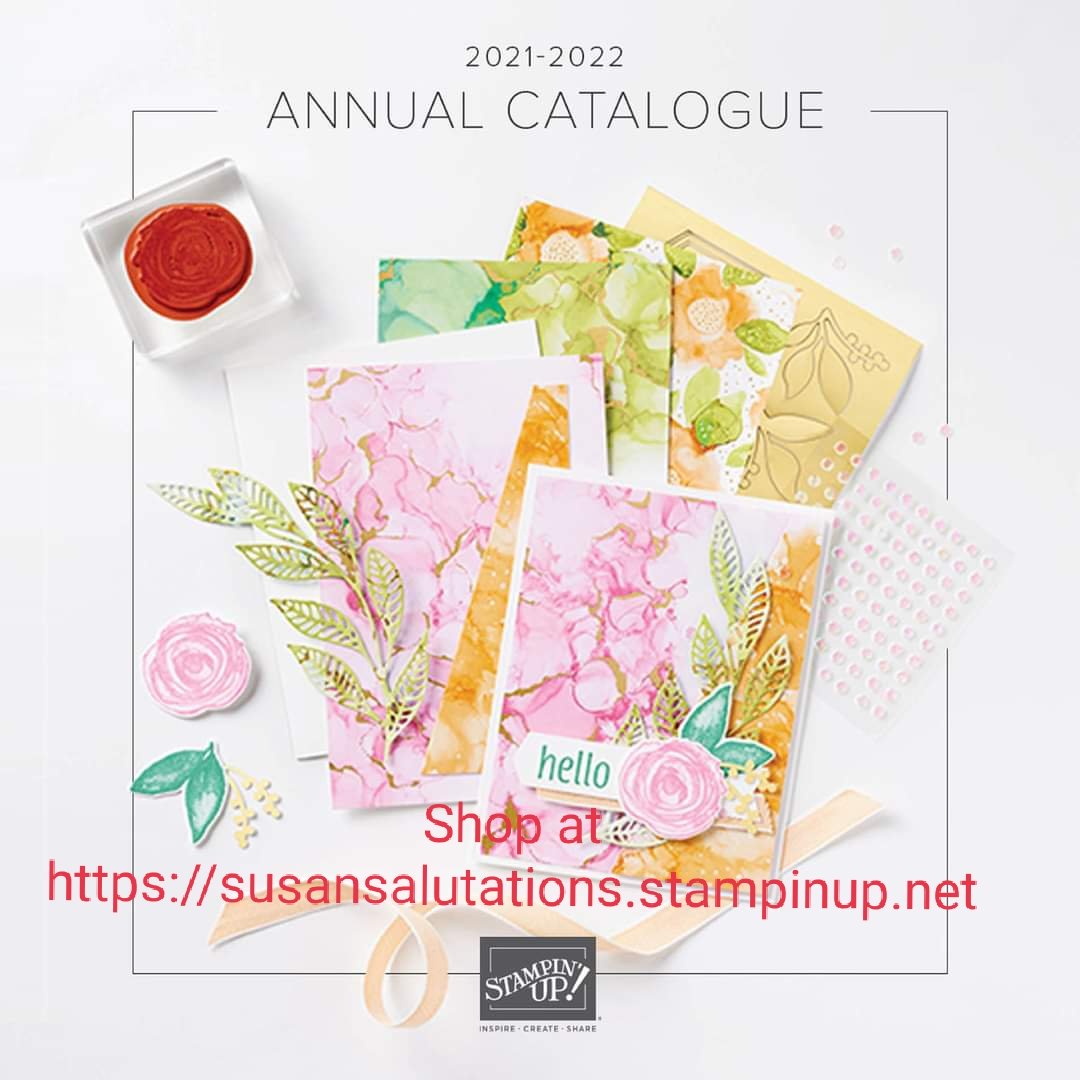 I love the new In Colors too. Even the names are fun!
Fresh Freesia
Polished Pink
Pale Papaya
Evening Evergreen
Soft Succulent
What are In Colors? (Yes, I know the name is spelled the American way).
Well, they are new on trend colours. These new colours stay in our colour offering for two years.  Introducing new colours every year means the Stampin' Up! shades stay fresh and on-trend with colours showing up in the marketplace.
Usually, I see our fresh In Colours in home decor, on clothing racks and in paint colours everywhere.  

These new colours are available in Stamp Pads, Reinkers, Cardstock, Designer Series Paper, Stampin' Write Markers, Stampin' Blends, ribbons and other accessories. 
One of my favourite features of the Stampin' Up! product line is that the colours coordinate across the product line, which saves you time, reduces frustration in trying to match colours  and gives you a relaxing time when crafting.

I know you want to see them so here are the new 6" x 6" designer series papers in the In Colours: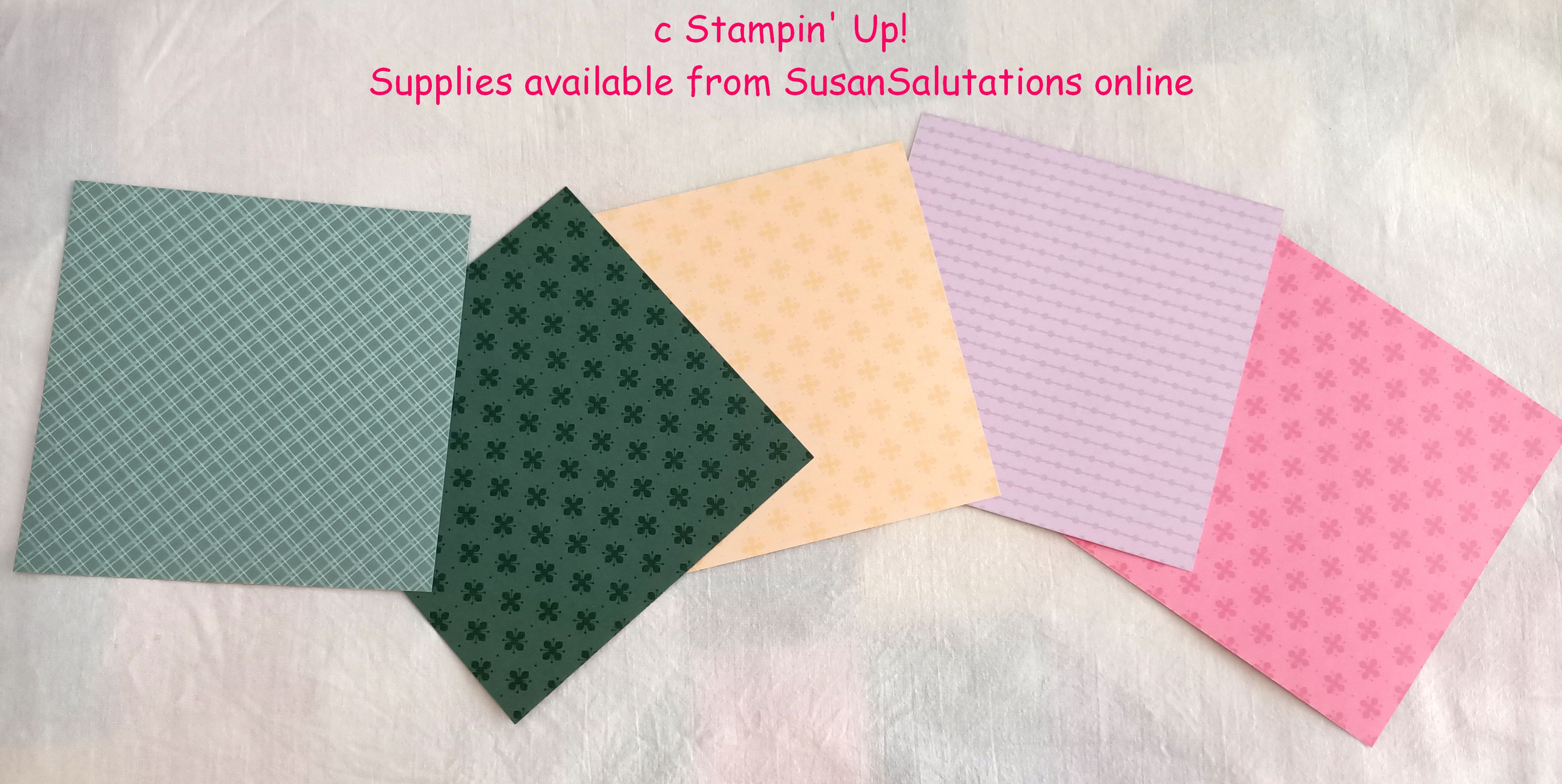 Now that's good Stampin Up News!

Kits Collection by Stampin' Up!
The Kits Collection by Stampin' Up! make creativity easy! All-inclusive kits have everything you need to get started including artistically designed projects, step-by-step instructions, precut pieces, and more.
Choose the kit that's right for you from an assortment of options designed for a variety of occasions and styles. New kits are added regularly to the line and are always available only while supplies last.
It's worth ordering a Kit you like as we never know how long they will be available. Order at the Kits Collection page.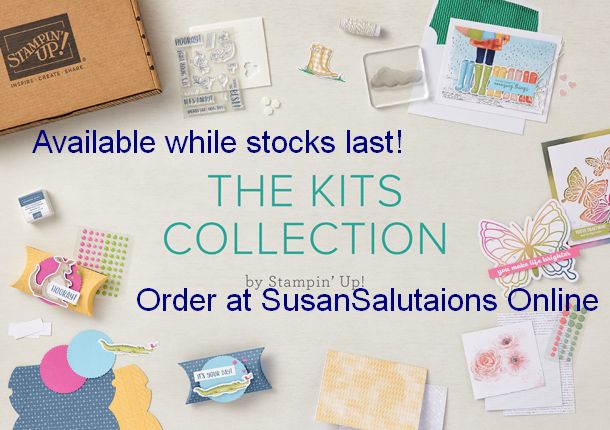 Expression In Color Paper Pumpkin Past Kit $AUD37.00
The Expressions In Color Paper Pumpkin Kit contains enough supplies to create nine ink-credible cards and coordinating envelopes.

Your kit includes:
• Expressions In Color Photopolymer Stamp Set
• Bumblebee Classic Stampin' Spot
• Evening Evergreen Classic Stampin' Spot
• Printed card bases
• Printed envelopes
• Die-cut labels
• Printed die-cut pieces
• Die-cut vellum pieces
• Adhesive-backed sequins
• Linen Thread
• Adhesive dots
• Dimensionals

Coordinating Colours: Bumblebee, Evening Evergreen, Fresh Freesia, Polished Pink
I love Stampin Up news about new kits!

Christmas Whimsy Card Kit (ENGLISH) $AUD33.00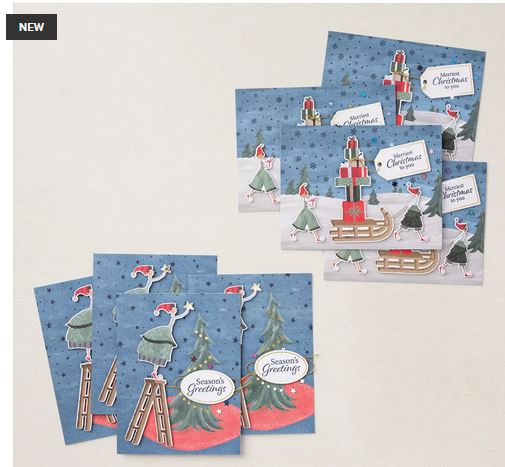 Christmas Whimsy is an adorably fun Christmas card kit with a modern design! Santa's elves might be hard at work at the North Pole, but with this all-inclusive kit, the hard work is done for you! All pieces are printed, die cut, and ready for you to craft. The simplicity of this card kit makes it perfect for beginner crafters and kids, too! Grab a kit or two and gather around for a simple holiday season activity that everyone will enjoy.

Kit includes:
* Christmas Whimsy Photopolymer Stamp Set
* Acrylic stamp block
* Night of Navy Classic Stampin'™ Spot
* Designed projects
* Step-by-step instructions
* Precut pieces (No prep work! Get right to crafting)
* Makes 8 cards: 4 each of 2 designs
* Folded card size: 5-1/2" x 4-1/4" (14 x 10.8 cm)
* 8 coordinating envelopes with gold foil
* Adhesive-backed holographic embellishments
* Adhesive to complete projects
* Printed designer box for storage or crafting on the go: 9-7/8" x 6-1/2" x 2-3/4" (25.1 x 16.5 x 7 cm)

Product colors: Balmy Blue, Basic Gray, Crumb Cake, Evening Evergreen, Gray Granite, Misty Moonlight, Poppy Parade, Real Red, So Saffron, Soft Succulent, Soft Suede

Kits Collection by Stampin' Up! are perfect for new crafters, busy crafters, or crafters who want quick and easy projects. All-inclusive project kits have everything you need in one box! Give as a gift or try them yourself. Kits are while supplies last. Order today!
Kits make crafting so easy and quick. That's good Stampin Up news!
Love, Santa Tag Kit & Treat Bags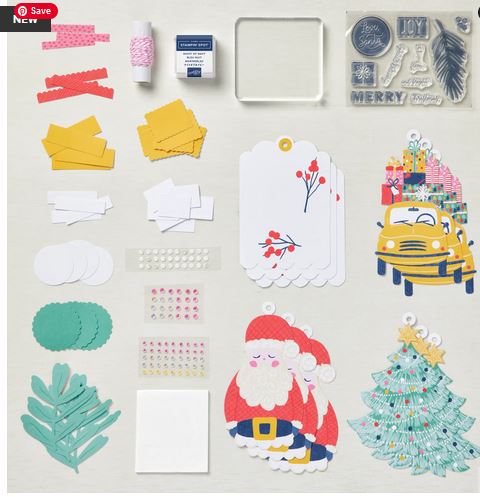 The Christmas season is the season of giving, so what better way to celebrate that than with a specially designed Christmas tag kit and coordinating treat bags? Dress up your delectable treats when you purchase this Love, Santa Project Collection which includes both the Love, Santa Tag Kit and the Love, Santa Treat Bags.

LOVE, SANTA TAG KIT - item number 159362, $AUD45.25 plus postage
Santa Claus is coming to town in the Love, Santa Tag Kit! This tag kit features oversized Christmas tags in festive, whimsical designs. Dress up your gifts this year and make them the "Santa" of attention!

Kit includes:
* Love, Santa Photopolymer Stamp Set
* Acrylic stamp block
* Night of Navy Classic Stampin' Spot
* Designed projects
* Step-by-step instructions
* Pre-cut pieces (No prep work! Get right to crafting)
* Makes 12 tags: 3 each of 4 designs
* Finished tag size: approximately 2-1/2" x 4-3/4" (6.4 x 12.1 cm)
* Adhesive-backed sequins
* Adhesive to complete projects
* Printed designer box for storage or crafting on the go: 9-7/8" x 6-1/2" x 2-3/4" (25.1 x 16.5 x 7 cm)

Product colours: Bumblebee, Just Jade, Night of Navy, Polished Pink, Poppy Parade

LOVE, SANTA TREAT BAGS
Let's wrap things up this year in style! The Love, Santa Treat Bags are beautiful, food-safe cellophane bags that are perfect to fill with scrumptious treats and goodies. The white-printed designs are festive like frosted windowpanes and directly coordinate with the Love, Santa Tags!

* 12 treat bags
* 3 each of 4 designs
* 4" x 9-1/2" (10.2 x 24.1 cm)
* Food safe
* Available while supplies last
I have kits on hand especially around Christmas time so I can make last minute cuteness in a hurry. More good Stampin Up news!
New Stamp Sets and an Embossing Folder!

There are lots of other things that are brand new too, including a Hostess Stamp Set and some other stamp sets you might like.
Check out the new Timber Embossing Folder!

Do check all of them out at SusanSalutations online.
There are so many new things, sometimes it is hard to feature them all on one page! Talk about good Stampin Up news when there is too much to share! That means plenty of choices for you!

Stampin' Cut & Emboss Product Line
In October there's great Stampin Up News!
Creating die cuts and embossed designs is easy, thanks to Stampin' Cut & Emboss!
The die-cutting and embossing products do the work so you can have the fun. The Stampin' Cut & Emboss and Mini Stampin' Cut & Emboss Machines offer multiple die-cutting and embossing options for you from beginners to seasoned crafters.
Both of the Stampin' Up!-exclusive machines offer the highest quality and make precise cuts and detailed embossed images every time.
They're also simple to store and easily portable, which makes packing for your events a cinch!
They come with all the tools needed to get started right away, making it easy to have a fantastic die-cutting and embossing experience from the start.
So what sets our machines apart from the rest? Here are some of our favourite features: 
Durable machines with high-quality results. The solid steel construction frame and rubber feet that securely grip the work surface produce crisp, clean, precise cutting and beautifully detailed embossing. 
Easy to use. The machines and tools are designed for an intuitive die-cutting and embossing experience. For example, all plates are labelled with a number and are colour-coded for easy reference and use when building your sandwich. And just like the name suggests, the Magnetic Cutting Plates have fully-magnetic surfaces to make it easy to securely position your dies and keep them in place. 
Simple to store. The platforms on both machines fold for space-saving storage and they look pretty too–the sleek, clean design suits any crafting space. 
Portable. You can use both machines at home or on the go with their folding platforms and ergonomic carrying handles. This makes it easy to attend crops or other crafting get togethers.
It just might be time to replace your older die cutting and embossing machine, right? The new machines mean good Stampin Up News as you can replace your old machine with a strong and beautiful new Stampin' Cut & Emboss Machine!
Woo hoo! Now that's some handy Stampin Up News!

Featured Bundle On My Wishlist

Frosted Gingerbread Bundle  - Item no 156807
Send peppermint kisses and gingerbread hugs with the Frosted Gingerbread Bundle. The bundle includes the Frosted Gingerbread Stamp Set and the Gingerbread Dies. Use the dies to cut out the stamped images for quick accents. Mix and match the die-cut images with the stamp set to "bake" up batches and batches of paper cookies.

FROSTED GINGERBREAD PHOTOPOLYMER STAMP SET
This set features large ornament and snowflake shapes. Stamp them in brown ink on white cardstock to look like intricately iced gingerbread cookies. Or you can stamp them in other colours to look like elegant ornaments. The sentiments look like they were penned by a skilled baker with a piping bag and will look right at home with your cookie confections. Use the peppermint pieces to adorn your cookies. You can stamp the long image multiple times to create a border or background. Emboss the image with white embossing powder to look like raised icing details.
* 11 photopolymer stamps
* Suggested clear blocks (sold separately): a, b, c, d, i

GINGERBREAD DIES
Cut out cookie confections using the Gingerbread Dies. The dies include outline pieces to create cookie bases and overlay pieces that look like piped icing. The set also includes several sizes of circles and swirls to create paper peppermints. The border piece can be used on a full card front or trimmed down for smaller iced elements. Mix and match the die-cut images to create cookies for all your Christmas projects. If you're not feeling like cookies, cut images out of colour cardstock to create traditional ornaments for snowflakes for your projects.
* 20 dies
* Largest die: 6-1/4" x 1/4" (15.9 x 6.4 cm)
* Use with a Stampin' Cut & Emboss Machine
* Compatible with the Mini Stampin' Cut & Emboss Machine

Dies help you create unique die-cut shapes and paper cut outs with just a quick run through your Stampin' Cut & Emboss Machine. Detailed dies include ejection holes so you can remove the paper easily.

This cute bundle is on its way to me now! I want to experiment with stamping on Crumb Cake cardstock and heat embossing details in white embossing powder.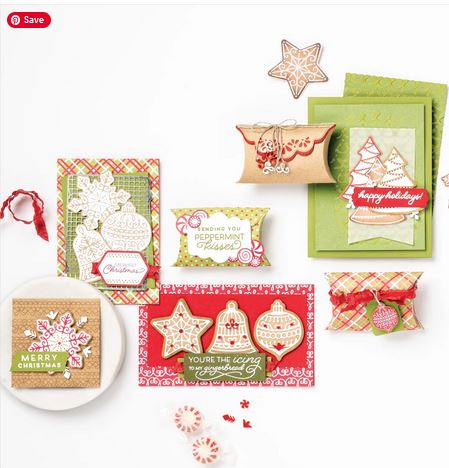 Join My Team!
WHAT IF BEING CREATIVE WAS YOUR JOB? OH, WAIT! IT CAN BE!
Do you love to craft? Would you like to work from home? Do you enjoy people? Then becoming a Stampin' Up! demonstrator may be the perfect opportunity for you.
What great Stampin Up news to think about.
BE A HOBBYIST - FIRST STEP

Join for the discount and other perks you can get as a Stampin' Up! member. There's great opportunities for friendships, fun and support even at this level! It's up to you how far you want to go.

INSPIRE CREATIVITY - NEXT LEVEL
As a Stampin' Up! demonstrator you can teach others how to be creative using high quality stamps, ink and paper, as well as embellishments, specialised tools, beautiful project kits and more. Stampin' Up! takes the guesswork out of coordination so you and your customers can have an amazing crafting experience, no matter your skill level.
BRING PEOPLE TOGETHER
Are you a party person? Part of the fun of being a Stampin' Up! demonstrator is that you can bring people together to share creative experiences, either in person or online. Your customers will be excited to pick up creative techniques and advice fro you, share ideas and make new friends who love papercrafting as much as they do!
RUN YOUR OWN BUSINESS
GET SUPPORT
Stampin' Up! provides the support you need to run a successful home business.
They send you a quarterly online magazine and weekly emails filled with detailed project ideas, business advice, demonstrator spotlights, the latest Stampin' Up! news and more.
They also offer regular promotions throughout the year, giving you an opportunity to connect with your customers with done-for-you projects. And their fabulous, yearly OnStage event (both in person when able, and online too) for demonstrators is icing on the cake!
You'll enjoy classes, be first to see the latest catalogue, get training and information on new products and much more.
EARN CASH AND REWARDS
As a demonstrator, you'll earn 20–25% on every sale plus additional income based on sales volume.
You can also earn team commissions as you recruit others to join your team.
And for all you superstars who love to go above and beyond, you can earn an amazing incentive trip every year. Think Thailand, Alaska, Mediterranean cruises and more! Earning these trips takes hard work and determination, but demonstrators who put in the time and effort to earn these trips every year absolutely love them.
CREATE YOUR STARTER KIT
Can sharing creativity really be a job? Yes!
And you can begin right away. Starter Kits are a great value at $169 AUD/$189 NZD for $235 AUD/$285 NZD worth of products, and Stampin' Up! throws in business supplies and free shipping as an added bonus. (You'll think your birthday came early when your Starter Kit arrives!)
So don't wait.
Talk to me today, or go to SusanSalutations Join The Fun to get started today!
You'll even get Stampin Up News before I put it on this page by being able to access our exclusive Stampin Up Members group.
Start making your own Stampin Up News in October!
Join my team, The Craft Sisters, when you join Stampin' Up!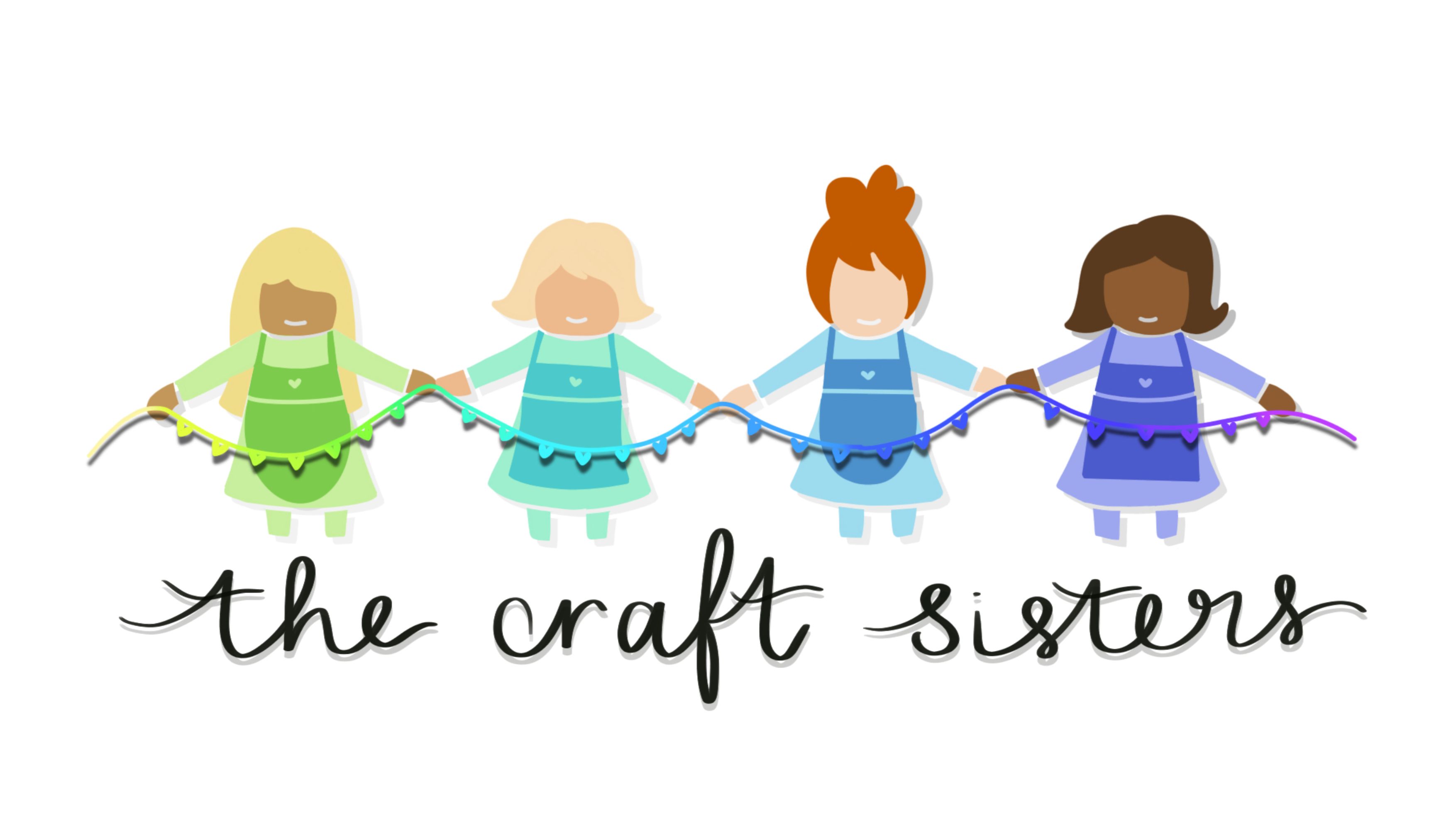 My own personal team is called The Craft Sisters.
If you become a member of my team, you will gain my personal support in building your business your way, or staying a hobby demonstrator if you just want to be a member and buy product for yourself at a discount.
You'll have access to exclusive Facebook groups where you will see new product and projects developed by me and my team.
You'll get to meet with me if you are close enough geographically, or I might even travel to you sometimes! 
You'll get to form friendships and attend Stampin' Up! and team events with people you know. That adds a whole tonne of fun to the year!
You'll get to join the Craft Sister Facebook Room classes I run as well!

PS to join you will need my demonstrator ID no, phone no and full name. Contact me to discuss and get the details you need to join
Are You Browsing the Annual Catalogue?

In October, the good Stampin Up News is that the Stampin' Up! Annual Catalogue is a great source of inspiration.
You can browse the catalogue for ideas for card layouts, scrapbook pages and home decor. Even if you don't have the exact stamps, ink and paper for the project, you can often adapt the layout to your own available supplies.
I keep all my past catalogues partly for that reason - to browse through projects and inspire my own crafting.
In fact, if you would like inspiration for how Stampin' Up! enthusiasts are CASEing (copying and sharing) catalogue projects, join in the CASE-ing the Catty Facebook group.

SPECIAL OFFER for Australian Crafters: If I receive an order from you anytime from June to May in any year, I buy a new catalogue for you to be received before June, have my name and details printed on it for your convenience, and ship it to you for free. You can order from me at SusanSalutatons, 24/7, and can earn your free catalogue for next June!

It costs me to send these special catalogues, but it is a little gift I give to my customers each year.
If you missed out this year, be sure to order from me from June 2021 to May 2022 and I will add you to my free catalogue list for next year.
In the meantime, you can order a new catalogue with your order, or ask me for one in person. I am selling them for $5 each, or you can still get one free from me if you place an order for more than $AUD50.
I can only send catalogues to people who live in Australia. If you live outside of Australia, search for a Demonstrator near you and see how you can receive a catalogue.
SHOP
Good Stampin Up News! The SusanSalutations Shop should make ordering from me even easier. You can search for products with a whole new range of filters.
Do remember to select me (Susan Hurley-Luke) as your Stampin' Up! Demonstrator when you shop.

Your saved links to my store should still work, but the actual new address is https://susansalutations.stampinup.net 
Other Advantages of the New Store:

You'll see bigger images of products
You can create a Wish List to remember what you want to order, or to share with friends who might like to gift you a little crafting love
The store is now hosted in Australia which makes finding it easier
Navigating the site should be smoother and easier all round!
Remember you can still browse the digital catalogue online for free and can place an order from there, from anywhere in Australia, and have your items delivered directly to your door.
I would love to be your Stampin' Up! Demonstrator if you are looking for one!
Thank you for checking out my new store and especially thank you for ordering from me.
That helps me stay with it and be able to bring you lots of good Stampin Up news.
Clearance Rack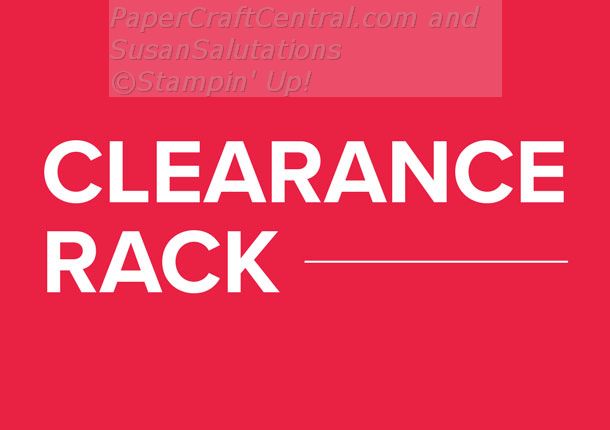 There are always great specials on the Clearance Rack. Do check it out. I spied dies, embossing folders, punches and embellishments for a start!
Everything is well-discounted. You really can find a bargain there, every month it is available.
If you see something you want, I would order quickly as items can disappear from the Clearance Rack overnight

Discounts are always great Stampin' Up! News!
Remember to order from SusanSalutations from anywhere in Australia or search for a Demonstrator near you if you do not live in Australia, to take advantage of these specials.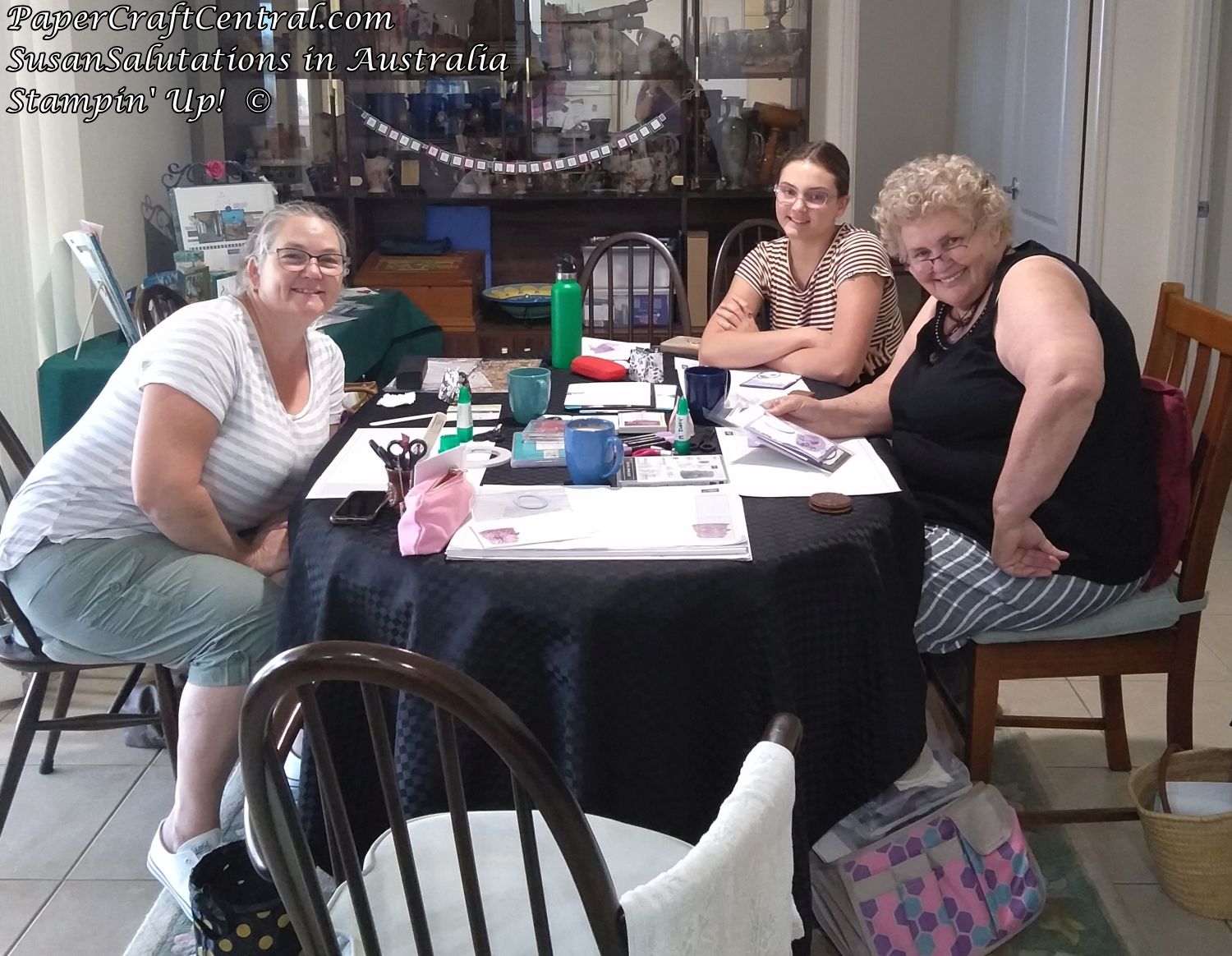 Storage by Stampin' Up! - Your Space, Your Way!



No matter how big or small your craft space is,Stampin' Up's modular storage solutions will allow you to organise and customise your workspace in a way that perfectly fits your specific needs.
This cute little stop-motion video created by Stampin' Up! shows you just some of the possibilities.
ALERT: The storage units are available again!

Storage by Stampin' Up! is designed to store and showcase your Stampin' Pads, Stampin' Ink Refills, Stampin' Blends, Stampin' Write Markers, Watercolor Pencils and other accessories.
Some of the benefits of this kind of storage are:
Keeps products organised, tidy, visible and trackable at all times.
Ensures that your Stampin' Pads, Stampin' Write Markers and Stampin' Blends are all stored horizontally, as recommended.
Designed to be stylish, durable, compact, stackable and modular.

Blends in naturally with most home decor with its white neutral colour.
Stacks vertically and can be arranged to fit practically any flat workspace.

Easily assembled and disassembled for rearrangement and/or cleaning.
The Storage units made by Stampin' Up! are available again from my SusanSalutations online store .

What great Stampin Up News!
More Stampin Up News below:

Stamparatus Accessories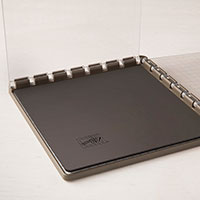 Do you have a Stamparatus yet? Well, there are some great accessories to consider buying to enhance your experience crafting with this marvelous tool.
Check out the other accessories.

Even more Stampin Up News below:
Cling Mount Stamps


Stampin' Up! has released cling stamps. There will no longer be wood mounted stamps available but the photopolymer ones are still going to be offered as well.
The cling mount stamps will still be made out of the red rubber we are used to seeing on the wood mount stamps, but they will have a new backing material that allows them to stick firmly to an acrylic stamp block.
I have a little video here that shows you how to use the cling mount stamps:

You can message me if you live in Australia and do not have a Stampin' Up! demonstrator.
I can show you how to browse the full online catalogue and how to get a paper copy of the annual catalogue.
That's it for Stampin Up News in October!

Check back here to this page for any more Stampin Up News. I never know when I will have more to share with you.

I will add to this page and the freshest information will always be at the top. The older news will just fall off the page. Lol!

Meanwhile, I hope you enjoyed the Stampin Up News for October!

Happy crafting!

PaperCraftCentral Susan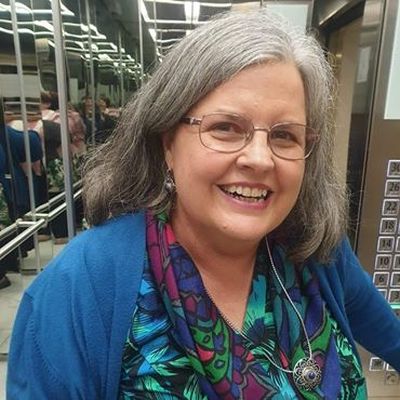 ---
---