Acrylic Stamps vs Clear-Mount Stamps

Written and Created by PaperCraftCentral Susan

Acrylic stamps are different to Photopolymer and Clear-mount stamps from Stampin' Up!
"As far as hobbies go, stamping is definitely one of the most fun and rewarding. It's so wonderful to be able to create cards and scrapbook pages"
~Stampin'Up!
---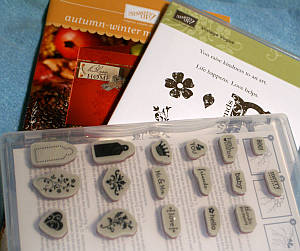 Acrylic Stamps vs Clear-Mount Stamps

Acrylic stamps may be cheaper and more stretchy than other types of stamps, but you will also notice they may not last as long or be as durable as other stamps. They are a little duller than photopolymer stamps and can tear quite easily too under certain circumstances. I like this blog post as it explains the differences so well.

At first glance you may think Acrylic Stamps are the same as the red rubber or photopolymer ones offered by Stampin' Up!
Surprise! The red rubber stamps sold by Stampin' Up! are actually not made from acrylic at all.
They are far superior to that, being made from the same hard-wearing dependable red rubber as the wood block mounted ones are.
The only thing different is that the wooden block is missing.
You do use acrylic stamping blocks instead to mount them. Perhaps that is where the confusion comes in.

Clear Mount Stamp Assembly Tips
Assembly of your new clear mount stamps is easy once you know how.
They arrive at your house already die cut. They are stored in a slim DVD case with a paper insert that shows the images both on the spine and on the front of the box, and allows you to see the rubber images themselves through the back of the box.
The DVD cases are not like regular ones. The Stampin' Up! ones are safely made from a material that helps preserve the stamps instead of allowing them to go brittle by absorbing the chemicals from the other type of plastics.
There are instructions for how to assemble them written on the inside insert of the DVD case and there are some pictures there as well to show you how to put them together. I was able to figure out how to assemble them from these two resources, but sometimes it helps to actually see it done.
Here are some tips for using the sets once you have them assembled
Tips for Using Acrylic Blocks with your Stamps

This type of stamp temporarily is mounted on an acrylic block for stamping. Because they are not made of cling mount material, they do not stick the same way.
Here are some handy tips for getting them to stick to the block properly:
Be sure your blocks are extremely clean. I use a handy cleaning cloth available from Stampin' Up! and give them a little wipe over before and after using them with my stamps

If you get ink on your blocks while stamping, use Stampin' Cleaner Mist to remove the ink from them and dry them off before polishing with your cloth
When attaching the stamps to the block, add some static to the block first by rubbing it quickly on your clothing 

Place the stamp face down on your craft mat, then press the block down onto it, firmly holding the block to the stamp for about 10 to 15 seconds. This allows the stamp to adhere and gets rid of any bubbles trapped between the stamp and the block
If you have some bubbles on the sticker image on your stamps, pop them with a pin and press them flat. Bubbly stickers can make adhering stamps to the blocks difficult

When cleaning the stamp (especially the smaller ones) on your Stampin' Scrub, I do not rub them hard. I brush them carefully along the scrub, in the direction that offers least resistance. For example, if I am cleaning a sentiment stamp, I clean it horizontally with the words reading left to right, not as though I were reading the stamp vertically    

If your acrylic blocks get grubby from being handled by people at a class, for example, it is OK to wash them in warm water with a little mild dish detergent. Rinse well and dry with a soft cloth and polish them afterwards with the block cleaning cloth

Advantages of Clear Mount Stamps
I do enjoy the options I now have to order red rubber and wood mounted or red rubber and unmounted stamps from Stampin' Up!
I find the unmounted ones
Easier to store as they can be filed in a book case like a DVD
Allow the viewing of the images on the spine of the case
Are easier to take with me on crops, on flights to Conventions etc (a set will easily fit in my handbag or suitcase or even my laptop bag)
Are cheaper to buy, and
Produce just as sharp and clear images as my wood mounted ones do since they are made of the same excellent red rubber
I hope you enjoy your experience with these little beauties as much as I do.
All supplies are available to Aussie shoppers at SusanSalutations. 
---
---