Hi


March 2021 Paper Twists
Hello and here we are at the change of seasons! It doesn't matter if you are in the Northern Hemisphere going into Spring or the Southern Hemisphere going into Autumn, I am pretty sure you will be noticing a change in the air.
What a great time to find a day to set aside and make a while bunch of cards!
With that thought in mind, I am going to show you how to make SIX cards this month, with stamps, ink, cardstock and designer series paper. I'll show you six simple layouts you can use over and over again.
You will want to add ribbon and other embellishments of course. They just finish off cards so nicely.
If you do not have the supplies I mention in this month's projects maybe you have something in your stash that you could substitute.
You can always purchase the items I use at my SusanSalutations online store or from any Stampin' Up! Demonstrator you know.
So here we go with some project ideas for you.
Five Card One Sheet Wonder Layouts
I'm going to show you the five card layouts, then I am going to provide you with with all the measurements for each card AND step-by-step instructions.

It's a little 'thank you' from me to you for being a subscriber to 'Paper Twists'.

If you have any friends who would love to have this free project, please have them subscribe.

Here are the cards I am going to show you how to make: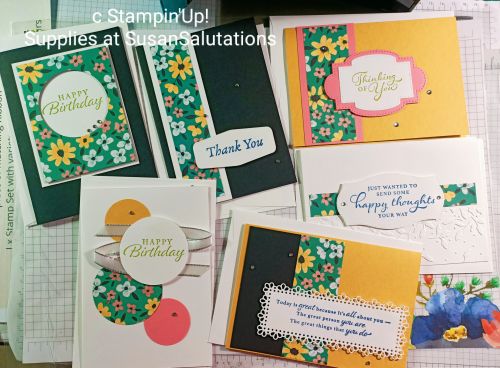 For measurements, supplies and instructions go to the Paper Twists Freebies page. paper-twists-freebies.html
Tool Tip - WaterPainters
The Water Painters (item 151298) hold liquid for easy watercolouring.

When you order them, you get three painters: one fine tip, one medium tip, and one large flat brush tip. Use them with with Fluid 100 Watercolour Paper or Shimmery White Cardstock and Classic Stampin' Ink or Watercolour Pencils.

TIP: When you use ANY of them, do remember that they unscrew counter clock-wise instead of clockwise!

I spent quite a bit of time turning them the wrong way and making them fit tighter instead of loosening! Lol!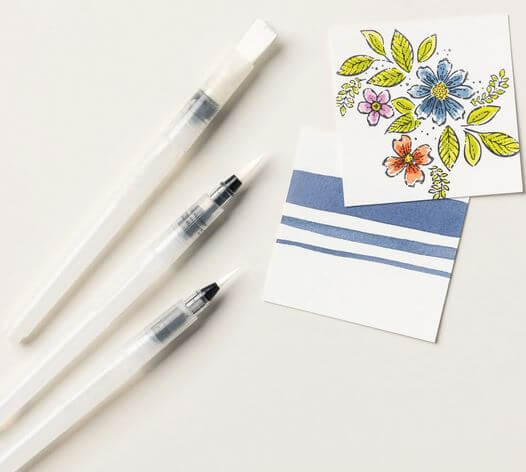 WaterPainters
Blending Brush Technique
Here's a fun technique to try with your Blending Brushes.

Start with a plain piece of Basic White cardstock and choose out several colours you want to feature. I chose lots of blue inks for my example.

Take a Post-It note and mask off all but a strip on your Basic AWhite cardstock, and blend colour onto the exposed bit.

Now mask that blended piece off and choose another colour to make a strip of colour right next to it.

Keep going till you have all the colours you want to use on your piece.

Stamp an image in Memento Black ink on top of your stripes.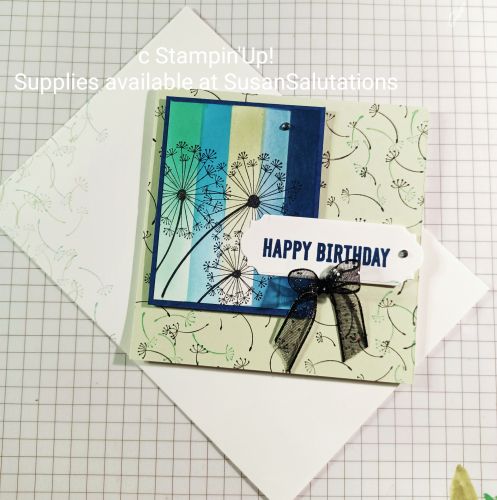 BlendingBrushes Think about how you could make diagonal stripes also with this technique.

I used Dandelion Wishes (item 151345) for my card. DandelionWishesStampSet
March Colour Combination Challenge
It's fun to have a colour combination challenge sometimes, right? I did one myself when I created some of my projects this month.

I challenge you to try out my colour challenge colours. I used Daffodil Delight, Garden Green and Seaside Spray.

If you do use these colours, send me a picture of your project by return email. Include your name and what part of the world you craft in.

You might feature on a PaperCraftCentral post next month!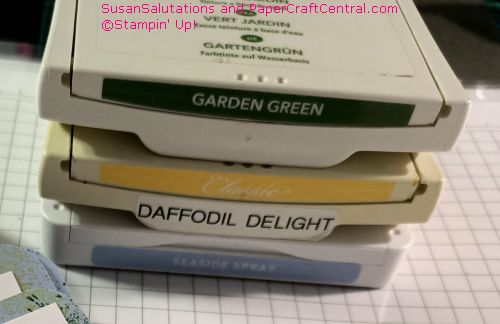 Retiring Products Are Coming
Remember Seaside Spray and some other colours (the five In Colors) will retire in June.

If you like Seaside Spray, Rococco Rose, Terracotta Tile, Pretty Peacock or Purple Posy cardstock, ink, blends, markers, embellishments, ribbon etc, then consider stocking up now. These retiring in-colours do sell out fast towards the end of the annual catalogue run which ends June 2nd.
Other News and Rewards
The good news is, we are going to have a NEW catalogue with lots of new products in June!

If you are already my customer and have placed an order with me since June 2020, I have ordered a new catalogue for you. You will be among the first to receive it once it is published!

That's another way I like to reward my customers. To buy a catalogue outright, it costs $7.95 plus shipping. I actually pay this for you when you become my customer, every year. AND you receive seasonal catalogues three or four times a year as well.

So if you are not my customer yet, do place an order with me at SusanSalutations and I will see that you get added to my customer list for exclusive benefits.

In fact, if you have not been added to my secret group on Facebook just for my customers and Demonstrators, let me know and I will work with you to see you are added. We have some fun in our special group!

Take care and thank you for being a subscriber!

Susan

PaperCraftCentral Susan (Susan Hurley-Luke) also of SusanSalutations for Australian readers

PS: Be sure to check out the new ideas and news at the Card Ideas page and the Stampin' Up! News page at PaperCraftCentral.com! card-ideas.html stampin-up-news.html
Newsletter Links:

Just click on the page links, or copy and paste links into your web browser if the link is not live when you receive it.

How to Copy and Paste:

Highlight the link by running your cursor over the link while holding your left mouse button down, then right click on it.

Select 'copy' and go to a web page. Left click in the address bar and paste the link in it, then hit Enter. The newsletter should then load for you.