---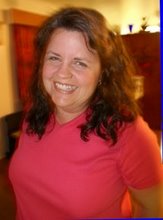 September 3rd, 2009
Issue 004
Paper Twists... Exclusively For You!
Welcome to PaperCraftCentral's latest issue of Paper Twists!
Here's what you will find in this issue:
A Father's Day card idea

Some Christmas Card Ideas

A Product Review

A Money Saving Tip

Stamps for sale!

May I extend a special welcome to you if you are a new subscriber to Paper Twists? And it's great to be able to offer everyone a new idea or two in this issue!
How have you been going since I last wrote to you? The last few months have been hectic for me as I have moved house and then our family caught all the winter ills going. Well, I couldn't unpack boxes when I had the flu, could I? Happily it meant I have been able to justify sitting still and working on a few card making projects so I could post them up for you as I recuperated. I hope you have been enjoying them cos I sure have!
Now let's get to the new projects!
A Father's Day card idea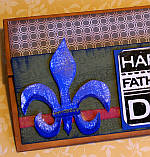 So many card makers I know have trouble making masculine cards for the special men in their lives. Fathers Day is coming up soon. Are you bored with using sports images, cars or handyman images for your Dad's Day cards? How about using the images and symbols of heraldic or royal standards as something distinctly different? Crowns and scepters, axes, swords and shields are strong masculine symbols. The Emperor Napoleon used an eagle and a honey bee as his symbols of power and we all know how much influence he had on the world. A Fleur-de-lis is a masculine symbol representing a lily. An open book can be used as a symbol for intellectual strength. There are so many manly symbols that are not commonly used anymore!
Do you know what else I have seen on manly cards lately? Robots! Robots on their own, robots talking to each other and cracking jokes, robots getting into awkward situations - I'm sure you get the idea!
I chose to make a card with a fleur de lis and some strong colours for my Father's Day card this year. I think it looks manly and classy, which is a breath of fresh air to me. I think it will be so for my husband as well. I like to make him a card to thank him for being a good Dad to our children.
So let me encourage you to think outside the box for the special Dads at your house this year.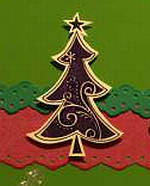 Christmas Card Ideas
It really is getting close to Christmas! I have been making some cards so I won't be completely overwhelmed with the task before December. I stuck to traditional colours for this first batch and found a stamp set (from Stampin' Up!) with a pretty tree I could jazz up with some bling and a little poinsettia flower I could use as a background stamp (and I used it as a stamp for customising my envelopes, incidentally). I also made some cards with a star stamp set (also from Stampin' Up!) and tried to work with a simple design
so I could make a few in one card making session. I think what takes the most time with making cards is thinking up the design, and once that is done I can more easily get a little production line going to mass produce some by making a number of components or elements for a number of cards at once. Card sketches can be a real lifesaver for fast tracking your card making, so how about a little sketch and some examples to help you along?
PRODUCT REVIEW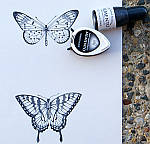 The product I have tested since I last wrote to you last is Memento Tuxedo ink. It is a lovely black ink that helps stampers make clean, crisp images. The ink dries beautifully and allows you to use a number of mediums to colour your images, without the blurring or bleeding other inks may suffer. Many people who use Copic markers use Memento inks as they stand up to the saturation of colour Copics lay down on the paper (one day I am going to start using Copic markers....)
There are many more colours than Tuxedo black. I purchased mine to take part in an image swap. The swap coordinator actually requested that swappers stamp their images with Memento Tuxedo ink! I'll be using this ink when I water colour and use markers of various kinds to treat my images.
MONEY SAVING TIP
Recycle some items you already have!
One of the best thing about paper crafting is the way it trains your eye to see things for their paper crafting potential. Do you go out to events and wind up coming home with a place card, some table decorations, the ticket stubs, or a pretty patterned serviette? That's often what I do. I bring things home that look like they belong on a card or scrap book page, and I convert them into elements I can use in my paper crafting.
I made a card out of recycled materials for another swap that is already posted on PaperCraftCentral. There is also a list of suggested recyclables on the site. I'm thinking about using a drawer full of new clothing tags to make journalling spots for my scrapbook pages in the next little while - I can convert them with paint or light weight designer paper scraps. They will also make wonderful gift tags for presents, I think - who needs to buy them anymore when you can recycle so many nice papers? Think twice before you throw it out!
STAMPS FOR SALE!
Exclusively for subscribers to Paper Twists with a Paypal account, I am making all of the stamp sets I showed you last issue available for purchase. Each set costs $AUD29.95 (postage will be added to your total depending on how much the sets you order weigh. They are pretty light as they are unmounted - similar to Gina K stamp set weights). Placing an order is easy = just hit your 'reply' button and sending me your order with your name and mailing address. I will send you a Paypal payment request by email (so you will see how much the total will be before you pay) and then send you your stamps by mail.
You can see the stamp sets here:
Each stamp set comes unmounted on red rubber and stamps are ready to be used on acrylic blocks once you cut them out.
And that's it for this issue of Paper Twists. If you enjoyed it, please feel free to pass on a copy to your friends or to encourage them to subscribe. The more the merrier!
I'd love to hear any feedback you have for me about what you would like to see in future issues. Do contact me. It makes creating PaperCraftCentral more worthwhile when I know you are really out there!
Look forward to more specials and surprises in future issues of Paper Twists!
Happy Paper Crafting!
Susan
PaperCraftCentral.com
P.S. For those of you who frequently write and ask about how to build your own website, now's the time! As promised, I'm letting you know that is running a $100 fall special for a limited time only. (The special deal ends at midnight on September 9th so rev'up your mouse and get clicking your way to building your own online ebusiness!)
You can see the following new projects that have been posted on PaperCraftCentral.com since the last issue of :
New project ideas already at PaperCraftCentral.com under "Card Making":

Using Pastel Chalks
A Greeting Card with a Stair-Step Fold
A 30th Birthday Card idea
How to make your own, customised envelopes for your greeting cards
A list of Recyclable Products for your paper crafting

New information under Paper Craft Tools:

New Scrap booking projects:

A Baby Boy Photo Album by featured artist Tanyah Payne
And more!
If you have received this issue of Paper Twists as a thoughtful forward from a friend, why not subscribe and have access to exclusive information and project ideas from PaperCraftCentral.com?