Siset 022 Stamp Set
Written and Created by PaperCraftCentral Susan

Here is the Siset 022 Stamp Set mentioned in Poll-1.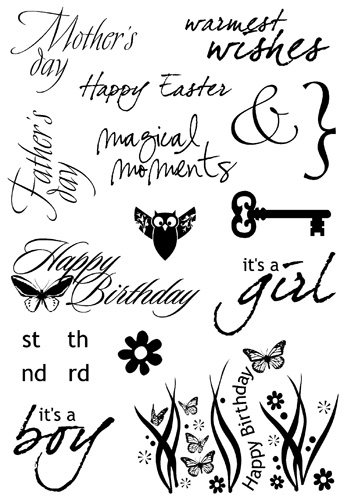 Tips for using the Siset022 Stamp Set

Isn't the Siset022 stamp set versatile? I can see how it would come in handy for the birth of a baby, but what about Mother's Day? It has birthday and Easter and Father's Day sentiments too. Some sentiments like Warmest Wishes could be used on Christmas cards or at other times when you wanted to send someone a heartfelt greeting.

I see images there that could be used in conjunction with the Siset021 images or with any other butterfly stamp set or garden set.
This is such a good all-rounder. You could take this one with you on a crafty weekend or retreat and not have to bring too many other stamp sets unless you wanted specific images or fonts.
Repeated stamping of the owl along a border would be cute.
The key could be used for special birthdays where a person comes of age, but imagine it with a heart and the sentiment, 'you hold the key to my heart?' Suddenly it's a Valentine's stamp set!
You can bracket words and images, emphasising your main message.
Magical Moments could be the sentiment you need on a little girl's fairy birthday card, or a wedding or engagement card.
The flower image could be repeated over and over till you had a whole garden of them. That would make a great scrapbook page background.
You could combine the sentiments with images from other stamp sets too, such as a puppy dog for a baby boy card.
Use the 'th' and so on to make a calendar or save the date invitation.
To change the butterfly image to use it on something other than a birthday card, use Stampin' Write! markers to just ink up the butterflies and grass and flowers.
Again, you could cut apart some of the words of the sentiments to make different sayings, or bend them into different curves as you mount them to give them slightly different moods.
If this particular Siset022 stamp set is no longer available, check out my Stampin' Up! catalogue (picture link is in the right hand column) to find something just as versatile. There is always something new coming out on the market, isn't there, with four seasonal catalogues along with an annual catalogue coming out each and every year. ❤

Return from Siset 022 page to Poll-1 page | Return to PaperCraftCentral Home Page