Fathers Day
Written and Created by PaperCraftCentral Susan

Fathers Day is a day to make Dad feel special!
" A Dad carries pictures where his money used to be".
~Author Unknown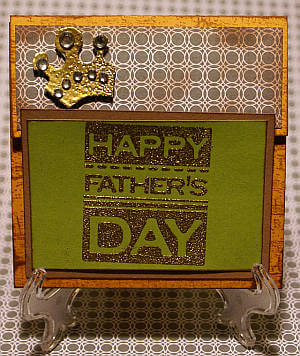 ---
---
How to Make a Fathers Day card, and other masculine card ideas

If you would like to know how to make the card pictured above, the instructions are in the back issues of Paper Twists. Simply subscribe to access this project - it's free!
Other Masculine Card Ideas

This page is also about making masculine cards, something you may need to refer to all year 'round. 
I know the next picture isn't of a Fathers Day Card, but this one could be easily adapted to the occasion: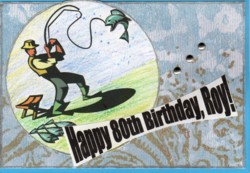 This one was made for an 18 year old's birthday. In Australia, that is the age you are officially an adult, so there was a special party held in his honour. I used stripes and a flip card base to add a bit of pizzazz to his card. I don't think the bling was out of place: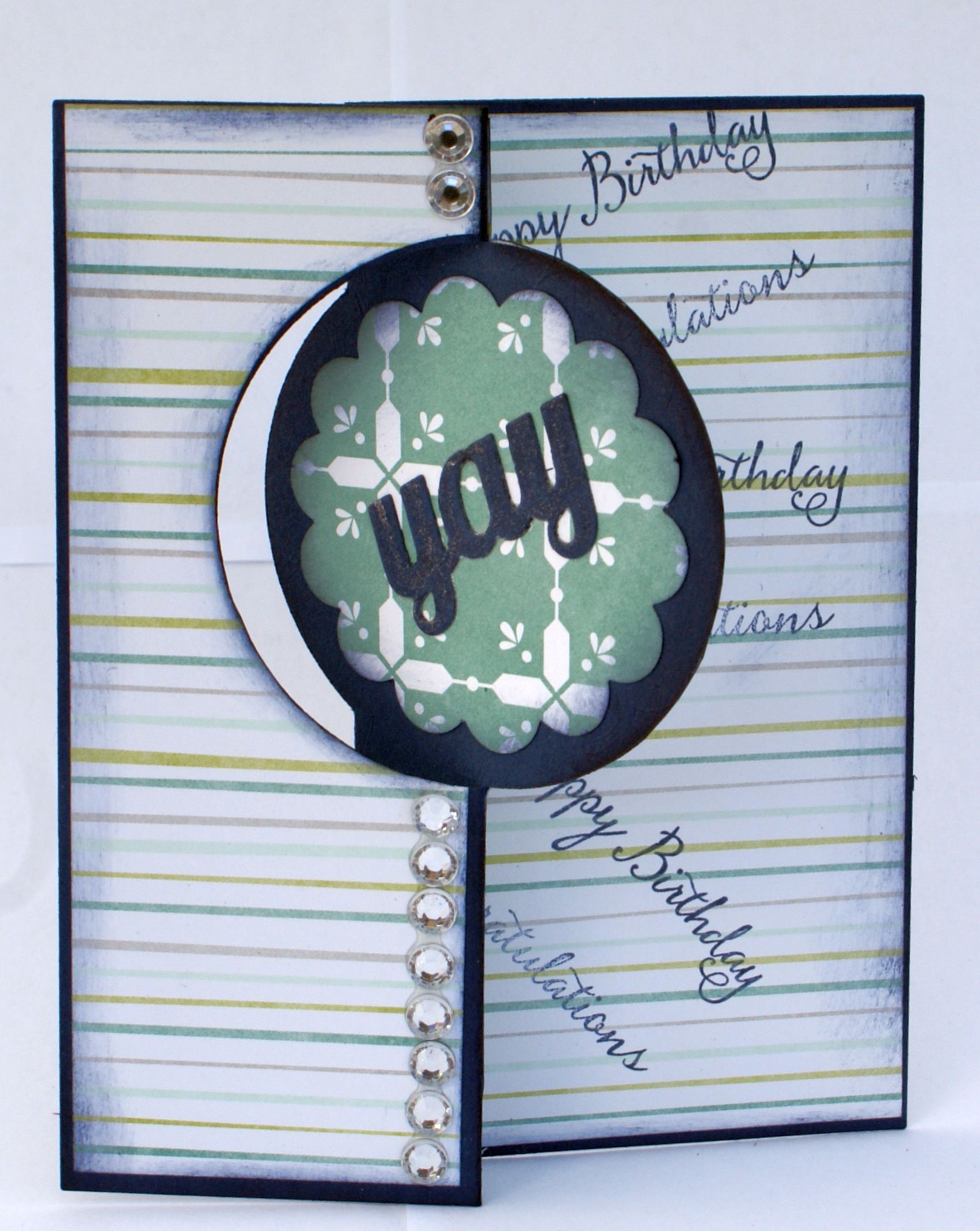 Don't be afraid of using non-masculine colours in your cards. This one was made with every purple colour I have in stock, for example (you can see a supply list for this card on my blog) and I still think it looks right for a man: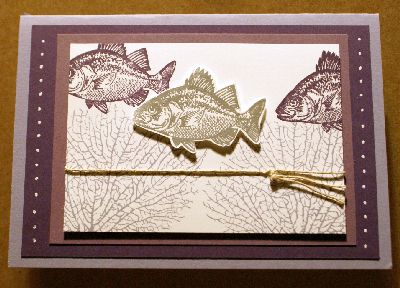 You may be able to find out what a man's favorite colour is, and it may not be what you expect. One young man did tell me his favourite colour is purple, in fact!

Dads and Granddads may not always say they like to be spoilt, but I think many of them do.
Masculine cards seem to be a bit of a challenge in the cardmaking world though. How do you make a special tribute for Fathers Day then?
Here are some tips:
Think of Dad's favourite sport and use images from that. You can use rubber stamps, draw images or cut pictures from sporting magazines, or even use a special photo of your own Dad playing his sport or in his heyday. Why not include a photo of an old trophy he won? And you could polish up and fill that actual trophy with chocolates or nuts as well and then wrap it in cellophane.
Some Dads appreciate humour (you know that corny Dad humour, right?) Find something that will make him smile, like this frog card (change the sentiment of course). You could include a chocolate frog or two with your card. I made this with a stencil:
For a Dad who appreciates a more serious card, think strength. Some trees are strong. So are mountains and seas. I stamped this STampin' Up! Lovely As a Tree image onto cardstock then cut it in four equal parts to allow the darker cardstock underneath to show through like window panes. Again, change the sentiment.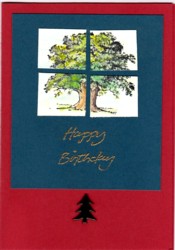 What about cars, trucks, tools and machinery? Many Dads are very interested in all things mechanical so choose an image that fits these interests. I chose the old car out of Guy Greetings (which has great guy images!) and made a background with Sheltering Tree: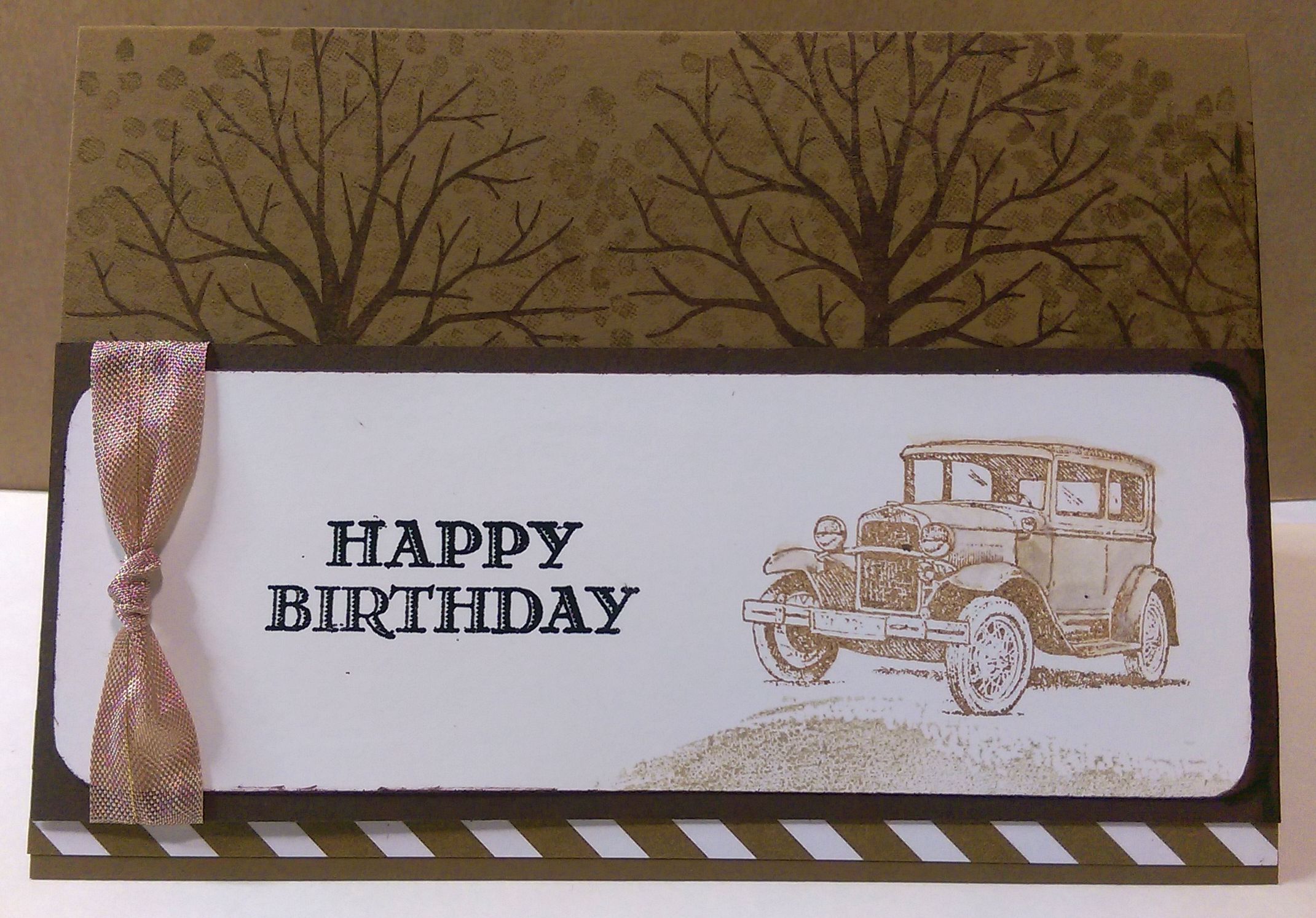 Personalise your cards by using your own special name for your Dad or Pop on it.
If your Dad is interested in horses or dogs of course that is the way to go with your images.
Another idea is to make a card using your own photo, with some heartfelt sentiment inside about how much your Dad means to you. You could make an easel card with a special photo for a Grandad, with a picture of all of his grandchildren for example.

If you need some inspiration for some heartfelt quotes by the way, try searching the web for some quotes. There are some good ones out there.

Dads sometimes have a special sense of humour. Maybe you could consider making a Candy Bar Card with a message just for him? I thought of some words to inspire you to make such a card, in case this idea tickles your fancy.

Here's a strongman card made with Stampin' Up!'s Guy Greetings stamp set. I personally liked this image so much I left it on my desk without a card base for awhile! I knew it would make the recipient chuckle and smile, and it did. Here he is, all watercoloured up:

And here he is, in his finished card setting:

Do You Have A Favourite Handmade Card to Share?
Do you make greeting cards? Please do share it with me.
---
Return from Fathers Day to Special Occasion Cards | Return to PaperCraft Central Home Page
---