Siset021 Stamp Set
Written and Created by PaperCraftCentral Susan

Here is the Siset021 Stamp Set mentioned in Poll-1.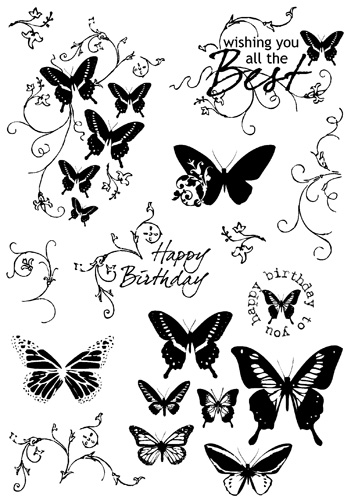 Tips for using Siset021 Images

As anyone who has seen my site before, I just love butterflies. The Siset021 stamp set just got me right from the start as it contains so many beautiful ones.
It also has scrolly bits which I love. I love to use these images on projects even though my cards and scrapbook pages seem to look more clean and simple (CAS) to me when they are finished. Maybe I am a conflicted crafter? Lol!

Butterflies go with all sorts of ideas, such as celebration (think weddings, birthdays), seasons (spring, summer), new beginnings (new home, retirement) and even new life (births, christenings). I often use them on sympathy cards too. Butterflies seem to evoke the idea of the ethereal and the Holy Spirit in me, along with dove images.
Use butterfly images like these to make an especially beautiful card front, to accent journaling, to add background images to your scrapbook pages, or to enhance 3-d projects.
You can cut the images out to pop them up, too. I usually choose a full image and then fold it in half along the body. Sometimes I fold on either side of the narrow body so I have a platform to glue the butterfly to. I like the larger single butterfly in Siset021 as it would be less fussy to cut out than the smaller ones. But smaller images are what you need sometimes. Maybe stamp a few out and sit with your little paper snips in front of TV for a night and cut out a whole flock of butterflies.
Butterfly images are also good for home decor. Imagine a shadow box picture done with stamped butterflies and scrolls, with many of the butterflies fussy cut out and adhered as 3-d images! That would make a great gift idea too.
Use butterflies to grace your gift tags and little thank you cards.
Stamp out two images of symmetrical butterflies and glue them back to back with a toothpick in the middle as cupcake toppers.
You could make hundreds of butterflies and make a curtain of them for a party, celebration or home decor.
Once you start thinking about how to use these butterfly images and others like them, I am sure you will come up with even more ideas.

Retrun to Poll-1 Page | Return to PaperCraftCentral Home Page