Cupcake Cards
This series of cupcake cards demonstrates how you can use some of the Stampin' Up! embossing folders to add texture and interest to your cards.
"When you look at a cupcake, you've got to smile :)"
~Anne Bryn
---
Some Ways to Make Cupcake Cards Using Embossed Elements

These cards all have something in common. They have elements made with various Big Shot embossing folders from Stampin' Up!
I wanted to show you how you can make backgrounds, paper ribbons and add height to your main elements with some Big Shot embossing. The series of handmade greetings also shows you how you can make the same punched images or stamp set look quite different with just a few small twists in colour and layout. The possibilities are endless!
Some of the greetings also use scrunched ribbon which I have made by adding some double sided tape to the back of the ribbon then laying and looping it on the card the way that pleased me best. This method works better than putting the adhesive on the card first as it helps to stick the ribbon to itself as well as to the cardstock. Everything is much more secure this way.
This card uses the Stampin' Up! Vintage Wallpaper embossing folder (no longer available) on Pumpkin Pie cardstock as a background. Isn't it a pretty effect?Just change up the embossing folder to something you already have or choose a current one from the lovely Stampin' Up! catalogue.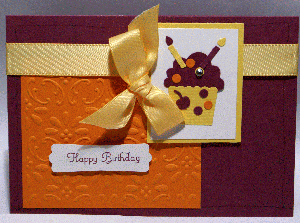 This greeting uses strips of embossed paper in Regal Rose on Brilliant Blue (not available as a colour from Stampin' Up! any more), again using the Vintage Wallpaper embossing folder. I just love that look.CHoose any colours you love to recreate this type of card.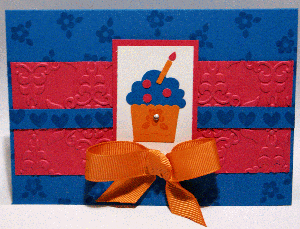 Now here is the Square Lattice embossing folder (sadly, no longer available, but lots of new folders are!)  helping to make a paper ribbon in Daffodil Delight which is further enhanced with some real Whisper White Organza ribbon on top. Isn't this a scrumptious effect?
See how different the Square Lattice embossing folder made this piece of Rich Razzleberry cardstock look? It is set off by the little (retired) pom pom trim in Melon Mambo. Choose another chunky trim instead to recreate this effect.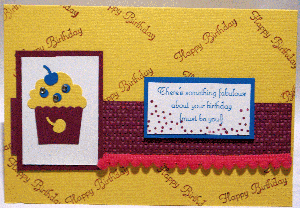 The tulip border embossing folder (no longer available) makes a frame here which allows the main image to float off the page yet still be anchored to the overall effect.You could just emboss the whole mounted layer instead.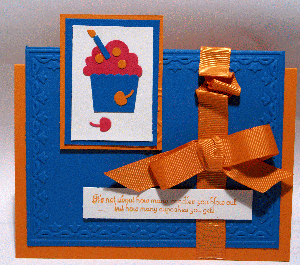 Now I hope you will experiment with your own embossing folders, whether you choose cupcake images or not to play with!
Here's Another Idea

I just had to show you some little cakes on this page. Make some cake toppers for your cupcakes using stamped double images and toothpicks! I have even quickly put together a dozen or so of these by just using Washi tape folded over the pick, then cut into flag shapes.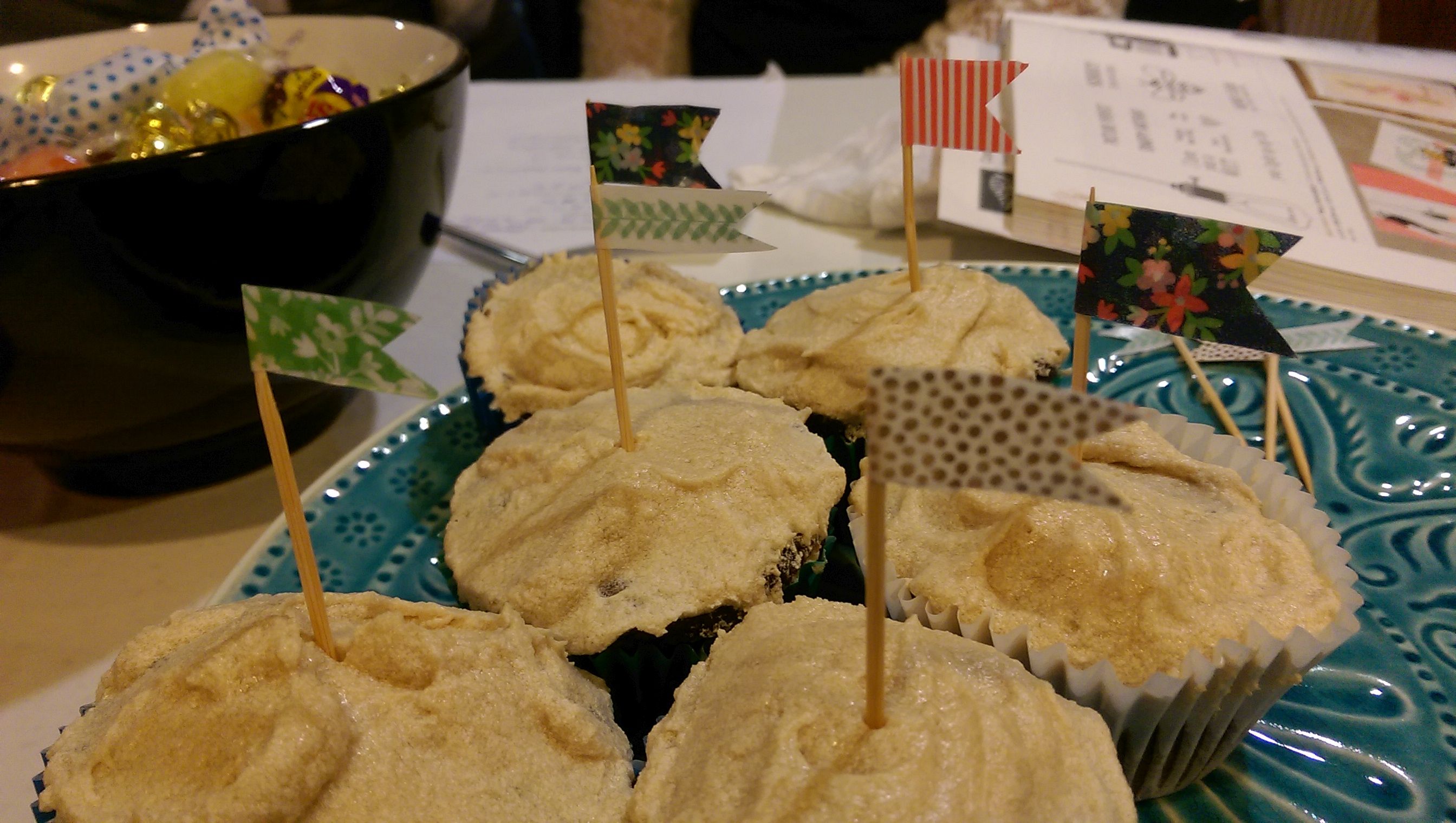 Here's some I made for a wedding. I used the a retired butterfly punch, but of course call your Big Shot into action and make some current butterfly shapes instead! These are stamped with Papillion Potpourrie images. The bases were made with embossed scalloped circles.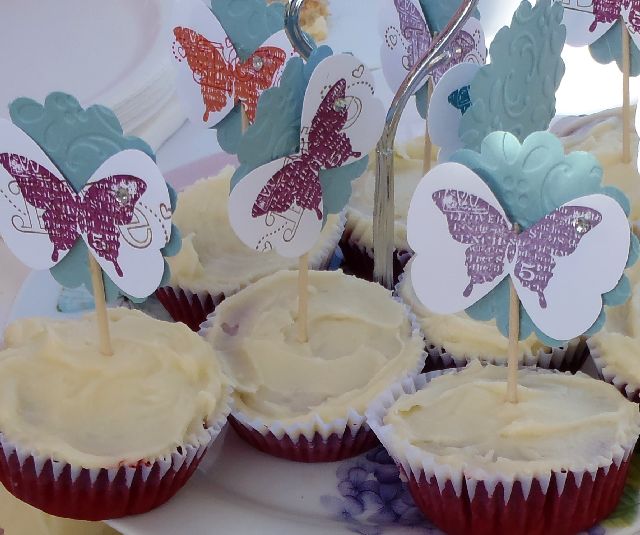 And here are some made with punches and stamped images by Stampin' Up! to welcome us demonstrators to an Onstage Live event! Aren't they the cutest?? I love that they used the glitter paper. That really caught the light.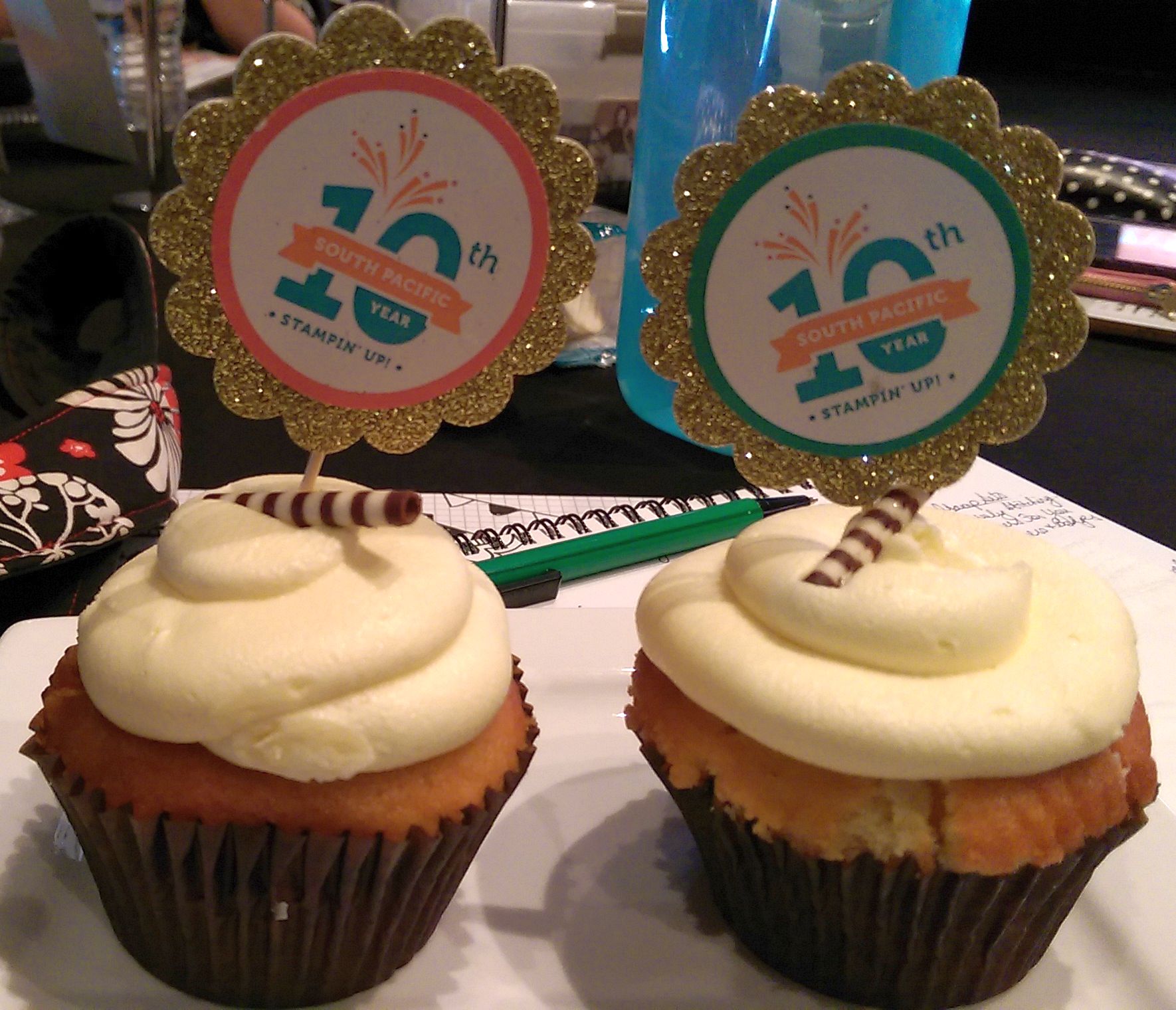 Oooh, I had another idea for you! Can you imagine making someone both a cupcake card and a cupcake with a topper? How cute that would be. Let me know if you make any!

---
Return from Cupcake Cards to Cardmaking | Return to Big Shot Machines | Return to PaperCraftCentral Home Page
---