Big Shot Machine
Written and Created by PaperCraftCentral Susan

A Big Shot Machine can really extend your papercrafting skills repertoire.
"I love mine!"
~PaperCraftCentral Susan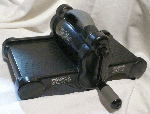 ---
What is a Big Shot Machine?
This tool can transform cardstock, designer series paper and so much more.
It can cut perfect shape after perfect shape, either solid or intricately stenciled ones.
It can emboss paper materials when you enclose them in embossing folders.
It can help you achieve so many different ink techniques.
It can cut more than paper! It can emboss more than paper!
Here's some more information about my favourite tool.
What Can a Big Shot Machine Cut?
So far, I have found my dies can cut through:
cardstock (sometimes I cut a couple of layers at a time),
any materials from thick felt to thin dress material,

thin chipboard, and

tin such as soft drink can tin that has been cut down and flattened out. 


I use my rubber scissors to cut down the tins and it works beautifully.
Recently I discovered that I can cut
pieces of egg carton out and emboss them with this tool. I used a wood grain finish on a piece of egg carton, inked the ribs of the wood grain up and smooshed more ink down between the ribs, then added it to a piece of cardstock to make a quick bookmark for a friend. Egg carton! I was very excited about this discovery and am now on the hunt for empty and clean egg cartons.
 Hey, I may even try to use some cereal box cardboard next and see how well it embossed. I certainly could die cut it. (I think I have another project idea to work on now!)
Back to the tool talk now. It is quite a strong tool and I have not yet found its limits. As long as the thing I am cutting is flat and thinnish, and I think it may go through the roller successfully, I will try to cut or emboss it.
I have embossed
cardstock,

chipboard,

thin cardboard, and

some non-brittle plastics.

It also embosses vellum well.

I have also
cut material shapes for quilting projects with it.

Made a box of felt roses with it and made them into brooches. Fun!

Then I got extra excited and made some paper and felt roses and hot glued a bunch of them to a wooden wreath. I just had to show it to you: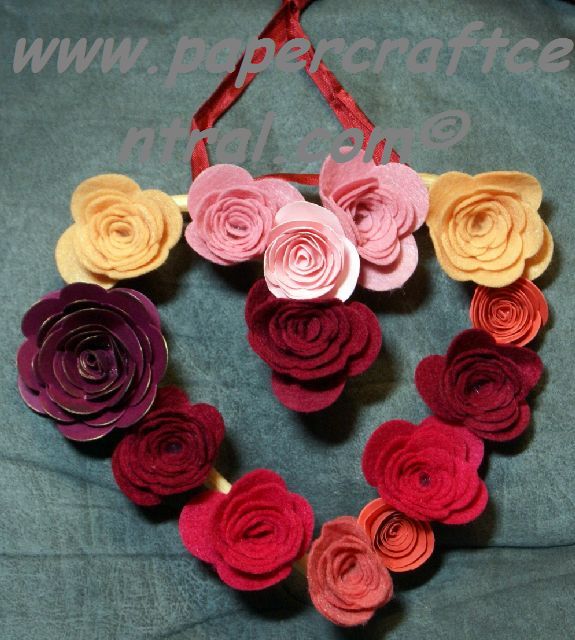 What Dies Will Work in this Machine?
You can use any Sizzix dies in it as you can build your sandwich to meet these dies correctly.
You can use  Sizzix dies like Bigz dies, Sizzlets, Thinlits, Dynamic Impressions embossing folders, plain embossing folders, etc.
What About Embossing Folders?
You can use embossing folders in this machine. It makes beautifully embossed cardstock, as shown in this series of cupcake cards.
You can emboss many other materials as well.
Experiment with
cork,

light card,

playing cards,

thin tin or

other malleable metals, and

do let me know if you discover something else that will take an embossed print!

This card has thick Whisper White cardstock that has been embossed and decorated with the Stampin' Up! Affectionately Yours suite of products (NLA):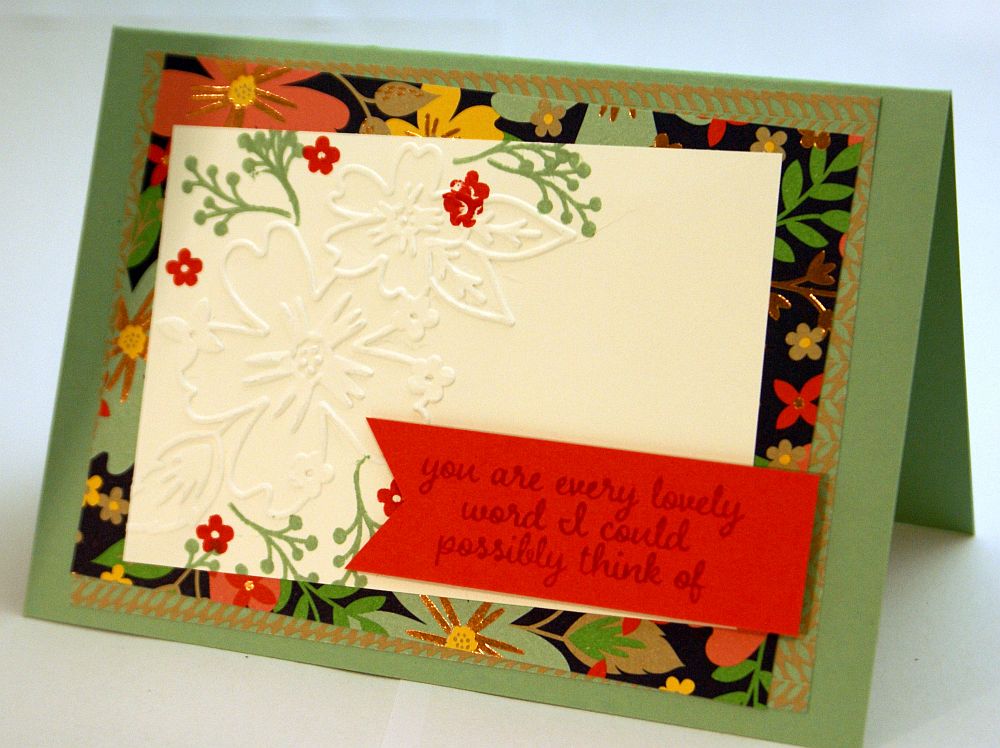 Here's a lovely embossed card, showing a way you can use the Corner Garden stamp (retired) and the Decorative Dots Textured Impressions Embossing Folder from Stampin' Up!: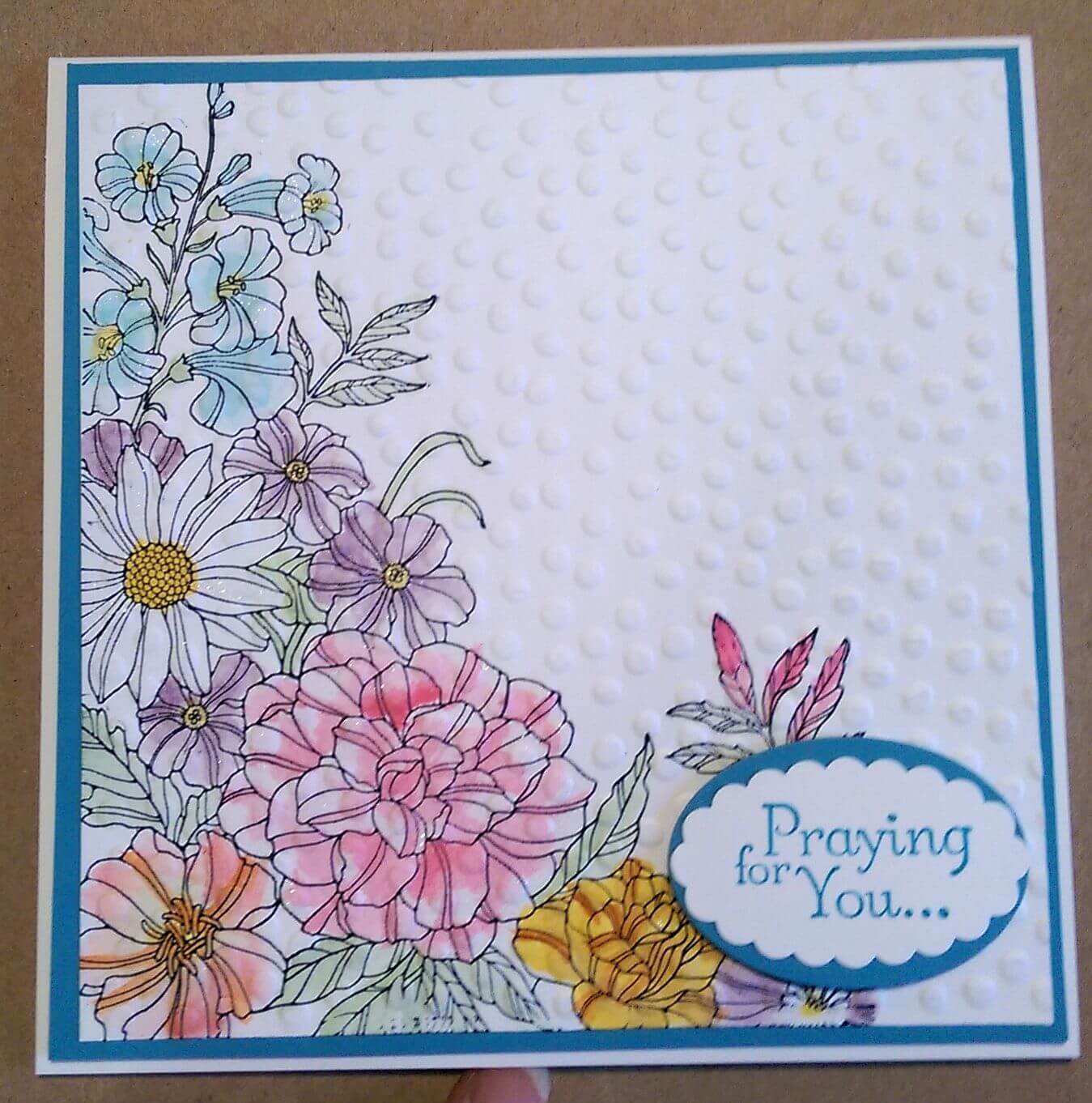 When you Buy a Machine, What do you Get?
When you buy a Big Shot machine from Stampin' Up!, you get two Standard Cutting Pads and a Multi Purpose Cutting Platform.
The platform was improved and upgraded in 2016. A
ll other dies and accessories are sold separately.
You can see how to use everything here:
Where Can I Buy One?
If you live in Australia, click on the Stampin' Up! catalogue to the right and browse or download the current Ideas Book and Catalogue.
You will find all the details about the machine and its dies and embossing folders there.
You can even order one from me if you live in Australia.
If you live overseas, do find a Stampin' Up! demonstrator near you and ask them about this wonderful papercrafting tool.
---
---