Baby Cards
Written and Created by PaperCraftCentral Susan

Baby cards are one of my favourite greetings to make!
" A baby has a special way of adding joy in every single day".
~Author Unknown
---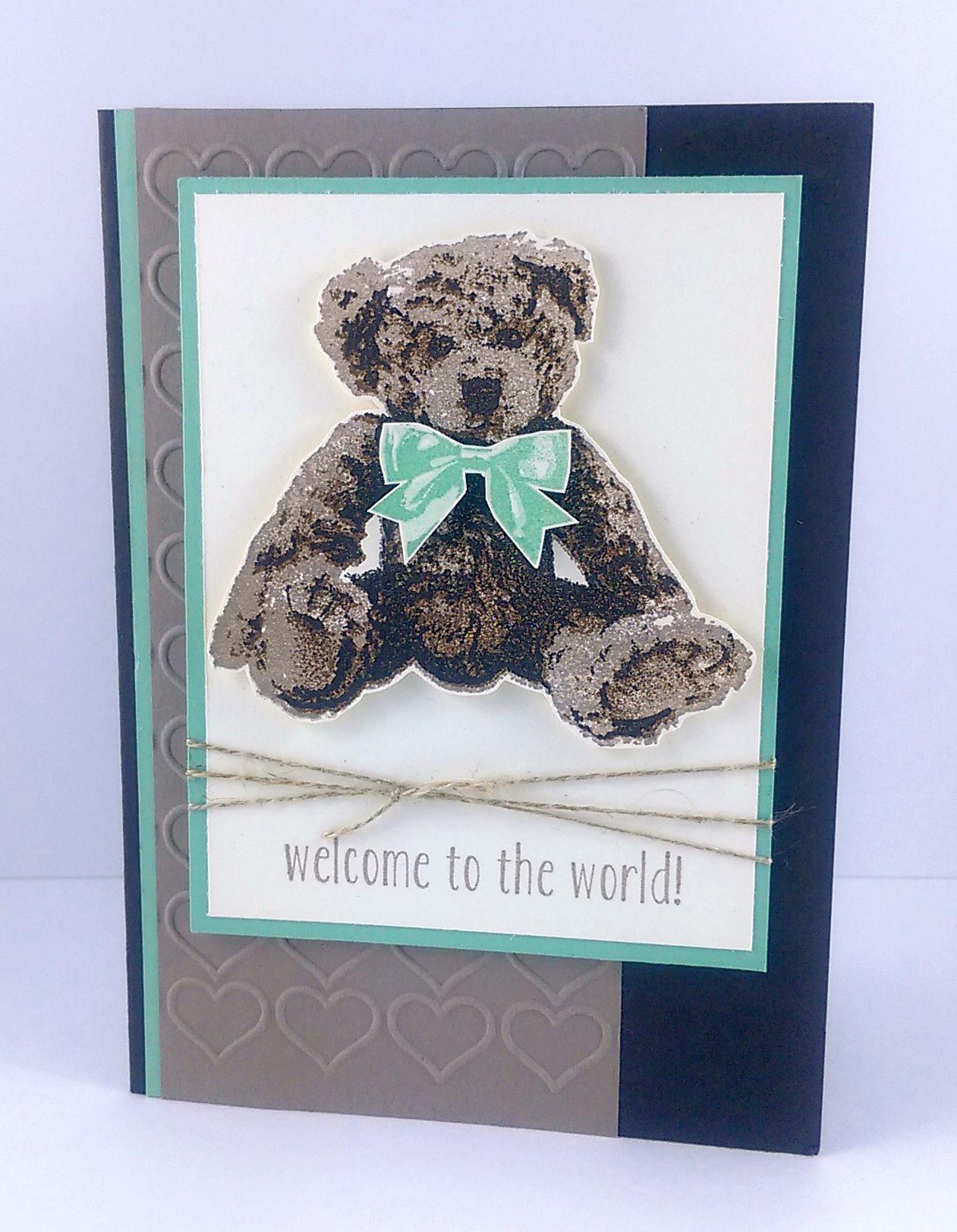 There's something so amazing about a new little one and handmade cards can help to make the occasion of a child's birth an even more special event. Often the new mother will keep such a handmade greeting cards as a memento to show their child later in life, or just to re-live the joy of welcoming a new member of the family.
Traditionally, the colours are pink for girls and blue for boys and yellow if you don't know the gender of the baby yet, but these days you can find cards with almost any pastel or even bold colour on them. My teddy bear is brown, after all!

Today crafters are often more adventurous with colour, using bold brights and even black and white colour themes. So don't be limited by tradition unless you want to be.
I still like soft pastel colours and often use mauves and pale yellows or pinks.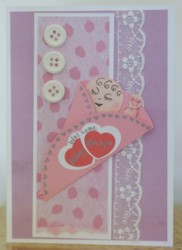 What if you have twins or triplets born in the family? It's a lot of fun to make embellishments showing babies in bundles. Here I have made a boy twin card using the baby bundle embellishment idea, and you can see that it would be possible to use this idea for a multiple birth: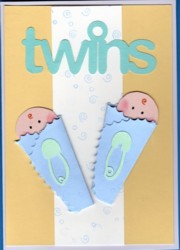 How to Make Baby Cards with Bundle Embellishments:
First, punch out a small circle of flesh coloured cardstock and a larger circle to make the blanket. I used decorative scissors to cut mine out
Next, draw some cute little eyes (simpler seems better) and the suggestion of a nose on the smaller circle, adding a curl if you wish. I added pale pink chalk on their cheeks as well

Now take the larger circle and place the little head in one section (adhere it down now), then fold over the larger circle to make a blanket. Adhere it in place

Now you can use your baby embellishment on your baby card or in your infant's scrapbook album.
Want another idea? Perhaps you'd like to know how I made this card: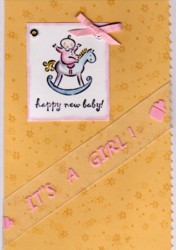 I love to use cute stamps on my handmade greetings for new mothers as well. Here I have used a small cute stamp (stamped in black Stazon ink so colouring the image wouldn't cause it to run) of a rocking tot on glossy white cardstock, coloured in with pastel chalks and a blender pen, then matted on a coordinating colour of cardstock. I chose a pretty ribbon to highlight the main image. Finally, I placed the image on a card base and added a brad and another little ribbon. Voila! All done!
Here's a card I made for my own grandson using a sketch that had three square embellishments down one side.
However you decide to make your handmade baby cards for newly arrived little persons, you are bound to make a special occasion even better. When you make your cards for the newest little members of your circle, would you inspire me by sharing them with me here?
Do You Have A Favourite Handmade Card to Share?
Do you make greeting cards? Please do share it with me.
---
Return from Baby Cards to Special Occasion Cards |Return to PaperCraftCentral Home Page
---