Handmade Baby Gift Tags
Written and Created by PaperCraftCentral Susan

Handmade Baby Gift tags may be just the thing to finish off the wrapping for a baby shower!
"A new baby is like the beginning of all things-wonder, hope, a dream of possibilities".
-Eda J. Le Shan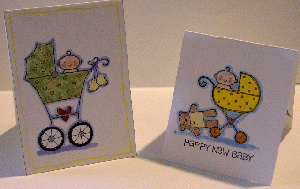 ---
Did you know you can make your own tags if you have a cute set of stamps, some Basic White cardstock, Stazon ink and some Stampin' Write Markers?
I had been thinking about making a special card for friends who were about to become parents for ages, then all of a sudden the baby shower was upon us and I was still thinking.
Cardmakers know the thinking and planning part of a project is the longest part, right? I just needed to make a decision and go with it.
That's when I got out my Baby Bundle stamp set from Stampin' Up! 
It was  such a cute set. It is a retired set now but there are always cute baby stamps in the current catalogue.
If you would like to order a set of current baby themed stamps. I can arrange delivery to you Australia wide via my Stampin' Up! SusanSalutations store.

I love the little pram in this stamp set but stamp sets change and you may find another image you like this year.
Handmade Baby Gift Tags

For the green card, I took a strip of cardstock and stamped the pram image in black Stazon ink on the bottom of the strip.
Then I had to put a baby in the pram, and I loved the cute booties so hung them on the pram handle by using a clear mount set with a Stampin' Block. The clear stamp block makes more accurate positioning so easy.
Then all I had to do was to colour the images in with my markers.
I highlighted the polka dots and the pram hubs with metallic gel pens, then outlined the whole thing with my lightest Bashful Blue marker, also now retired.
I added the sentiment from the stamp set to the inside of the tag (it fit beautifully - Stampin' Up! products are so well coordinated) and coloured in the little hearts.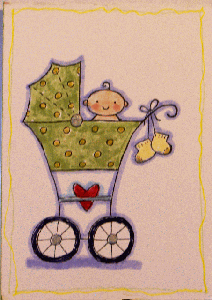 For the yellow pram, I stamped it from Fun and Fast Notes stamp set, now retired, and then added a baby and a little teddy. Baby has dropped teddy from the pram, of course.
I coloured the images in and outlined them as before and used a sentiment from the Baby Bundle set for the inside of the tag.
I stamped it on a small oval and punched a scalloped oval from Daffodil Delight cardstock to mount it on to add some colour to the inside of the tag.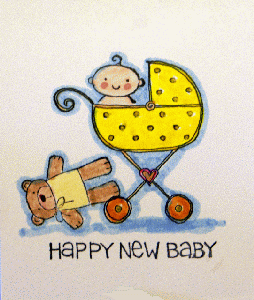 The two baby gift tags shown above took very little time to make yet I think that they turned out so cute. They looked great on the basket of goodies we put together for the mother-to-be.
Here's another one that I simply folded into a square tag and stamped some flowers and a sentiment on it.

More Simple Handmade Baby Gift Tag Ideas
You don't have to use stamped images to make gift tags, of course. You could use some Designer Series Paper on your cardstock.
Cut out a piece of cardstock that is 2" x 4" (5cm x 10cm ) and score it at 2" (5cm) so it can be folded into a mini card shape
Cut a piece of Designer Series Paper(DSP)  that is 1 7/8" (4.5cm) square
Add the DSP to the card front
Stamp a sentiment (such as 'For Baby')  on some Basic White Cardstock and cut it down to a strip, or die cut it out or punch it out
Add the sentiment to the front of the mini card along with some bling if desired

Just write a little note inside the tag
You could punch a hole in the top left corner of the folded tag and thread some ribbon or twine through it so you can tie it onto your package
You're done!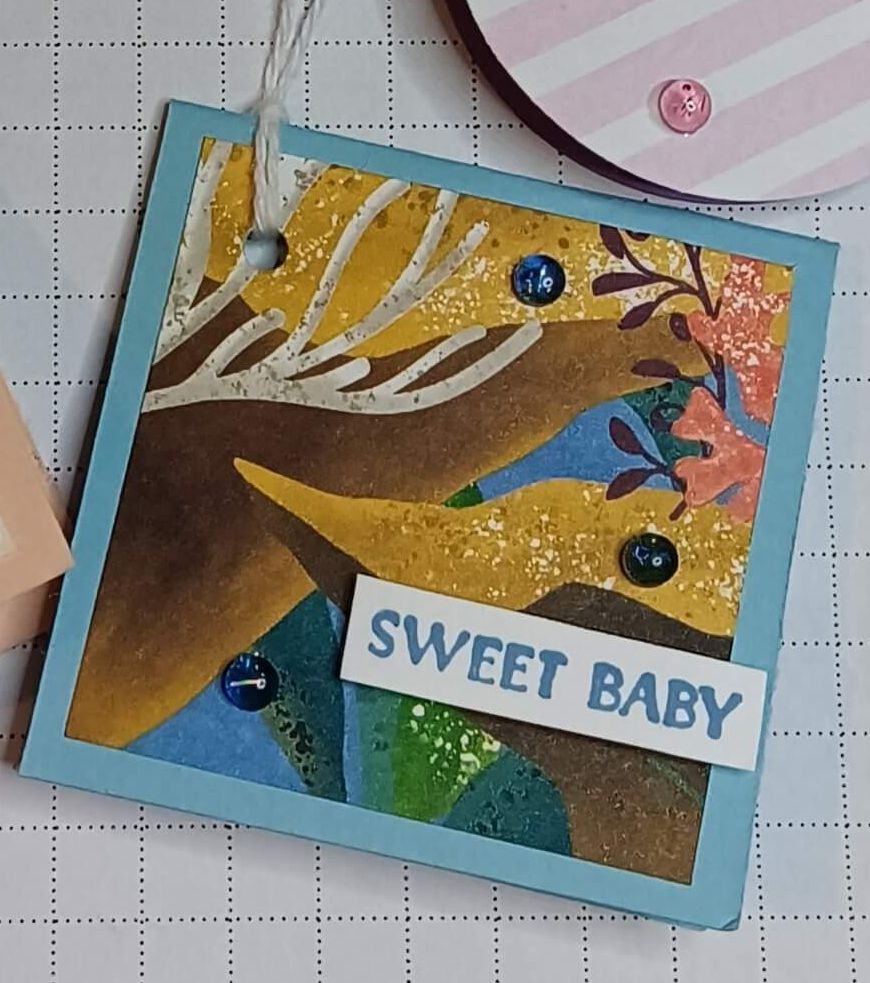 Another Idea:
Make a small tag card as described above by cutting a rectangular piece of cardstock and folding it in half.
Run a contrasting piece of cardstock cut to the size of the DSP mentioned above through your Die Cutting and Embossing Machine
Adhere the embossed piece to the tag front
Done
More Ideas
Cut and fold your basic tag shape
Use a punch or die to cut out all but some of the folded piece of the tag so you still have a hinge to keep the two pieces of cardstock together 
Add ribbon or twine as above
Done
However you use your supplies for handmade baby gift tags, you are bound to impress the recipient with your care and creativity. Your tags will be unlike any store bought ones, even in their simplest form.
You can customise colour and theme for baby showers as well. How often can you NOT find what you need at the stores! It really frees us crafters up to have access to all the possibilities in their craft room, right?
Now you might enjoy looking at these giftable projects:
---
Return from Baby Gift Tags to Special Occasion Cards |Return to PaperCraftCentral Home page
---