Candy Bar Favor
Making a candy bar favor that is designed especially for your favourite person is a certain way to impress. These little gifts are easy to make. You may need to do some stealthy 'research' first to find out what kind of chocolate bar your friend likes, then it's a simple matter of going to the shops to buy a chocolate bar, then you are probably going to be all set to make your favor. More instructions follow below.
"Thanks for showing me how to make
a Candy Bar Favor for my friend's birthday!
I love PaperCraftCentral!"
~PaperCraftCentral reader.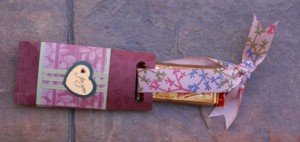 ---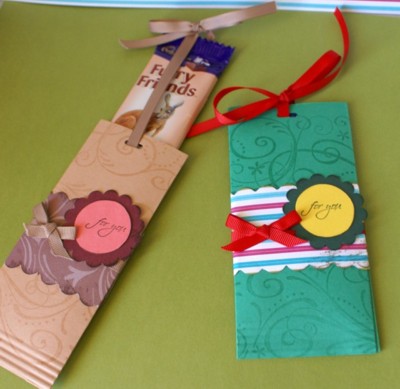 ---
Here's what you will need:
A chocolate bar. A flattish one works best

Some plain cardstock and some designer series (patterned) paper

Embellishments of your choice. I used stamps and ink and punched elements on mine but be as imaginative as you like with this

A length of ribbon that can wrap around your chocolate bar lengthways and have tails left over to make into a bow

A slot punch or small oval punch

A ruler, a pencil, double-sided tape, scissors, a paper cutter, a bone folder, some deckle-edged scissors and other papercraft tools of choice such as a paper crimper
By the way, if you have a paper craft party favor idea of your own to share, I'd love to hear from you. There's a space at the bottom of this page for you to send me your idea. I hope you will!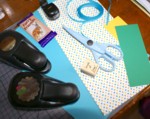 Before we go on - would you like more Paper Craft Ideas? Subscribe to Paper Twists!
Want to know when a new idea becomes available on PaperCraftCentral? How about being among the first to see a new party favour idea?
 

Susan, I enjoy surfing your website because your website is easy to read. I like everything about it especially the ideas which are simply set out but effective, the product reviews and money saving tips. I find your site very helpful.
In South Africa when on a limited budget, overseas magazines are out of reach and I'm always looking for new ideas as I run a non-profit craft class from our local church. I try to give my members something new each month. I've been able to use your ideas to fill those months when I'm at a loss what to do. Also for my personal use - I can show off these great ideas to friends and family. I'm one of those people that needs inspiration. Once I get the general idea I can run with it, but I need a jog.
Thank you for also for sending out Paper Twists.
Sincerely,
Desiré
South Africa  
 
When you subscribe to Paper Twists, you will receive news about this PLUS many other benefits:
Papercraft hints and tips

New ideas in the papercraft world

Reviews of new products and tools. What works….and what doesn't!

How to save money on paper crafting supplies
Subscribe today! It's free!
Now let's continue on with the Candy Bar Favor instructions:
Here's what to do to make a pouch for the chocolate bar:
First take a length of ribbon and measure all the way around the width of your chocolate bar, then add 2 centimetres (1") to this length. This is how wide your pouch must be. Mark your plain cardstock with this measurement

Now use your ribbon to measure the length of the chocolate bar and add 5 centimetres (2.5") to this length. This will be the length of your pouch. Transfer this measurement to your plain cardstock. Draw lines to show where to cut the pouch out and then cut it out


Using the ruler, measure 1 centimetre (1/2") from the long edge of your plain cardstock and score a line there. Then score a line half way between the newly scored line and the opposite edge of the cardstock


Decorate the plain cardstock if you wish. I used a stamping wheel and Versamark ink to apply a pretty pattern to mine

Now fold the pouch along the two scored lines, smooth the folds with the bone folder and apply some double sided tape to the 1 centimetre (1/2") edge and along the bottom of the pouch so you can fix it together

If you like, crimp the bottom of the folded and adhered pouch to look like a proper packet

Punch a slot as wide as your ribbon in the middle of the top of the pouch

Here's how to make a Belly Band:
Cut a piece of designer series (patterned) paper the width of your chocolate bar and wide enough to go all around the pouch that forms the candy bar favor sleeve with 1 centimetre (1/2") to spare

Score the belly band at the 1 centimetre (1/2") mark and measure in from that to score again where the band will fold around the pouch


Edge your band with deckle edged scissors or scallop punch it, and ink the edges if you wish


Fold along the score lines and smooth the folds with a bone folder

Wrap the belly band around the pouch. Cut A length of double sided tape to fix the 1 centimetre folded edge to the main part of the belly band. Trim away any excess overhanging paper

Tie a length of ribbon around the middle of the belly band and make a bow at the front. You can continue decorating as you desire. I punched out some scallop edges circles and some plain circles and stamped a message on them, then adhered them to the pouch and belly band where I thought they looked nice

While the pouch is flat, finish decorating and writing your own message on the front of the pouch

How to insert the chocolate bar inside your Candy Bar Favor:

Cut a length of ribbon long enough to wrap around your candy bar from bottom to top, with about the same length as the candy bar overlapping at the top


Insert the chocolate and the ribbon into the pouch

Thread the ribbons through the punched slots at the top of the pouch

Push the candy bar down to the bottom of the pouch snugly, then tie a bow at the top of the pouch. I included a little yellow envelope with some money in it along with the chocolate bar. Be careful not to draw the candy bar up the pouch when tying your bow


Now your Candy Bar Favor is complete!

But what if you want to give a thicker, bigger chocolate as a gift? No problem! All you need to is not choose a bar that is longer than the width of your cardstock, plus allowing a few centimetres for the bottom to be joined and the top to have a punched shape to thread your ribbon through.

Here I chose a Cadbury bar and selected a piece of plain A4 cardstock to make the slider part. I thought Elegant Eggplant went very well with the Cadbury purple

I used my Simply Scored Board (available from Stampin' Up! through my SusanSalutations online store) to add a little tab on one end of my cardstock, then I laid my chocolate bar along this line and scored another one on the other side of it, then turned my chocolate on its side and scored along the bar, then laid it flat and scored again, then stood it on its edge and scored again. I cut my A4 cardstock at the last scored line. You are effectively making a shallow box for your candy bar.

So now you have the key to make a candy bar favor, from the tiniest to pretty good-sized, for birthdays or Christmas or even special occasions like weddings. Imagine the sleeve being made out of vellum and embossed! Or glitter paper! Yes! Give one for a friend who invites you over for dinner, or just to say thank you to someone who did something lovely for you.

If you make a candy bar favor, I would love to see how you decorated it. Would you leave me a comment below and upload a picture of your own work?

Happy crafting!

Do You Have A 3-d PaperCraft Project To Share?

Do you make 3-d PaperCraft items? I'd love to see your work. Please do share below.

What Other Visitors Have Said

Click below to see contributions from other visitors to this page...


Chocolate Slider Cards Not rated yet
Hi Susan Here's another one of the chocolate slider cards we made at our church craft group. Desire **** Hi Desire I really like the …

---

Return from Candy Bar Favor to 3-d Papercarft | Return to PaperCraftCentral Home Page

---