Scrapbooking and Papercraft Adhesives
The array of papercraft adhesives available these days can be confusing. Have you ever used a Xyron machine? Do you know how to choose the best adhesives for your projects? Could you make something without using any sticky helpers?
If you answered 'no' to any of these questions, please scroll on down to find some answers.
Now for a corny glue joke:
"I was reading a book... 'the history of glue' -
I couldn't put it down".
Tim Vine
Sticky glues and tapes are essential craft supplies and can be found in most scrapbooking and papercraft stores. These sticky things are not all the same, nor can they all do the same job for you. It is wise to fit the tool to the project you have in mind.
I tend to separate adhesives for scrapbooking from those used for cardmaking and off-the-page projects. My preference is to use archival quality products when I am working with my valuable photographs so that are never at risk of losing their colour, becoming pitted or peeled or otherwise damaged.
Cards seem to be items that are enjoyed for the moment and are not usually preserved as long as photographs in albums are. That said, you might want to have archival quality cards when making them for very special occasion. For example, I have a scrapbook of all the cards I received when I was married, and another for when I had my baby. I want to keep those forever!
Here are just some of the types of scrapbooking and papercraft adhesives available and what I have used them for. I tend to use Stampin' Up! products the most so will talk mostly about them, but there are many other types of good quality stickiness around! You may find another product that has some of the same qualities as the ones I am mentioning. My aim is to make you aware of different types and their uses. So here we go:

Adhesives Commonly Used for Scrapbooking
These need to be acid free, remember:

Double-sided Adhesive Tape, Flex or Sticky Strip
Glue Dots

Photo Splits
Photo Tape
Tape Runners
3-dimensional foam

General Papercraft Adhesives
I use all of the above plus:

Glue sticks like Anywhere Glue Sticks, Tombow Multi-Purpose Adhesive and 2-Way Glue Pens
Clear drying strong glue like Crystal Effects
Even these adhesives can be archival and acid free. Check the labels to be sure. And when you need to remove some tackiness, try Stampin' Up!'s Adhesive Removal tool. Here's a picture of my well-used one: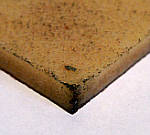 Descriptions of the various adhesives and their purposes:

Double-sided Adhesive Tape or Sticky Strip is a strong papercraft adhesive that allows you to be confident that your embellishments and photos will stay where you want them to be.

Glue Dots are wonderful papercraft adhesive when you want something strong to adhere embellishments such as bows and buttons to a project.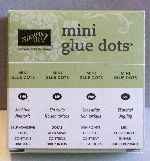 Glue Sticks are what I use for sticking lighter paper, cardboard and fabrics down on cards and off-the-page projects. I choose these when I want to make a project that does not necessarily have to last too long. This type of glue is not too strong so it cannot be expected to hold heavier objects together. Most glue sticks will dry clear. One type of stick goes on in a pale blue colour which is easier to see while you are creating your project, then it dries clear. I always have one of these in my craft supplies.
Stampin' Up! Glue Pens contain a more liquid type of adhesive that can be used to stick down very fiddly bits of paper. I use them when I want to make little dots of colour out of various shades of cardstock on my cards, or to attach the different parts of paper flowers together. This type of glue seems to dry very quickly and is easily absorbed into the paper, so you need to be sure you want to stick something permanently down before you commit!
Be careful to choose an archival quality pen as an adhesive for scrapbooking and even then I would not use this glue on photographs, only on embellishments.
Glue Paste
belongs alongside glue sticks in my mind though it can be a good papercraft adhesive for heavier projects. It is a thicker type of adhesive that needs to be painted or spread onto your paper or cardstock. Most of us used this type of glue in kindergarten and pre-school. It can be messy but very effective. It also dries clear and is water-soluble. I never use it as an adhesive for scrapbooking but do use it when making cards and 3D projects.
Hot Glue Guns are wonderful craft supply items for fixing even heavier objects such as boxes and other off-the-page projects together. Find out more about them and do tell us how you have used them in your paper crafting!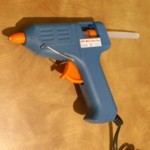 Repositionable Glue Dots or Dotto has some distinct features and advantages for you to consider.Though Stampin' Up! does not make it anymore, I still love it and it is readily available in craft stores: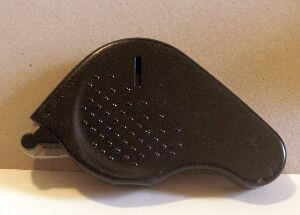 Mod Podge, is the brand name for PVA (Polyvinyl Acetate, the base of white craft glue) gel medium, specially formulated for use in decoupaging. It is available in gloss or matte finish, as well as an acid-free version. You can use it to adhere many different types of materials to many different types of surfaces. Use it to coat and seal a photograph or picture or to alter a hard plastic surface, for example. There are many more uses for this versatile product. 
Spray Lacquer or Spray Adhesive is great for sealing delicate projects and making them more durable. Be sure to only use this papercraft adhesive out doors as it is very toxic to inhale. Think of glue, in your lungs. Ouch and ewww.  Little children also need to be protected from it.

Xyron Machines are sticker making machines and are great additions to your adhesive arsenal. You can purchase them in many chain stores carrying scrapbooking or papercraft adhesive supplies. Here's what one of the smallest one looks like: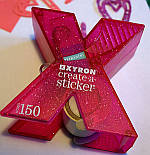 There are a few sizes of Xyron machines to choose from. Some will make little stickers and some will make bigger stickers. Whatever you run through the machine will come out with a sticky side. The object will be encased between a sticky paper and a clear cellophane layer. You can make stickers out of paper objects, stamped images that you have cut out, ribbons, feathers, or anything flattish that can fit through the machine.
Photo splits are adhesives for scrapbooking. I use them for sticking down photographs and paper in albums. They are little double sided stickers. I always look for archival quality photo splits when choosing them for albums so that they will not damage my photos over time. This means they have to comply with the International Standard for paper and be buffered, lignin and acid free.
If you use them and then want to move your photo or paper, photo splits can usually be prised up and reset within about a day of use. They tend to bond more strongly as time goes on.
Photo Tape is a strong tape used for binding large areas or pop up pages together. It can be used in long lengths as well, for example when you would like to 'hinge' one page to another. It is a tough scrapbooking and papercraft adhesive that can add durability to your 3D projects.
I always make sure this tape complies with the International Standard for paper products if you are using it as an adhesive for scrapbooking.
Tape Runners or Snails are handy little dispensers full of double sided adhesive that can be placed where you want it to go. I enjoy using these for both cardmaking and scrapbooking projects. Again, I choose tape runners for my photo albums that comply with the International Standard for paper and are buffered, lignin and acid free.
If you use them and then want to move your photo or paper, things stuck down with tape runner adhesives can usually be prised up and reset within about a day of use. They tend to bond more strongly as time goes on. Thios tape runner is re-fillable. Here's a picture of a Stampim' Up! snail:


Stampin' Up! Fast Fuse is a very strong adhesive in a convenient little tape runner. I love this adhesive. I use it to construct gift boxes and bags especially. It can be tricky to use at first, but once you get the idea of how to break it off, it is a dream to use. The secret is to apply it gently, then make a little 'tick' motion by flicking it with your wrist to one side when you want to end the tape run.  And it is re-fillable! Here's a picture of the Fast Fuse tape runner:

Stampin' Dimensionals are very useful little bits of foam papercraft adhesives that I use to slip underneath images that I want to 'pop out' from my pages and cards. They help to create a 3D feeling to a paper project and can lift a nice card into being extra special.
I do tend to use these as an adhesive for scrapbooking when I want to pop up handmade paper flowers and adhere buttons and the like. The Stam[in
 Up! ones are hexagonal shaped and I find that helps a lot when I want to line one up with a straight edge. I took a few out of this packet so you can see their shapes more easily: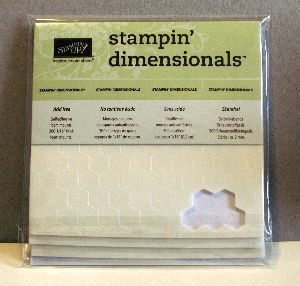 Stampin' Up! has Crystal Effects which is a clear craft lacquer that adds dimension and gloss to non-scrapbooking images and/or projects. For large areas, paint this adhesive on in a thin layer with an old paintbrush (the glue may not all come out of it). The bottle comes with a nozzle. I use it to dot smaller areas for shiny effect  or to pour out a thick blob in the middle of a project and for spreading that blob out to all edges. It dries in 3 to 5 minutes when applied thinly but could take up to an hour or even overnight to dry when it is applied in a thicker layer.
Be careful not to handle your project too soon after using Crystal Effects or you may leave fingerprints in your design! Here's my well-used bottle in older style packaging: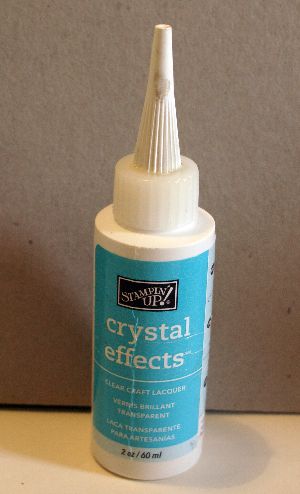 Glitter Glue has glitter mixed through it. This is rarely used to actually hold items together. It is more useful as an accent on images or to make backgrounds. You might want to try some on a fairy card or to draw the eye on a butterfly's wings, for example. I've also drawn glittery scrolls and shapes on the backgrounds of cards with glitter glue. If you don't have any, try mixing some glitter or embossing powder with Crystal Effects, or sprinkle glitter on top of liquid glue before it dries.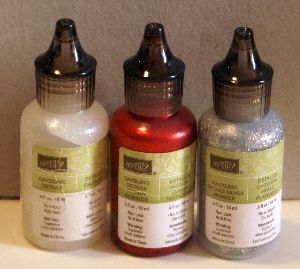 Washi Tape is a lovely paper tape that is meant for decorative purposes only. Many people are disappointed when they try to use it as they would sticky tape or scotch tape, as it will not hold like those types of tapes. Use it to add a line or pattern of prettiness to cards, scrapbook pages, on 3-d papercraft projects and more. It comes in so many different designs. Here's just a small sample of some from Stampin' Up!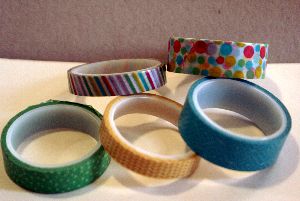 I hope this information has helped you to decide what papercraft adhesives to choose when assembling your craft supplies. I'll add to this list as I discover more adhesives for you.
Making a Papercraft Project Without Using Adhesive
Have you ever challenged yourself to make something without using any papercraft adhesives? Adhesives are great and we use them for so many things, but sometimes it is interesting to make something without them, just for a change! Elements that are joined together without glues also give you the option of making an interactive project as elements may still be able to move.
So how is it done? Well, this is where the Crop-a-dile or your eyelet setting tools can be so handy, for example, and there are many other ways to experiment.
Things to try:
Punch holes or cut slits in your cardstock layers and thread with ribbon, lace, fibres, leather, string, raffia, shoe laces

Sew items together by hand or with a sewing machine

Lace your card elements together after setting some eyelets

Use snaps to join paper layers instead of other types of papercraft adhesive

Try using brads to anchor pieces together

Sew buttons on for real! Stitch right through as many layers as you wish

Try using pieces of Velcro to hold elements together - a great effect on a boy's card

Use paper clips or mini bulldog clips to hold things together

Check out the stationery department at your local store and see if you can find something interesting to clip your elements together

Cut slits in your paper to serve as photo or cardstock corners

Use safety pins to pin things together - think baby cards

Try wiring things together. You can even thread beads on your wires to create more interest

Thread things together with strips of paper - cut vertical or horizontal or slanted slits and weave strips of paper through different elements

Cut even smaller strips of paper and use them to 'tie' elements together as though the thin strips of paper were string (or just use string, yarn, Hessian fibres etc

Use wax to seal elements together and stamp an image into the cooling wax before it sets to add more detail

Try using iron on interfacing or hemming web between sheets of cardstock or other heat-proof elements (be careful not to scorch your paper, unless you are looking for that effect!)

Use jump rings, split rings or book binding rings to clip things together

Use bread bag ties, wire twisties, rubber bands, or hair clips or ties

Use staples

Now that your creative mind is working, you can probably think of even more ways of making a project without using papercraft adhesives!
Have fun, no matter which types of Papercraft Adhesives you use!
---
Return from Scrapbooking and Papercraft Adhesives to Papercraft Tools |
Return to Papercraft Central Home Page
---