Acid Free Lignin Free Buffered
Written and Created by PaperCraftCentral Susan

Why should you be concerned about the terms acid free lignin free buffered? What do they have to do with papercrafting?
'Admittedly, key archival documentation remains under lock and key and will be inaccessible for a long time to come. But enough material is available, in the form of declassified documents, memoirs, oral histories and journalistic treatments, to begin to piece together the story.' ~Frederick Logevall
This quote partly tells why. Some items created on paper simply disintegrate over time and can be lost forever.
I am going to tell you how to combat this effect so your albums will last throughout your life.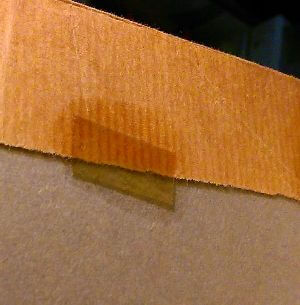 ---
The Story of the Sorry Scrapper


People who make scrapbooks often believe good quality materials are over priced. They do not believe claims that materials need to be of archival quality to last.
Instead, they try to save money (who wouldn't want to do this) and they go to chain stores and buy scrapbook albumsand adhesives. They believe the manufacturer of those albums has their best interests at heart and has created albums that will preserve their photos and memories into the future. They buy glues and other adhesives with the same belief.

They spend hours, days and months on albums and lovingly create pages showcasing their memories. Then they put those albums away on a bookcase or in a box.

Many times the albums are not referred to again till there is a new birth in the family or a death or other significant event. People get old albums out then, sometimes 15 or 20 years later.
And horror of horrors, many of those albums are falling apart. The glue has yellowed, there may be yellowing on the pages, there could be glue that dried and turned yellow or brown and seeped through their precious photos. The glue itself often lets go and everything falls off the page.

Sometimes the albums themselves have started to disintegrate. Plastic has turned hard and brittle. Plastic covers have disintegrated and crackle when they try to open the album.

If they have hand-written their memories with a ball point pen, the ink may have faded or turned pink. It may no longer be legible.

The person does not have an archival item on their hands, but something that has to be salvaged and re-done with better quality materials, or thrown away.
The person experiences sadness, regret, anger and resentment that the investment they made in their memory keeping has not yielded good results. They may not be able to reproduce the photos they had.
They are very sorry scrappers indeed.

Their innocent belief has steered them wrong with disastrous results.
They did not check into the reasons why people pay a little more money to purchase archival quality items in the first place. Their belief led to an unintended effect.
They did not buy acid free lignin free buffered scrapping supplies.

Don't be a sorry scrapper.
The following information may help you be a happy scrapper instead.

What Does Acid Free Lignin Free Buffered Actually Mean?

If you have been scrap booking for awhile, you have probably heard all of these terms being used or seen them on product labels. Some people seem concerned about them and others are not. It's a good idea to be informed about what the terms mean so you can make a choice about whether or not you will be concerned.
But what does acid free lignin free buffered mean? And how can your photo albums be affected by these qualities?
Let's look at some facts about Papercraft Supplies:
Acid is a substance that dissolves things. It eats them away. Acid is added to paper to make it easier to write on. Unfortunately, this same beneficial acid can eat away at your photos over time. I have seen friend's photo albums where the photo itself has been eaten through and the picture has even been obliterated over time. In some older albums, the photo itself had protected the paper it was mounted on and not the other way around! If I want a photo to last into another generation, I choose

acid free lignin free buffered

scrapbooking elements. It is also important to choose acid free adhesives as they can turn a different colour and the stickiness can fail over time. The picture above is showing sticky tape on brown paper from 1961. It has even left an oily mark on both the brown paper and the cardboard book cover.

Lignin is a substance that occurs naturally in wood. Paper is made out of wood. Lignin makes paper stronger. It is a biodegradable substance though so over time, it breaks down, turns brittle and changes colour to yellow and brown. If you have ever kept a newspaper article for a couple of years, you will know what I mean as it becomes very brittle and yellow. And newspaper is about 98% lignin free! I found some

acid free lignin free buffered

photocopying paper and I make sure I copy my precious newspaper articles onto it if I am going to put them in a scrapbook. I also make sure my other scrapbooking elements are lignin free if I want my project to last through the years without becoming brittle and yellowed.
When paper is Buffered it means an alkaline substance has been added to it to reduce the effect of the acid content in it. So buffered paper will be safer for your memorabilia. However, some people say alkaline substances can also weaken paper. Certainly there seem to be fewer buffered paper products out there on sale for use in scrapbooks. You can find them, though. (More commonly you just find acid and lignin free products. They are safer than products without these characteristics).
So when supplies are acid free lignin free buffered, they are safe for archival quality work.

So what do you do about these concerns?
I'll tell you what I did. I checked all of my old albums for signs of deterioration.
I indeed found deterioration happening, especially in the older albums that had 'magnetised' pages with adhesive on them. These albums were popular in the 1970s and used very acidic adhesives.
I removed all of my photos and journaling from these older albums and am in the process of re-installing them in new, safer albums.
Be careful of using metal embellishments too. They can rust unless they are properly sealed with an archival quality sealant. At least isolate such embellishments from your photos so they do not rust onto pictures or other important elements on your pages.
Always check product labels for a declaration that the product is safe and archival, or has the words acid, lignin free and buffered on the wrapper.

Find a company that manufactures archival quality materials and only buy from them. I chose to buy my supplies from Stampin' Up! partly for this reason. Their materials for scrapping and even for cardmaking are archival, unless they state otherwise. Their papers, inks, ribbons and so on are not going to fail you.

There are some good, archival quality adhesives and journaling pens for papercrafting in the Stampin' Up! Ideas Book and Catalogue
Where to Find Archival Quality Supplies
There are many acid free lignin free buffered supplies available in craft stores, but I like to buy mine from Stampin' Up!
This company serves many countries around the world, including Australia, Austria, Canada, France, the USA, the UK, Holland, New Zealand, Japan and Germany.
If you live in Australia, you can purchase your acid free lignin free buffered  Stampin' Up! supplies with me at SusanSalutations.
---
---