A Hot Glue Gun
A hot glue gun can deliver adhesive that is stringy and hard to end off. Here's a simple way to reduce that effect.
"Man is born broken.
He lives by mending.
The grace of God is glue".
~Eugene O'Neil
Have you ever had strings of glue mess up your project, your desk, and even you? (Ouch!) A reader named Buzz asked me how to reduce the stringy, mozzarella cheese-like effect that was happening whenever his hot glue tool was in use.
I guess you must live in a hot or humid climate, Buzz, because that is what the problem is! Find out more about how to combat this below: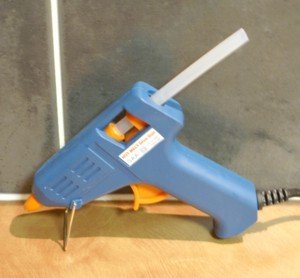 ---
Ever noticed how you can dry things out in the freezer, like fresh herbs? Use that principle to solve the string problem! What will help is if you place your hot glue sticks in the freezer for a few minutes before using them. Even though you then place the cold sticks in the tool and heat them up normally, the freezer helps remove excess moisture from them which assists in reducing the web-like strands once everything is heated up. I guess the moisture cannot escape once the medium is hot.
What about those annoying strings that happen while you are actually using the hot glue?  I can help you there, too! Don't try to break the strand by pulling the tool away from your project in a straight line. Instead, use a spiral-like motion to end off your gluing, to help any stringy bits to settle on your project where you want them to be.
If you still get fine strings on your finished project, allow them to cool completely. You can then pluck them off with your fingers or tweezers, and even trim them away with some paper snips.

Here's another couple of tips for using a hot glue gun:
This type of glue is essentially polypropylene and plastic-like. Before it is completely cool, you can add glitter to it. Be careful not to burn yourself though before it is completely cool.

Once it has cooled completely, this kind of adhesive can also be painted with acrylic paints.

I trust this information will help solve your stringy hot glue gun problems.
And of course if you want to keep finding out about there is more information about other papercraft tools on this site.
There is plenty more information about all kinds of ways to use your tools and make special papercraft projects  here on papercraftcentral.com.
Have fun!
You can also buy your own hot glue gun by going to your local hardware or stationery store. In Australia, good stores to try are Office Works, Spotlight and Masters.

---
Return from A Hot Glue Gun to Ask Susan | Return to PaperCraftCentral Home Page
---