Removable Glue Dots
Written and Created by PaperCraftCentral Susan

Removable glue dots are great for repositioning elements but they have a few other advantages too. Can you guess what these are? Scroll down further to read more about using this product.
Let me know if I missed out on any tips useful for papercrafters using these so we can all benefit from everything there is to know about them!

"It's the glue that holds everything together"
~Otis Williams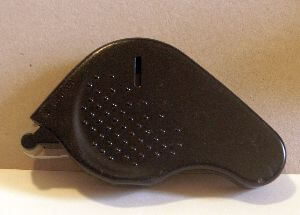 ---
How to Use Removable Glue Dots

Lots of scrapbookers love to use repositionable glue dots. This temporary adhesive comes in a handy, refillable dispenser (it works like a tape runner) that allows you roll a small (or large!) amount onto a surface. Then your artwork can be pressed on to the dots and it will stay there till you want to remove it but it will not cause the paper or cardstock to tear as stronger glues would. Your art work and photos can therefore be repositioned without causing damage to them, and this glue can be removed easily simply by brushing/rolling it off the paper with your fingertips.
Or you can position images with temporary adhesive on a layout or card and paint or ink over them, then remove them afterward. The adhered image can act as a temporary mask, in other words. What a great way to create a unique background!

You know how sometimes small Big Shot dies and paper can kind of slip around while you are trying to sandwich them properly in the machine? Another use I have found for this adhesive is to position your Edgelits and Framelits dies in the Big Shot machine so that they stay exactly where you want them while you roll them through. The dots come off the dies very easily afterwards and you have perfectly cut and positioned shapes as well. No more slips!Of course, you could also purchase a magnetic platform from Stampin' Up! which helps tremendously when using thin metal dies in your Big Shot.

If you have a Circle Scissors Plus tool (now discontinued from Stampin' Up! but available through other suppliers), you can also use this adhesive to keep cardstock and designer paper in place while you cut it into circles. Simply use some of this product on your glass mat, position the cardstock you wish to cut over it, then cut away without fear that the paper will slip during the process.
Other features of removable glue dots are:
It usually comes affixed on a paper backing in a roll so is easy to handle

The dispenser rolls the dots from the paper onto cardstock, pictures or embellishments and is easy to use
You can remove the dots or any excessive adhesive by rubbing over them gently with your fingers
Over to You!
Have you used this type of adhesive for a project of your own? If you have I would love to see the result.
Show me here. Thanks in advance!

Do You Have A Favourite Handmade Card to Share?
Do you make greeting cards? Please do share it with me.
---
---